Protecting the environment
GOVERNMENT LEGISLATION AND ENFORCEMENT
TILING THE LAND, spreading fertilizer, using pesticides, digging a well, and storing fuel are common practices on Ontario farms; and all of them are governed by environmental legislation. The Ontario Ministry of the Environment (MOE) is responsible for enforcing the regulations and protocols outlined under the Environmental Protection Act (EPA), Ontario Water Resources Act, Pesticides Act, Nutrient Management Act, Safe Drinking Water Act, and Environmental Assessment Act.
PHOTO: TWO MOE OFFICERS SAMPLING A DITCH AFTER A MANURE SPILL.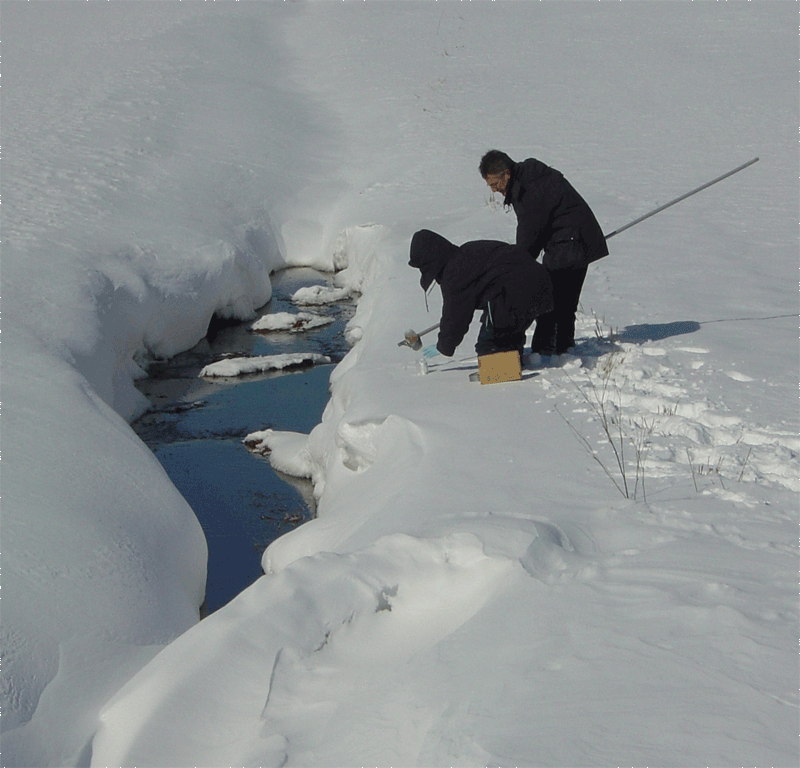 THE AGRICULTURAL ENVIRONMENTAL OFFICER
"Our mission is the protection of human health and the environment," says David Shouldice, an Agricultural Environmental Officer with the MOE since 2003. Based out of the Owen Sound district office, it is his job to ensure agricultural operations in Grey and Bruce Counties follow regulations. This includes conducting pro-active inspections, responding to environmental incidents, and responding to complaints.
Shouldice understands the need to schedule his proactive inspections when it is convenient for the farmer because he is one too. Shouldice and his wife have a family farm where they raise cattle and grow forage. His two sons are the sixth generation to work the land. Shouldice also has an honours ag degree in crop science from the University of Guelph. "I know the cycle through the year, the planting and harvest. I know there are times we are not welcome because it's simply a busy time."
The proactive inspection is a major part of the Ministry's compliance program; 15 Agricultural Environmental Officers conduct between 300 and 400 of these across the province each year. "Our Ministry fully appreciates how complex and diverse the agriculture sector is. There are a lot of different regulatory requirements and that's why our approach is to be helpful and friendly and we will work with farmers to help educate them," says Shouldice.
REGULATIONS
For example, grain farmers should be familiar with the regulations specific to the application of agricultural source material and non-agricultural source material (NASM) under the Nutrient Management Act. "If you are applying non-ag source nutrients, then you need to have a certified person do a NASM plan," notes Shouldice. NASM includes yard waste, fruit and vegetable peels, food processing waste, pulp and paper biosolids, and sewage biosolids.
Farmers with a mixed operation using manure as an agricultural source material may need to ensure they have a nutrient management strategy and/or a nutrient management plan (NMS/NMP). "If you are required to have a NMS, the legal minimum requires farmers to have 240 days of storage for their manure. It also requires a contingency plan," explains Shouldice. "There is a need for an annual review of the strategy and plan by February 15th of each year which includes documenting any changes in your operation."
INFRACTIONS
Shouldice says one of the most common infractions he sees is a lack of record keeping relating to this strategy. "I know how busy people are and how few hours there are in the day, but keep a notebook in your pocket and write stuff down. Those records come in handy. Due diligence is what a reasonable person would do to prevent a bad thing from happening and a lot of the time the evidence of that can be found in notebooks."
Agricultural Environmental Officers also file more than 450 incident reports dealing with spills and complaints every year. The EPA outlines what is classified as a spill (a discharge of a pollutant into the natural environment) and states that a farmer has a responsibility to notify the MOE of the event. The spills action centre will help you take the proper actions to lessen the impact of the spill and stop it from spreading. "I was formerly with the Ministry of Natural Resources' forest fire program and I compare spills to forest fires," says Shouldice. "They are like forest fires in that the best action can be taken when they are small and can be prevented from getting larger." 
Of course, prevention is the best course of action, and officers like Shouldice will recommend best management practices to farmers. He recently visited a farm where he noticed unprotected fuel tanks adjacent to a stream. He made the recommendation that the tanks be protected with bollards to prevent damage if someone were to back into the tanks. It is an example of exercising due diligence and taking the steps a reasonable person would do to fix the problem.
Changing agricultural practices must still adhere to environmental legislation. For example, under the Pesticide Act, farmers must follow the regulations for the storage and use of pesticides and any farmer who applies a pesticide needs to be licensed.
In the case of the Ontario Water Resources Act, the goal is to protect ground water and surface water from contamination and prohibits 'the discharge of any polluting materials that may impair water quality'.
"Tiling has become very common. It is a huge asset that allows farmers to get on the land earlier and harvest later – but it has to be managed properly because it provides a direct conduit to surface water," says Shouldice. "We talk about degrees of risk – someone applying liquid manure, plus a major rainfall event, plus tile drained land — that's riskier than applying solid manure. When applying manure I recommend incorporating it into the ground quickly to see the best benefits." He also recommends routinely checking weather forecasts prior to manure spreading and checking your outlets to ensure they are flowing and draining properly before, during, and after spreading.
ENFORCEMENT
When Shouldice discovers an issue during an inspection he has the authority to make an informed judgement on how to proceed. "Most people are eager to do the right thing," he says, "When we investigate complaints we recognize that sometimes things happen because folks just don't understand their requirements under the legislation."
Shouldice will work out a voluntary compliance with a farmer, granting them time to make the necessary changes to correct an infraction. "I understand how long things take and I always ask the producer how much time they feel they need. Often they will tell me a shorter time than I would expect and I am generous in giving them extra time. With this approach I am pleased with the results."
In cases where farmers do not voluntarily make the necessary changes, an order can be issued. Unresolved violations can lead to the case being referred to the Ministry's Investigation and Enforcement Branch where charges may be laid. This is rare and typically is the result of a very serious problem where environmental damage has occurred or there was a lack of cooperation. In recent months, fines were issued for obstructing an agricultural officer, discharging manure into a creek, and operating without a nutrient management strategy. 
But Shouldice reiterates that their main job is the protection of human health and the environment. "A great deal of this has to do with protecting water – in the ditches, in the wells, in the streams and lakes – and our biggest tool is education."
That is why farmers need to know that MOE staff are there to help. "If someone calls and says 'Hi, I'm your Agricultural Environmental Officer' that should be viewed as an opportunity to ask questions and to find out more information."
More information on the Ontario Ministry of the Environment can be found at www.ene.gov.on.ca. Click on the 'legislation' tab for more details on the government Acts that apply to farms, including links to the complete Acts and Regulations posted on www.e-laws.gov.on.ca. •