STRONG MARKET DEMAND
REPRESENTATIVES FROM THE Canadian soybean industry are fostering the important trade relationship we have with Japan. A week-long international trade mission to the country earlier this year focused on:  further enhancing Canada's relationship with industry associations, government officials, and companies; promoting Canadian soybeans for food uses; gathering market information from end-users and government officials on soybean market trends in Japan; and gaining knowledge of new market opportunities that are available. The program included meetings and tours in Tokyo, Nagoya, and Osaka, Japan.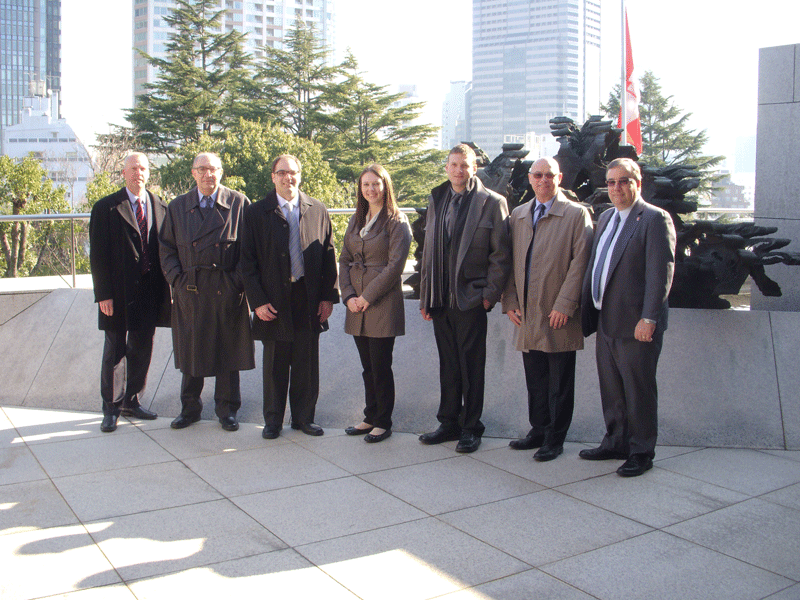 The trade mission was sponsored by Grain Farmers of Ontario, Manitoba Pulse Growers Association, and Fédération des producteurs de cultures commerciales du Québec.
The program was supported by the Canadian Soybean Exporters Association who had a number of members present at the seminars and facility visits associated with the program.
HIGH QUALITY SOYBEANS
The first event featured the delegation hosting a seminar in conjunction with the Embassy of Canada in Tokyo. The theme of the seminar was "Canadian Soybeans: A Success Story" and highlighted Canada's ability and commitment to delivering a high quality product to our customers. Over 120 representatives across the soybean value chain attended, including researchers, whole sellers, and soyfood manufacturers.
Following the seminar, a networking reception was held that allowed the Canadian delegation and Canadian soybean exporters an opportunity to speak one-on-one with the participants. The reception was started by Mr. Machida of the National Federation of Tofu Commerce and Industry Trade Association who provided a great rendition of the Canadian National Anthem.
"The networking reception allowed for a greater opportunity to reach out to a broad group of representatives from across Japan," says Crosby Devitt, Manager of Market Development and Research for Grain Farmers of Ontario. "It allowed the Canadian delegation to hear firsthand the needs and wants of the Japanese companies and continues to strengthen our Canadian brand in Japan."
In Nagoya, Japan a visit was made to Marusan-Ai Co. Ltd, one of Japan's largest miso and soy beverage manufacturers. The company was founded in 1952 and now has locations in Nagoya, Tokyo, Southern Japan, and the United States. Currently, the company is using Canadian, American, Ukrainian, and domestic soybeans for its operations. Canada makes up 48 percent of their soybean usage. The company is very interested in utilizing more Canadian soybeans in their production because of the high quality varieties offered and the consistency in the functionality of the varieties offered from Canada.
HIGH QUALITY END PRODUCTS
The second leg of the program brought the delegation to Osaka, Japan, to host a seminar in conjunction with the Consulate of Canada. The seminar once again focused on Canada's commitment to delivering a high quality product to customers. With over 60 participants in attendance there was a very good turnout from representatives across the soyfood industry. A networking reception was held following the seminar which once again provided the opportunity to speak one-on-one with the participants in attendance.
While in Osaka, the delegation met with Kitayama Food Co Ltd., a family owned yuba manufacturing facility. Yuba is a bean curd that is produced from boiling soy beverage at a consistent high temperature. A thin layer of film is produced that is removed and dried. Depending on how thick you want the yuba to be, it takes on average four to five minutes for the film to produce. Three main types of yuba are typically consumed in Japan and they are all based on dryness. There is dry, semi-dry, and raw. The company uses soybeans sourced from Canada and domestic suppliers. The domestic soybeans are used to produce the raw yuba and Canadian soybeans are used to produce the dry and semi-dry yuba. In an 11 hour day the facility produces 3,500 yuba sheets.
Also in Osaka, the delegation received a tour of the Port of Kobe. Built in 1868, it has been a leading international trade port in Japan for nearly a century. It is now the fourth largest port in Japan, handling over two million TEU's a year. A TEU refers to 'twenty-foot equivalent unit' as a standard intermodal container used for international shipping is typically twenty feet long. Tokyo is the largest port in Japan, handling over four million TEU's a year. In 2012, over 760,000 metric tonnes of soybeans were exported directly to the Port of Kobe, of which 58,000 metric tonnes were Canadian soybeans (the majority of Canadian soybeans going into Japan are delivered through the Port of Tokyo). The major imports and exports out of the Port of Kobe are auto parts and chemicals.  In August 2010, the Port of Kobe was designated by Japan's government as one of its "strategic international container ports".
Japan continues to be Canada's largest market for food grade soybeans exporting on average 350,000 MT per year valued at over $230 million. The market demand for Canadian soybeans is still very strong in Japan with numerous companies looking to source Canadian  varieties because of the high quality products they can produce with them.
"It is through these seminars and facility visits that we are able to demonstrate to Japanese companies that Canada is committed to providing high quality products for their end uses," says Devitt. "The information gathered from this program is shared across the soybean value chain in Canada, to ensure that Canada's market share continues to remain strong in Japan." 
Working together with the Canadian soybean exporters reinforces Canada's commitment to delivering the highest quality product to our customers in Japan.
Funding for this program was provided through Agriculture and Agri-food Canada's Growing Forward II Agri Marketing Program. •