AGRICULTURAL INFORMATION ATLAS
LOOKING FOR AGRICULTURAL information in a visual format? There's a map for that.
When the Ontario Ministry of Agriculture, Food and Rural Affairs (OMAFRA) showcases Ag Maps at farm shows around the province, producers have just two questions: What does it do and how much does it cost?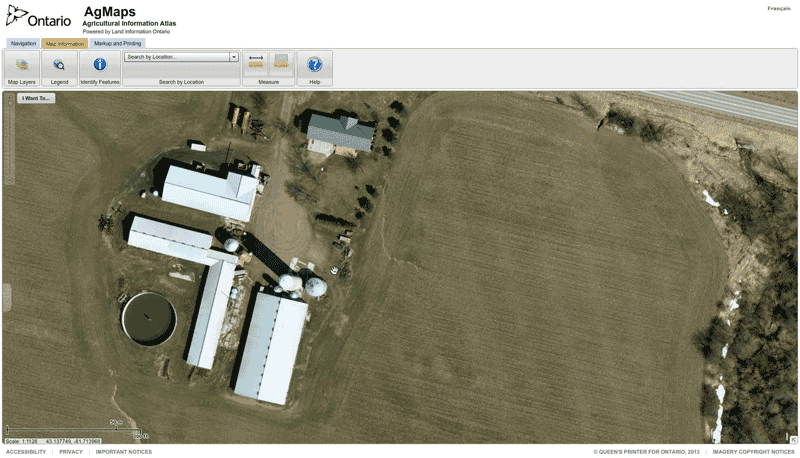 The good news is that the geographic information portal, which acts as an access point for geospatial agricultural and rural information, is both extremely useful and absolutely free.
"The Ag Maps landing page is a spot where we compiled static maps, Google maps, census mapping," says OMAFRA geospatial information specialist Jennifer Birchmore. "It's our landing page."
WHAT IT OFFERS YOU
Created for farmers and those who provide agricultural services to farmers, Ag Maps allows its users to both acquire agricultural information and create maps. Using the Go Global, Go Local link, for instance, producers can find farms based on what they produce or look for culinary adventures, including the craft brewers trail, local farmers' markets, and the pumpkin pie trail.
"Our Geospatial Data View page is a Google maps base, and we can throw things on and off here quite easily," says Birchmore. "If there's a disease, or a farmers' market, or a winery, or things like that that people want to see, we could just add these layers very quickly."
The number of informational maps available through Ag Maps is staggering. For instance, you can view Canada Land Inventory (CLI) maps for agricultural, forestry, or recreational use. Under the section entitled OMAFRA Program Data Set Descriptions, you can view drainage and soil mapping, and land use data sets.
CLI maps show the capability of different soil types and land to support different crop types, says Ross Kelly, manager of resource information and business services with the Environmental Management Branch of OMAFRA.
"If you've got something that is nice and flat, well drained, with nice loamy texture, it rates quite high," he says. "If something is very hilly, a lot of topography, stony —  it rates low. So it's a classification scheme derived from the soil maps."
Of particular interest to producers is the Map Gallery, a section that contains a collection of maps created by OMAFRA  staff. Here you will find 2011 Agricultural Census maps showing regions by farm type, including livestock, poultry, and field crops, as well as farm size, among other things. You can even select maps to show land management data by township or county, including input usage, irrigation, manure applications and tillage practices.
"Our maps gallery is useful for finding out what's happening in the province using census data, or it helps our Agricultural Information Contact Centre (AICC) with staff locations," says Birchmore.
CREATE YOUR OWN MAPS
The Agricultural Information Atlas (AIA)  offers professionals – nutrient management consultants, land use planners, agricultural consultants and engineers, and academics — access to geospatial agricultural and rural information. This interactive site allows its users to create and view agricultural data in map format. Users can view data, like drainage and soil mapping, overtop high resolution aerial maps along with relevant data layers from other provincial ministries. Maps can be customized and labeled, as well as emailed and printed, and are especially useful for submitting information to OMAFRA to support tile drainage records, as well as nutrient management and environmental farm plans.
VIEW LAND INFORMATION
Most of the agricultural data that producers would be interested in looking at can be found under the Environmental/Base tab. For instance, if they wanted to know what type of soil is found on a farm, they could use this site to find out, says Birchmore.
This would be especially useful for producers who may be buying or renting land, adds Ross. More than likely, he says, they would also be interested in what parts of the land were tile drained, as well as the classification of the soil.
"When a consultant tiles a property, they are required to submit back to the government where they've tiled, the acres and the year they did, and then they will be granted their license," says Birchmore. "We take that information and load it into a data layer that's available here on the Ag Atlas or available through Ag Maps." Birchmore notes that no personal information is shared on this site, just agricultural data.
"People really like the imagery," she says. Instead of using Google Maps, which are images taken by satellite, Ag Maps uses high-resolution photographs taken from a plane.
MEASURE PARCELS OF LAND
Using one of the tools provided, producers can also accurately measure the area of given fields. Maps can be labeled, saved as PDFs, and printed, which is useful for creating sketches to be used in nutrient management planning. Using the map templates, producers can also create general-use maps to be used whenever the need arises. For instance, if a tile drainage contractor needed to submit a map of the recently tiled areas on the property, the template could be used to submit or share that data.
Another feature allows producers to create maps that show where and how water moves on their property. The information can be used to run models to show the amount of erosion you will get in a given area.
To start using Ag Maps, visit: www.ontario.ca/ agmaps. Help buttons are available to guide you through using the site. You can also call the Agricultural Information Contact Centre at 1-877-424-1300 or email ag.info.omafra @ontario.ca  for additional assistance. •