WORKING TOWARDS INTERNATIONAL CERTIFICATION
SUSTAINABILITY IS A buzz word often used in agriculture around the globe; but for Ontario growers, it is a word that is about to become more meaningful in the soybean market at home.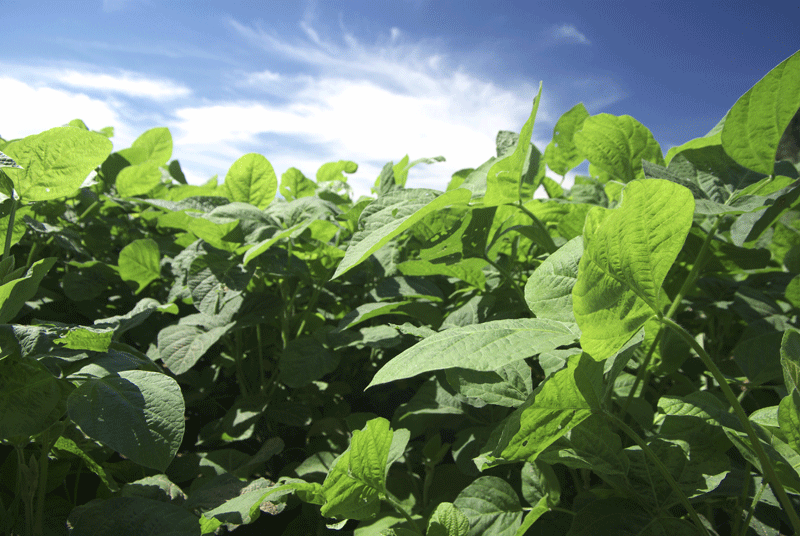 With the goal of developing market opportunities, Grain Farmers of Ontario is leading an initiative to add Canada to the list of Roundtable for Responsible Soy (RTRS) members. For growers, this means they will have the opportunity to earn a certification in sustainable production and potentially access markets currently out of reach.
"The motivation for this project comes from the goal of equipping growers with business tools now so they are ready to meet demand when opportunities arise," says Crosby Devitt, Grain Farmers of Ontario's manager of market development and research.
WORLDWIDE INITIATIVE
RTRS was founded in 2006 as a multi-stakeholder association and now has more than 170 international members. Four years post-launch, the organization approved the RTRS Standard for Responsible Soy Production — a certification program that ensures production methods are environmentally, socially, and economically responsible.
"Our mission is to encourage soybeans to be produced in a responsible manner to reduce social and environmental impacts now and in the future," says Veronica Chorkulak, RTRS business development manager.
Chorkulak says that RTRS-certified soybeans are currently being grown in Argentina, Brazil, Uruguay, India, Paraguay, China, and the United States. In addition to Canada, plans to adopt the program are also underway in Bolivia.
CANADIAN LAUNCH
While RTRS sets the overall framework, each participating country works to develop and approve their own interpretation of the certification standard. Each interpretation supports the program's mission but is open to customization depending on national labour laws, environmental regulations, or other legislation.
The Canadian standard began to take shape last winter when initial roundtable discussions were held between Grain Farmers of Ontario, grower representatives, industry partners, and retailers such as Sobey's Inc.
"Canada is an important soy producer and through province involvement, the market transformation process that has already started internationally can be enriched and accelerated," says Chorkulak.
The Canadian interpretation of the RTRS standard was finalized at the end of August 2014.
ONTARIO PILOT
A pilot project was conducted during the 2014 growing season to assess the feasibility of the certification process in Ontario. It was conducted under the leadership of Troy Snobelen of Snobelen Farms Ltd. in Lucknow. Seven producers dedicated acreage to the project and tracked their sustainable growing methods to put the proposed framework to the test.
Snobelen is now working to confirm market opportunities for these beans and will collaborate with Grain Farmers of Ontario to analyze project findings post-harvest.
"As the agricultural industry aims towards producing sustainable products, Snobelen Farms feels that it is necessary to gain RTRS certification," says Snobelen.  "Customers and end users have been discussing the need to buy sustainable soybeans for some time and we believe that RTRS is the right model to follow as it encompasses a worldwide approach."
Devitt says it is important to note that Ontario growers are already doing many of the things that the program deems as sustainable practices. "To become certified, the most significant change for most growers would be the level of documentation required."
Maintaining RTRS certification includes audit procedures and he says record keeping and auditing are components being tested through the pilot project.
"The documentation would be comparable to the requirements of an Identify Preserved (IP) program where growers agree to conduct certain activities on-farm, record when and how the tasks are completed, and share that information with the end customer," says Devitt.
MARKET OPPORTUNITIES
The RTRS system was initially developed in response to market demand for soybeans produced using sustainable practices that are tracked and recorded. This demand was primarily sparked by concerns in Europe regarding the health of ecosystems and rainforests in high production areas.
"Given the growing demand, we researched ways to track sustainable production and found that RTRS certification has the most immediate market potential," says Devitt. "But until now, demand for soybeans with this certification has been an opportunity only available to South American suppliers."
Scott Tudor, sustainability manager at Sobeys Inc., echoes Devitt's comments about the growing demand for sustainable products. "We recognize that as the world population continues to grow, we as food retailers need to support sustainable production as a way to feed the next generation."
Tudor says that soybeans are recognized by The Consumer Goods Forum — a group of over 400 manufacturers and retailers across 70 countries — as a key protein commodity. "Sustainable soybean production is being talked about as a global issue," he explains.
"At Sobey's, we are looking forward to the opportunity to work with Grain Farmers of Ontario and potentially individual Ontario growers to bring certified sustainable soybeans to market."
FUTURE OUTLOOK
Devitt says future market opportunities will ultimately dictate how many acres of certified soybeans will be demanded
in Ontario.
"Grain Farmers of Ontario's role is to support this market as it develops and provide growers with the tools they need," he says. Devitt notes that one example of Grain Farmers of Ontario's  support could be the creation of a central web-based record keeping program where all certified growers in the province could store required information.
"We believe producers are agents of change," says Chorkulak. "We hope Ontario can expand the certification process, involve new stakeholders and lead market development for RTRS material in North America."
Updated information about the grower pilot project and related market opportunities can be found at www.gfo.ca as they become available.
This project was funded in part through Growing Forward 2 (GF2), a federal-provincial- territorial initiative. The Agricultural Adaptation Council assists in the delivery of GF2 in Ontario. Funding has also been provided by Grain Farmers of Ontario. •