SEED AND PESTICIDE BAG COLLECTION EXPANDS
THE DISPOSAL OF on-farm waste materials is evolving as farmers continue to show their commitment to environmental responsibility and a willingness to adopt new best management practices.
PHOTO: TIM WILLIAMS, A PIONEER SEED REPRESENTATIVE WHO PARTICIPATED IN THE COLLECTION OF SEED BAGS, SAYS HIS CUSTOMERS FELT THIS PROGRAM WAS GOOD FOR THE ENVIRONMENT.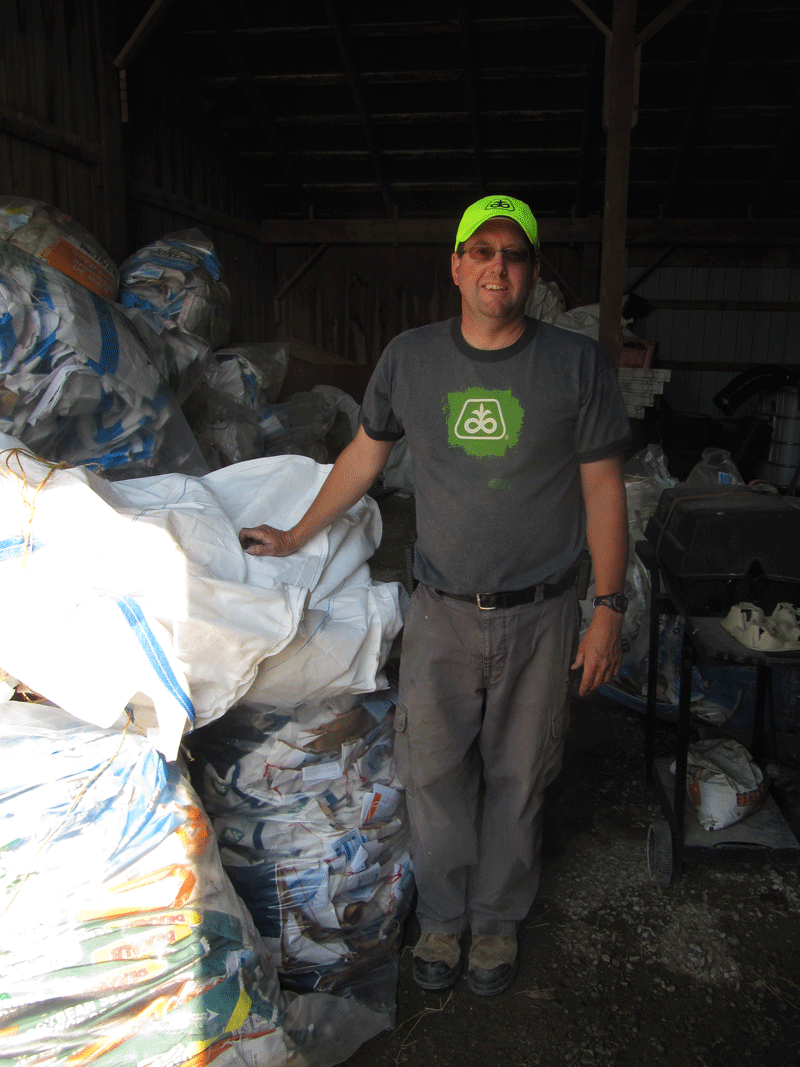 CleanFARMS is an initiative started over two decades ago through CropLife Canada. About four years ago, it became its own independent, national not-for-profit organization focussed on the collection and proper management of agricultural waste. Each year, CleanFARMS is increasing its involvement in the management of plastic and other inorganic waste materials used on farms across Canada, says General Manager Barry Friesen.  
In 2013, they established a pilot program for the proper disposal of empty seed and pesticide bags from farms. The program includes collection of multi-walled paper, plastic, and aluminum foil pesticide bags, and multi-walled paper and polywoven plastic empty seed bags.
Because of the pilot program, and other factors such as greater general knowledge of CleanFARM, there was a significant expansion in the number of pickup locations this year.
"We expanded from five collection points in 2013," says Friesen, "to 40 collection locations across Ontario and Quebec, and 24 locations in the Maritimes in 2014."
This year's program in Ontario ran from May to September. The first step for farmers who wished to be involved was to pick up a collection bag at one of many agricultural retail collection points across the region (the entire list is available at CleanFARMS.ca). Farmers then placed empty and tied bags into the collection bags before returning them to a collection point. They were then taken away by CleanFARMS to a disposal facility that uses waste to create electricity for use within the community.
PROGRAM RESPONSES
The farmer response was tremendous. "We've seen very high participation rates in the pilot program this year," Friesen notes, characterizing it as "yet another demonstration by farmers of their commitment to ensuring the sustainability of the agricultural industry."
The number of seed bags collected in 2014 was actually more than expected. "The final numbers are not in yet, but we expect to have collected close to 100,000 bags in 2014," Friesen shares. Both the expansion of the pickup location network this year and the high participation rate has allowed CleanFARMS to gather more data on how the process is working. It will help in improving the collection process and the entire program as a whole going forward.
Ted Menzies, the president of CropLife Canada, believes that when CleanFARMS was created, it filled an important gap. "It has provided farmers with the satisfaction of knowing that these containers are involved in full life-cycle stewardship, which is an important part of any farming operation," he says. "One of the highlights for me is that it did not come out of government regulation, but from the crop protection product industry. Farmers recognized the need, which is why the acceptance level is so high. I am very proud of what CleanFARMS is doing in the stewardship arena in Canada."
INCREASING STEWARDSHIP
As part of its mandate, CleanFARMS has also conducted several studies to determine what type of on-farm, inorganic waste is still being sent to landfills. Friesen says the results will lead to the exploration of new agricultural waste management opportunities and alternative solutions.  More plastic waste is being generated on farms today than ever before, and Friesen notes that stewardship of many of these products is likely needed. However, any new program expansion needs to be accompanied with a strong business case that includes the participation of the manufacturers of the products requiring stewardship. 
"We need to ensure any new program is financially viable and it must fit with the core programs we currently operate," Friesen explains.
CleanFARMS' core programs include the collection of empty pesticide and fertilizer containers, as well as obsolete pesticides and livestock/equine medication. For the container program, farmers can return empty, triple-rinsed containers to over 170 farm dealer locations. The obsolete pesticide collection programs are offered every three years in Ontario. All of these core programs are funded by the manufacturers and distributors of pesticide, liquid fertilizer, and animal health products, and are offered free-of-charge to farmers.
In terms of future plans, CleanFARMS is working towards establishing a permanent seed and pesticide bag collection program by 2016. "But before we do, we would like to conduct another year of piloting," says Friesen. "In 2015, we'll expand the pilot program to approximately 200 retail locations in Ontario and Quebec, in addition to all of the retail locations in the Maritimes. Expanding the pilot program to this scale will allow CleanFARMS to determine the costs of running a fully mature program."
 
Funding for the seed bag program is provided in part by CropLife Canada, the Canadian Seed Trade Association, and the Ontario Ministry of Agriculture, Food and Rural Affairs through the 'Canada-Ontario Agreement Respecting the Great Lakes Basin Ecosystem'.  Supplementary funding was provided directly by CleanFARMS. •