Controlling giant ragweed
CORN AND SOYBEAN PRODUCTION PRACTICES
WHY IS THE prevalence of Giant ragweed in soybeans higher than it ever has been in Ontario? That has been the research focus of Dr. Eric Page, a scientist with Agriculture and Agri-Food Canada (AAFC), for the last few years. Based at the Harrow research centre, he has been studying ragweed populations in both soybean and corn and is closing in on the factors that are contributing to this weed's success — as well as how producers can best control it.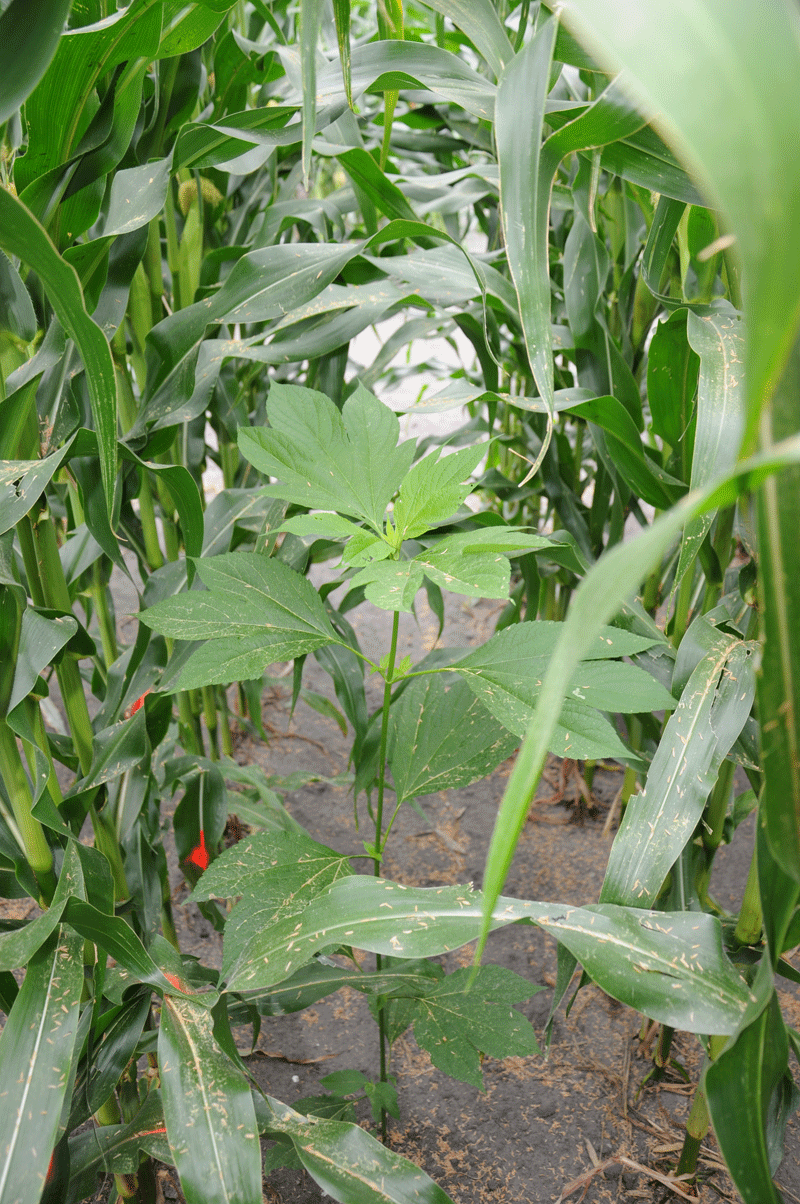 "I'm taking a close look at which changes in soybean and corn production practices over the last 50 years may have enabled this weed to do so well," Page explains. "As the presence of Giant ragweed was growing even before herbicide resistance became a factor, we need to know what this weed 'likes' about the soybean cropping systems used now and how that relates to corn, in order to create the best management strategies possible."
HISTORIC PRACTICES
From the 1930s onward, average yields of corn and soybeans in Ontario steadily increased by 1.5 and 0.5 per cent per year respectively, which is similar to what's occurred in other parts of the world. This coincided with the introduction of corn hybrids and improved soybean cultivars in the early 1940s.
"The greater stress tolerance of improved corn hybrids enabled the recommended plant population density to increase from about three plants per square metre in the 1950s to nearly nine plants per square metre in the early 2000s," Page notes. "This demanded greater use of nitrogen fertilizer and also spurred the development of corn hybrids with stronger root systems, stiffer stalks, and increased resistance to barrenness."
In soybeans, new cultivars are higher-yielding, but they are also shorter and less prone to lodging. Planting densities in soybeans have needed to remain quite similar over time, however, as yield can suffer if they are increased.  
CURRENT RESEARCH
From 2012 to 2014, Page studied ragweed growth in three corn hybrids and three soybean varieties, with one of each released commercially about 70 years ago, 25 years ago, and a few years ago. All varieties were seeded and fertilized according to the recommendations from their respective eras. Giant ragweed was transplanted into the crops at a density of two plants per square metre at crop emergence and 14 days afterwards.
"Results of this study suggest that regardless of the breeding improvements of the past 50-plus years, soybeans are simply not an effective competitor with Giant ragweed, and very few crops are," says Page. "Planting densities haven't really changed, and the provincial soybean acreage has also increased over time."
Resistance to glyphosate has added to the problem, along with Giant ragweed's wide emergence window.
"Because the timing of glyphosate use is flexible to some extent, by the time some farmers spray their soybeans, some of the ragweed is too large and escapes control," Page notes. "The wide emergence window of this weed also means that a large proportion of the (ragweed) population could be exposed to a herbicide in a given year, which may accelerate the selection of resistance genes in the population."
NEW SOLUTIONS
Page does not see increasing soybean seeding rates as even late-emerging Giant ragweed plants will easily overtop a soybean crop, causing significant yield losses and producing thousands of seeds.
"In-crop herbicides, preferably applied when ragweed is small, are a must in soybeans at present," he says.
However, this study's results show that the current cropping system used for corn is in itself an effective Giant ragweed management tool.
"Modern corn hybrids can tolerate the planting densities required to achieve a rapid and complete canopy closure, and the top of the canopy can reach two to 2.5 metres," Page notes. "When a Giant ragweed plant is growing in a closed canopy environment and trying to overtop a 2.5 metre corn canopy in order to access light, it ends up allocating more of its biomass to a long stem and less to reproductive components such as flowers and seeds."
Indeed, he has found that a high-density corn canopy, combined with an effective pre-emergent herbicide package that ensures a critical weed-free period following crop emergence, can reduce Giant ragweed seed production by up to 88 per cent and reduce yield losses relative to that in a similarly managed soybean crop.
The conclusion is that while Giant ragweed needs to be controlled in soybeans in order to avoid yield losses, high plant density in corn is a viable weed management tool that can be nearly as effective as a herbicide.
Page's future research projects will expand upon this work by examining other integrated weed management strategies in soybeans, including non-chemical means, for in-crop control of the three glyphosate resistance weed species in southwestern Ontario (Giant ragweed, Common ragweed, and Canada fleabane).  •