Industry collaborates on pollinators
A PLAN FOR BEE HEALTH IMPROVEMENT
SINCE 2012, WHEN concerns around bee health first arose in the province, Grain Farmers of Ontario has taken an active leadership role to minimize the negative impacts crop farming practices may have on bees. Over the past few years, efforts have expanded in this area to also look at ways grain farmers can support pollinators and improve their health and productivity. Together, with collaboration among stakeholders and experts, a sustainable and workable solution is possible.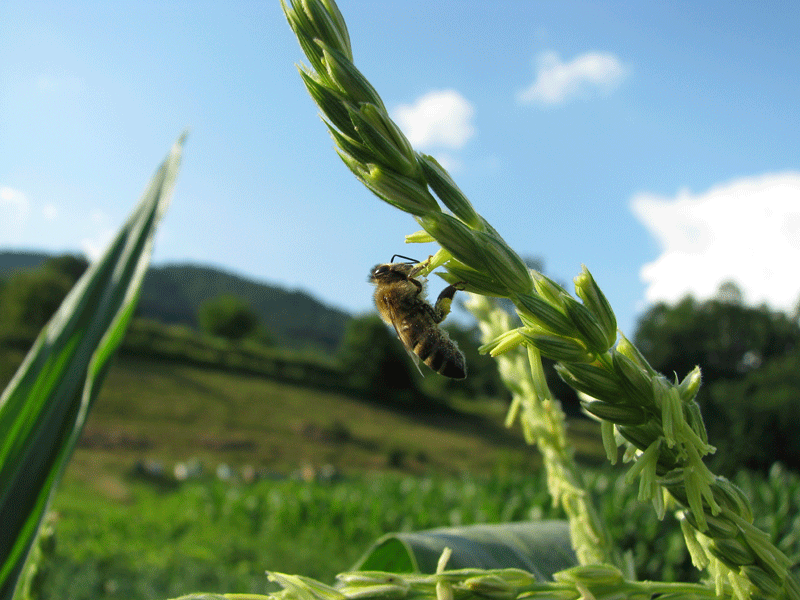 THE POLLINATOR TASK FORCE
The Pollinator Task Force (Task Force) was assembled by Grain Farmers of Ontario in the winter of 2014 to help identify opportunities to enhance pollinator and managed bee health.
The Task Force is comprised of a number of experts in the agriculture industry, who are committed to bee health improvement, including:
•    Beekeepers
•    Farmers
•    Certified Crop Advisor
•    Agriculture retailers
•    Seed company representative
The objective of the Task Force is:
To consider current farm and beekeeping practices in order to uncover and recommend changes that can be implemented to make meaningful contributions to enhance the health of pollinators and honey bees in Ontario.
The Task Force reviewed the results of consultations with more than 900 grain farmers across Ontario in early January 2015, collected information from a variety of sources, and met with experts with field experience to formulate recommendations. These recommendations have been compiled into the Ontario Pollinator Health Blueprint.
ONTARIO POLLINATOR HEALTH BLUEPRINT
The Ontario Pollinator Health Blueprint was developed by the Task Force to enhance pollinator and managed bee health in Ontario by recommending the implementation of changes that are practical, avoid undo economic compromise for growers and beekeepers, and are verifiable.
Following is a Ten Point Action Plan to enhance pollinator health through specific actions by farmers, beekeepers, agricultural retailers, Certified Crop Advisors, the Ontario government, interested stakeholders, and the public.
1.    ONE MILLION ACRES OF POLLINATOR HABITAT ACROSS ONTARIO BY 2018
Establish one million acres of self-sustaining pollinator habitat that will provide a sequence of continuous blooms throughout the seasons. This will be achieved by repurposing farm land, private land, and public land for pollinator friendly habitat.

2.    POLLINATOR HEALTH AND ENVIRONMENT INITIATIVE
Establish a Pollinator Health and Environment Initiative to financially assist in delivering the Pollinator Health Blueprint action plan that will enhance pollinator health and environmental sustainability in Ontario.
3.    SEED TREATMENT POINT OF PURCHASE VERIFICATION SYSTEM
Reduce the risk of pesticide exposure outside the hive by implementing a "Point of Purchase" verification system for all purchases of insecticide treated seed. This system will be subject to audits and will include:
a)    Mandatory training and licensing, under the Grower Safety Pesticide Course, for all farmers who purchase treated seed
b)    Mandatory installation of equipment modifications on negative air pressure planters used to plant neonicotinoid treated seed and that are not compliant with ISO – 17962 to reduce fugitive dust drift emissions
c)    Registration of all farms who use neonicotinoid treated seed on DriftWatch (communication tool https://driftwatch.org/)
4.    TRANSPARENT SEED TREATMENT PRICING AND EDUCATION PROGRAM
Ensure all farmers have access to untreated seed, understand the cost differences between treatment options, and consider untreated seed options through discussion with their seed supplier.
5.    VOLUME REDUCTIONS IN NEONICOTINOIDS SOLD IN ONTARIO
Encourage the industry to take steps to reduce the volume of neonicotinoids sold in Ontario, through a commitment by industry to reduce high rate applications (that do not exceed the minimum recommended label rate).
a)    reduce the availability of the 500 application rate of neonicotinoid
corn seed
b)    reduce the use of the 1250 application rate of neonicotinoid corn seed to be used in special circumstances only
6.    INNOVATIONS THAT PROTECT POLLINATORS
Promote the adoption of innovations that reduce risks to pollinators, including:
a)    A replacement for neonicotinoid seed treatment and other insect control products that are "pollinator friendly"
b)    Evolutions in air planter technology that reduce fugitive dust
c)    New seed coatings that significantly reduce fugitive dust without negatively impacting seed germination
d)    Improvements in seed fluency agent or similar lubricants used
7.    ENHANCEMENTS IN BEEKEEPING BEST MANAGEMENT PRACTICES
Improve the overall health of managed honey bees and reduce the exposure of pesticides in-hive through the implementation of a verification system that ensures adherence to standardized Beekeeping Best Management Practices, application technology to reduce exposure, and mandatory registration on DriftWatch.
8.    NEW PESTICIDES AND PHARMACEUTICALS TO COMBAT MITES AND PARASITES IN MANAGED BEES
Support for international efforts to eradicate the impacts of parasites and diseases on managed honey bees, including:
a)    Support existing initiatives that have prioritized the identification and development of new varroa mite control products and approaches, including the AAFC Bee Health Roundtable and the Honey Bee Health Coalition
b)    Support initiatives that focus on future technology to improve bee genetics
c)    Support initiatives that are focused on reducing the impacts of pests and pathogens on pollinators
9.    FARMER AND BEEKEEPER EDUCATION AND PAIRING PROGRAM
Implement a program to improve communications between beekeepers and farmers through workshops and a young farmer/young beekeeper pairing program for networking and information sharing.
10.    POLLINATOR HEALTH RESEARCH PROGRAM
Establish a research program that will result in:
a)    Immediate expansion of AAFC's National Monitoring and Surveillance program to include Ontario honey bees
b)    Assessments of Ontario's ecosystem to establish benchmark data on the health of pollinators in Ontario and the availability of habitat for Ontario pollinators
c)    Standardized reporting for managed bee health statistics
d)    The discovery and introduction of replacements for neonicotinoid seed treatments
e)    The discovery and introduction of new technology that reduces fugitive dust drift
f)    Improved best management practices for beekeepers and farmers
A fulsome document describing, in detail, the Pollinator Task Force, the Ontario Pollinator Health Blueprint, and a timeline for rollout of the Blueprint has been shared with to the Ontario government and is available at www.gfo.ca/ProtectingPollinators. •