The importance of dealer licensing
PROTECTION UNDER THE GFPP
THERE'S A LOT riding on a load of grain. Grain farmers selling a crop need to know they will be paid the correct amount, on time, to keep their own farm businesses thriving. But if payment doesn't come through — or if it's not the full amount — Ontario grain farmers can be secure in the fact that financial compensation is available to them through the Grain Financial Protection Program (GFPP).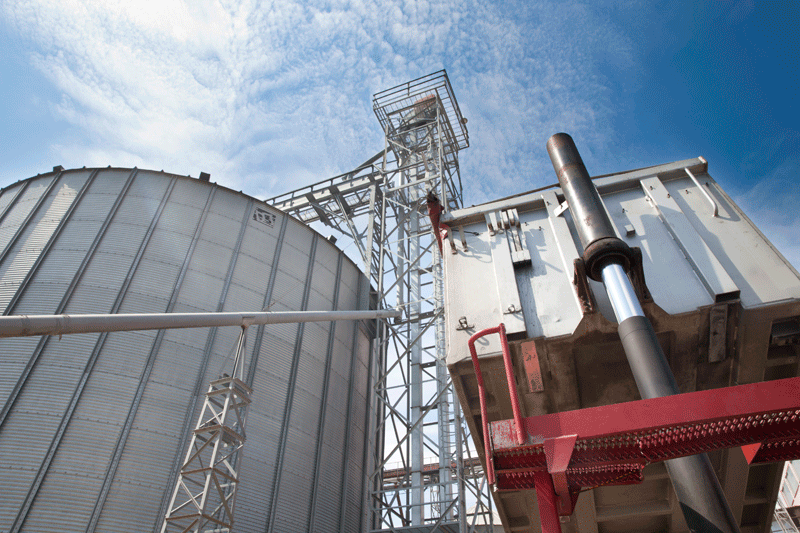 The GFPP protects producers who sell grains and oilseeds to licensed dealers, and producers or owners who store grains and oilseeds at licensed elevators. The program is paid for through a portion of check-off fees growers pay to Grain Farmers of Ontario.
"When a grain deal goes wrong, it wouldn't take much to cause a wreck and put a producer's farm at risk," says Barry Senft, CEO of Grain Farmers of Ontario. "There have been times when the GFPP was called upon, and it has helped avoid a major catastrophe. This is an important program to Ontario grain and oilseed farmers."
To call the program into action, a grower's first call should be to Agricorp. But in order to access GFPP funds in times of need, there are some key responsibilities producers must fulfill.
CONFIRM YOUR ELEVATOR IS LICENSED
Jim Zavitz, chief inspector under the Grains Act with Agricorp, says there are plenty of out-of-province and out-of-country dealers operating in Ontario — but they are required to have a license. Zavitz says checking the list of licensed dealers on Agricorp's website before selling a crop can save a lot of headache down the line.
Zavitz recalls two recent phone calls from producers who were not paid for their loads of wheat. When the producers called Agricorp for help, it was discovered that the out-of-province dealer was not licensed in Ontario.
"Those producers were caught in a bind because we were telling them they dealt with an unlicensed dealer, and they didn't fulfill their responsibilities," says Zavitz. "Both eventually got paid, but there was real concern that they were not going to get paid. It's very difficult for us to get compliance with an out-of-province entity."
PAY ATTENTION TO PAPERWORK
Zavitz says there is no underestimating the importance of a paper trail. Knowing what Agricorp requires of licensed dealers and elevators can help growers ensure they are being treated appropriately.
Did you receive a weigh ticket for each delivery? Did you receive a grain storage receipt within 45 trading days of delivery, or within five trading days of request? Was your grain storage receipt signed by the elevator operator, and does it show necessary details such as expiry date charges? If you have to make a claim later, you will need to provide accurate paperwork.
If growers need to dispute a quality issue, the time to do it is at the time of delivery, when a grade appears on the documents. Grade disputes require samples to be sent to the Canadian Grain Commission, where a final grade is determined. It really needs to happen when the crop is there to be tested at the time of delivery, Zavitz says.
"A number of things can cloud a straight black and white determination, and in tough cases lacking documentation there are many shades of grey," Zavitz says. "Having the right paperwork and dealing with a licensed dealer or elevator operator really makes a big difference."
BE ON ALERT FOR SIGNS OF TROUBLE
Zavitz says producers need to cash cheques within five days, but preferably as soon as they are paid. And if there is a problem with getting paid, producers need to notify Agricorp.
"Letting us know when they encounter problems helps us help producers," Zavitz says. "It also alerts us that there might be bigger problems that might affect other producers."
Another sign of trouble is a delay in accessing a crop. "The elevator is always supposed to have enough inventory on-hand to match its storage obligation to producers," Zavitz says. "If you request your crop and you're told you have to wait a week, that may be another sign of trouble and it would be grounds for us to do an immediate inspection."
UNDERSTAND THE CLAIMS PROCESS
If a producer has a claim against the fund, it is the Grain Financial Protection Board that administers and adjudicates the claim — not Agricorp. The Board is comprised of grower and industry representatives, appointed by the Minister of Agriculture, Food and Rural Affairs.
Grain Farmers of Ontario chair Mark Brock is among the producer representatives appointed to the Board. Brock says in the nearly two years he has sat on the board, they have been fortunate to see no cases come forward for adjudication.
"Our focus right now is on ensuring the plan is safely invested, so the money is there when we need it," he says. "We have done our due diligence to ensure the funds are invested with the lowest possible administrative costs, and we will continue to encourage producers to understand their responsibilities under the program."
Whether a case will require adjudication, or some quick advice, a grower's first point of contact should be Agricorp.
"Hopefully we can resolve the issue or minimize the impact to other producers," says Zavitz. "Ultimately, if a claim is to be made against the fund, we will help facilitate the process."
WESTERN CANADA CONSIDERS LICENSING FEED MILLS
In February 2015, the Canadian Grain Commission (CGC) launched a consultation process for a proposal to license feed mills in Western Canada.
As part of its licensing and producer payment protection programs, the CGC currently issues licenses for primary, terminal, and process elevators, as well as grain dealers. Feed mills are currently exempted from licensing in the Canada Grain Regulations.
Under the proposal, feed mills may be required to provide security as a condition of licensing. The CGC has released a discussion paper that details the proposal — including proposed implementation. 
Jim Zavitz, chief  inspector under the Grains Act with Agricorp, says if the proposal goes through, he expects changes in Ontario to be minimal. Feed mills in Ontario currently require a dealer license under the GFPP.
"It appears they're considering a similar fund to the Ontario model, with the main difference being the funding source — the Western fund would be dealer-funded, whereas ours is producer-funded," Zavitz says. "For Ontario growers, I expect it would be business as usual."
To read the discussion paper visit www.grainscanada.gc.ca. •