REGIONAL PROJECTS IMPROVE THE ENVIRONMENT
FARMERS ACROSS THE province are increasingly becoming involved in conservation efforts in their regions, a circumstance that is beneficial to both the ecosystem and their bottom line.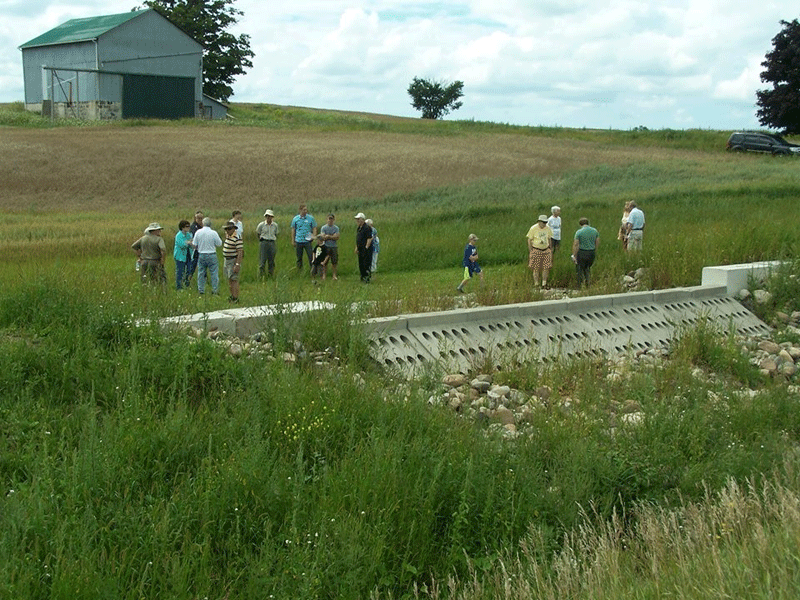 "Farmers are starting to realize there's all kinds of technology, seed breeding, and everything else that goes on to produce more food, but we still need that natural topsoil to make all this work — it's a pretty essential part of the equation," says Don Farrell, a retired farmer and project manager with the Pine River Watershed Network (PRWN), near Ripley.
The PRWN started as a discussion around the kitchen table in Huron-Kinloss Township in 2000 as a way to help improve the water quality and preserve the ecosystem in the region. It has since developed into an independent non-profit group — thanks to the support and dedication of the community.
The PRWN works with landowners to help them get funding for conservancy projects such as installing a water and sediment control basin (or berm), building windbreaks, planting trees, consultations on soil erosion prevention, and fencing off rivers while providing alternative water supplies for livestock.
"It's beneficial to both the farmer and the ecosystem because you don't want to have all of your inputs washed down the drain and certainly it helps the ecosystem not to have them in the rivers," says Adrienne Mason, PRWN project coordinator. "And if there's still livestock in the river, we'd be happy to help farmers get funding to try to keep the cows out of the stream."
INCREASED PARTICIPATION
Over the last several years, Mason has noticed farmers becoming more active in the organization. "In 2009, when I began with the group, we would have to go out on the land and look for projects, ask people if they were interested and willing to do these projects. Now, we have landowners coming to our office and calling us. So there's certainly been an increase in interest from farmers," says Mason.
Both Mason and Farrell attribute this to the fact that farmers are now physically seeing the benefits of the various conservation projects taking place in their region.
One example is on Farrell's own farm. He had a berm installed as well as a retention pond to capture run-off and prevent erosion. His neighbour also had a berm installed after seeing the benefits it provided. An additional benefit is that Farrell didn't pay anything out of pocket and didn't lose any income potential because he was still able to plant on the same amount of acres.
Curious farmers can turn to Farrell, his neighbour, and others who have had berms installed to ask questions about the financial, technical, and environmental aspects.
"It's a peer-to-peer conversation, and we have a lot of farmers on our directorship," says Mason. "They may talk to their neighbours about conservation projects, and it's coming from experience as opposed to my approach which is more academic or theoretical because I've never owned a farm."
Mason says the trend of farmers getting involved is something akin to peer pressure. "You see your neighbour has done something and maybe that encourages the thought that you should do something too."
 
Sometimes the environmental benefit is just a byproduct of common sense.
Farrell says he had a few two-acre pieces of land that could only be accessed across rivers and it wasn't worth the risk to have his custom combiner and his $300,000 machinery jump across the river for $200 worth of crops — so he planted trees on that land instead.
It's not just conservation organizations spreading the word about the necessity to preserve topsoil and prevent erosion, but all agricultural stakeholders are sending out the message, which Farrell says is helping raise awareness.
"And the price of land has gotten so high, I think they've realized how valuable a commodity the land itself is, and once it's gone, it's gone," says Farrell.
The watershed has been deteriorating for 150 years, which means a lot of effort and dedication is needed to reverse the effects, but with continued farmer involvement, that shouldn't be a problem.
"Hopefully at some point we'll start to see a difference in the nutrient levels and E.coli levels in the watershed as part of our project. I hope to do myself out of a job," says Mason, "Farmers really need to look at this as a cooperative opportunity. In being a good steward of the land, they're preserving the agricultural industry into the future as well." •