HOW MUCH IS EROSION COSTING YOU?
GLOBAL POPULATION GROWTH  means demand for agricultural products is on the rise. But according to researchers, loss of land to non-agricultural uses and soil resource depletion is also increasing. While some changes are beyond the control of growers, soil erosion risk can be reduced and researchers are now determining the associated costs and future impacts.
PHOTO: ONTARIO HAS A HIGHER SOIL EROSION RISK THAN OTHER PARTS OF THE COUNTRY.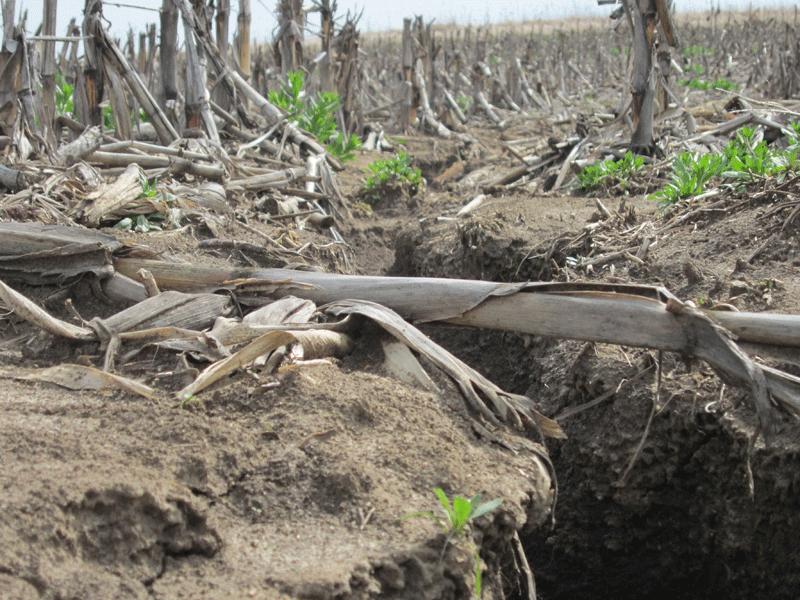 Dr. Richard Cruse, agronomy professor at Iowa State University, is leading a study focused on the costs of erosion and says Iowa and Ontario share many similarities.
"In the next 50 years we will have to produce as much food and feed as we have since the beginning of agriculture and this is a daunting task when cumulative soil erosion loss is costing farmers billions of dollars annually," says Cruse.
RISK FACTORS
He says 41 million agricultural acres in the United States were converted to non-agricultural uses between 1982 and 2007. Additionally, the United Nations Food and Agriculture Organization (UN FAO) predicts that seven per cent of agricultural land worldwide will be converted to non-agricultural uses by 2030 — a land mass equivalent to the agricultural expansion potential in Brazil.
"Only 11 per cent of Canada's land can support agriculture and by losing ground, we have to do more with even less," says Cruse. "But while demand is going up, our potential to produce based on soil resources is not trending in the same direction."
EROSION 101
Erosion is the process of soil particle detachment from the soil surface, transportation of particles by flowing water or wind, and deposition of particles away from their original location. To quantify soil erosion, Cruse says researchers identify a mass of soil that has been detached and transported within a given area, noting that it may be deposited within that same area or outside of it. 
Studies in both Iowa and Ontario indicate that losing one centimetre of soil reduces potential corn yield by up to 128 kilograms per hectare. Although yields continue to increase through genetics, fertilizer applications, and other factors, Cruse says that technology cannot completely offset erosion.
"If technology could overcome erosion, all yield maps would be a common colour without variation. When all resources are supplied we have elevated production potential but water and nutrients are needed to build a product," he says.
While there was little erosion risk change in Canada between 1981 and 2011, Cruse says Ontario is home to the most significant area represented in the higher soil erosion risk classes. "The opportunity to produce is high, but the opportunity to lose soil potential is also high."
ON-SITE COSTS
Based on erosion levels observed in trials between 2008 and 2012, Cruse assumes an erosion rate of 25 metric tons per hectare annually, which is equivalent to two-tenths of a centimetre of soil loss. 
Two-tenths of a centimetre of soil loss is worth approximately 14 kilograms of grain corn per hectare. Based on a price of five dollars per bushel, 25 tons of soil loss per hectare costs just over one dollar.
While this may seem like a nominal loss, Cruse says annual cost impacts are constant but production loss and soil loss are cumulative. "The real part of the story is that over time, especially for land owners, this loss is more expensive."
As an example, erosion in year one costs one dollar in year two. The loss in year three, however, is three dollars because the past loss from year two is added to the current loss of production potential. By year six, the cost is $15 per hectare.
The research concludes that the cumulative cost of erosion after 20 years of farming is $200 per hectare.
Additionally, Cruse says ephemeral gullies are commonly repaired using tillage equipment to fill the area with soil. This soil is often washed out of the field during the next rain, resulting in costly sediment loss. Based on the erosion cost model, the cost of repairing gullies is $1,000 per hectare after 20 years of farming.
Cruse's cost research is based on the universal soil loss equation which estimates sheet and real erosion, or the thin layer of surface soil movement. He says the formula does not include soil that moves in gullies or other channels which makes the reported numbers very conservative. A calculation tool with the ability to include other channels has not yet been developed.
REDUCING RISK
While he says grass waterways are key to reducing soil erosion, Cruse encourages growers to develop a system of crops that conserve soil and make money. "Putting the right system in place is the real way to address erosion."
"Short term crop loss associated with soil loss rates is typically less than the cost of controlling soil erosion, especially for land renters or others that farm land for a short period of time. This is a very challenging issue because soil loss rates result in continual deterioration of our soil resource, negatively affecting farming economics," says Cruse. "Long term management and agreements bode well economically for soil conservation."
Cruse presented his research on the cost of erosion at the 2015 Southwest Agricultural Conference. A video recording of his presentation is available under Proceedings  2015 at www.southwestag conference.ca. •