Cellulosic sugar production
UTILIZING ONTARIO CORN STOVER
A BUSINESS DEVELOPMENT project evaluating the potential use of renewable agriculture residue, like corn stover, has just entered its second phase. The residue is being studied for its potential use in the production of glucose for biotechnology companies wanting to replace non-renewable products.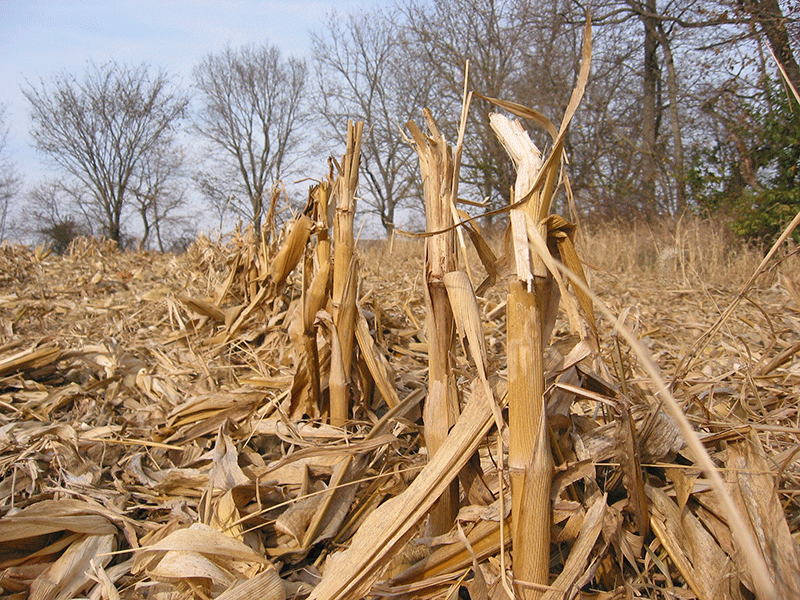 The 'Cellulosic Sugar Production Project' is evaluating various conversion technologies to identify the best fit for producing high quality sugars.
The first phase of the project involved evaluating 19 technology providers based on their economic viability and a physical validation of their proposed technology. This included areas such as biomass pretreatment, biomass conversion yield to sugars and co-products, operating costs, and capital cost requirements for a commercial scale facility.
The evaluation also looked at the characterization of the sugar and co-product streams for targeted customers and markets, including product trials and assessments by potential market sugar consumers. An identification of leading process and technology configurations for commercial implementation, including pretreatment, conversion, and purification, was also completed.
FURTHER EVALUATION
Four companies are now being further evaluated as the project enters its second phase.
"There are a number of cellulosic sugar conversion technology providers claiming to have economically viable technologies that produce sugars of high quality from corn stover and wheat straw," says Sandy Marshall, chair of the Board of Directors of Sarnia-based Bioindustrial Innovation Canada (BIC), the lead partner for the project. "The Cellulosic Sugar Production Project is designed to review and assess these technologies to determine which ones are a good fit for the southern Ontario region."
The four technology providers entering Phase 2 represent unique technologies for producing sugar and co-products from local agricultural biomass. The sugar and co-products produced will undergo quality assessments by consumer company partners, which Marshall says is critical for understanding sugar quality and establishing sugar standards.
The four technology providers will have the economic viability of their business plans validated. Possible technology providers will be recommended based on these combined assessments.

FUTURE PLANS
Local producers in southern Ontario have formed the Cellulosic Sugar Producers Cooperative. The Co-op expects to develop and implement a commercial business plan for field aggregation, to biomass conversion, to sugar market based on the recommendations from this project.
The end goal is to create an economically viable, full-scale, commercial cellulosic sugar plant in southern Ontario by 2018. This is expected to require a biomass conversion facility handling up to 250,000 dry tonnes of biomass per year.
Marshall says using corn stover and other agriculture residue offers an environmental benefit because it reduces dependency on non-renewable resources, like petroleum, when developing products ranging from cosmetics to construction and automotive parts.
If the right technology is found, it will be another likely — and extremely timely — revenue source for southern Ontario growers given the August 2015 opening of the world's largest succinic acid plant in Sarnia by BioAmber Inc, a biotechnology company that produces sustainable chemicals from sugar.
A BioAmber media release announcing the plant opening stated that the company's bio-based process for making succinic acid using glucose sourced from southern Ontario agricultural suppliers "will result in a 100% reduction in green house gas emissions and a 60% reduction in energy consumption."
To date, no commercial facility to convert the biomass into sugar has been built in Canada because there is insufficient information available about biomass supply and cost, cellulosic sugar plant capital and operating costs, sugar market quality requirements and pricing, and investment model — aspects the Cellulosic Sugar Production Project is evaluating.

INDUSTRY SUPPORT
The project is able to have such a large scope due to financial support from BIC and its partners, which include the Cellulosic Sugar Producers Cooperative, BioAmber Inc., the Integrated Grain Producers Co-operative Inc., Jungbunzlauer Canada Inc., Ontario Agri-Food Technologies, Alberta Innovates Bio Solutions, and Grain Farmers of Ontario.
"Grain Farmers of Ontario's Grains Innovation Fund provides funding to support companies and organizations who are developing new or reformulated products that have the potential to expand the market for Ontario corn, soybeans, and wheat," says Nicole Mackellar, manager of market development for Grain Farmers of Ontario, adding that the fund is opening up in 2015 for projects utilizing barley and oats as well.
Mackellar says Grain Farmers of Ontario is always looking at new marketing opportunities for its farmer-members and they see great opportunity in the bio-economy. Since 2013, Grain Farmers of Ontario has supported work looking into the feasibility of using Ontario corn stover for cellulosic sugar production. Pointing to the lack of available information and echoing comments that there are no commercial facilities in Canada utilizing cellulosic conversion technology, she believes this latest project will help address a void in Canada while positioning Ontario as a prime location to build a commercial facility.
Jim Campbell, general manager of Agris Co-operative, a member-owned farm supply and grain merchandising business, says there are several users in Ontario who would be interested in industrial sugar products from alternative renewable sources.
"The real market opportunity for these products is to replace chemicals that traditionally come from crude oil feedstock," he explains. "If we can commercialize production from crop residue feedstock, we expect the market demand will develop and grow. With consumers focused on reducing their carbon footprint and improving sustainability, making use of agricultural residue only makes sense."
Campbell says developing new markets for growers is important, even if in the beginning it may be a modest opportunity for the few who are involved.
"In the long run, developing value-added market opportunities for residue left from regular cropping practices will have important incremental income opportunities for farmers."
Biomass aggregation and supply chain studies associated with this project are supported by the Ontario Federation of Agriculture. The project is expected to be completed by the end of 2015.
The project was funded in part through Growing Forward 2 (GF2), a federal-provincial-territorial initiative. The Agricultural Adaptation Council (AAC) assists in the delivery of GF2 in Ontario. •