UNIVERSITY PROGRAM CELEBRATES 20TH YEAR
WHEN ALICIA HUSTON married into a farm family near Thamesville five years ago, she had little more than a passing acquaintance with some of the commodities grown on their farm — except for soybeans. As the University of Guelph Project SOY (Soybean Opportunities for Youth) student coordinator in 2005-2006, she'd learned a great deal about the oilseed's versatility and flexibility. At the time, though, she didn't know such an understanding would later serve her in such a practical way.
PHOTO: PROJECT SOY STUDENT COORDINATORS ALICIA HUSTON (2005-06) AND ELISABETH AERTS (2015-16) COME TOGETHER TO COMPARE NOTES DURING AN INFORMATION TRIP TO THE UNIVERSITY OF GUELPH RIDGETOWN CAMPUS.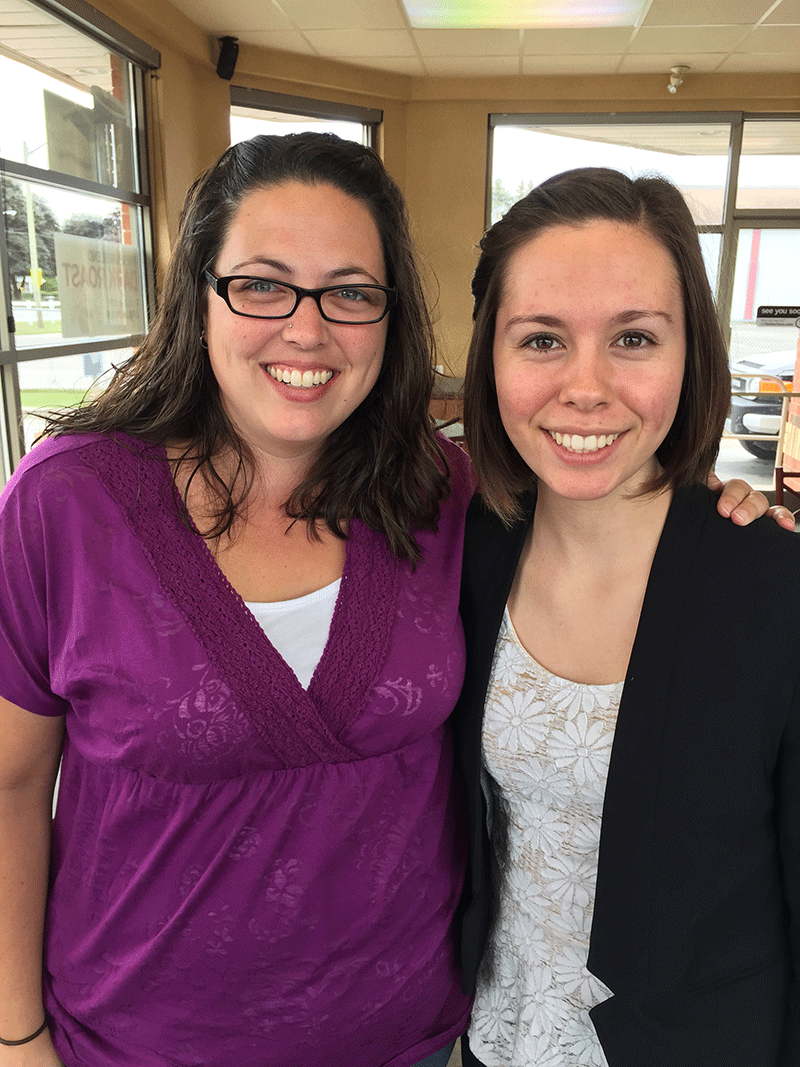 "For me, learning about soybeans and managing Project SOY was eye-opening, realizing that there was a lot more to those little beans than tofu and animal feed," she says. "Now, as a farm wife, I'm still able to rely on what I learned all those years ago. It was nice to move to the farm and not have a problem identifying soy in our back field. Plus, I know what my husband Mark is talking about when he mentions something about Grain Farmers of Ontario or Soy Canada."
MILESTONE YEAR
This year marks the 20th anniversary of Project SOY. For the 2015-16 competition, organizers want to rally 20 teams or participants — or, as student coordinator Elisabeth Aerts calls it, "Twenty for twenty."
Sponsors are supporting new incentives for all participants, including faculty mentors, along with a video that promotes participation in the contest's three academic streams — diploma, undergraduate, and graduate levels.
BEGINNINGS
Project SOY's longevity is a tribute to the soybean sector's commitment to research and expanding its reach, to University of Guelph students' inventiveness, and to Ontario soybean pioneer Peter Hannam. He had always held dear his education at the Ontario Agricultural College, from which he graduated in the early 1960s. It was there he took courses in plant science and developed a curiosity for growing soybeans outside the traditional southwest region.
Ultimately, he and a dozen other progressively minded farmers went on to form First Line Seeds, which became a highly successful, entrepreneurial, research-driven seed company.
Hannam wanted to introduce University of Guelph students to the soybean sector in a new way that would involve research. So he and Gary Lannin, First Line Seeds' marketing manager, worked with the University's Office of Research to create a program at the university in which students could become more aware of the soybean sector. From that imperative came Project SOY.
Its initial goal was to help increase the uptake of soybeans and find new uses for them, through research, product development, or marketing. Students would be invited to bring new ways of thinking into the sector.
As time went on, it became clear students were realizing other advantages.
ADVANTAGES
First, Project SOY gives those with little familiarity with soybeans some exposure to the crop. Many of the student participants (who enter either individually or as a team) are from outside of production agriculture, such as food science, engineering, family relations and applied nutrition, hotel and food administration, consumer studies, and rural development.
As well, Project SOY gives students a chance to develop research skills by working with academic experts and skilled commercialization experts. Every entrant must have a faculty mentor, an academic who accepts the responsibility of overseeing the idea from conception to public presentation and judging, which is about an eight-month commitment.
Over that time, the students develop not only the product or idea, but comprehensive final reports about their projects as well, which are reviewed by contest judges and by representatives of the University's Catalyst Centre (business development office). These highly detailed reports are weighed equally with the day-long product presentation event that takes place just prior to the end of the semester. In recent years, those presentations, along with the winners' ceremony, have been held in the conference centre at the One Stone Road building in Guelph.
On the morning of the finale, judges from each of the sponsors — Grain Farmers of Ontario, Dekalb, the Ontario Ministry of Agriculture, Food and Rural Affairs, and Soy 20/20 — visit the participants at their table-top displays, after having pored over each participants' final report.
Then at noon, the public is invited for a two-hour open house to view the projects and discuss them with the participants. Finally, at 2 p.m. the award winners are announced to a gathering of industry personnel, academics, government, and media — as well as many relatives and supporters of the contestants.
It's not unusual for the provincial minister of agriculture to attend and for the master of ceremonies for the event to be the University's president or vice-president of research.
At the finale, three award recipients are recognized in each category, winning $2,500 for first place, $1,000 for second, and $500 for third. Starting this academic year, each team that finishes a project will also receive a $100 participation fee, to recognize the commitment to the program, and help maintain their enthusiasm when the dog days of winter arrive along with heavy academic schedules.
All of this activity is overseen year-long by a student coordinator, also supported by the sponsors, located in the Office of Research. In this way, Project SOY is wholly a student-run program.
SUCCESSFUL IDEAS
Over the past two decades, Project SOY entrants have brought forward some truly fascinating ideas. Among those that stood out in 2014-15 were a high-tech epoxy for electronic applications, an industrial seed coating, and personal grooming products, all containing soy.
Others that have succeeded through the years to capture prizes have been:
• Soy Fashions, which uses soy stalks to create woven shoes and shopping bags.
• Bean Bullets, decomposable shot for air soft guns, which decompose within 72 hours.
• Wax SOY, a protective edible wax that can be applied to fruits and vegetables as a method of preservation in post-harvest treatment.
• Espressoy, a coffee-like beverage made from soy.
• Flavone Ice, breath strips containing bone-healthy isoflavones.
• SoCoa Beans, a soy protein based candy targeted to adults at risk for cardiovascular disease.
• The Fortune of Soy, a soy-based vegan fortune cookie made primarily with soy flour, soy oil, wheat flour, and sugar.
By far, the most successful products ever developed through Project SOY are soy-based dips and spreads under the brand name Yoso. When brothers Erik and Francis Lo graduated from the University of Guelph, they turned their product into a company, with a home base in Cambridge, Ontario. The company website notes Yoso "was born in a new product development project called Project SOY at University of Guelph in 1998. It was there the [brothers] started experimenting with ideas for a gourmet soy spread."
The public is welcome to attend this academic year's finale, which will be held March 18, 2016. The event will feature a special tribute to the past 20 years and a look forward to the future. •