NATIONAL AND PROVINCIAL PERSPECTIVES
GRAINS AND OILSEEDS exports are doing well for Ontario and Canadian farmers, and markets are continuing to grow.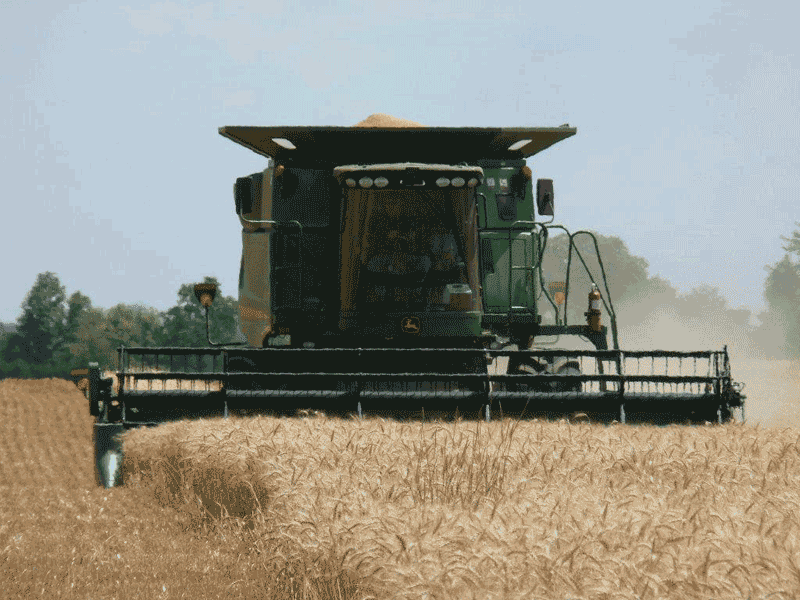 In general, Agriculture and Agri-Food Canada (AAFC) predicts that abundant world grain supplies are expected to continue to pressure export prices, but that the weaker Canadian dollar will provide some support. Prices for wheat ex-durum, barley, corn, and lentil exports averaged higher in 2014 – 2015 than 2013 – 2014, while prices for canola, oats, and soybeans have been lower.
In AAFC's outlook for 2014 – 2015, total crop exports were forecast to decrease only slightly from 2013 to 2014 due to a rebalancing of planted acres. Corn acreage is down slightly due to the record high number of soybean acres planted in Ontario.
"Ontario corn tends to be very cyclical in regards to exports," notes Nicole Mackellar, Grain Farmers of Ontario's manager of market development. "Depending on production levels and domestic needs, Ontario can be a net importer or net exporter of corn. In 2014, we saw a bit of a surge in Ontario corn exports with significant volumes going to Spain, Ireland, and the United States."
Total domestic use of all grains and oilseeds was expected to increase marginally — with the higher use of wheat and oilseeds offsetting the lower use of coarse grains.
"For Ontario barley, oats, and wheat, exports have been very limited over the past number of years due to decreases in production and strong domestic demand," notes Mackellar. "In the past, export markets for Ontario cereal crops have included the United States, China, and Japan."
SOYBEANS
While Canada ranks seventh in terms of production in 2014 – 2015, Canada is estimated to be the world's sixth largest exporter of soybeans. Forty per cent of all exported soybeans are grown in Ontario with the European Union and Japan being the primary destinations. In 2014, Canada exported soybeans to 56 countries.
Between 2010 and 2014, Canadian soybean exports grew by about 47 per cent by value and 32 per cent by volume, growing from $1.34 billion to $1.96 billion and 2.63 mmt to 3.48 mmt respectively.
On an annual basis, AAFC finds that Canada exports approximately 50 to 70 per cent of its total soybean production, and this is also increasing. In 1995 – 1996, Canada exported 26 per cent of its total soybean production, whereas in 2014 – 2015 the number is forecast to reach approximately 69 per cent.
Soy Canada executive director Jim Everson notes that Ontario is the largest food grade soybean production area, with most commodity soybeans in the country also being grown in Ontario, but also Manitoba and Quebec. He says Canadian food grade soybeans are exported mostly to Japan and other Asian countries as well as Europe. For Canadian commodity soybeans, southeast Asia and China are the most important export markets.
"Soy Canada will continue to lead a number of missions this year and next year to develop new market opportunities, mostly in southeast Asia," Everson explains, "but we also will continue to keep strong relationships in established markets in the EU and Japan. It's important that we continue to meet with industry contacts there and with government regulators so that we keep in good contact and stay ahead of any regulatory changes that may be coming."
WHEAT EXPORTS
Despite the strong domestic use in Ontario, the majority — somewhere in the range of about 60 per cent — of all wheat in Canada is exported. Cereals Canada's president Cam Dahl says it's always a goal to increase the total market for Canadian wheat and that increase will include additional exports.
The U.S. is Canada's largest market for wheat exports, which does include exports of wheat grown in Ontario. For example, food manufacturer Mondelez (which has mills in Mississauga, Ontario and Toledo, Ohio) uses Ontario soft red wheat for commercial baked goods.
On a national level, Asian export markets are very important for wheat grown in Western Canada. Canadian hard wheats with high gluten strength are in demand for high-quality bread. Canadian durum wheat, says Dahl, is a popular import in North Africa and Italy. Dahl says he views growing markets in South Asia, South America, and Africa to be opportunities for Canada, as both population and incomes are growing in these regions.
"It is important to look for growth while still tending to established and mature export markets," says Dahl. "We meet with key customers around the world on an ongoing basis to market wheat under the Team Canada banner, a joint undertaking of Cereals Canada, farmers, grain exporters, the Canadian Grain Commission, and the Canadian International Grains Institute. Each trade mission provides market hosts with information about varieties, grades, and quality of Canadian wheat, and about milling and baking with our wheat. In addition, a grower comes along to provide an inside look at Canadian wheat farming practices."
Previously these marketing missions have focused on Western wheat; however, as a member of Cereals Canada, Grain Farmers of Ontario is discussing how Ontario wheat can also be showcased during future missions.
With continued strong relationships in established markets, a strong focus on growing markets and ongoing attention to quality, grain farmers in Ontario and across the nation are well-positioned as a formidable exporting team moving forward. •