A NEW TREND IN THE WINTER WHEAT MARKET
THERE IS A fundamental shift coming in Ontario's winter wheat market. As we transition from 2015's unusually small crop into 2016's near record supply, the manner in which both values are established and the logistics required to move the crop shift. It is a stark contrast in market fundamentals going from this past year's locally consumed wheat crop to the year ahead where exports will dominate as our market's chief source of demand.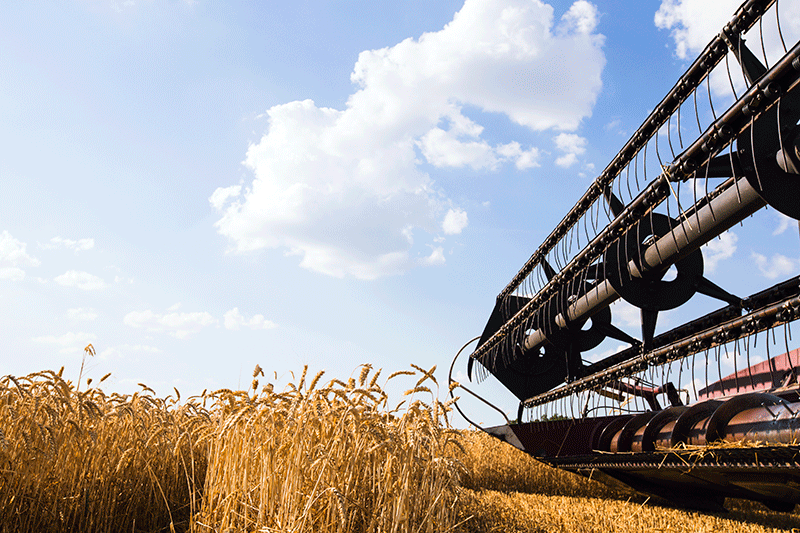 The domestic demand for soft wheat by flour mills in eastern Canada in really general terms is about 500,000 tonnes per year. In 2015, Ontario grew about 850,000 tonnes of milling quality soft red wheat, resulting in an "exportable surplus" of roughly 350,000 tonnes. A few lake vessels moved to Toledo, and a steady trickle of trucks to the mills in Michigan and New York State, and the entire crop is easily consumed within the Great Lakes watershed.
SUPPLY AND DEMAND
The supply and demand model for the 2016 crop is substantially different. Consensus puts the planted acreage of winter wheat at about one million acres; if it is 80 per cent soft wheat, and the average yield is 80 bushel per acre, then our 2016 crop supply of soft wheat is slightly over 1.7 million metric tonnes (MMT). With miller demand static at 500,000 tonnes, our "exportable surplus" jumps from last year's 350,000 tonnes to 1.24 MMT in the season ahead. With more than three times as much surplus wheat in the marketplace, the industry's sales and logistics plans need to adapt.
Utilizing the 2015 Ontario wheat crop has consisted of finding the balance between the values which a flour miller will pay, and the price which a farmer will sell. There's been just enough movement across the Niagara and St. Clair Rivers to keep prices honest, and essentially the entire crop will be consumed inside of the Lake Erie watershed. With our neighbouring American states also increasing their winter wheat plantings in fall 2015, and such a marked increase in Ontario's production, the marketplace is going to have to shift its focus from being a supplier to the domestic millers to be a supplier of the world market as we set out to sell 2016's winter wheat production.
For the crop year ahead, Ontario is going to need to export twice as much soft wheat as our domestic flour mills consume. Not only is that a radical reversal from this past year where local milling represented the majority of the demand, but it means that we need to start looking to the world markets for the signals which will make or break our wheat market's values. Growing conditions in France, political conditions in the Ukraine, and the Canadian dollar exchange rate are the types of information that wheat producers should be following in a marketplace where 60 bushels from every acre of wheat needs to leave the country.
EXPORT FOCUS
Operating in an export focussed market is not a bad thing. In 2008, Ontario harvested a record winter wheat crop, (in fact slightly larger than what is expected in 2016), and we exported more than one million tonnes of wheat through the St. Lawrence River before the seaway closed for the winter. Producers no doubt have fond memories of 2008's record high wheat prices as well, since a drought in Australia rallied grain values worldwide and opened many export opportunities for Ontario's wheat crop. There are two important lessons to be learned by the Ontario wheat industry from the 2008 experience. The first is that we have sufficient infrastructure to move an enormous amount of wheat quickly if the export opportunities present themselves, and the second is that it takes a problem somewhere else in the world to create high prices for Ontario growers when we are participants in a global wheat market.
One factor which confounded some producers when they went to move 2015 crop wheat, was the market's inability to absorb the supply when the shipper wanted to move it. Flour demand is relatively consistent across the calendar year. So in a market where the majority of the wheat is moving directly into mills, those millers want to receive 8.3 per cent of the crop each month all year, and not 40 per cent of it in the first three months of the crop year. While demand is still going to function as the gate-keeper of wheat movement in the coming crop year, we should expect to see bigger swings in movement capacity through the marketing year. Movement should be really good in the early part of the export season (prior to the start of soybean harvest), and more limited in the winter time when the Seaway is closed to navigation due to ice. Similar to booking a seat on a plane if you plan to travel somewhere, booking some wheat so that it can travel when you plan for the crop to be moved is also an important piece of developing a marketing plan for the coming crop year.
2016 will be a year when Ontario wheat values are dominated by how well our product fits into the world market. It's radically different than the "grown at home, milled at home" market which we saw with the 2015 crop, and it will require producers to be far more observant of global supply and demand factors as they make their new crop marketing decisions. 
Stephen Kell is a grain merchant for Parrish & Heimbecker. He has more than 20 years of experience in the Ontario grain industry. •