A taste of Ontario
CANADIAN CLUB MADE LOCAL
IN APRIL 2016, Grain Farmers of Ontario held consumer tasting events at LCBOs in Oakville and Toronto (Summerhill) to educate consumers on the many uses of grains. At these events, customers were offered grain based treats, including barley salad, corn fed beef on a corn meal biscuit, tofu bites, and  apple currant cornmeal scones. They were also offered a sample of Canadian Club whisky, which is made from corn.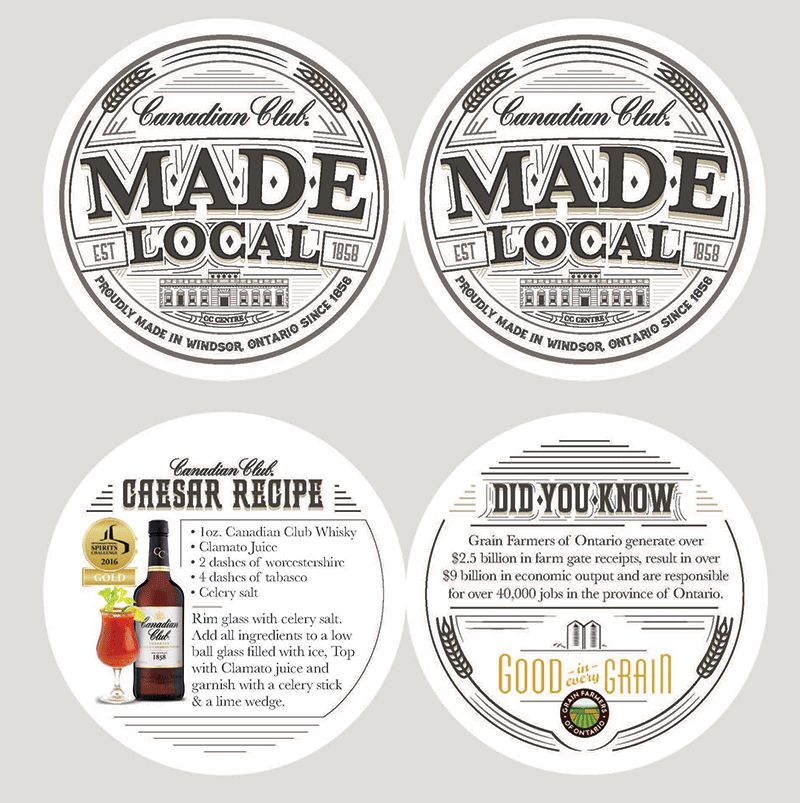 Through this partnership, Grain Farmers of Ontario has established a relationship with Beam Suntory, the makers of Canadian Club. In May, discussions for further collaboration began around their new marketing program called "MADE LOCAL" for the Canadian Club Premium and Classic whisky brands.
Patrick Sweeney, field marketing director from Beam Suntory, says "the reason we created the MADE LOCAL campaign is because we are proud of the fact that Canadian Club has been made in Windsor, Ontario since 1858 and that we use Ontario grains in our recipe."
The MADE LOCAL program will be debuting on October 9 and running until November 5, 2016 throughout the province.
"The program will speak to the authenticity, heritage, and local roots that the whisky has in Ontario," says Sweeney.
Custom neck tags will be placed on 24,000 bottles of Canadian Club Premium 750ml and 14,000 bottles of Canadian Club Classic 750ml. The neck tags will include a recipe that incorporate whisky along with a 'Did You Know' section about grain farming. The Good in Every Grain logo will also be present on the neck tag.
"We are very happy to have this relationship with Beam Suntory," says Meghan Burke, manager of communications at Grain Farmers of Ontario. "We have been able to collaborate on a number of exciting projects this year that promote the use of Ontario grains."
Beam Suntory and Grain Farmers of Ontario partnered to host a reception for the Ontario Hockey League (OHL) owners and governors during the OHL?summer board meeting held in the Niagara Region in August. Whisky samples were provided while representatives from both groups spoke to the local top quality grains used to produce world class whisky.
"Good in Every Grain campaign efforts are snowballing into broader awareness throughout the industry and across Ontario as projects like these with end-use  partners show," says Burke.
A VIP giveaway at Canada's Outdoor Farm Show in September was provided by Beam Suntory. Visitors to the Grain Farmers of Ontario tent entered their names for a chance to win two VIP tickets for a Canadian Club Brand Centre Tour, one night accommodation in Windsor, and a dinner voucher. •