Advancing seed technology
SYNGENTA CANADA'S SEEDCARE INSTITUTE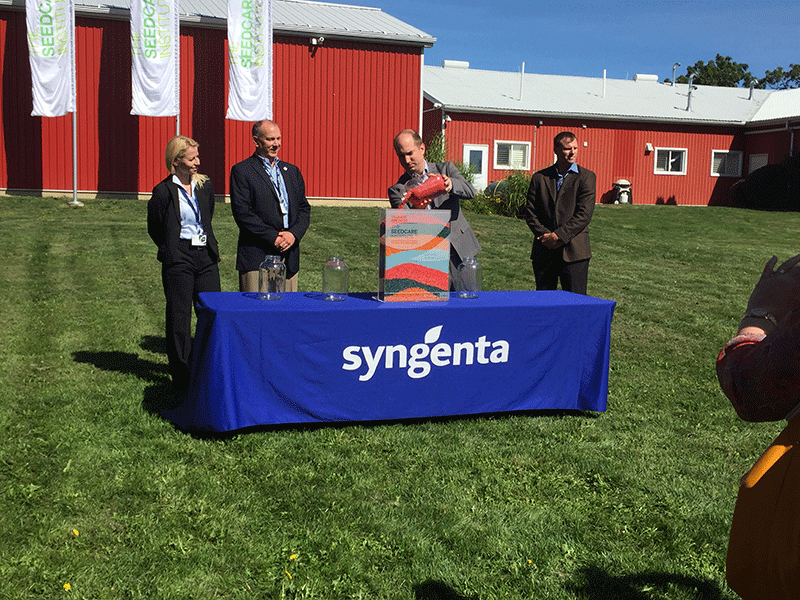 "A CANADIAN MADE solution" was the theme of Syngenta Canada Inc.'s Seedcare Institute grand opening at the Honeywood research facility in Plattsville, Ontario in mid-September. This opening marks the first Canadian Seedcare Institute that joins a network of 12 facilities worldwide.
The facilities support customers through advancement of seed treatment technology. The Canadian institute focuses on Canadian crops including canola, cereals, corn, potatoes, pulses, and soybeans.  All facilities in the Seedcare Institute network meet standards in six service areas including recipe development; application, quality assessment and engineering; stewardship; training; seed safety and biology; and product marketing support.
Local Canadian knowledge gained at the Canadian Seedcare Institute will be leveraged and used across all the facilities worldwide.
"Being local allows for the best fit for the product in the country with tailoring from customer proximity," says Anja Pires, head of the Seedcare Institute, Syngenta International AG. "Local knowledge benefits all centres because we leverage knowledge gained in the network everywhere."
Canada is one of the most diverse agricultural climates with wide temperature fluctuations and large farm sizes country-wide. The Canadian Seedcare Institute will collaborate with farmers, equipment manufactures, and other stakeholders to ensure products will work in the Canadian environment.
The Honeywood research facility brings more than 50 years of history and research to the Seedcare Institute network. "This started as a research site, but has grown and now delivers the six pillars of all Seedcare Institutes," says Doug Baumann, manager of the Seedcare Institute, Syngenta Canada Inc.
RESEARCH
Pathology is one research area that the Honeywood facility brings to the Seedcare Institute network. Symptoms and pathogens found in the field are taken to the lab to study. Honeywood carried out a study with the University of Guelph from 2007-2011. They discovered that samples, including non-symptomatic ones, had problematic bacteria present in some plants. Crop rotation alone would not help in this situation, so seed treatments are the first defence for crops.
Improving and innovating in the area of equipment development is another focus of the research facility. At the formulation stage, Syngenta Canada Inc. is working to eliminate the mess involved in the application of seed treatments.
The facility developed the Pro-blend unit which uses air bubbles to mix seed treatments. This on-going project uses a dip tube to blow air to the bottom of the container. A benefit of the unit is that there is no need to clean between uses leading to faster and cleaner mixing of seed treatments. Trial work like this will continue under the new Canadian Seedcare Institute backed by a global network.
Honeywood also boasts the ability to "customize to customers by supporting a fully custom seed treatment solution," says Baumann. Here the facility can pinpoint seed treatment colours and ensure an even application of product over seeds. The QuestPro, a camera used to take photos of seeds in motion, assists with seed treatment application using precise pictures.
"We are the gatekeepers of a made in Canada solution and environmental tests are part of that," says Baumann about environmental testing that is unique to the Canadian Seedcare Institute at the Honeywood research facility.
Prototype formulation at this stage involves temperature and humidity testing before products leave the facility. Products are tested within a huge range, including as low as -50º C, as Canadian seeds experience a much difference climate then seeds in other countries. Products leaving this facility will be tailored for the Canadian farmer.
Finally products are tested in a last formulation stage, which includes application, where products go "from the lab to the field". Here researchers use a variety of equipment including a miniature air seeder to see how a seed treatment stands up to use on the farm. Canada has a large variation in temperature, so the room has a heating and cooling system in addition to the ability to add humidity. Researchers test products against varying climates and machinery to be confident that it will be applicable to the Canadian farmer.
CANADIAN FOCUS
All these areas work towards tailoring the Syngenta product for the Canadian marketplace and Canadian farmer. The history of seed treatment work at the facility joins a global network that will help serve the Canadian agriculture industry, while applying research gained to Syngenta products globally.
"We are proud to be recognized for our expertise and our almost 20-year history of seed treatment work at this site and are excited to join a global network that will strengthen our ability to serve the Canadian industry," says Jay Bradshaw, president, Syngenta Canada Inc.
The Global headquarters of the Seedcare Institute is in Stein, Switzerland. The 11 other institutes currently in the network are Argentina, Brazil, China, France, Germany, Mexico, Singapore, South Africa, Switzerland, Ukraine, and the United States. •