Proper herbicide application
LESSONS AND GUIDELINES
MONSANTO'S DICAMBA-TOLERANT soybeans, marketed under the trade name Roundup Ready 2 Xtend, are at the center of a dispute over damaged bean fields in Arkansas, Mississippi, Missouri, and Tennessee. Monsanto launched commercial sales of the Xtend varieties earlier this year, after China granted regulatory approval, although U.S. regulators had not yet approved dicamba's use on soybeans.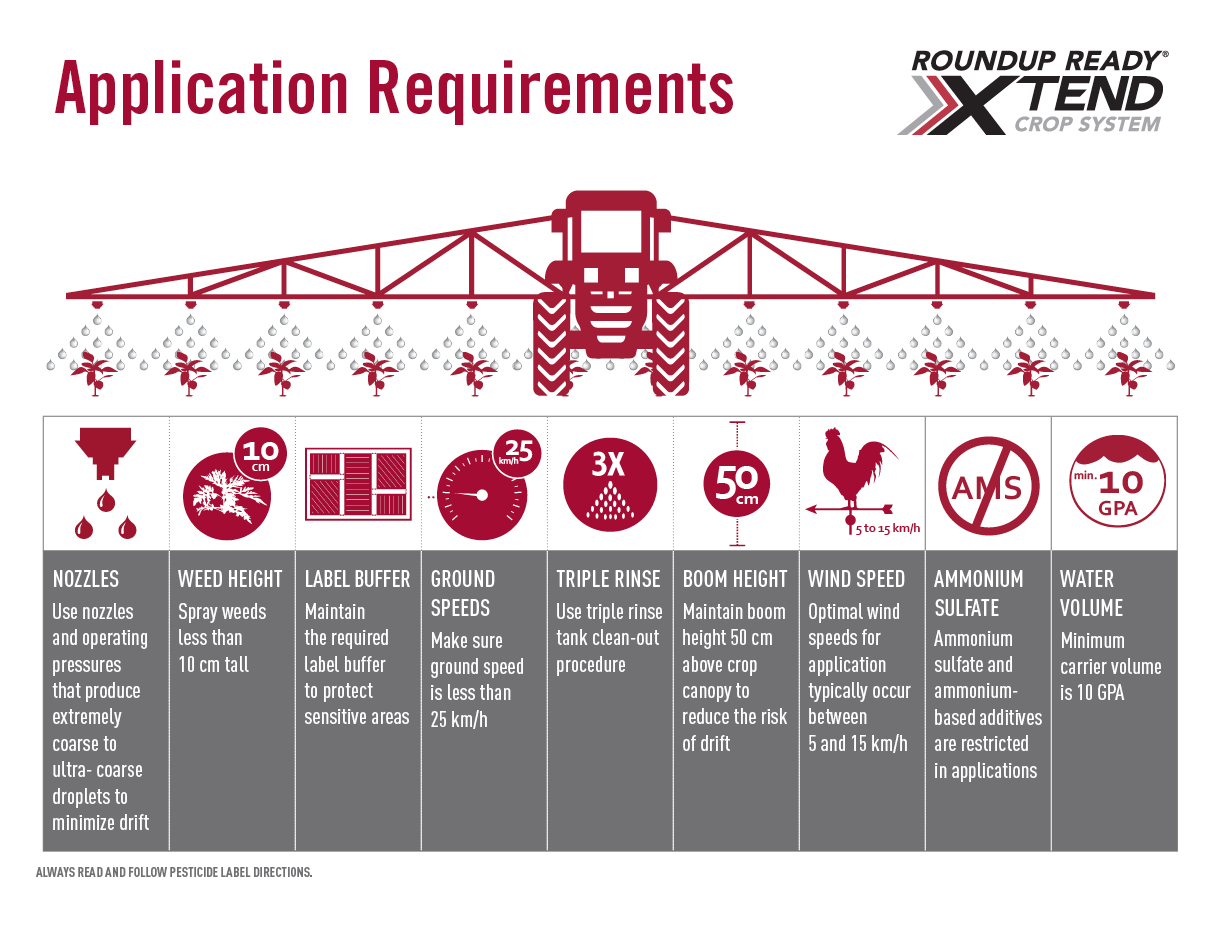 Xtend soybeans can tolerate applications of both glyphosate and dicamba, making them appealing to southern farmers trying to control glyphosate-resistant weeds such as Palmer amaranth.
During the summer, farmers and extension weed scientists documented damage across thousands of acres where off-label, unapproved dicamba applications may have drifted onto adjacent fields of non-resistant soybeans.
"What appears to be happening is that growers planted this technology, then decided to make off-label applications of dicamba over the top for weed control prior to the product receiving a full herbicide label," says Tom Barber, an extension weed scientist with the Arkansas Division of Agriculture.
Most of the damage is coming from drift, tank contamination, and volatility. Traditional dicamba is known to vaporize quickly; however Monsanto's new dicamba formulation, utilizing a proprietary VaporGrip™ technology, does not vaporize as easily as it prevents the formation of dicamba acid, which is the form that creates volatility.
According to Barber, dicamba has the potential to injure off-target broadleaf crops, not just soybeans. It produces a distinctive pattern of damage in soybeans, including blistering and puckering on the leaf surface and necrosis of the leaf tip which causes constriction and makes the leaf "cup". Depending on when exposure occurs, even small amounts of dicamba can significantly reduce yields — at the R1 reproductive stage, yield loss could reach 10%.
"We don't condone illegal use of a pesticide in any form or on any scale," says Boyd Carey, Monsanto's North America crop protection systems lead based in St Louis, Missouri. "I think it's clear that we did not sell any dicamba herbicides in the United States and any in-crop use of dicamba in 2016 would have been an unregistered use. The other thing that I think is fair to assume is that farmers likely would not have followed the application requirements that will appear on the pending EPA label once approved. This is specific training we will be able to do with our low volatility products once a label is available."
Division of Agriculture soybean agronomist Jeremy Ross estimates that 150,000 to 200,000 acres of Xtend soybeans were planted across the Mississippi delta region in 2016. More than 100 farmers in Missouri have filed complaints with the state department of agriculture. In Arkansas, 25 complaints have been registered. There are also reports of damage to other vegetable crops. Arkansas sources report that some soybean fields made a complete recovery from drift damage, but others that experienced drift at critical points in the growing season could see yield losses as high as 40 to 50 per cent.
In an initial response to problems with dicamba drift, Arkansas' state pesticide committee banned the use of dicamba acid and dimethylamine salt of dicamba on row crops. Use is still permitted on pasture but applicators must maintain a one-mile restriction from any row crops. The committee also voted to cut off use of diglycolamine (DGA) salts and sodium salts of dicamba as of April 15, 2017. The dicamba ban would affect products like Banvel. An example of sodium salts would be Status, and DGA salts would include Clarity and Roundup Xtend with VaporGrip.
"We feel it's important, as soon as possible, to have an approved, registered herbicide in the U.S., as Canada has, so that we can focus on the training and label requirements and enable the use of low volatility formulations," says Carey. "Farmers have demonstrated they want and need the technology for their weed control problems and we want them to use it in a responsible and sustainable way."
According to Carey, the U.S. Environmental Protection Agency (EPA) says they expect to complete their review this fall and issue final approvals for the Roundup Ready Xtend Crop system. Once approved, 15 million Xtend soybean acres are expected to be planted in the U.S.
ONTARIO FARMERS TAKING PRECAUTIONS
Just like their American counterparts, Ontario soybean producers are anxious to take advantage of another option for weed control.
"We do have a nasty problem with Canada fleabane; it is unbelievable the power that weed has to bring down a crop," says Emery Huszka, a farmer and seed dealer in Florence, Ontario. "We are trying to use no-till to preserve soil health and limit erosion but fleabane control is an issue as it thrives in no-till conditions. We need another option."
RR2 Xtend soybeans are expected to be the option many farmers in Ontario turn to next year. The Xtend system is being made commercially available for the 2017 planting season now that all import approvals have been granted by our key trading partners. It will be the largest launch of a new technology in Monsanto Canada history with approximately 500,000 acres expected to be planted across all maturity zones in Canada.
When news of dicamba damage being seen in the U.S. made its way to southwestern Ontario, it sparked a conversation about the need to prevent a similar occurrence here. As a delegate for District 3 (Lambton), Huszka spoke at Grain Farmers of Ontario's Annual General Meeting in September about the concerns farmers in his region have about the potential for unintended drift damage and the problems that could create between neighbours.
"Being from a sensitive and diversified farm community where vegetable and tobacco crops grow side by side with grains, we've been witness to, and heard horror stories of, past herbicide damage creating issues between neighbours," says Huszka. "The fear expressed by Lambton delegates was over liability — who is going to be responsible if a farmer completely follows all of the label requirements and damage still occurs. We felt it deserved a broader discussion."
"It is well known that dicamba and glyphosate can damage sensitive crops," says Joe Vink, weed management technical lead for Monsanto Canada based in Winnipeg. "This isn't necessarily specific to the Xtend system. There have been education efforts for most herbicides because there is always the potential for drift onto sensitive crops. That being said, with dicamba being used in a new use pattern, we wanted to make sure we ramped up that education effort to make sure people have a good experience with the Xtend system when it is launched on a broad scale this spring."
Vink says over the past three years, approximately five thousand people, including retailers, farmers, and custom applicators, have been formally trained on the specific application requirements Monsanto developed for use with the Xtend system. Some of the application requirements include spray nozzle choice that produces an extremely coarse to ultra coarse spray quality, boom height, water volume, wind speed, and temperature. A triple-rinse is also recommended for sprayer cleanout. Monsanto Canada also recommends applying glyphosate and dicamba early in the system, as part of the first pass on the field to capitalize on early weed removal and limit exposure to a sensitive adjacent crop being out of the ground at the time of application.
Huszka says he will be recommending farmers utilize custom spray operators, at least during the first year, because they are well versed in the guidelines.
"Choice is the first risk management decision you have to make — not only in your decision to use the Xtend system but also how and when you apply the product," says Huszka. "There will be a lot of care and custody and control to use this. Farmers will have to be careful not to mix seed, make sure they read labels, keep proper field notes, and communicate with their neighbours."
Vink also notes that understanding the abilities and limitations of the technology will help prevent misuse of the product.
"The Xtend system provides the ability to utilize both glyphosate and dicamba in soybeans. Glyphosate is a broad spectrum herbicide which kills both grasses and broadleaf weeds. That being said, it does have some weaknesses — such as the smartweed family, wild buckwheat, and vetch. That's where dicamba comes in to enhance control of some of those weeds that glyphosate is traditionally weak on," says Vink. "Glyphosate has zero soil residual weed control. With dicamba we have the added benefit of a short-term residual. It doesn't replace a full season residual herbicide, but it is a nice short-term residual on some broadleaf weeds that allows growers to start clean early in the season when it's most critical to make sure the crop is emerging free from weed competition."
It's also important to recognize that the Xtend system is meant to be just one tool farmers can utilize to combat resistant weeds.
"The last thing I want growers to take away is that dicamba is a silver bullet to take away all of their glyphosate resistant weed problems," says Vink. "It's certainly excellent on ragweed and Canada fleabane, but we will be very clear in making sure we are always including multiple effective sites of action on those glyphosate resistant weeds. Dicamba should not be the stand alone solution to glyphosate resistance."
In order to capitalize on the benefits of the Xtend system and avoid any unwanted problems, application guidelines need to be combined with an awareness of what is happening in the fields around you.
"I will be applying this product to control fleabane in soybeans pre-plant, following the label, and not mixing in any fertilizer as this can negate the effectiveness of the technology to control volatility," says Huszka. "Most of all, I will be talking with my neighbours to make sure we know what we are planting beside one another."
"It doesn't matter if it's this product or any other product, we have to work with each other and respect each other," continues Huszka. "Lack of knowledge and skill is what caused crop damage in the past, but our equipment has advanced over the past 30 years and we have a much better understanding of nozzle technology and monitoring systems. Being respectful of another farmer and using good old common sense will go a long way in ensuring we avoid any hostilities with our neighbours." •