Farming the Great Clay Belt
NEW OPPORTUNITIES FOR GROWTH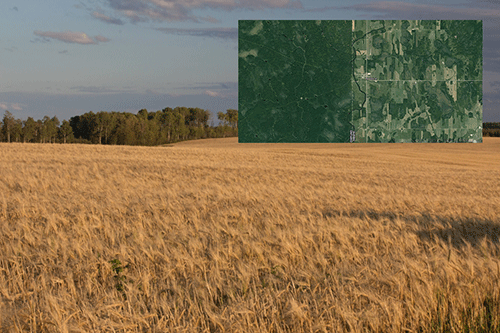 A MARCH 31, 2016 article in Northern Ontario Business titled Beef farmers look to gain ground in the Clay Belt says "the North's climate limits what cash crops can be grown, but the fertile soil is perfect for growing hay, oats, and grazing cattle".
But not so fast says agronomist Terry Phillips to Ontario Grain Farmer.
"I would hate to see any limitations put on the type of agricultural enterprises undertaken in the north as with the cyclical nature of the livestock industries, diversification into cropping could be very beneficial," explains Phillips, former director for Grain Farmers of Ontario's District 15 (Northern Ontario). "There are many opportunities for cool season crops such as canola, oats, barley, faba beans, peas, and buckwheat in the northern region."
BREAKING GROUND
The Great Clay Belt (GCB) in Northeastern Ontario consists of 16 million acres of potentially fertile glaciolacustrine soils — double the amount of cropland currently being farmed in the province according to the Ontario Ministry of Agriculture, Food and Rural Affairs (OMAFRA).
Only about two per cent of this land has been developed for agriculture so far. The Canada Land Inventory has identified 4.4 million acres of Ontario's GCB as class two, three, or four, which are suitable for cultivation. The remainder has either not been classified or is unsuitable for agriculture.
A warming trend that goes back at least 30 years is shown in the increase in annual crop heat units (CHU) in the Timiskaming region community of Earlton, which jumped from 1800 to 2300 CHU. This has had a major positive impact on crop production. For example, OMAFRA says soybeans, grain corn, and silage corn are now reliably grown in the Timiskaming region, while canola has supplemented the traditional barley, oat, and wheat crops in the Cochrane-Kapuskasing area.
In his Northern Exposure presentation at the January 2017 SouthWest Agricultural Conference, Phillips told attendees that by the year 2050, the GCB region can expect a longer growing season by a whopping 43 days, and better overall land suitability scores from class five to three — and maybe even two.
"It's definitely a positive aspect to climate change for the Clay Belt region," he says.
Phillips says while there are opportunities and upsides, including much cheaper land, there are downsides as well.
"I'd say the biggest downsides right now are the lack of infrastructure and distance to markets," says Phillips.
BARRIERS TO GROWTH
Crop producer Will Runnalls' family has been farming in the Thornloe, Ontario area since his ancestors moved the original farming operation from Fergus, Ont. back in 1902. Runnalls, along with his two brothers and father, now farm close to 5,000 acres and continue to expand their operation. Their  crops include oats, soybeans, spring and winter wheat, and others. He agrees with Phillips, and says while the opportunities certainly exist, lack of infrastructure and distance to market are certainly downsides to consider.
Runnalls says there are also unique administrative challenges you can run into when dealing with government.
"There can definitely be red-tape in this region, particularly when you are farming in areas that have unincorporated municipalities," says Runnalls, explaining that without a local municipal government structure he often has to deal with the larger provincial government instead. For example, burn permits need to come from the Ministry of the Environment and Climate Change.
Drainage is another consideration. Runnalls laughs and says, tongue-in-cheek, that drought is not such a bad word in an area that sees a lot of precipitation. So, while the cost of land in Northern Ontario is relatively low, Runnalls cautions that there can be a significant upfront financial investment involved in clearing the land, preparing it, and installing drainage tile.
There's also the time involved in doing so — he estimates it can take anywhere from three to five years before the land is ready for planting.
UNIQUE CHALLENGES
Trying to minimize crop damage from wildlife is another obstacle, something farmer Barry Potter knows first-hand. He went out to one of his oat fields one evening and discovered it being ravaged by 23 bears.
"What bears do is they lie down in the field and scoop the oats off while they roll across the field," explains Potter, who is also an agriculture development advisor with OMAFRA. "Out of the 100 acre field, they took about 35 acres, and I wouldn't have known if I hadn't gone out."
Potter says sandhill cranes are another major wildlife issue farmers in the region are dealing with.
"Sandhill cranes are a protected species that really like barley and corn and can totally destroy a field like no one else," he says, adding that he's talking about thousands of birds coming in and wreaking havoc across a field.
Despite these challenges, Runnalls believes farming in the GCB might be a fit for those farmers who are looking to take a different direction.
"In certain regions, the low-hanging fruit have been picked through already," he says, "but I would say the opportunities certainly do exist."
AVAILABLE GRANTS
To help with the added financial costs of developing farm land in the north, Potter says there are several grants that are available to farmers. The funds are available from the Northern Ontario Heritage Fund Corporation (NOHFC), a crown corporation and development agency of the Ontario government that invests in northern businesses and municipalities.
However, Potter cautions that there are strict conditions and a lot of work that farmers have to do beforehand — and that, in the end, there is no guarantee an application will be approved.
"There is an application process and nothing is a given," says Potter. "And, this isn't easy or free money. You have to do a lot of planning — a business plan. There's definitely a lot of work to be done to get access to that money."
For a farmer who already has an operation in Northern Ontario, the Northern Business Opportunity Programs — Business Expansion Projects fund may be an option to help finance things such as capital construction, leasehold improvements, purchasing new or used equipment, land servicing costs, and information and communications technology investments. Assistance will generally not exceed 50 per cent of the eligible project costs, up to a maximum of $1 million, per project.
Up to 30 per cent of the funding may be in the form of a conditional grant with the remainder in the form of a repayable loan. Where a conditional grant is not provided, the NOHFC may consider incentive term loans on a case-by-case basis.
Farmers looking to start an operation in Northern Ontario may be eligible under the Northern Business Opportunity Programs — Business Expansion Projects fund to help finance things such as capital construction, leasehold improvements, purchasing new or used equipment, marketing costs, and information and communications technology investments.
There are several requirements to qualify, including a minimum equity contribution of 15 per cent of eligible project costs from the applicant. NOHFC assistance will be in the form of a conditional contribution and will generally not exceed half of the eligible project cost, up to a maximum of $200,000.
Applications are being accepted for both of these programs until March 31, 2017.
Potter says there is also money available through the NOHFC to help with the costs of either installing tile drainage or land clearing. He says each sectioned area of Northern Ontario has a consortium that farmers can apply to become a part of, which will give them access to apply for this tile drainage and land clearing funding.
The maximum funding allowed is 50 per cent of the total cost, up to a maximum of $500 per acre.
Additional information can be found at www.nohfc.ca or by calling 1-800-461-8329. •
Cultivating the Great Clay Belt
March 30 and 31, 2017
Kapuskasing, ON
Building off the success of the 2013 Agriculture Symposium, Growing the North, the Northeast Community Network (NeCN) is hosting an agriculture symposium that will include activities, developmental and informational workshops, and networking opportunities. The symposium will host visitors from across the region, neighbouring districts, and other parts of Ontario. Attendees will include producers, consumers, investors and entrepreneurs, agri-businesses, and federal and Ontario government representatives.
For more information, visit www.cultivatingthegreatclaybelt.com or email: necn@northclaybelt.com.