Project Canaan
AN AFRICAN AGRICULTURAL EXPERIENCE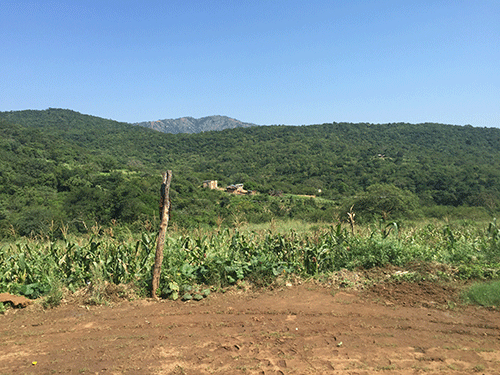 IN 2016, I had the once-in-a-lifetime opportunity to volunteer with Heart for Africa at Project Canaan. This faith-based, non-profit public charity is developing a place of hope in Swaziland, Africa called Project Canaan. Project Canaan, which was co-founded by two Canadians, Ian and Janine Maxwell, is a 2,500 acre large-scale land development project designed to bring expertise and resources together to help solve complex issues within Swaziland. It will grow large amounts of food to help stimulate the local economy, as well as allow for export, and will provide training and employment, while supporting orphans and vulnerable children on the property and across the nation.
Project Canaan also partners with 30 rural churches within Swaziland to assist pastors already caring for orphans and vulnerable children in their immediate communities. Maize, beans, eggs, and rice are delivered every two weeks to help with feeding programs that have already been established and volunteer teams serve alongside them to plant vegetable seedlings, feed local children in need, and deliver clothing/shoes.
HELP NEEDED
Swaziland has one of the highest HIV/AIDS rates in the world (approximately 44%), leaving more than 200,000 orphans and vulnerable children. Almost 65% of the population depends on receiving food from international food programs to survive. It has a population of around one million, with a negative growth rate and an average life expectancy of 29 years.
Project Canaan is split into two parts; the children and the farm. The farm is very diverse, with milking cows, beef, goats, vegetables, bees, coffee, fruit, and crops (mainly corn). My main purpose at Project Canaan was to work alongside the egg barn workers and manager to pass on my knowledge and expertise of managing laying hens. Egg farming was just introduced at Project Canaan two months prior to my arrival, so it was very timely to have egg farmers there to guide them through their first flock. It was very exciting to be there to help with this project and to see the huge impact the humble egg was going to have on a nation, as a sustainable, high-quality protein source in the battle against malnutrition.
The chickens ate feed rations similar to what we see in Canada, a main component being corn. While I was in Africa, it was supposed to be their rainy season and although it did rain a few times when I was there, it did not rain nearly enough. As you drove through the countryside, you could see dried up rivers and terrible looking crops, most notably the corn. Most of the rural homesteads rely heavily on their corn crop to feed themselves and their family and need it to survive, so it was expected that in the coming year there would be some hard times in Swaziland.
WATER NEEDED
At Project Canaan they have three dams to collect as much water as they can during the rainy season to irrigate their crops throughout the dry season. This year, their dams weren't even a quarter full, and they had to make an extremely difficult decision to significantly cut back their crop production because they knew they wouldn't have enough water to be able to irrigate them. It's now very hard for me to use the word 'drought' around home when we go through a dry spell — sure we haven't got rain in a month but are the rivers dried up?
All around Project Canaan you can find beautiful sculptures with powerful messages and stories behind them. My favourite being a sculpture of wheat dedicated to Norman Ernst Borlaug. Dr. Borlaug dedicated his life to agricultural research. He is credited with saving more than one billion lives by improving the way food crops are grown after developing high-yield, disease-resistant wheat varieties. These were introduced in high-famine areas in Mexico, Pakistan, and India, and later in Asia and Africa, to increase the food supply. They specifically placed this sculpture between the children's housing and the primary school so that they walk by it every day and become familiar with Dr. Borlaug's story and see that one person can initiate change.
My take-aways from my humbling adventure to Swaziland are food choice is a privilege, everything is relative, be happy with less, appreciate the comforts of life back home, but know that you can live without them and be grateful. We are truly blessed to live and farm in Canada.
Megan Veldman is the layer manager at her family-run farm, Veldman Poultry Farm. They farm layers, pullets, and cash crops (Veldman Grain Farm). Veldman went to Swaziland as part of a partnership between Egg Farmers of Canada and Project Canaan. •