Same, same but different
AGRICULTURAL LEADERS COMPARE FARMING PRACTICES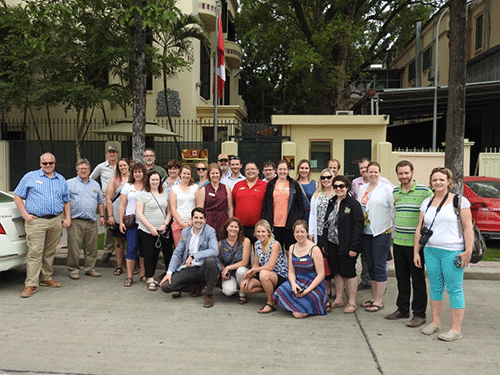 Class 16 of the Advanced Agriculture Leadership Program (AALP) began their journey of professional development in September 2016. Throughout the 19 month executive development program, participants attended eight seminars and two study tours — one North American tour and one international tour. Meghan Burke, manager of communications at Grain Farmers of Ontario, is an AALP Class 16 graduate. She shares the lessons learned during their international tour of Vietnam and Thailand.
ON FEBRUARY 14, 26 agricultural leaders boarded the first of seven flights on their AALP international study program.
The goal of this international trip was to gain an in-depth understanding of agricultural trade, food safety, and environmental issues in the two countries and perspectives on past, present, and future issues. Beyond the agricultural practices and agribusiness learnings, there was also a component of social and cultural experiences to facilitate a broader understanding of the countries to compare and contrast with our own country.
SOUTHERN VIETNAM
The first leg of the trip began, after a mere 24 hours of travel, in the south of Vietnam at Ho Chi Minh City (formally Saigon). Vietnam has a population of about 95 million people; Ho Chi Minh City is home to 10 million people and 8.5 million scooters. With the absence of streetlights and traffic rules, honking of scooter horns is how drivers communicate — it's amazing how quiet Ontario sounded when we returned home.
During our time in Ho Chi Minh City we were quickly reminded of how recent the Vietnam War ended, the ongoing recovery and internal struggles post-war, and the resiliency of the people. We shared our time here with two tour groups similar to ours, the Rural Leadership North Dakota program and the LEAD New York program. It was interesting to contrast their perspectives of the Vietnam War as U.S. citizens against the Vietnam portrayals of the war, as well as our Canadian knowledge of it.
Throughout the southern region, there were great examples of agricultural innovation and synergies. A visit to the 'Agricultural Hi-Tech Park' showcased organic greenhouse production of fruits, vegetables, and flowers. Here they are growing cantaloupes vertically in greenhouses, versus the horizontal field production we do in Ontario. This growing method yields twice as much fruit than our system at home. Many Canadian farmers consider the Vietnamese techniques and innovations when planning and expanding their greenhouse businesses.
Similarly, the idea of sustainability and synergy was exemplified at an earth worm farm that cooperates with a local dairy and rubber tree farm. Cow manure from the dairy is laid in beds to feed the earth worms. The worms are harvested and dried for organic compost and nutrient mixtures for greenhouses. The worm dung is collected and used to fertilize the rubber trees on the same plot of land and can also be sprayed on the rubber trees as a form of pest control. There seems to be a use for everything — a common discovery while travelling Vietnam.
CENTRAL VIETNAM
The group's next destination was the central alpine region of Vietnam, Da Lat. This area is known for fruit, vegetable, and flower production and is a major tourism hub for South Vietnamese, Russians, and Chinese because of the beauty of the hilly topography as well as the cool temperatures.
Da Lat is 1,650 metres above sea level and temperatures range from 20 °C to 24 °C, dropping to 10 °C at night. To avoid damage from the temperature fluctuations, the majority of production is done in basic greenhouse structures. We were able to visit artichoke, flower, black pepper, and potato farms here, and were hosted by Lac Troi company, the largest private agricultural company in Vietnam, at one of their fruit and vegetable research plots. Lac Troi provides a variety of agricultural services and inputs, as well as much needed education and training for local farmers. For instance, pesticides are readily available to anyone and not regulated or monitored, so safe handling, use, and disposal are major areas for training and support.
A day trip around Da Lat led to some new tastes for our group. Delving into vermiculture, a surprising market for grains was revealed at a cricket farm where the crickets are fed a steady diet of corn meal. The light snack of crickets was followed by Weasel Coffee where weasels eat a diet of coffee fruit and the coffee beans are harvested from, well, the other end! Because most of the class would convert to tea-drinking after this, we toured Cau Dat tea plantation, the largest tea farm in Vietnam covering 230 hectares. Planted nearly 100 years ago by the French and Dutch, the region is well known for black, oolong, and green tea varieties. Cau Dat is also a major producer of Arabica coffee — one that the AALP class was more familiar with!
Da Lat also provided a great setting for experiencing the day and night markets. Although supermarkets are being introduced, most food buying and selling occurs in street markets throughout the country. Haggling is common when shopping in the market and when asking about items or prices in English, a common response from store owners is "same, same" or "same, same, but different". This became a popular theme throughout the trip, as the more we saw and experienced, the more we realized we have a lot in common with the Vietnamese farmers, but certainly, also some differences.
NORTHERN VIETNAM
The final stop in Vietnam was Hanoi, the governmental region. Here, government representatives explained the importance of the positive relationship between Canada and Vietnam. The two countries have enjoyed a trading relationship for 40 years, and for Canada, Vietnam is the fastest growing trade relationship in this part of the world. Canada is also home to many Vietnamese with roughly 220,000 Vietnamese students studying in our country.
Canada sees Vietnam as a priority for aid, spending $1.3 billion annually to help with economic assistance. The aid Canada provides is not conditional on downstream benefits and, for this reason, Canadians are trusted and respected by the Vietnamese. Tragically, half of Vietnam lives below the poverty level, though fortunately extreme poverty is decreasing. The country also regularly faces water issues, both in terms of climate and environmental changes (sea levels rising) and access/control of water. And, there are additional challenges within the country because of the single-party governance structure. For instance, farmers in Vietnam are commonly referred to as gardeners because their plot size is limited by the government to a maximum of 360 square metres per family, which has obvious implications on income and the ability to invest back into the farm.
Towards the end of our time in Vietnam we were fortunate to spend two days and one night on a boat along Ha Long Bay, one of the new seven natural wonders of the world. The bay features thousands of limestone karsts and isles in various shapes and sizes and is a must-see when in the region. The area is also home to fish and pearl farming — the latter proved expensive for classmates looking for souvenirs!
THAILAND
We ended our trip with a short stop-over in Bangkok, Thailand where we had time for reflection at some Buddhist temples and an opportunity to give back at a local orphanage for challenged kids. We also visited one last farm, run by a true entrepreneur, innovator, and passionate farmer. A highlight for the group was seeing the farmer harvest sap from a coconut tree and boil it to make syrup — same as maple syrup, but different (same, same, but different!). Despite the 40 °C heat, the group was happy to explore the banana, mango, and loganberry trees as well as a small farm store, goats, and chickens. Fortunately, the farmer kept everyone well hydrated cutting at least two fresh coconuts for everyone to drink from — a very generous host.
SAME, SAME, BUT DIFFERENT
Although they seem to face many obstacles, the opportunities are also abundant for agriculture in Vietnam and Thailand. There were concerning aspects and inspiring aspects, there was a recurring struggle between quality vs quantity, and the spirit of resourcefulness and innovation was alive everywhere we travelled. During all aspects of this journey, we found shared values — care for the crops and the land, producing healthy, abundant food, continuous improvement and education, and the hope to leave more for the next generation of farmers. But, the biggest lesson AALP Class 16 took home from our international study tour is that we are all "same, same, but different". •