The sustainability supply chain
PUTTING THE TERM INTO PRACTICE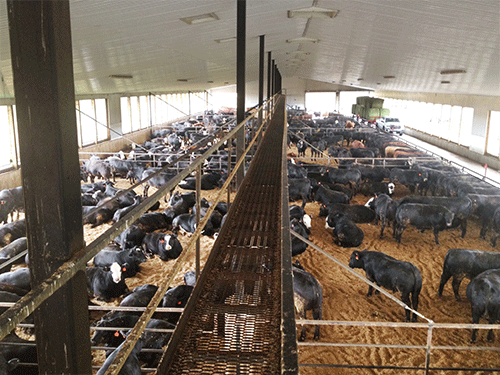 OVER THE LAST several years, sustainability has become a word that governments, non-governmental organizations (NGO's), corporations, and consumers are all using. But what does it mean to be sustainable?
The definition of the word greatly varies depending who you speak to, the sector it comes from, and what part of the world you are located in. A fairly comprehensive, easy to interpret definition describes sustainability as a multi-disciplinary approach which focuses on economic factors, environmental factors, and social factors. These three disciplines must collectively work in unison; one must not take precedent over another. The reality of today is that farmers are beginning to be asked to go through sustainability schemes to verify the practices they do on the land are environmentally and socially responsible while being economically viable.
ON THE FARM
The farmer has a defined role in regards to sustainability as a farmer is the starting point of the supply chain. Customers are looking for greater transparency of the products they are sourcing and they are looking to farmers to provide this.
This greater transparency is met by farmers going through schemes to verify the practices they do on the land are sustainable. The reality is farmers are being asked to say what they do, do what they say, and, for the first time, being asked to prove it.
Steve Eby, a Kincardine area farmer, has been involved in sustainability and has experienced this first hand over the last several years with both his beef cattle and field crops. His operation, known as Eby Farms, includes around 1,000 acres of corn, soybeans, and wheat along with raising beef cattle. He is a fifth generation farmer and has been actively farming for more than 20 years.
To Eby, sustainability is something that farmers have been doing for generations if not centuries.
"In general, the Canadian agriculture industry is doing a good job, but where we are today in 2017, it is more about proving what we do with documentation and paper work."
As we know, the farmer is the first point of contact, the person responsible to plant, maintain, and harvest a commodity that one day will be utilized in an end use product and Eby sees sustainability as the way to connect the farmer with the supply chain.
"Sustainability and verification can connect the dots between the producer, the elevator, processor, the retailer, and consumer — showcasing throughout the different stages what we really do and how we do it."
With this added level of transparency comes additional work on the farmer's end in keeping records and documenting important things. From Eby's perspective, you don't necessarily need to be completely computerized, but you do need to have the means to properly document the things being asked of you.
This can provide added benefits to the farm as well though, which has occurred on Eby Farms through their experience with the Round Table on Responsible Soy (RTRS). The RTRS is a global soybean sustainability certification program that verifies on farm sustainability practices and Eby has been participating in this program for the last few years.
"The soybean sustainability program has been good for us, from a business planning standpoint, in that it has forced us to keep more details on things we were previously not keeping track of, such as fuel usage. Being asked specifics on the amount of hours you spent on tillage or harvesting has allowed us to do a better job at individual business analysis. It can give your business tools to help make better decisions."
Eby was also a participant in McDonald's Verified Sustainable Beef Pilot Project and he has also been involved with, and audited for, the Verified Beef Production Plus (VBP+) program.
THE PROCESSOR
The processing sector has a unique role within sustainability as they sit within an intermediary role. The processor often works directly with the grower to source raw commodities. The processor's customers, who are primarily brand manufacturers, are asking their suppliers (the processor) about the ingredients they produce and the sustainability of these ingredients.
What does sustainability mean to the processing sector? Ingredion Incorporated is a leading global ingredients solutions company who makes sweeteners, starches, nutrition ingredients, and biomaterials that are used by customers from foods and beverages to paper and pharmaceuticals.
"To us, sustainability means the ability for us to do business today in a way that doesn't jeopardize our ability to do business in the future," says Brian Nash, senior director of sustainability at Ingredion. "It's a lot about risk management making sure our business is having a positive impact on our communities and the people we do business with."
In order to meet growing customer demand, Ingredion is working with growers in some supply chains to help to validate practices which in many cases are already in place.
"We don't think of North American corn growing as being problematic in terms of human rights, but as a global company we need to be uniform in how we approach our programs and how we meet the expectations of our local and multinational customers."
But the reality is, if the grower can't be out planting or harvesting because they are too busy filling out paperwork for two dozen customers that isn't value adding to anyone.
Nash states that through this process we need to be mindful of the grower, "we are in the unique position of trying to take a lot of customers input and requirements and boil that down into the simplest and smallest amount of work load for the grower. We also want to be mindful to identify where the parts of the sustainable sourcing program can enhance efficiency and knowledge sharing across growers."
THE BRAND MANUFACTURER
The brand manufacturer plays a large role within the supply chain. They hold the last stage in manufacturing before a product is produced and sent to a retail outlet. Beyond this, they are the conduit to the consumer, who will ultimately purchase their branded products. Being that conduit, the brand manufacturer has the role of manufacturing ingredients into consumer products such as cookies, crackers, or salad dressings. The consumer is beginning to ask more about the products they are purchasing and there is greater emphasis on products that have a low impact on the environment. Consumers are interested in knowing that the products they are purchasing are not disruptive to the environment.
But what does sustainability mean to the brand manufacturer? To brand manufacturers, sustainability and sustainable agriculture is about preserving the planet and the people inhabiting it. To aid in the preservation of the planet, some companies have identified key areas of focus relating to sustainable agriculture. These include climate change, water stewardship, biodiversity, human rights, and animal welfare. There is a commitment to reduce risk and impact on the planet in these key areas. Companies are increasingly interested in finding ways to use less energy, water, and other resources, and reduce the waste generated in the products they produce. As a result, many brand manufacturers have made public claims to quantify the sustainability of their supply chains by setting targets.
Examples of these targets include companies wanting to source commodities sustainably by 2020. One of the ways they are meeting these sustainability targets is through working with their supply-chain partners to verify sustainable practices.
Each supply chain has a different perspective of what sustainability means to them, but it comes down to the multi-disciplinary approach; examining  economics, the environment, and social factors which all need to work together in unison. The supply chain is more interested in quantifying what goes on throughout the supply chain including on the farm. Beyond this, sustainability comes down to legacy and the legacy we leave to future generations.
Regardless of the supply chain sector you represent, whether you are a primary producer, processor, or brand manufacturer there is a commitment to take steps to produce more, but also steps to benefit the environment we work in and those surrounding communities. When we balance economic, social, and environmental factors, the effects will be positive and future generations will see the result.
Michael Buttenham is the sustainability and environment coordinator for Grain Farmers of Ontario. •