Rain delay
EASTERN ONTARIO'S CHALLENGING SPRING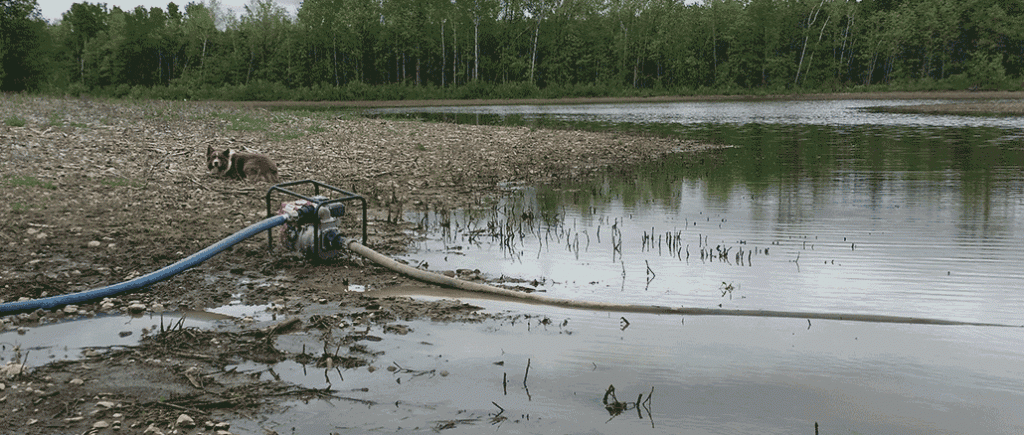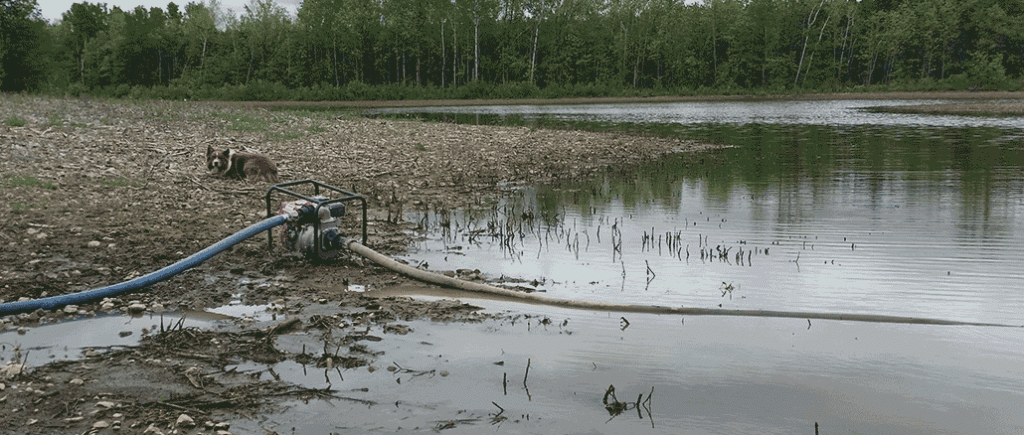 THE EXTENT OF the flooding in eastern Ontario this spring prompted Agricorp to do something it rarely does — extend the spring cereals planting deadline for production insurance. Agricorp senior industry specialist Geoff Smith notes that "while some producers had a good start, others experienced planting delays or damage to their crops already in the ground".
As rain continued to fall throughout May, un-tiled fields were at risk of not being planted well or planted at all.
"However, the great thing about this point in time is that when land is ready to go, many growers have the capacity, with great retailers supporting them, to plant all their soybeans and corn in a few days," notes Jim McComb, an independent agronomist with Agri-Trend Agrology (Sunderland to Napanee area) and member of the Ontario Institute of Agrologists (OIA).
Some growers had to change their highest CHU corn hybrids to shorter-season varieties, including some clients of Jovan Dozet, also an OIA member and a technical agrologist at the Embrun Co-op. In addition, he reports that "in early May, many growers were talking about changing corn acres to soybeans, but most got their corn planted. Much of what was planted in the first week of May was at risk of soil-borne diseases and insects, but because of heavy rains, many fields planted that week had to be worked to break the surface crust to allow the seedlings to emerge, and some even had to be replanted."
McComb says mildews were among the most serious disease threats this spring, due to the combination of cool temperatures, moisture, and soil splash-up. As the days warmed to more seasonal temperatures in June, both septoria and glume blotch were top concerns. Dozet reports hearing about stands being reduced due to wireworms, and he says those who opted not to fully treat their seeds with neonicotinoid-alternative insecticides needed to keep an ongoing eye on pest populations. In addition, he notes that any rhizoctonia and phytophthora present this spring had the perfect conditions into summer to develop and attack soybean root zones (with phytophthora easily spread via soil dragged from field to field by farm equipment).
OTHER FACTORS
The cool, wet spring also made split application of nitrogen more important than in other years.
"The five inches of rain we got in one week alone had the potential to move much of the nitrogen, sulphur, and boron out of reach of the roots if all the nitrogen was up-front — especially on lighter ground," McComb explains. "We are fortunate to have the ability to side-dress corn using a Miller toolbar or using Y drops up to tassel, even if we can't get into the field for a week because it's too wet."
McComb adds that doing a tissue test while scouting for head emergence to time fusarium treatment helps make fertility programs better in wet years. He also believes it will be common this year to see lots of poor root progression because of compaction due to planting before an entire field is ready.
"I like what I'm seeing with spiked closing wheels to help break the sidewall compaction up a bit," he notes. "In wet years like this, farmers should consider putting a cover crop into the corn so that the compaction is healed up as soon as possible. Some side dressers and sprayers can apply side dress and cover crop in one pass."
LONG-TERM OUTLOOK
McComb believes that the biggest economic loss from all the rain this spring will be soil loss, and that this loss may be felt for years.
"We've seen lots of soil running off hills in tilled fields," he notes. "It's good that many farmers out there had already made efforts to reduce their tillage and adopt cover crops. It was obvious during the rain that cover crops planted last fall were doing a superb job holding soil in place."
Dozet believes the risk of white mould incidents in soybeans could be a real problem depending on summer weather.
The Weather Network forecasts that this summer will not be as hot or as dry as last summer, with the potential to alternate between extended periods of both above and below seasonal temperatures.
According to their seasonal forecast, "across northwestern Ontario we expect that cooler temperatures will be more dominant while southern and eastern Ontario should balance out near normal. Rainfall is expected to be near normal across the region with the potential for above normal rainfall across parts of the south. However, since summer rainfall is highly variable over short distances, there is always the potential for localized areas to be dry while nearby locations are very wet."
Regarding a preliminary forecast for September, Dr. Doug Gillham, a meteorologist at The Weather Network, says at this point, he expects near-to-above seasonal temperatures to dominate across southern and eastern Ontario.
"If this spring has taught us one thing," Dozet says, "it's that everything can change on a dime."
REPORT FROM THE FIELD (JUNE 23)
"The problems have been pretty wide spread across district 12 — everything east of Toronto just saw a tremendous amount of rainfall. Some farmers got small grains in early and then May came and the skies opened and it was just cold and wet. Those that did get some acres in on tiled ground were lucky, and even then, rain immediately after put their crops in a pretty poor condition because of saturated soils. In comparison to other years, we have considerably more unseeded acres – only 70 per cent to 75 per cent of intended corn acres got planted.
We saw the benefits of neonics in the soybeans, protecting the soybeans from seedcorn maggot. Those soybeans that got planted prior to the cold, wet rain sat there in saturated soils, and then when it did get hot and dry, the soil crusted. That left that seed in the ground for a longer period of time than you would like to see and we saw a lot of seedcorn maggot damage to the emerging soybeans.
Replant decisions were tough to make and there was limited time to go and do it because it didn't quit raining. People had difficulty getting out spraying, controlling weeds, and the days that were dry enough the winds wouldn't allow it.
Just recently in the last couple days, I completed my own acres and I still have custom work to finish, and we really don't know if we will have the ability to get that done because some of the fields still aren't suitable to plant. They're not dry enough.
We're impacted by the delayed planting and we're impacted by the delayed growth of the crop and the lack of heat, so we need a good fall for the corn to mature. It will no doubt be a challenge to get wheat in behind soybeans this fall given the fact that the beans were planted so late.
I feel for a lot of farmers, having suffered some of the worst drought conditions last year and now having the wettest conditions — we just don't need two years in a row like that. It's going to prove to be a real financial burden for some.
We need some luck, we need a good fall, and we need some good growing weather to get this crop caught up."
Jeff Harrison, director
District 12 (Durham, Northumberland, Kawartha, Peterborough, Hastings)
"The 10 inches of rain in May was a disaster for us. In this county, we have some lower land and it's not all tiled ground — it made for an awful mess. Whole 100 acre fields were flooded and that takes a long time to dry out. Anywhere the water laid for two or three days that pretty well flooded out anything that was planted.
The big thing was the lake level, especially in our case — we live on an island, and the lake level was at a record high. The lake water was actually coming into the swamps and the drainage systems in your fields were actually the enemy. Even though it was dry on top, there was still too much water.
If you can't go, you can't go. It's hard on the nerves, it's hard to be patient. You just get going and you think 'ok the next few days look good', and then all of a sudden the clouds lower from nowhere and it sets you back another two days.
There are some farmers who are still planting. Ourselves, we still have over a thousand acres still not planted and some of it is just drying out now. It's a little deceiving because you think my first beans aren't up yet so I can still plant and it might be ok but soybeans planted the end of June never seem to do well in my experience.
Things will catch up we hope. We went from a record drought last year to record rain this year. Farmers in this region really need a catch up year. You can weather the storms for a year or so but this is pretty discouraging. I've had to do a lot of encouraging and counselling. It's very hard on everybody.
We are thankful for the break we did get this last week or so. A lot of soybeans went in; it was too late for corn. Farmers are still hoping — but anywhere farmers pushed the plant a bit because they said 'well we just have to get this in', they had to watch the crop struggling to come up.
August will be the deciding month; if it's too dry in August then all bets are off."
Lloyd Crowe, director
District 13 (Prince Edward, Lennox, Addington, Frontenac, Lanark, Leeds, Grenville, Renfrew, Ottawa) •

HOW MUCH RAIN?
April 1 to May 26, 2017 surface precipitation, with yearly average following in brackets:
Ottawa – 288 mm (155)
Trenton – 322 mm (157)
Barrie – 236 mm (145)
Pembroke – 250 mm (Renfrew 146)
Beatrice – 268 mm (175)
Sudbury – 165 mm (149)
(Provided by Peter Kimbell, warning preparedness meteorologist, Meteorological Service of Canada). •