Global 4-H Network Summit
THE INTERNATIONAL REACH OF 4-H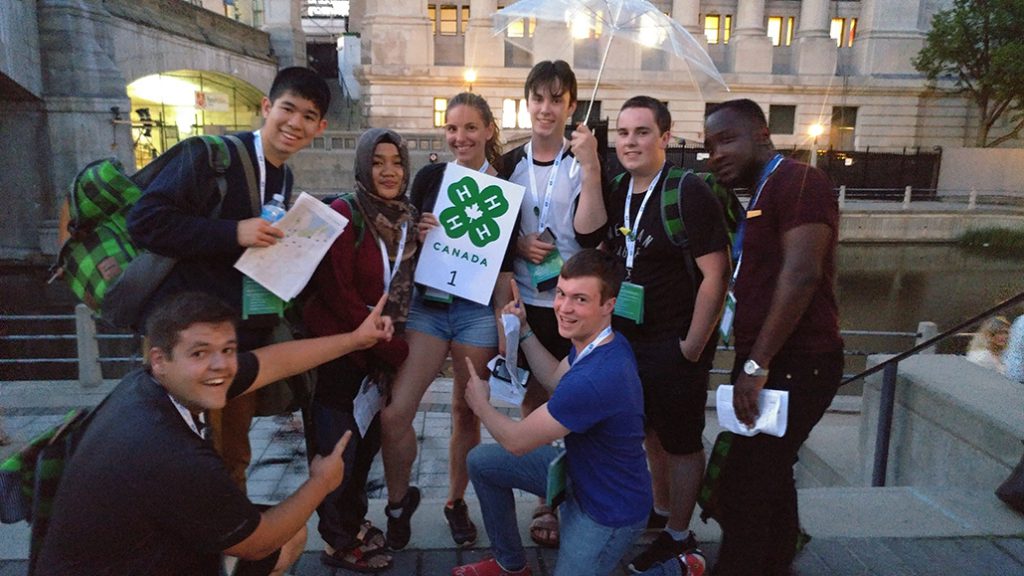 FOR FOUR DAYS in July, participants from over 70 countries descended in Ottawa to attend the event-filled 2017 Global 4-H Network Summit. It is described by 4-H as "an opportunity for 4-H youth, volunteer leaders and professionals from 70 countries around the world, representing seven million youth worldwide, to share experiences, learn from each other and celebrate the 4-H global movement." It was a nice addition to the rest of Canada's 150th birthday celebrations in the nation's capital, and a big milestone for 4-H, which has been running in Canada since 1913. About 350,000 4-H alumni reside in Canada today.
The first 4-H Summit was held in Seoul, Korea in 2014, with 250 attendees. "It was the first time the global movement of 4-H had come together, so it was focused largely on formalizing 4-H at a global level," notes Jennifer Christie, Summit chair. "The Global 4-H Network Summit in Ottawa included youth and professionals, so we had a large number of youth participate versus in Korea." In total, 485 attended.
Each of the four days carried a specific theme: Community Engagement, Science & Tech, Sustainability & Food Security, and The Environment/Healthy Living. Besides evening attractions such as a formal dinner (with some wearing traditional clothes), a talent show, and trips to museums, each day was also fully packed. Daily mentorship circles featuring one-on-one 'speed-coaching,' hands-on demonstration stations and workshops, kitchen workshops with professional chefs, a Global Opportunities Expo, regional roundtables, and youth-delivered workshops.
"It's important to understand we didn't specifically set out to have youth-delivered workshops," Christie notes. "These presenters answered our call for proposals and were selected on merit. The fact we had several youth-led workshops speaks to their leadership and passion for 4-H, but also the success of 4-H."
The Summit keynote speakers included current vice president at Great West Life and former Coca Cola executive Krista Scaldwell, motivational speaker, War Amps champion and farmer Chris Koch, DuPont executive and former deputy secretary of the U.S. Department of Agriculture Krysta Harden, Canadian Olympic rower and law student Cristy Nurse, and Ann Makosinski. She's the young entrepreneur and member of Forbes '30-under-30 list from B.C. who invented a flashlight that's powered with the heat of the hand, and a mug that uses heat from its hot contents to charge a phone.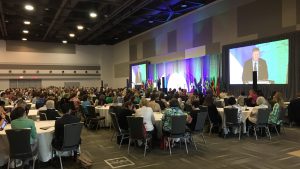 FROM AN ATTENDEE
It's safe to say 19 year-old attendee Logan Emiry enjoyed himself throughly at the Summit. Emiry's father Keith and uncle Alan operate a two-robot dairy farm in Massey, Ontario where the family also grows soybeans, most of their cattle feed and U-Pick strawberries.
"[We've] been dairy farming here since 1913 and I represent the fifth generation," says Emiry. "I am in my ninth year of 4-H and have been very fortunate to have an extensive 4-H career."
Emiry attended 4-H Provincial Leadership Camp in 2015, served as an Ontario 4-H Ambassador in 2016, has gone on two club-to-club exchanges to Alberta, and has attended both the Citizenship Congress and Members Forum. He also travelled through 4-H to Japan in 2011 and to Ghana last year with 4-H Canada's pilot 'Going Global Service Learning' program.
"4-H has been the single biggest part of my development as a person," Emiry states. "I have learned valuable life skills including leadership, effective communication, and team work. Besides developing my character immensely, 4-H has taught me amazing things about agriculture, our world, and myself. Travelling through 4-H has introduced me to life long friends and allowed me to explore our province, country and world firsthand."
His favourite part about attending the Summit was reconnecting with old 4-H friends and also making new personal connections.
"The bright young leaders that 4-H has developed around the globe whom I spent the week with in Ottawa are already making a big impact on their clubs, communities, countries and world," he observes.
Emiry adds that "the biggest learning point for me was how to meet and network. Being able to introduce yourself and remember people quickly and in a professional manner is an important skill for all young professionals." Emiry lists another important takeaway from the Summit to be a realization of the importance of purposeful goal setting.
4-H IN THE FUTURE
A lasting legacy from this year's Summit is the creation of an online community for global 4-H volunteer leaders and professionals to share ideas and access 4-H resource materials. 4-H Canada will be hosting and managing the community, which is christened '4-H LEARNS' (Learn, Educate, Access Resources, Network, Support). Christie notes that this interactive resource was one of the major priorities identified at the first Summit and by the Board of Directors, and it is hoped that it will be instrumental in facilitating the growth of new country-led 4-H programs.
Christie says that on a personal level, the Summit was very rewarding for her in terms of seeing young people she already knew get excited to discover new 4-H opportunities.
"Now they also have new friends from around the world," she adds. "Those will be connections they will have for a lifetime and combined with the new opportunities, their lives have been changed and we will see them again in the future, making the world a better place."
The next 4-H Global Summit will be in Tanzania in 2020. •