Business strategy
ADVANCED FARM MANAGEMENT PROGRAM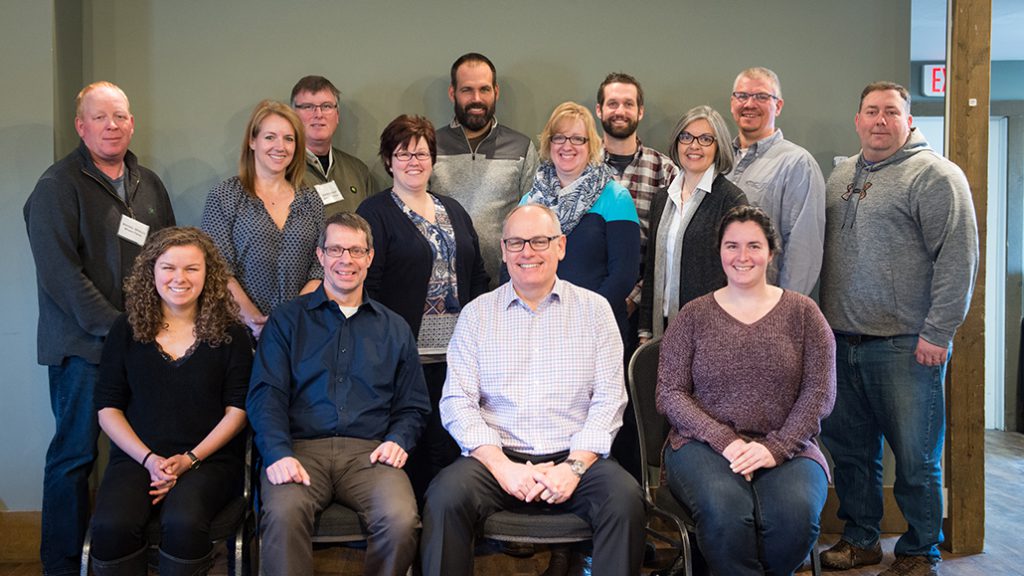 FARMERS ARE BUSINESS operators. Yet farmers have not always been perceived that way and they have not always had the same tools and opportunities as other types of business owners.
The Agri-food Management Institute (AMI) recognized this knowledge gap nearly a decade ago and developed the Advanced Farm Management Program (AFMP) to give primary producers the opportunity to learn to think strategically and be mentored by a business strategist.
"The AFMP was designed for farm managers who are interested in taking their business strategy and thinking to the next level, but also apply what they've learned to their farm right away. For those farmers who have been in operation for a number of years, the AFMP offers them the chance to take some time to think about where they want to go, and map out using an action plan, how they're going to get there," says Ashley Honsberger, executive director of AMI.
AMI develops business management tools, information, resources, and training for agri-food and agri-based producers, processors, and their business advisors. The AFMP program was designed to follow the Growing Your Farm Profits program, which takes two days to establish a business plan and allows access to Growing Forward 2 funding. AFMP suits the real time needs of farmers, and goes beyond generalities to get to the specifics of enhancing their understanding of finances and strategy development.
"Having a business plan in place is great," says Honsberger. "But using and updating the plan, helps you to meet ongoing goals and achieve future dreams."
PRACTICAL APPLICATION
The program is ideal for business partners because it's a way to communicate each person's vision a little more easily. It also works for individuals because they can learn from peers in a similar situation, and take time away to clarify their own vision for their operation. The program is a five day commitment spread out over about two and a half months. Honsberger says the program was intentionally designed this way so that there was time in between to go home and think about what was learned, and apply some of the new information.
"Farming has become increasingly complex and outside pressures such as international trade and climate change add to the volatility of what farmers are trying to achieve — the production of high quality, safe products for people to consume," notes Honsberger. "To mitigate some of these risks, farmers can proactively equip themselves using real time information about their ongoing operations, in order to react and make decisions. But you can only do this if you're tracking things like input costs and revenues on an ongoing basis. This program also helps farmers to analyze their financial position and be prepared to have more in-depth conversations with their accountant or advisor."
GRAIN FOCUSED
A grains focused session is offered through a strategic partnership between AMI and Grain Farmers of Ontario.
"It's Grain Farmers of Ontario's job to promote and put in front of our farmer-members programs like this one which provide a benefit to them," says Steve McCabe, manager of member relations. "With access to more business management tools, they can better plan not only for the year ahead but for years ahead."
"Our farmers are fantastic at growing food for the world," adds McCabe, "but they might not have the financial background to be efficient with their finances."
On the first day of the program, farmers are asked to rate their knowledge on business areas such as strategic planning, risk management, and human resources. A significant increase in knowledge has been reported after completion of the course.
Comments from last year's participants include: "There is a lot to apply to my farm operation"; "I realize the importance of planning and structure for all aspects of the business"; "Taking five days to talk, write, and think about our farm business with both the leaders and other participants was valuable — it was good to think critically about our operation".
Participants have used the skills they've learned to get on a better financial footing — such as renegotiating lending terms with their banker. Some have also realized significant improvements from learning more about "lean" productivity and saved time doing day to day chores. They've also learned the right questions to ask their financial advisors.
"We also see a big shift in participants' comfortability with looking at financial statements and understanding what they mean in real time," says Honsberger. "We don't all need to be accountants to be successful farmers, but to better understand the financial side of the farm and see how it relates to the day to day management, helps us use the information we have at our fingertips to make good decisions when things change, or need to change."
For more information on the AFMP program or to register, email deanna@takeanewapproach.ca.
AMI is funded by Growing Forward 2, a federal-provincial-territorial initiative. •