Grain safety
THE RIGHT TOOLS FOR PREVENTION AND PROTECTION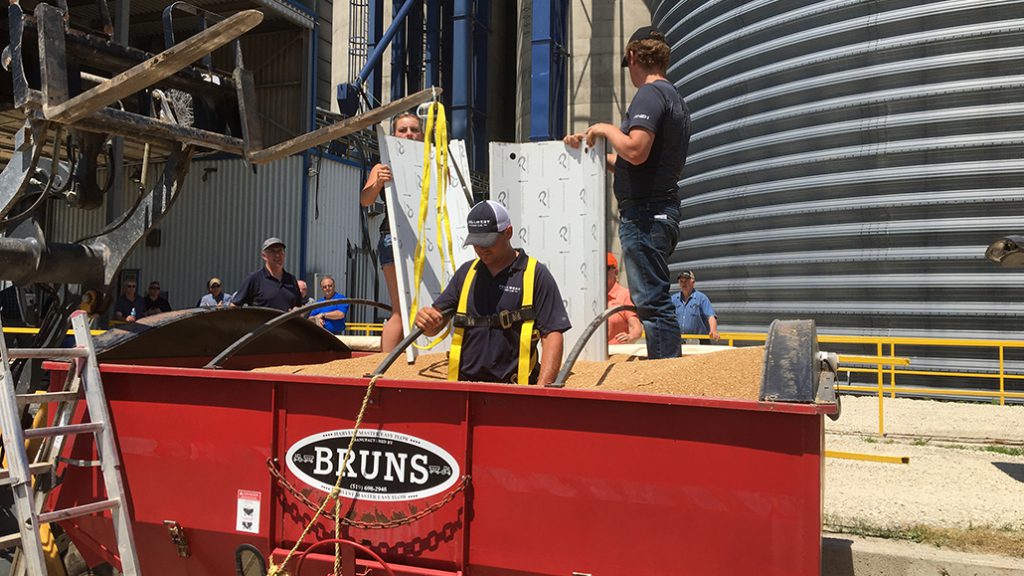 IN AGRICULTURE, THERE are six to seven times more safety incidents than in the general public. Often in agriculture the family, home, and workplace are one place, which can create a laid back attitude around safety. Tragedy can strike in seconds given the closeness to large equipment and silos — meaning awareness is key.
Collwest Grain held a farm safety meeting to raise awareness around the risks of grain storage, grain entrapment, and on-farm machinery this summer. Attendees included farmers, industry, and first responders such as the Ontario Provincial Police and the local fire department. The focus of the safety meeting was how to make farms safer.
"Seventy per cent of grain entrapments happen on the farm and often in steel bins," explains Wayne Bauer, director of Emergency Services Rescue Training, Inc. (ESRT).
GRAIN QUALITY'S SAFETY LINK
Dr. Carol Jones, an associate professor in the Biosystems and Agricultural Engineering Department at Oklahoma State University, works on grain aeration and storage, and is also the director of ESRT rescue training. She feels step one of safety is ensuring stored grain is in good condition.
"If we put grain in and get it out with no problems, why would we go in a bin? Out of condition grain is when people go in to unplug grain, and this is when injuries happen," says Jones.
Grain gets stuck on walls of silos and in augers when temperature or moisture is off. Jones encourages farmers to use proper aeration and monitor temperatures inside their bins. Not only will this benefit farmers monetarily, but it also increases safety. Farmers should put aside time to learn and practice better stored grain management. This includes monitoring it closely, being aware of possible issues, and fixing issues before they become a larger problem.
"Once grain is moving, you can become trapped in four to five seconds, buried in 20 seconds, and once you are in to your knees, you will need help getting out," explains Jones on why it is critical to put measures in place to stay out of grain silos.
There should be a zero entry mentality around grain storage. This encourages employees to do everything possible to enter only as a last resort. She recognizes, however, unpredictable weather and conditions means people must enter grain silos. "If grain is off, be prepared before going into the bin," says Jones.
SAFETY EQUIPMENT
Bauer suggests not entering grain storage alone and always wearing a harness you are trained to use.
"You need an anchor point on the roof in the middle with a pulley for someone else to access," explains Bauer on the proper set up for a harness system inside a silo or bin. When selecting an anchor point, the safety line needs to attach to a structural roof. It is important to have someone else that can help you out of the bin using the pulley system. Many farmers work alone, so this might mean asking someone to come assist you.
Any time individuals enter grain storage they should wear a harness.
"Out of condition grain can form a crust that bridges at the top of the silo. If you break this crust you can fall up to five feet into the grain and become stuck," says Jones. Sudden moving grain, avalanches off the side of the building, and grain bridging are all ways people become buried in grain.
"When selecting a harness, remember that a fall restraint harness is useless if applied to a grain bin — you need to freefall to make them work," explains Bauer. Instead, farmers should select a harness with a lanyard that has a pulley or another method to pull a victim out of the grain.
COFFERDAM
Although less common, more first responders, fire departments, and farmers are beginning to purchase cofferdams.
A cofferdam consists of several metal panels that are placed around a person in grain to relieve pressure.
"When buried in grain, the forces on the body are too much and the person can't get themselves out of the grain," explains Jones. An individual buried in grain up to their waist already has a force on them of around 800 pounds.
Once the metal panels are secured around the person, rescuers begin scooping grain out with a bucket to lower the pressure. It is important to keep the panels together, so no grain can spill back in.
Once enough grain is removed and the pressure lowers, the person can be helped out of the grain.
GENERAL FARM SAFETY
Although fatalities on the farm are down overall, there is an average of 104 fatalities a year on Canadian farms since 1990. Grain entrapment is one of several incidences including run overs, entanglements, falls/ trips and toxic substances/suffocations. Collwest Grains' safety meeting and similar safety days are useful tools to transform this statistic.
Jones reminded attendees to be vigilant and slow down when on the farm. And "even if you have never had a problem before, it could still happen," she says.
FIRST RESPONDERS
The presence of first responders at Collwest Grains safety meeting was an important reminder that these personnel are an integral part of farm safety.
"A part of training and safety plans should involve bringing out emergency personnel to your farm," says Dr. Carol Jones, an associate professor in the Biosystems and Agricultural Engineering Department at Oklahoma State University. This is important in all operations, but especially those with on-farm storage.
Once someone is injured or buried in grain, there is a short window of time to save them. If first responders do not know the layout of your farm, they may not help you in time.
Wayne Bauer, director of Emergency Services Rescue Training, Inc. (ESRT), suggests inviting firefighters or the emergency response team to tour your farm. Show them where they can lock out electrical, and where all buildings and farm machinery are located.
Does your local fire department know what a grain entrapment is and how to deal with it? For larger operations, when was the last time they ran a drill or trained? These are important questions to ask, but they come back to building a relationship with your local emergency response team.
Inviting them out yearly to see changes to your operation and chatting about safety can make the difference needed during an emergency.
#LENSLEG
Melanie Epp
In the United Kingdom, #LensLeg, a spontaneous grassroots movement, has taken Twitter by storm. What makes the movement so impactful is that it's farmer initiated and farmer driven.
In June of this year, while cereal farmer Stuart Roberts was at his National Farmers Union (NFU) meeting, a couple of farmers began talking about on-farm safety. It was then that they realized that farm accidents haven't changed or decreased in number over the years. Suddenly, in the middle of the conversation, NFU member Phil Latham pulled out a prosthetic leg and dropped it on the table. The prosthetic leg belonged to his grandfather, Leonard Latham. About a hundred years ago, Len lost his leg to gangrene after being kicked by a shire horse.
Latham's story made a real impact on Roberts. "As I was driving home in the car, I thought, actually, we need to do something about this," said Roberts.
It was then that Roberts decided to make one small change that improved safety on the farm for the next thirty days. Each day, he has posted those improvements on Twitter using the hashtag #LensLeg.
Of them all, the most important change Roberts has tried to make is a change in mindset. "We all live in this big macho masculine farming world," he says. "If you go back 20 years ago and you went on a building site and somebody asked you to wear a hardhat, you sort of thought: 'Oh, I don't need one of them. I'm a big bloke. Those helmets are for wimps.' Whereas today if you go onto a building site not wearing a helmet, the whole culture of the place will not let you on the site. So for me, #LensLeg is about making that same culture change on the farm."
Today, farmers all across the UK have joined the movement, posting their small changes online as well. To follow along, search #LensLeg on Twitter.
Follow Stuart Roberts: @HertsFarmer. •