Cropside: Dicamba application
AGRONOMIC INFORMATION FROM ONTARIO'S CROP SPECIALISTS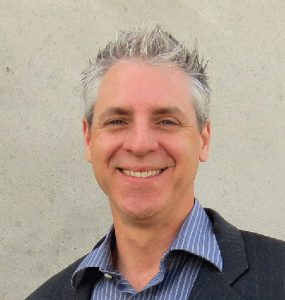 CIRCUMSTANCES APPLICATORS CAN AND CANNOT CONTROL
At the time of this article, social media and farm reporting is solidly focussed on the Southern U.S. as they weather an unprecedented number of dicamba-related off-target pesticide incidents. Despite the additional precautions, mandatory training and the availability of the less volatile chemistry, the 2017 impact is greater than 2016 with reported damage to millions of acres.
We are all overwhelmed by the "he said, she said" reports. How many are substantiated? Is this minor damage, or will it affect yield? Did applicators drop the ball, or was the volatility of dicamba and the remarkable sensitivity of certain crops to synthetic auxins grossly underestimated? I don't know.
In Ontario, government, academia, and industry worked long and hard to impress upon our applicators how careful they had to be with dicamba. I'm aware of a modest number of reports of dicamba damage in the province (not necessarily caused by either XtendiMax or Engenia); certainly, it's nothing like what's happening in the U.S.
I'd like to think we did a great job teaching, but we simply didn't spray as many acres, as often, or in the hot conditions that they did in the U.S, so I don't think we can compare our situations and I certainly don't think Ontario should get complacent.
We're waiting to hear what third party investigators have to say. We need cause and effect correlations and solid numbers before we can identify, and hopefully correct, the problem. Meanwhile, I'll remind applicators what they can and cannot control when it comes to spraying dicamba.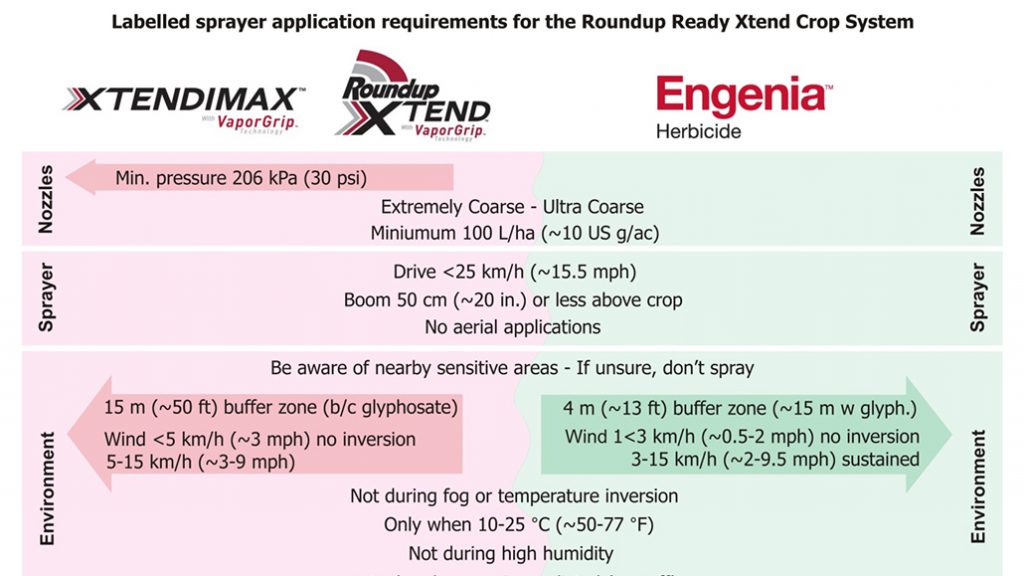 You can control off-target movement by:
· using the lowest practicable boom height that still provides 100% overlap
· reducing travel speed to reduce drift
· spraying when wind speed is low (not high, not calm) and away from sensitive areas
· using XC-UC spray quality
· cleaning the sprayer thoroughly (a full decontamination, per label)
Should volatility prove to be the biggest contributing factor to what's happening in the U.S. (a complicated, and poorly understood phenomenon), applicators can do the following. *Note that we don't have all the answers.
· Don't use older (more volatile) dicamba products.
· Don't spray green tissue (i.e. pre-emerge only). If Roundup-resistant weeds emerge when the soybean is starting to close over the alleys, find another control. Don't spray dicamba.
· Don't spray during a temperature inversion (which carries small particles and vapour over great distances). We don't know how long after the application dicamba continues to volatilize. A subsequent inversion will likely increase the distance the vapour will move in an unpredictable direction.
· Obey buffer zones. But they are based on physical drift, and if volatilization is significant and prolonged, how far away should a sensitive crop be?
· Don't spray in temperatures exceeding 25° C. But, again, we know that heat increases the rate of volatilization, so it's difficult to say how hot is too hot.
· Don't add ammonia-based adjuvants to the tank because this increases the potential for volatilization. I've seen 1% ammonia pull dicamba out of a "clean" sprayer, so believe that it's true!
If you don't think you can control it, don't spray it.
Let me extend an invitation for you to attend a sprayer cleanout demonstration at Canada's Outdoor Farm Show in Woodstock that Mike Cowbrough and I are giving. We compare the merits of triple-rinse to a new continuous rinse method. We also explore the limitations of rinsing (aka flushing) to a more thorough sprayer decontamination by spraying dicamba rinsate from both processes on conventional soybean. •