Sustainable relationships
HURON - A FAMILY BUSINESS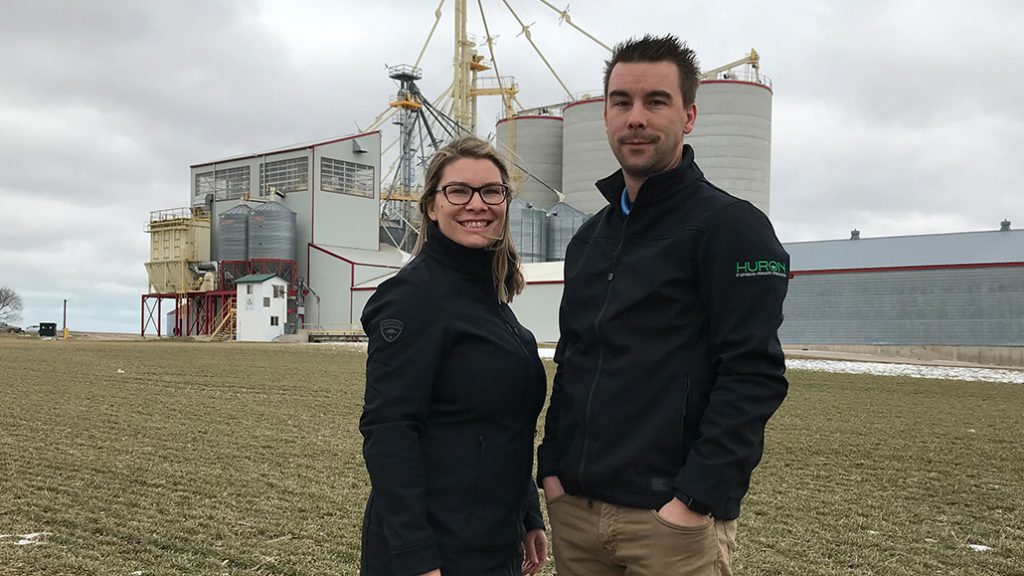 STARTING YOUR OWN business is something that takes a financial commitment, time commitments, and sacrifices. There are a number of businesses across rural Ontario that have taken an idea and transformed that vision into something that provides value to customers and the rural economy.
The values and relationships within the Vanderloo family have allowed their business to not only grow and evolve, but to succeed. Martin and Ellen Vanderloo started Huron Commodities, located in Clinton, Ontario, in 1988. Thirty years later, the business, now known simply as Huron, is still successfully running; however, the next generation of Vanderloo's, brother and sister Adam Vanderloo and Alicia Oesch, are now leading the charge.
GROWING A BUSINESS
After earning a diploma in agricultural business management, Martin jumped into the agricultural grain trade. After a number of years as a commodity trader, Martin and Ellen decided to venture out on their own and started Huron Commodities. The initial plan was to work in the oat markets and the seed business. Those markets grew steadily for a number of years, but it wasn't until 1995 that Martin and Ellen had the opportunity to start in the IP soybean business. Ever since then, providing customers around the world with high quality IP soybeans has been their mainstay. Most recently, Huron has expanded their business to provide customers with processed forage products.
Adam and Alicia note that the success of the company can be directly attributed to their parents. They note that "the strong leadership and integrity that our parents built Huron with in 1988 has allowed us to be a strong business today, 30 years later." And over the last 30 years the business has grown, from just two employees to 25 employees today.
Despite being traders of grain and other commodities, Adam states, "we have never tried to be traders. We never try to compete against the big grain handlers where best price always wins. We have tried to build relationships with the supply chain that can be relied upon."
The reality is Huron has always tried to provide its customers with a high quality, high valued product whether it is IP soybeans or anything else.
"The agricultural industry is small, but we have developed the loyalty of growers, suppliers and end users," says Alicia.
This relationship first mentality has proven to be a success — they still have some of their first customers 30 years later.
STAFF SUPPORT
The staff at Huron has also played a significant role in the success of the family business.
"We have such a team-like environment here at Huron and are so fortunate to have employees who work so well together," says Alicia.
Even in rural Ontario it is sometimes difficult to find employees with experience in the agriculture industry. But as Adam and Alicia note, they have leveraged workers from other sectors and the key is to find good people who are willing to learn.
"With bringing in employees from other sectors it has allowed for some different thoughts and perspectives and has helped us continue to evolve and remain competitive," says Adam.
SUSTAINABILITY
Sustainability is something that the marketplace is beginning to work with the supply chain on. To keep up with this, Huron has recently undergone a rebranding with a new focus around sustainability and stewardship.
"This really started when we stepped back and asked ourselves what is the sustainability of the organization?," says Alicia.
Sustainability has become a strategic part of Huron's business plan for long-term growth.
"We are actively participating in industry efforts to promote awareness among consumers, as well as farmers and processors, of the need for practices that ensure the long-term health of people, the food they eat, and the environments in which they live and grow," says Adam. "Ultimately, this new strategic emphasis on sustainability is helping agriculture better tell our story."
As part of this new focus around sustainability and stewardship, Huron has also unveiled a new logo.
"This design moves our identity from a 'commodity' image to one of stewardship to all our stakeholders," says Adam.
In an ever competitive world starting your own business has a number of challenges and risks. But with a vision that is properly executed with right leadership, anything is possible. In the case of Huron, it is clearly evident that the values from day one stand true to today and can be deemed as the defining factor in the long term success of the business. Thirty years of strong relationships within the community, employees, customers, and farmers has resulted in 30 years of success.
Michael Buttenham is the sustainability and environment coordinator for Grain Farmers of Ontario. •