Focusing on the business
ADVANCED FARM MANAGEMENT PROGRAM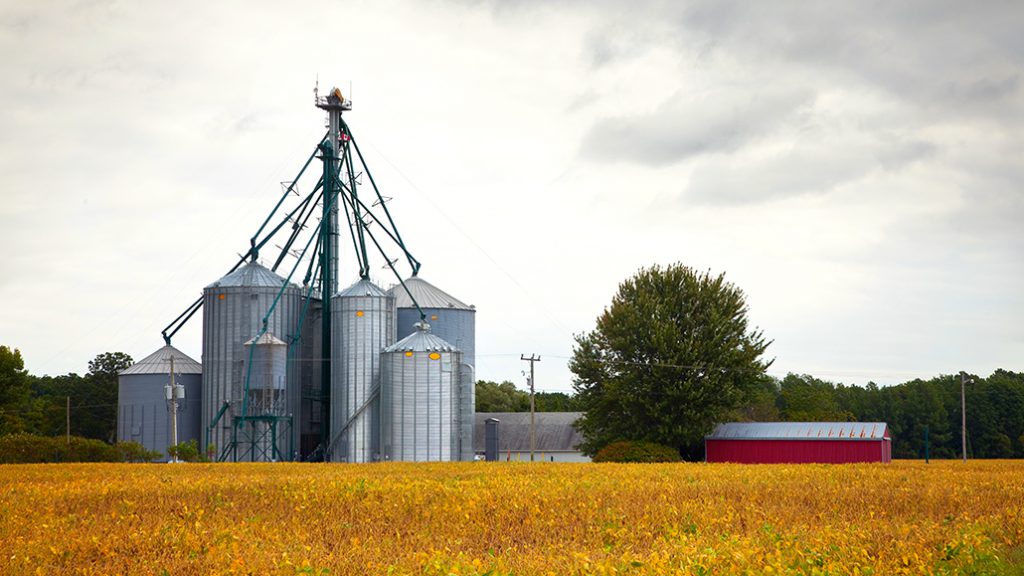 WHEN TWO FARMERS get married, the business implications can seem just as complicated as the big mergers happening within the agricultural industry.
Newlyweds Eric Dietrich and Katherina Walch both work on their family cash crop farms, they each own their own land, and this year they also rented land together to grow soybeans. The land they work is scattered across Middlesex, Perth, and Huron Counties. Dietrich also helps operate a commercial elevator, and Walch is carrying on a family tradition of growing strawberries.
It's a complex business arrangement, and their various ventures certainly keep them busy — particularly during the spring planting season — but they have a goal to farm together and a plan to make it happen.
"It takes time to make changes, we are still in the change process and figuring out what works. We have a lot of ideas that we want to implement," says Walch.
STRATEGIC PLANNING
Dietrich and Walch participated in the grain focused Advanced Farm Management Program (AFMP), a five session course developed and run by the Agri-food Management Institute. The AFMP provides business management training for farmers, and includes sessions where farmers review their financial statements, discuss ways to improve the profitability and sustainability of their farms, and create a management action plan. Participants are mentored by business strategist Rob Hannam of Synthesis Agri-Food Network who provides good strategic advice and can share his experience working with other producers directly.
"If you're considering a big change like putting up a new barn, buying equipment or bringing the next generation into the operation, this program will help you work through how to make the best decision so you remain profitable and successful. We also see business partners attend together so that the learning can be shared at the business level, and not just to one owner or partner," says Ashley Honsberger, executive director of the Agri-food Management Institute. "Over the past sessions we found that producers were able to change their perspective on planning for the near and longer term future by defining a vision and setting clear goals and timelines for accomplishing change."
A change of perspective is what Dave Park appreciated when he participated in the AFMP.
"It was a great opportunity to focus on the farm business. Being hands-on, it's easy to get caught up in operations and not focus on management," says Park, a farmer near Sarnia and the director of Grain Farmers of Ontario District 3 (Lambton). "This program helps you focus on the future and it also gave me the opportunity for some reflection which is tough to do when every day you are worrying about the next job that needs to get done."
The action plan Dietrich and Walch developed was based on how they want to run their operation as they work more closely together in the future.
"We don't consult the plan all the time, but the main ideas on how we see the business going are there and it gives us direction," says Dietrich. "There are a lot of little things that we talk about when we get home at the end of the day, problems that we've identified, that we make a note of because they are the basis for future changes. I re-evaluate how we do things and think more about how we can make things happen."
SKILLS DEVELOPMENT
Business skills are also a feature of the AFMP — Dietrich and Walch appreciated the accounting sessions that helped them get a better understanding of their income statements and account books.
"Some producers find financial statements to be a bit challenging to analyze, but this program helps them to understand the story the numbers are telling them, especially financial ratios which help business owners figure out where they are being efficient and profitable, and which areas could use improvements," explains Honsberger.
One of the key take-aways for Park was how he could better handle human resources for his operation which employs more than 30 people.
"It's important to foster personal relationships and understand how different individuals come to making the decisions that they make and as an employer I need to make sure I'm putting people in a position where they will thrive," he says. "It takes a team to build a business."
Grain Farmers of Ontario supports farmer-members who attend the AFMP by paying for their mileage. According to Park, the program fits the core values the Board of Directors follows to ensure the organization is fostering growth.
"We encourage ongoing learning both personally and professionally for our farmer-members," says Park, "It's important that we support programs that teach management skills because cash crop farming is becoming more complex and the ability to navigate through human resources, grain marketing, accounting, will really boost a farm business."
Park says it doesn't matter if you have a large or small operation, or if you work with family members or employees — the information provided in the program is just as relevant. He believes there is always room for improvement on any farm operation, and that's a sentiment shared by Dietrich and Walch.
"You are never done learning," says Dietrich, "even on a record year we can always get better by improving production or cutting costs. This program unlocks your own skills and helps you get better."
If you are interested in learning more about the AFMP, go to advancedfarmmanagement.ca/ or email Ashley Honsberger ashley@takeanewapproach.ca.
The AFMP is funded in part through the Canadian Agricultural Partnership, a federal-provincial-territorial initiative.
ADVANCED FARM MANAGEMENT PROGRAM — GRAINS
Elmhurst Inn, 415 Harris Street, Ingersoll
Session Dates:
Day 1 December 5, 2018
Day 2 December 19, 2018
Day 3 January 16, 2019
Day 4 January 30, 2019
Day 5 February 6, 2019
Day * February 7, 2019
* if needed for weather delay
Register before November 10, 2018 for the early bird discount of 10% off tuition! Registration deadline is November 20, 2018.
Tuition is offered at a subsidized rate this year of $725 for the first participant, and $450 for the second (from the same operation, plus HST). This includes all course materials, breakfast, and lunch for the duration.
Grain Farmers of Ontario will pay mileage for any farmer-member who attends this program. Contact Steve McCabe, manager of member relations for Grain Farmers of Ontario, at smccabe@gfo.ca for more information. •