Charging up
RECENT DEVELOPMENTS IN ELECTRIC TRACTORS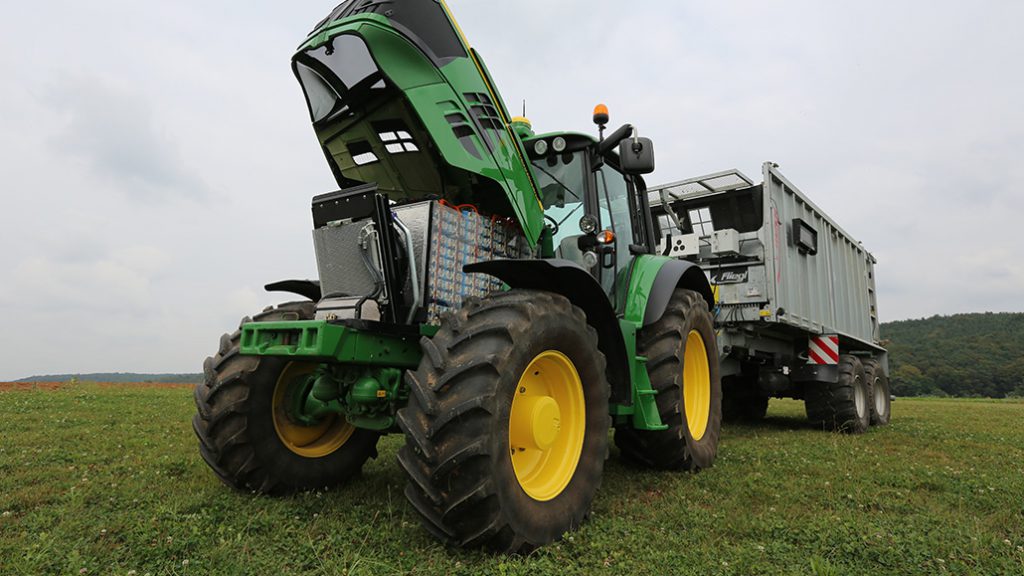 "IMAGINE A FARM where electric agricultural vehicles, some autonomous, some conventional, are connected to charging points in large solar PV equipped 'carport-style' machinery sheds, earning additional income from so-called 'vehicle-to-grid' network balancing services while they are on-charge. This may be no longer science fiction, but instead the technology of the near future."
This is the introduction of a recent report called 'Electric tractors by 2020?' published by the National Farmers' Union of England and Wales (NFU). In the report, the authors examine whether diesel-electric hybrid tractors and/or battery-powered tractors will be widely available by 2020. Major equipment manufacturers around the world are looking into various technologies, however, electric tractor engineering has lagged somewhat behind the engineering of other heavy equipment, as tractors have to run for long periods and the torque required means that batteries are quickly drained.
JOHN DEERE
John Deere produced a prototype battery-powered tractor called the SESAM (Sustainable Energy Supply for Agricultural Machinery), which provides the equivalent of 400 hp and four hours of operation per charge of three hours. It's power level is 130 kW and it reaches a speed of 50 km per hour. John Deere received a 'Silver' innovation award in recognition of its research and development on this tractor at the SIMA farm show in France in 2017. Although it describes the SESAM prototype as "a central component of John Deere's vision of the energy autonomous farm of the future," the firm can provide no updates at this time about new prototypes being developed, what challenges lie ahead, or if there are plans to actually market an electric tractor.
WEIDEMANN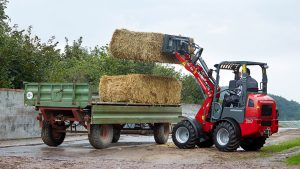 Germany-based Weidemann already markets its 100% electric 1160 eHoftrac tractor across Europe and in Russia (it has sold other products in Quebec and Ontario since 2017). This tractor has a lead-acid battery and two electric motors, one for the drive and one to work the hydraulics. This minimizes power consumption because the performance is only drawn when really needed.
"Right from the beginning we had some very good and enthusiastic feedback from farmers and other customer groups, especially in Germany, Belgium, and the Scandinavian countries," says Manuel Meyer, who leads Weidemann's agricultural market development. "But all in all, the motorized version is still the most important one in the market. Most customers first need to learn the benefits of a 100 per cent electrified loader. There are some prejudices and inexperience existing regarding this new technology and the e-version is also higher in original costs compared to a motorized version. This is restricting a much faster development of the industry at the moment. Nevertheless, electric machines will surely get more important in the future. A big push will be the next emission stage V in Europe, which will raise the costs of diesel engines."
Meyer also believes farmers in North America and especially Canada will become more open to buying and using electric technology. "Weidemann is going to expand its electrified portfolio in the next ten years," he says.
AGCO
AGCO is in the developmental stage for its Fendt electric Vario e100 100-hp tractor. It has a 50 kW power output and can operate for up to five hours due to its high-capacity lithium-ion battery. A short-term boost of up to 150 kW for the implements can also be provided by the battery.
The Fendt e100 Vario is being used for the first time in 2018 in limited numbers, initially on selected farms and in local municipalities in Germany. As initial models continue testing in different situations and applications, more decisions will be made about the application possibilities and in which global markets the tractor will be offered.
MULTI TOOL TRAC
Netherlands-based Multi Tool Trac has plans to launch its electric tractor machine of the same name in 2019 or 2020. It's a 210 hp six-cylinder tractor with a 30 kWh battery pack that runs the four electric motors, one on each wheel. It also has a diesel engine backup generator. The first prototype of this tractor was finished in late 2015 and has undergone extensive testing since then. It was redesigned this year.
MTZ
Belarus tractor-maker MTZ first unveiled its electric tractor in 2009, a 295 hp machine with 172 kW of power for auxiliaries and the front power take-off. It has a plan to release a 6-cylinder 360 hp electric model called the MTZ 3623 in the near future.
AUTONOMOUS TRACTOR CORPORATION
While not an electric tractor-maker, the Autonomous Tractor Corporation of Minnesota has in the past provided replacement diesel-electric hybrid drivetrains for tractors, which are lighter than a conventional powertrain, and offer 30 per cent lower fuel consumption and a longer engine life. Company co-founder, president, and CEO Kraig Schulz says they may continue to do this in future, but this year they are concentrating on rolling out retrofitted self-propelled sprayers with electric drivetrains replacing the existing hydrostatic diesel-powered drivetrains. "We have over 20 orders right now," he says.
Schulz is among those who believe electric power in agriculture will grow, but the costs must be equivalent or less than existing technology. "I just don't think you can ask farmers to pay more," he says. "We [equipment companies] have to work to get costs out of the agriculture system, not into the system." •