Business side: Equipment insurance
CONVERSATIONS WITH BUSINESS EXPERTS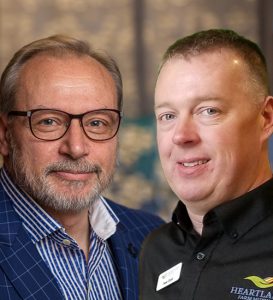 (J.M) WHAT DO FARMERS NEED TO KNOW ABOUT INSURING FARM EQUIPMENT?
(R.N.) Farm equipment is typically insured under a farm policy. In some case, equipment can also be covered under a home owner policy if there is a limited amount of equipment, like a utility or antique tractor.
Prior to renewal, policies should be thoroughly reviewed on an annual basis by the farm owner and their agent or broker. I recommend larger farm owners review policies more frequently to make sure any new purchases or trades made throughout the year are accounted for.
It's important to notify your insurance broker or agent as soon as you purchase a new piece of equipment. Provide and record the year, make, model, and serial numbers for all equipment on your insurance policy. And update your machine hours annually with your renewal. These records will make the adjusting process easier for everyone in the event of a claim.
Equipment values are based in U.S. currency, so stay current on the strength of the U.S. dollar because fluctuations can have a huge impact on the replacement value of your equipment. For example, if you experience a loss after rapid depreciation of the Canadian dollar you may find yourself short on the replacement value.
WHAT ARE THE MOST COMMON INSURANCE CLAIMS MADE ON FARM EQUIPMENT?
(P.S.) Most equipment claims are a result of fire, foreign objects, collision, and upset. Certain types of equipment, such as combines and balers, are more prone to fire than tractors due to the dry, dusty environment they operate in. Equipment design can also increase the risk of fire in some models. In fact, a certain make and model of tractor has experienced numerous fire losses across North America because of the way debris accumulates around the corner post exhaust system. Another make and model of combine seems to be having fires at the wiring harness connecting the header to the combine. Farm insurance companies are aware of these accidents, and our on-staff loss prevention specialists can advise farmers on risks such as faulty equipment, so don't hesitate to ask.
We see all types of claims, and many are a result of the seasonal nature of farming. Last year's challenging corn harvest had farmers driving equipment and combines in winter road conditions. This caused machinery to slide off the road and sustain substantial damage from dropping off into the ditch, resulting in an increase in claims.
WHAT SHOULD FARMERS DO IN THE CASE OF AN EQUIPMENT INSURANCE CLAIM?
(P.S.) Good record keeping will come in handy when making a claim. Provide maintenance and recent service records, and information about any modifications or aftermarket accessories. Take photos of the equipment at the time of the fire or accident to document damage and provide them to your insurance company as well. Contact your insurance agent or broker as soon as possible to discuss your policy coverage, temporary and full replacement options. In the case of a fire or accident, be sure to provide any emergency response or police reports to your insurance company.
ANY ADVICE FOR WORKING WITH INSURANCE BROKERS AND AGENTS?
(R.N.) It's important your agent or broker understands and has experience with farm insurance policies. Farm policies are more complex than your regular home owner's policy and it's in your best interest to make sure you are properly protected if you experience a loss or claim.
An experienced farm agent or broker will also understand equipment insurance options — as an example, newly purchased equipment may be eligible for a waiver of the depreciation coverage for a pre-determined number of years (typically five years). It's also important that borrowed or rented equipment be included in your policy. •