Field observations
FALL 2019 UPDATES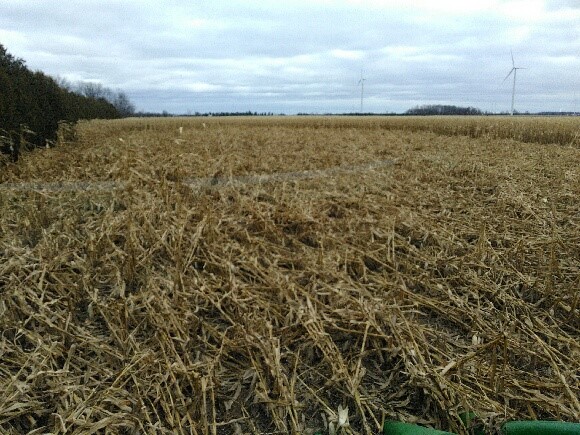 November 29, 2019
Corn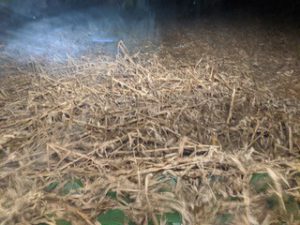 The calm before the storm this week allowed Ontario corn farmers a couple of open days to work away at corn harvest. Pulsating winds on Wednesday caused havoc to the remaining corn that was once standing. Wet, downed corn with the potential for snow this weekend doesn't make for a good combination in farm country. The ability to problem-solve on the farm has always been the farmers forte, but 2019 takes it to a whole new level.
________________________________
November 22, 2019
ANOTHER TOUGH WEEK in the country side. Corn slowly coming off where ground is the firmest. Moistures are high and drying is slow. The CN rail strike will be affecting propane users as reports of supplies in Eastern Ontario and Quebec are at a one-day supply level.
Corn
In order to find the firmest fields, corn growers did take advantage of the dry weather over the weekend and started to work through the night and early mornings as freezing temperatures kept the ground firm. By mid-day many fields became mud bogs and harvest would be shut down for the day. Rain on Thursday shut activities down once again.
The impact of fall 2019 harvest will be seen in the upcoming year's crop production as compaction on wet soil will require corrective action before next year's crop can be planted. Frost will help but tillage will be needed to remediate the compaction. Growers do not like to have compaction, but the crop must come off as contracts need to be fulfilled and bills need to be paid.
Growers with propane dryers will need to secure propane before harvesting wet corn. Wet corn can be left for a few days but will affect overall storage-ability of the grain long term. The chart from a Purdue University article by Richard Stroshine and Matt Roberts https://extension.entm.purdue.edu/grainlab/content/pdf/ShelledCorn.pdf  shows the storage time of wet grain based on temperature before dry matter loss of 0.5%. Which can also be considered when corn could fall in grade as in when poor grade 2 corn would be down-graded to grade 3.

The article also indicates that if the grain sample has lots of fines and foreign matter (cob pieces) that the shelf life should be cut in half due to fungi growth being greater with fines in the sample. Also, the shelf life of the wet corn affects the overall shelf life of the dried product. So, shelf life of dried grain will be reduced by the percent of time remaining of what wasn't used during the wet sitting period. Example using 60% of the wet period time only leaves 40% of the dry storage time. The secret to keeping corn is getting it dry and cool as soon as possible.
This chart is based on the kernel moisture so checking grain temperature and keeping it cool is important. Wet corn will heat as the grain respires, and the biological activity occurs. Even if you harvest at 45 F, your grain sitting on a pile will heat and the hot spots will deteriorate quickly.
This chart is also a good example to indicate what happens in the field as wet corn sits under poor drying conditions. 32% corn with periods of rain doesn't lose moisture. Wet grain sitting in the field deteriorates and will lose dry matter resulting in lower test weight of grain. Hence the reason why corn that sits in the field all winter doesn't get better in quality, just gets free drying.
Soybean
Still some soybeans remaining in fields across Ontario. Poor harvest conditions with snow fall and periods of rain have made harvesting soybeans in November an impossible feat. Looking for clear and dryer periods before harvest can resume.
________________________________
November 15, 2019
THE PRELIMINARY ESTIMATE of 1.1 million acres of Ontario winter wheat is lying under a blanket of snow this week. A similar volume of wheat acres was also planted in the fall of 2015, 2012 and 2010. This is a great accomplishment for Ontario farmers considering the difficulties endured in 2019. A couple of nice stretches of weather in October helped make this happen unlike fall 2018.
Corn
Considering leaving corn out until spring? Work in 2009 and 2010 by some Ontario researchers showed results can be quite variable. The results varied by location and by management practice as they studied the impact of population, hybrid maturity and fungicide use.
The learning from the research work in 2009 and 2010 conducted by Dave Hooker and team indicated that if you are planning to leave corn out until the spring, your best option would be to lower your population, grow a later maturing product and use a fungicide to keep your plants and stalks healthy. Belmont location had a 10.3% yield reduction for the managed system at spring harvest, while Ridgetown had a 1% yield reduction under the managed system. The benefit was no corn drying cost as corn was 12.5 to 13.5% moisture during spring harvest and stalk lodging of 44.3% in Belmont and 16.9 % under the managed sites of low population and fungicide application.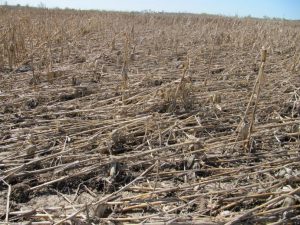 Data was also captured under the standard management practices of high population and no fungicide. Results were higher stalk lodging at 74.9% in Belmont and 44.3% in Ridgetown, and yield losses of 23.1% in Belmont and 1.7% in Ridgetown. Ridgetown's yield loss was insignificant and under those conditions was more economical due to no drying costs but would have to deal with some downed corn and harvest time would have been slowed down. Under commercial operations yield differences maybe slightly different.
Also noted by Dave Hooker was a site in Lucan, Ontario in 2010 that was not reported in the data as stalk lodging was 100% and yield losses would have been at least 50% due to the inability to harvest.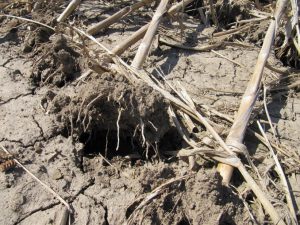 In summary, if you plan for spring harvest of corn, your best practice is to plan before you plant. If you haven't planned for spring harvest and you haven't managed the crop you will be at a higher risk of greater yield losses. If your conditions are favourable and you think your risk levels are lower, you may be successful with spring harvest. The only way to know is to evaluate your field with the push test and assess your risks.
Key learnings have been that some fields that were over wintered experienced root lodging in the spring as soil thawed out, caused by loose wet soils. Loose soils are created through tillage and can vary by soil type.
Thanks to Dave Hooker and team that investigated spring harvested corn through the 2009 and 2010 growing seasons. The published work can be found in American Journal of Plant Sciences February 2015. This work was also funded in part by Grain Farmers of Ontario and the Ontario Corn Producers' Association.
Factors that increase the risk level in "spring harvested corn" (lower to higher)
Soil firmness – Root lodge potential (firm ———— loose)
Stalk intactness (firm stalks ———— weak stalks)
Maturity of hybrid* (full season ———— early season)
Disease that infected crop before maturity* (no disease ———— diseased)
Field Fertility* (excellent ———— poor)
Soil Type* (heavier ———— lighter)
Plant Population* (25,000/acre ———— 35,000 /ac)
Plant height* (short ———— tall)
Open fields without shelter (tree lines ———— open field)
Snow fall (SouthWestern Ontario ———— snow belt area)
*Most of these factors play a big part in developing stalk strength and intactness during the growing season. Best test now, is the stalk push test in order to evaluate current standability potential.
Soybean
Still some crop out in the fields. We will need the snow to disappear before harvest can resume.
Cereals
Click to view the 2020 Spring cereal trials report.
The large acreage of winter wheat that is in the ground will go through many periods of concern over the next 5 months. It will be next March that will truly make or break this crop.
________________________________
November 8, 2019
WELL I GUESS it is November in Ontario, snow shouldn't have been a big surprise. But sure, would have been nice if we could have received our "fall harvest summer" after the frost to help get some more crop off. Maybe that will be December, it is 2019, anything is possible. Spring came late and winter has come early.
Corn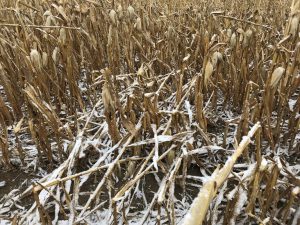 Many combine operators have been shut down for a week or two due to several rainfalls resulting in two to three inches of rain. Progress in  corn harvest has begun slowly across the province.
The Southern part of the province has been able to find some corn in the 22% to 25% range, while the rest of the province has been faced with higher moisture during harvest in the range of 28% to 40%. Cold weather has brought some snow, but we are still waiting for our "after frost summer". But then again this is 2019, don't expect normal or average to occur this year.
With the heavy winds last week lots of corn that had died down and cannibalized due to disease, drought or nutrient deficiency have succumbed to the conditions and are resting on the ground. If you are lucky, only the tops broke off or the leaves blew off. But most producers will have spots in their fields where stress conditions were worse and the corn has gone down due to dead stalks making harvest slow and frustrating. With stalks broken, ears are low or on the ground, the ability for the combine to gather the ears of corn is limited. Another problematic concern is that grain doesn't dry when it's on the ground. Yield loss and grain not drying will be taking its toll on the 2019 corn crop.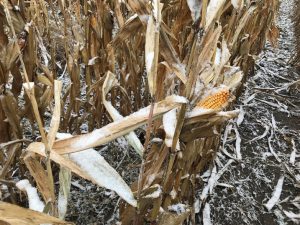 If you had healthy green corn when the frosts came in, your stalks would of had lots of strength with the healthy connective tissue of the pith in the stalk and have withstood these early winds pretty good. But growers will have to deal with immature grain and high moisture in these fields and over time during this winter these plants will weaken through the freeze thaw cycles. Keep an eye on the stand of these fields and don't assume they will still be standing by spring.
As corn producers are harvesting wet corn this fall, there are some precautions that will need to be taken to ensure they are able to make the highest grade possible with what they have in the field. Attention to combine setup to avoid too many grain fines from broken kernels will be a start. On farm drying will need attention to avoid fires. Slower drying is better as it will help the grain shrink and keep test weight up. Fast drying will result in hollow, lighter kernels. Storage will be another step that will need close watch as based on how drying went, there may be a risk of further moisture migration once the grain sets. Watch for hot spots in the grain and if fines were not able to be pulled out during harvest, you will need to core the bin to reduce storage concerns in the upcoming months. For more details on grain storage, check out James Dyck's articles.
Harvesting low test weight corn
Drying and storing low test weight corn
No one has really escaped 2019 with out some form of stress and frustration. The journey continues.
________________________________
November 1, 2019
NOT A GOOD start to November. Cold and wet weather is hampering a good start to the corn harvest and has put the brakes on the remaining soybean fields that need to be harvested. Excess rain has started to pond in fields again and is reminiscent of the wet spring we just endured.
Corn
A small amount of corn has been harvested in the province to date. Limited to earlier planted or dry areas of the province that allowed the corn crop to mature before local frosts occurred. Warm October weather helped field dry the grain down to 22% to 25% moisture in these limited areas. The majority of the provincial crop was late planted and continued grain filling into the month of October and either hasn't seen black layer (physiological maturity) or had just black layered in October. This large portion of the crop has not seen a good dry down period and would welcome some dryer conditions as corn will remain at the 28 to 32% or greater moisture where it is currently sitting. Dry down of grain in the month of November will be slower and will depend on some clearer lower humidity days to allow the moisture equilibrium of the air to help pull the moisture out of the grain.
Soybeans
Few fields remaining to be harvested across the province.
Cereals
With the excessive rain fall in the past 7 days many fields are starting to grow ponds again. The established wheat that has emerged and is thriving will fair better than the recently planted winter wheat fields that have not emerged or have seedlings that are fully covered by standing water. The seed or the young seedlings need to respire (gas exchange – breath) and failure of respiration for ~48 hours will kill the young seedlings. The standing water impedes the gas exchange the plant requires during respiration. Without respiration the plant will die. The effect on the saturated soil to the roots will also take its toll on plant development and decreased plant stands and/or plant vigour will occur to the crop due to limited gas exchange, also called wet feet syndrome.
________________________________
October 25, 2019
GRAIN FARMERS OF ONTARIO supported the DON field survey that was released this week. Thanks to Ben Rosser and Albert Tenuta for coordinating the sampling and authoring of the report.
SOYBEAN HARVEST IS coming to an end with just a few remaining fields left. Fields after soybean have quickly been attended to with either planting of winter wheat or field preparation for next spring's crop. Grain corn harvest has started with harvest grain moistures reporting in around 25% to 22%. Yields will be as variable as the year has been.
Corn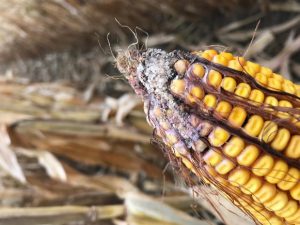 With the start of 2019 being so wet and the fond memories of fall 2018, many speculated the 2019 corn crop would be doomed. But as Albert Tenuta always reminds us, it's about the disease triangle and we need all three factors to contribute to the mould and DON production. This year, for the majority of the province, we did not have all three contributing factors in all areas to have a repeat of 2018. As this year has been extremely variable and much of the corn was late pollinated (August), the risk was high as typically late pollinated corn gets wetter cooler weather which is just right for mould and DON production after pollination. That was not the case this year with our drier warmer weather after pollination.
It is key to note that still four per cent of the sampled area was greater than 2ppm, indicating that DON production has still occurred, and producers will still need to scout their fields and manage their risk if they come across a field that may show signs of mould. Be diligent and scout your fields for possible harvest concerns such as mould or broken stalks or ear drop. Check the fields that need attention and prioritize them in harvest. Dry down has been progressing nicely and we would all like to harvest dry corn to help reduce our drying charges, but we need to consider that drier corn in the field has risk of yield loss due to the many factors mentioned previously, as well as wildlife damage and the invisible shrink that occurs while standing in the field.
Soybeans
Still some harvesting needed for the July planted beans, but for the most part the harvest has wrapped up across the province on the majority of acres.  Field work has been the next priority in order to get the land ready for 2020. Soil sampling, fertilizing, and field preparation have all been occurring right after harvest.
Cereals
Some early planted wheat fields are looking like lawns. Excellent establishment and lots of growth on the September planted wheat. Lots of the October seeded wheat is emerging and will be nicely established before winter comes.
________________________________
October 18, 2019
THIS WEEK GAVE Ontario a few nice open days for harvest and a rain day or two for much of the province. A few general frosty mornings have put a stop to any photosynthesis and sugar production. The autumn is ablaze with colourful trees, dead corn, and combines finishing up the last half of the soybean harvest.
Corn
As the cool nights and fall frost have shut down the corn plants' sugar manufacturing ablities, we have now reached a point where I hope all corn fields have reached black layer. There will be some cases where the grain has not reached black layer and kernels have not filled with starch.
As you are scouting your fields, you may come across some differences in grain quality and appearance of the grain. One item you need to first consider is if it is a different hybrid? Corn genetics are quite diverse and not many hybrids will have exactly the same grain style. This is all due to the wonderful application of hybridization which has given us the ablitity to cross corn lines of different background to give us unique hybrids that have different traits.
The best trait that has been selected for hybrid vigour is yield and excellent plant vigour and health. Of course there is lots more to the story, but lets focus on the grain quality differences. Due to the different backgrounds and genetic sources in corn, you will see different kernel styles with different hybrids. Those hybrids with a flint type background will have harder kernels with denser starch (as in the picture) in the middle cob and the top kernels. The opaque hard starch does not contract or shrink, rather it holds the kernel in it shape firmly, just like popcorn. The other hybrids that have dent backgrounds, such as Ohio 73 and stiff stalk types, have a softer starch that is less dense and has the ablity to shrink. With this shrinking will come deeper dented kernels and rougher kernel caps.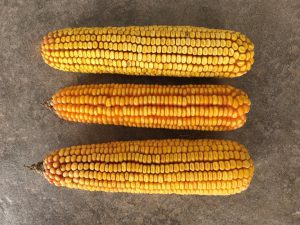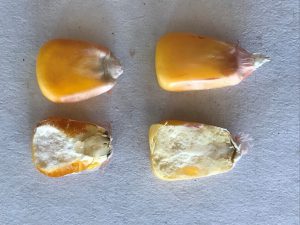 As we also know kernel shape and appearance can also be due to fertility and disease. Look to the tip of the kernel for signs that the plant may have prematurely died due to disease, lack of moisture, frost, or fertility stresses. This can be done by looking at the tip of the kernel and seeing if the tip has shriveled up. Shriveled tips indicate the plant was not able to complete the kernel fill process due to some external factor. It may be frost, drought, disease, nutrient related.
So, there are pros and cons to all hybrids and if selecting for just full kernels without any dent because you like plump kernels, you will also have to take the fact that you will have grain that will also be slower to dry down. Dent type hybrids, with the ability of the softer starch, does dry down quicker in the field and in the bin.  Selecting the best hybrid for your farm should be based on the end goal of profitability per acre. Which means, yield, dry down, and marketability. Yield of course is made up of the plants ability to produce grain, so it needs to have vigour, disease tolerance, insect tolerance, and weed tolerance.
Soybeans
Lower humidity, lighter dews, and some strong breezes earlier in the week has allowed for longer harvest days. The weather earlier in the week has allowed farmers to start the combines up earlier and harvest later into the night before rains came through to shut harvest down for a few days. Harvest moistures earlier this week stayed around 12%, with early startups at 16%, but quickly drying down to 13% and 12% with good winds. Sun was not evident and had it been out we could have seen even drier beans in the 11% to 10% range which is not preferred as this will increase the seed coat cracks and decrease the weight of the grain. This results in lower pounds delivered and paid for. Best quality, storability, and profitability is 13%.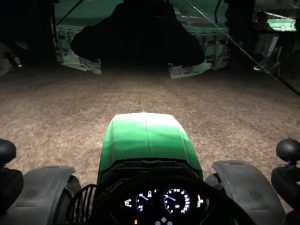 Cereals
As more soybean fields were being harvested this week, many fields were being planting with winter wheat. Lots of late nights for farmers putting in as much wheat as possible before the next rain. Conditions in 2019 have been much more favourable than fall 2018. Acres will be strong, and the crop is getting established under much more favourable conditions.
________________________________
October 11, 2019
CLEAR WEATHER THIS week has allowed for a surge of soybeans to be harvested, with winter wheat being planted right behind the soybean harvest. Light frosts and cooler night temperatures are putting an end to the growing season for the corn crop.
Corn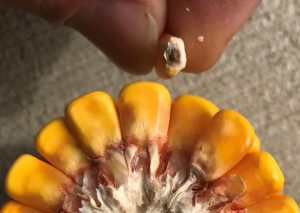 Black layered corn has signaled that the corn crop has matured. Hopefully, your crop has black layer before you receive a killing frost. If you haven't reached black layer, but your crop is close, you will still have a chance for much of your plants sugars to be translocated to the kernel to help add a bit more weight to the kernel. Continuing cool temperatures will slow crop development and as we are into October we can expect the crop has come to the end of its dry mater accumulation stage.
Hand shelled samples of corn that black layered last week had a moisture reading of 25.8% this week. Hand shelling usually comes out 2% dryer than a machine harvest. So call it 28% moisture corn. Drydown of the kernels and stalk strength will be two things to watch for in the next few weeks. Dry, warm weather will hasten drydown, strong winds will lodge corn and rain will keep moisture at the current level.  In an average fall, it usually takes three days per point of moisture in October. So, for this 28% corn to get to 23% it will take 15 days. When we get into November, it will take five days per point of moisture. For the month of October, we hope we can continue to see above average temperatures to help dry the crop down to a respectful harvest moisture.
Soybeans
Favourable fall weather with clear skies and drying winds this week have allowed for soybean harvest to continue at a steady pace. Harvest moistures typically started around 16% at noon hour and quickly dropped to 13% in a few hours. Heavy dews have made for shorter days, but farmers are making the most of the fair weather and harvest is at a fast pace. The majority of the soybean crop is more than 50% harvested this week.
July planted soybeans still have green beans and stems, leaves are still hanging on. Harvest will stretch out.
Cereals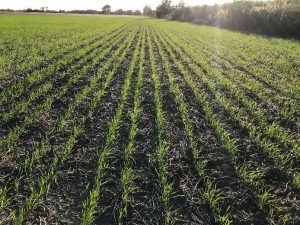 Early planted wheat fields have emerged nicely. Some early fields struggled under dry conditions with uneven emergence, but with last week's rain, and this week's sun, the early crop is off to a good start. A big part of the Ontario's winter wheat crop was planted this week as soybean harvest is in full swing.
________________________________
October 4, 2019
THE LAST SEVEN days started with some really nice heat to help finish a lot of the Ontario crop, or at least get it closer to maturity.  The week has finished colder and wetter and has ground the beginning of the harvest to a stall for a few days
Corn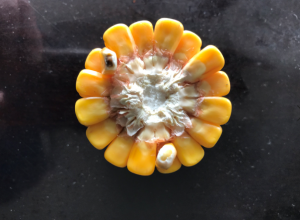 The 173 CHU received last week has allowed the corn planted on June 8 to black layer. Total heat unit accumulation for this field location is 2951 CHUs since planting and the 2950 and 3000 CHU corn has just black layered.
Areas of the province that received little rain during grain fill period and areas that had disease hastening maturity will need to check on the stalk health of the corn crop. Some plants have died down due to stress from lack of moisture or lack of nutrients which could have also been an effect of shallow roots due to the wet spring. These stressed plants may have cannibalized the corn stalks and have lost the stalk integrity associated with a healthy plant. Now is a good time to check corn stalks for their health and the potential for further decay due to disease pathogens. A quick pinch of the stalk or a kick to the base will reveal the strength. The cut stalks in the pictures shows the start of stalk disintegration. The dark colour of the plant's node is an indication of cell death and stalk strength will be compromised.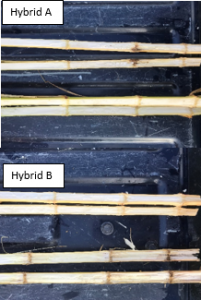 Insect damage can also play a role in stalk disintegration. In hybrid A the stalk on the top has insect feeding and natural pathogens have made their way in to start the regeneration process. Just a little earlier than we would like.
Hybrid differences in plant health and plant genetics play a role in stalk strength. Hybrid B has the pith of the stalk starting to collapse and is becoming stringy and fibrous. The stalk will soon be hollow, and the outer stalk will be all that is holding the plant up. Further disintegration by pathogens will weaken the stalk making it susceptible to lodging when a wind blows across the field.
Scout fields at this mature time to gauge the field's risk to stalk lodging. Make plans to harvest fields that have been compromised due to weather or disease and will be affected by early stalk lodging. Plan for these fields to be harvested first to reduce your field losses.
Soybeans
Harvest was underway early this week but came to a grinding stop with the rains passing through mid-week. Harvest moistures are reporting between 11% to 15% and were drying quickly with the heat and wind. Harvest will resume when clearer weather comes through next week. Yields for the earlier harvest are reporting in from the 40 to 60 bushels per acre range. Some late planted fields still have some green stalks and leaves are remaining on the plants, some drier weather and a few more CHUs will help mature the remaining crop.
Cereals
Winter wheat continues to be planted as the soybean crop is harvested.
________________________________
September 27, 2019
ADDITIONAL HEAT OVER the past two weeks has helped bring crops closer to maturity. As the soybeans are ripening and being harvested, winter wheat is quickly being seeded. Corn still needs a bit more time and heat to mature, but we are much further along than we anticipated at the first of the month.
Corn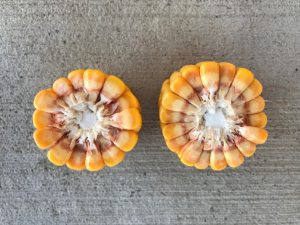 What a difference some heat makes. Four weeks ago, we had milk to dough stage corn (R3-R4) and today we are sitting in a much more favourable position than was anticipated last month. Current growth stage of the crop is from Dent to Black Layer (R5-R6) with the majority of the crop in that ½ to 3/4 milk line.
As the crop is maturing and husks are browning off, the husks are opening nicely, and ears are tipping down. These attributes will help the grain to dry down while avoiding mould growth and moisture retention.  Ear disease has not been observed to date, but insect feeding from WBC and ear worm has been seen in some areas. Mouldy ears and DON production will be limited this year but may affect growers in areas of insect damage and higher rainfall.  Scout fields to know your risk.

For the area of West Chatham-Kent, they have received more rainfall before planting (May 1 to June 8th – 7.1 inches) than they have received during the growing season after planting (6.1 inches). Dryer summer conditions have limited mould growth but have put more drought stress on the crop and has limited the kernel depth and increased kernel abortions
during grain fill.
Soybeans
Soybean maturity has benefited from our additional heat this month and soybeans are maturing quickly. Early planted and early varieties have been harvested over the week and reports of 35 to 55 bushels are common. Under this year's variable conditions, we can expect a wide range of yields across the province and some areas will experience lows of 20 bushels (field average) and other areas will have highs in the 70's (field average).
With the overall late plantings of a vast amount of the acres, expectations for the Provinces average will be well below the previous year's average yield of 51.4 bu/ac or just below the five-year average of 47 bu/ac. Expectation is for the average to hit between 43 and 45 bu/ac most likely.
Cereals
Over the past week, a larger amount of winter wheat has started to get planted across the province. As the soybean crop gets harvested the wheat will be planted right behind.  If the weather holds for the next few weeks, we will be fortunate to have a normal planting window for winter wheat this fall.
Webinars
Multiple agronomic webinars have been done over the past few months. Check them out at https://gfo.ca/graintalk/
On Monday we will be posting the GrainTALK webinar "How to improve the consistency of DON testing results with Dr. Art Schaafsma". The webinar is on the results of the 2018 DON corn testing that Dr. Schaafsma conducted this past year. Dr. Schaafsma highlights the testing results and answers the questions of how we can get more consistent DON testing results through improved testing techniques.
Ontario Soil Network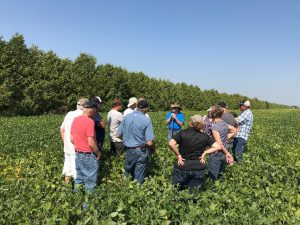 The Ontario Soil Network held a cross province tour this past week. The tour travelled from Kingsville to Douglas and interested growers from nearby areas came out to discuss soil health and how they were adjusting, tweaking and making changes to their operations to incorporate techniques to help improve soil health. A lot of great ideas on cover crops, equipment adjustment, altered rotations, new crop uses, timings and more, were discussed. Great information shared by all. Hats off to the participants that made the trip across the province and sincere thank you for those that organized the event.
________________________________
September 20, 2019
WITH SOME SUN and heat this past week we managed to accumulate 200 CHUs in Chatham-Kent and 146 CHU in Wellington South, which has nicely helped the crops advance in maturity. Yellowing beans and brown husked corn are signs that the growing season is coming to an end and mature crops are right around the corner.
Corn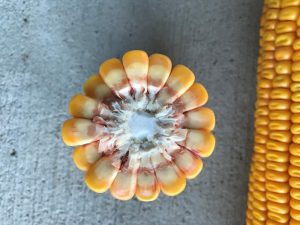 Corn maturity across the province remains variable. Drier regions are starting to see brown husks and milk line at ¼ to ½ milk line. Wetter and cooler areas of the province are reported to be just at or near dent stage.
Soybeans
Early planted soybeans and early varieties are starting to have the majority of their leaves dropped, with harvest possible in the next week. The bulk of the soybean crop is yellowing to early leaf drop. Late planted fields (end of June) still remain green.
Cereals
Winter wheat planting has begun on land that was summer fallowed or where early crops were harvested. The majority of the winter wheat planting will be waiting until soybean harvest is in full swing over the next few weeks.
Events
Be sure to catch the next GrainTALK agronomy webinar on September 25 at 11 am. Dr. Art Schaafsma will review his findings from the 2018 corn sampling study. Find out how the industry can improve the consistency of the DON testing.
Soils @ Guelph held their official launch on September 19. Members of the soils community came out to participate and celebrate the launch of this outreach initiative that seeks to link the great work being done by academia, extension and the farming community.  By linking the soil community, we will be better able to help understand, share, and communicate the new learnings of Ontario soils.  The lysimeter tour at the Elora research station was a great example of what it takes to understand how our soils interact with our Canadian climate. This lysimeter is the largest installation in North America. It takes more than a million data points per day.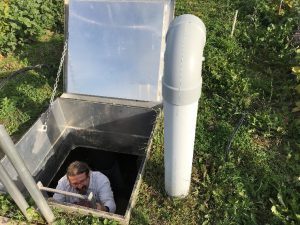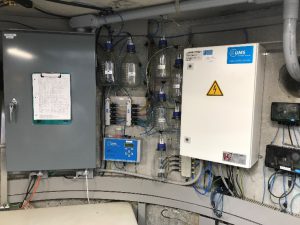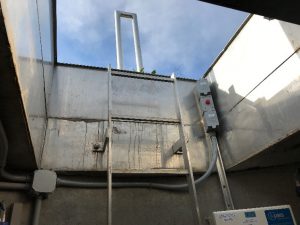 Check this link for more detail on the lysimeter. https://www.uoguelph.ca/ses/claudiawagnerriddle/research/current-projects/soil-lysimeter-infrastructure. •