Getting the conversation started
A SUCCESSION STORY: EMERY HUSZKA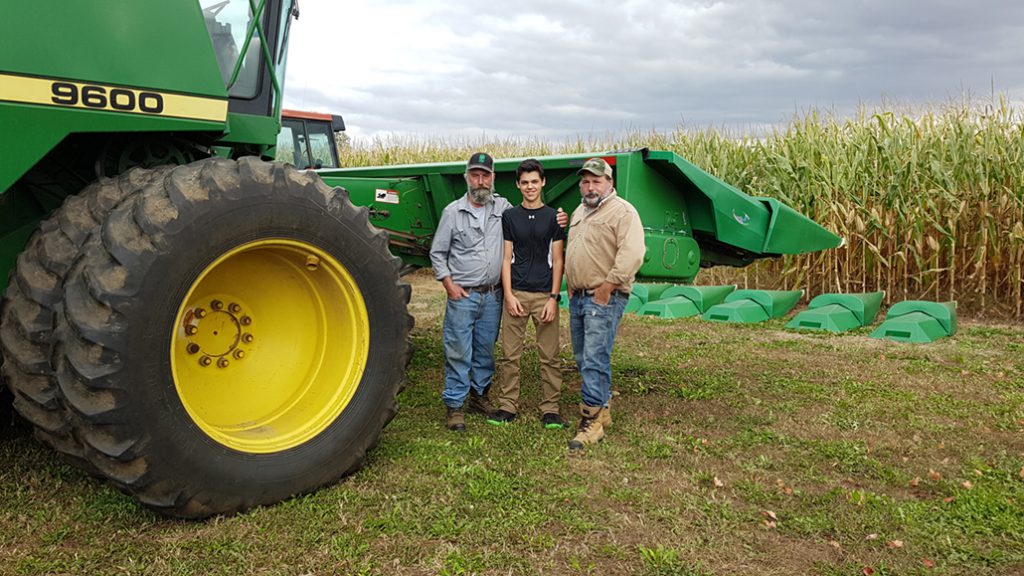 ONE OF THE most common hurdles in succession planning is how to start. That was certainly the case for Emery Huszka.
"We never had a good, serious conversation with my dad about the future of the farm. He had wrongfully always assumed that I wasn't interested, and I failed to find a way to let him know," says Emery, who is the director for Grain Farmers of Ontario District 3 (Lambton).
The family farm started when Emery's grandparents moved to Canada from Hungary as refugees when the Soviet tanks chased them from their land in the 1950s. They began with next to nothing, and like many refugees at the time, taking on labour intensive jobs was the only way to survive. The Huszkas farmed tobacco. As the most fluent in English, Emery's dad was essentially put in charge of the family business when he was in his early teens. That position of control never changed over the years as he married and had his own family.
"Some could argue that his management style is what built our family farm, but rigid control became the wedge that almost ended its continuity," says Emery. "When communication is structured top down, things get done, but important conversations never happen, and that antagonism can be worse than anything Mother Nature can deal you in the field."
Emery's parents wanted him and his two sisters to have a better life and they were never encouraged to seriously consider farming — especially after surviving the 20% and higher interest rates that were prevalent in the 1980s. But growing up, they put their time in on the farm — which by then had expanded to include cattle and field crops as well as the tobacco.
"When I say that I've been over every inch of top soil on our farm, it's pretty much true. Most of the time it was while carrying a hoe," notes Emery. "It didn't kill me. In hind sight, I learned a lot, spent real quality time with my whole family, and it drove me to pursue further education."
After university, where he earned a BA in political science, Emery took a job working for an MP in Ottawa. But, "I always missed something special that the farm gave me."
When he and his wife decided to move back home, Emery wasn't welcomed back to the family farm, instead he went through what he calls "a horrible business experience," and found himself working midnights in an automotive parts plant to make ends meet. And after 15 years as an industrial supervisor he managed to save enough money to buy his first piece of land.
"My first crop started in a year of severe drought — just about 60 bushels of corn/acre," recalls Emery. "I immediately rented the farm out for a couple of years to catch my breath, and somehow, I managed to hold on."
A decade later, Emery leveraged everything to buy another farm. It needed serious attention from cleaning out brush, to tonnes of fertilizer, and tile. He wasn't in a good financial position with a needy chunk of land and a young family to support. So, when the 2008 financial crisis hit, he decided to diversify and together with two friends, designed, built, and managed 16 apartment units under the Ontario Affordable Housing Program. But he wasn't any closer to being the type of farmer he really wanted to be.
"At some point, I found myself visiting the local funeral home far too often. I soon came to realize that at 45 years old, and with my dad now over 70, it was now or never. I was in my last 20 productive years, and if the family farm was going to continue, it was time," says Emery.
He wanted his own children to have the opportunity of farm life, but he wasn't interested in being treated like a young farm hand, nor did he want a boss that decided what he did every minute of the day. "Dad was right 99% of the time, and by default, that didn't render me incapable of any meaningful decision-making capacity."
Emery respected that his parents made a successful farm from nothing, and that they were understandably protective of their investment. At the same time, he had seen farm businesses where the 80-year-old father still managed all the decision making for the 60-year-old kids and he knew that type of a situation wasn't going to work for him.
If Emery was to grow his own farm business and continue his parents' legacy, he needed to be able to take over control of some of the main infrastructure.
"After many uncomfortable, friction filled encounters beating around the bush, we had a pretty blunt conversation that started with, 'This is my last 20 years, and if I'm ever going to buy the home farm and pay it off, it's time!'"
Complicated, stressful, and tough are ways Emery describes his experience once he did finally get the succession conversation started. But during the process, he also saw the need to be honest with himself and his family.
"I spoke with my two sisters leading up to and throughout this process to make sure they were comfortable, and that was important," he reflects.
Emery and his parents agreed to terms that allowed him to buy the main farmstead which had the infrastructure he needed to move forward with his own farm business. His parents still farm the balance of their acres, and eventually they will decide what they want to do with those parcels of land. Since starting the conversation within his family, each of his sisters now also own small farm acreages of their own.
"While financial viability must be one of the top considerations in farm succession, that dynamic of control and decision making is just as equally important," says Emery. "Being a good farmer doesn't mean that you're automatically a good accountant, manager, or mechanic. To farm requires life-long mentorship, support, knowledge, experience, and ability, but we can't ignore the elephant in the room, and that is empowerment for decision making."
Emery admits that his farm business isn't perfect but the independence he now has means that his decisions are not governed by family pressure, guilty feelings, or anything other than his business plan.
"My folks are incredible farmers, I love them and want to see them happy," says Emery. "And seeing how my son works with his grandpa gives me hope that this family farm, in whatever form it takes, will continue for at least another generation."
Emery and his son are already talking openly about succession, and he hopes that better communication will mean a smoother transition than the generation before him.
"At 15, not 40, my son will open his first field with the combine, and I hope my dad will sit beside him as he does. I believe waiting for that opportunity because 'only dad can do it right' contributes to failures in family transition. Yes, mistakes will happen, but empowering the next generation is the surest way to help them find future success in farming." •