Handing over the reins
A SUCCESSION STORY: BRAD AND JOSH BOERSEN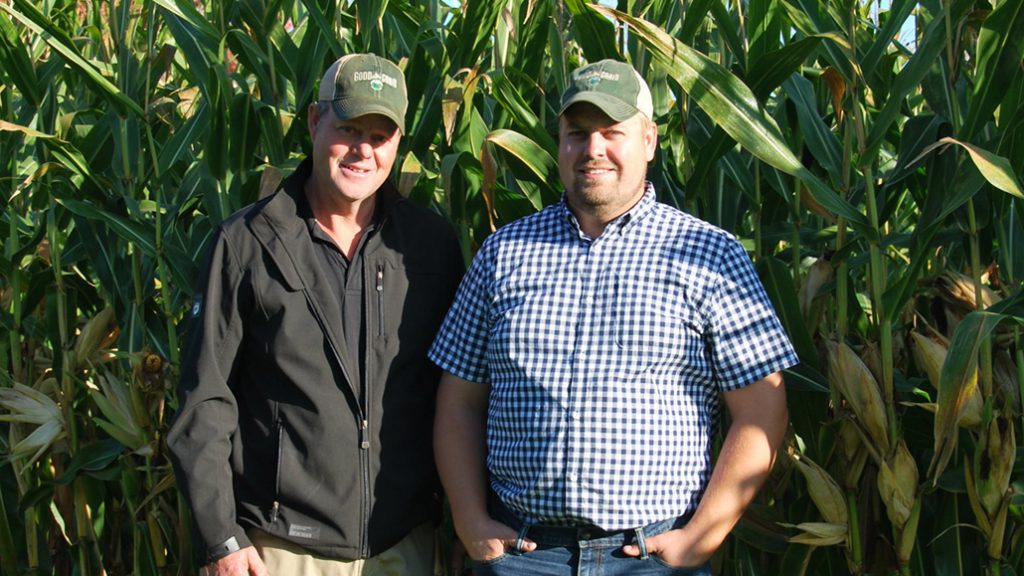 FOR THE BOERSENS, creating a succession plan was part risk management and part career planning. Brad, 55, and his son Josh, 32, started succession talks three years ago when Josh wanted to take on more of a management role on the farm.
Their family farm, north of Stratford, includes fields of corn, soybeans, wheat, and small edible beans, as well as broiler chickens. They also provide custom work for neighbouring farmers.
The location of the farm has changed over the years as the focus of their operation has evolved. Brad's father, an immigrant from Holland as a child, initially started farming with a poultry broiler breeder operation, before switching to a poult operation and then hogs and cash crops. In 1991, at 55-years-old, Brad's father left the operation — selling the farm equipment to his sons and renting the land to them. Brad ran a partnership with his brother until 1993 when his brother decided to move to his own farm.
Brad knew the transition of the farm to his own son wouldn't be as easy, especially with higher land prices making it nearly impossible for Josh and his wife to outright buy the farm — they had to figure out a way for them to buy-in over several years. As Josh describes it, they needed a common goal to work towards.
"We needed a plan for the long-term," says Josh, who is the director for Grain Farmers of Ontario District 9 (Perth), "with contingencies built-in to account for anything unforeseen."
With the farm set up as a corporation, the high-level process was easy in the beginning. But it took until this summer to work out the finer details. They sat down with an accountant to discuss their financial needs in five- and 10-year windows — what will Brad and his wife need for retirement when that comes; what do Josh and his wife need to be financially secure when they fully take over ownership of the farm.
Other than the accountant and a visit with their lawyer, the Boersens didn't contract any other outside help to develop their succession plan.
"As long as we kept communication going and honest and everyone was on the same page, I didn't feel the need to talk to anyone else. The accounting firm's plan made sense and we all agreed with the process," explains Josh.
That agreement with the plan extends to Josh's three siblings, who at this point are pursuing their own career paths and don't have an interest in farming. There are additional contingencies though, if any of them change their minds in the future. For now, providing for their children through other means is part of estate planning for Brad and his wife.
"We had a conversation with everyone around the table and they were supportive of Josh taking on the farm," says Brad. "They were happy the farm would stay in the family. They were almost surprised the topic even came up because they all just assumed so."
Josh didn't want to rely on assumptions though, and he acknowledges that he was lucky his siblings didn't want to be involved with the farm — which would have added complications to their plan.
As it was, the Boersens admit it wasn't a perfect process. "There's always a difference of opinion," notes Brad. But they were conscious of the conflict that has developed with other families during transitions, and they tried to be mindful of the different stages of life they are in and understand all sides.
Brad and Josh are just now in the initial stage of acting on their succession plan, which includes the division of labour and who makes decisions on any changes to how the farm operates.
"I've let Josh take the reigns. I think if the next generation wants to step in and take over, they need to have a handle on everything. The books especially — the business side — is more important than doing the grunt work. I've stepped back so he can learn the ropes as manager," says Brad.
"We still discuss sales and issues affecting the farm. I need the sounding board and he has a wealth of knowledge that I can't ignore," adds Josh. "Some decisions, like changing tillage practices, don't happen as an arbitrary decision of my own. They fundamentally change the way we operate and so they need to be discussed."
Josh is grateful he has been able to learn the financial management aspects of the farm with his dad's support. He is able to have conversations with the accountant and the banker to keep the lines of communication open so they can achieve the growth they want to improve their bottom line. However, it's still a challenge to know when to press for the things he wants and when to hold back and wait.
"I have to accept the perspective and opinions of my parents," says Josh. "You can only do so much at one time, you have to take things in step and base your decisions on what is good for everyone. It's a corporation, a company, and it needs to be successful for the benefit of everyone."
At the same time, as Brad points out, they're still family.
"It doesn't matter how old we get — Josh is still my son. It's hard to put that aside in a business arrangement. It takes time, but you eventually realize they have the ability to do a good job." •