Carbon tax costs
HURTING FARMERS' BOTTOM LINES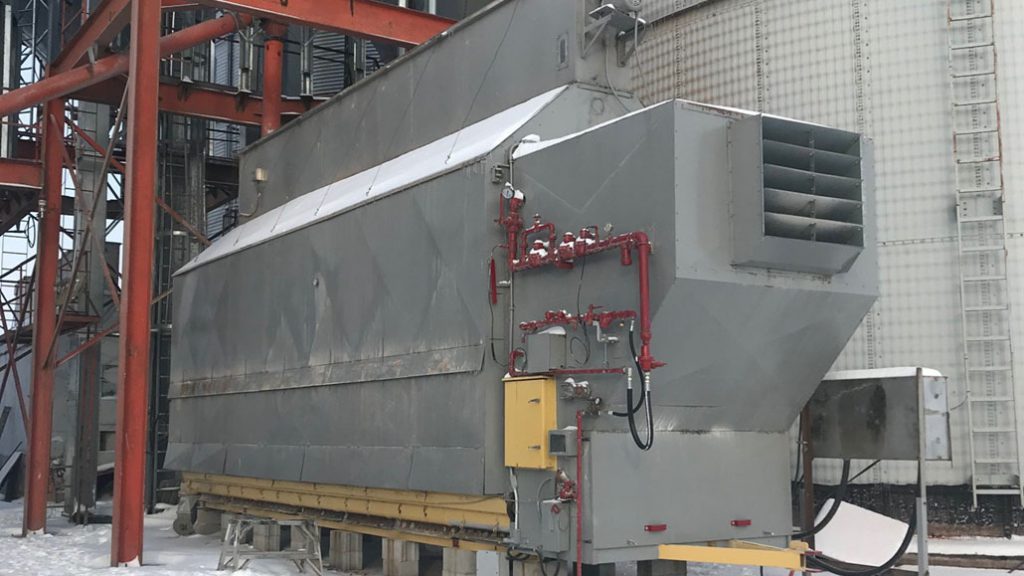 IT WAS A positive sign for grain farmers across Ontario to see the headline "Trudeau government considering relief for farmers who need extra fuel to dry out soggy grain" in the National Observer on January 20, 2020.
After a very difficult and wet 2019 harvest, that has stretched into 2020 in some parts of Ontario, it was encouraging to see the newly appointed Minister of Environment and Climate Change, Jonathan Wilkinson, acknowledge in that National Observer article that the federal government is looking at "practical" solutions to the onerous carbon tax on fuel used for drying grain.
Ontario residents started paying the federally imposed carbon tax in January 2019 after the Ontario Progressive Conservatives scrapped the former provincial Liberal government's cap-and-trade program. While some on-farm uses are exempt from the federal carbon tax, such as fuel used for tractors and other farm equipment, fuel used for drying grain does not fall under the exemption.
In a typical year, the added cost of the carbon tax would be an expensive proposition for farmers who rely on grain dryers to get a marketable crop. In 2019, a delayed planting season due to an unseasonably wet spring coupled with a cold, wet, and challenging harvest meant that grain dryers were working overtime — which came with a hefty price tag.
It is estimated that grain farmers in Ontario paid $13 million in carbon taxes in 2019 to dry their wet grain. And as the carbon tax rate increases, this number is estimated to grow to $32 million in 2022 when the price for carbon rises to $50 a tonne.
The overall cost of the federal carbon tax to a farmer's bottom line — in an industry that is already experiencing slim margins — is high. While the final tally of the carbon tax accumulation on input costs for farmers is yet to be seen, it is estimated at approximately $14 an acre. At a time when input costs are rising, farm incomes are taking a nose-dive, and farmers are facing unprecedented insecurity due to global market fluctuations, this is a cost that farmers just can't bear.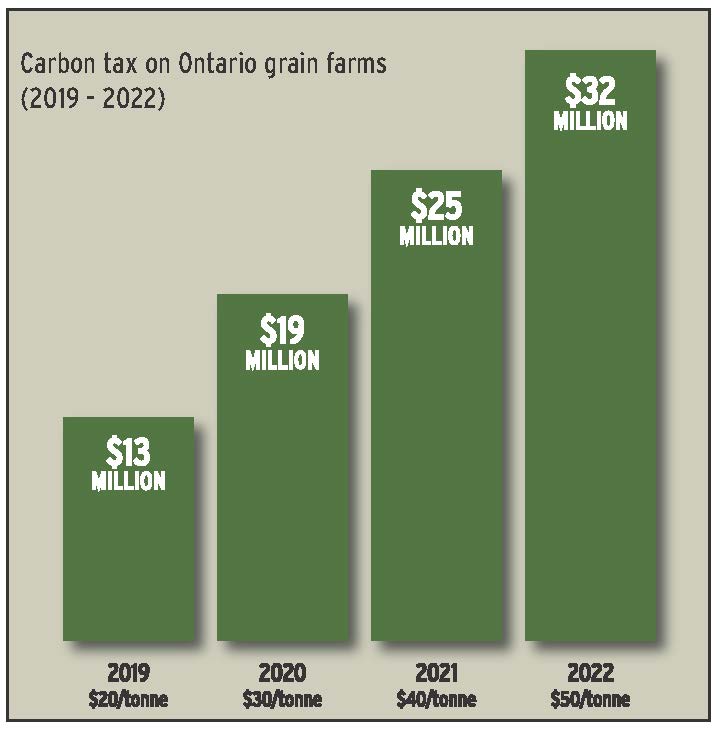 GRAIN FARMERS OF ONTARIO RESPONDS
In November 2019 — while most Ontario farmers were still trying to get their crops off the field — Grain Farmers of Ontario chair Markus Haerle wrote to Prime Minister Justin Trudeau to ask his government to consider scrapping the tax on fuel used for drying grain.
In the letter, Haerle cited the financial impact of the carbon tax on fuel for drying grain, but also pointed out the toll that the challenging crop season — compounded by the added costs of paying a federal carbon tax — was having an effect on the well-being of Ontario's farmers.
"This is not only impacting farmers' bottom lines," he wrote. "Mental health Help Lines set up to aid farmers are reporting record increases of calls from farmers who cannot manage the stress. The carbon tax on fuel used to dry down grains is one more cost that farmers who operate on a narrow margin will have to absorb and will not be able to get from the supply chain."
FARMERS DOING THEIR PART
When it comes to drying grain, farmers' hands are tied: there are no alternatives to using natural gas or propane to dry grain — and the grain must be dried to have a marketable crop. With current grain drying technology, there isn't a way to reduce their greenhouse gas emissions — and by extension, the carbon taxes they pay. But Ontario grain farmers are finding and implementing innovative solutions in an effort to fight climate change in other ways, while continuing to grow the high-quality grains and oilseeds that they are known for.
These solutions include conservation tillage practices and growing cover crops that can naturally sequester carbon; implementing the 4Rs to nutrient management (the right source, at the right rate, at the right time and in the right place) using precision farming tools such as GPS and field mapping technologies to ensure optimal application of fertilizers and chemicals; and maintaining wildlife habitats and wetlands on their farms that act as natural carbon sinks. Grain Farmers of Ontario has also invested in research in technology and practices that can help address climate change such as improved wheat genetics for Ontario's climate conditions and management of emerging pest and weeds resulting from climate change.
While the federal government has signalled a willingness to review carbon pricing in early 2020, farmers are busy planning for another crop season, with hopes that 2020 will be a better year — better weather, more favourable market conditions, and lower operating costs resulting from an exemption on the carbon tax on fuel used for grain drying. •