Where does the grain go?
DOMESTIC AND EXPORT MARKETS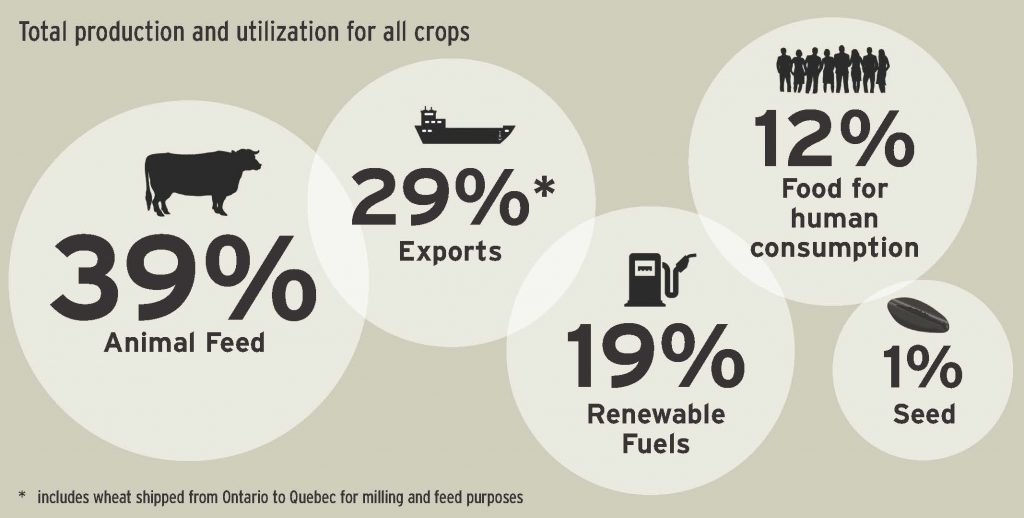 UNDERSTANDNG THE END-USE markets for Ontario barley, corn, oats, soybeans, and wheat is critical for the viability of the industry. It is also a key component in the development of new market opportunities for Ontario farmers.
The industry is very complex in nature due to the size of the province, the wide range of transportation options, the interprovincial transfers of grain, the increased use of on-farm-storage, and the movement of Western Canadian grain through Ontario ports. Currently there is no data that can provide the complete picture of grain utilization within the province. It is for this reason that Grain Farmers of Ontario partnered with Synthesis Agri-Food Network on the development of the Market Utilization Report. This comprehensive report works to identify key markets, uses, and opportunities of Ontario grain. Originally done in 2016, the report has recently been updated to reflect the changes that have occurred over the past three years.
EXPORTS
One of the most notable changes we have seen is the increase in corn exports, where there has been a 27 per cent increase in export volumes. Driven primarily by exports to the European Union (EU), this market has grown to be 1.3 million metric tonnes a year. Ireland is the main market with more than 56 per cent of total corn exports going into the country. With production continuing to increase and domestic markets becoming saturated, export markets will play an even more important role moving forward. Trade deals such as the Comprehensive Economic Trade Agreement (CETA) that remove tariffs hindering Ontario corn from being able to access markets will be crucial.
Exports also play a critical role for Ontario soybeans with 53 per cent of the crop exported each year. This percentage has remained fairly stable over the past three years with approximately 2.2 million metric tonnes exported each year. What has changed is the percentage breakdown of commodity exports versus food grade exports. Commodity soybean exports have seen a nine per cent decrease primarily due to Canadian soybeans being blocked by China. Once the dominant export market, exports have dropped to virtually zero due to the ongoing political tensions between Canada and China. Due to the ongoing trade war between the U.S. and China, there has been an influx of U.S. soybeans into many of Canada's traditional markets. We have also seen a significant decrease in commodity soybean exports to the EU, pushing Canadian soybeans to find alternative markets.
Food-grade soybeans continue to see steady growth in exports. Known around the world for developing high quality, sustainable soybeans, virtually all of Ontario's food-grade soybean production is exported. Major markets include Japan, China and Vietnam.
Wheat exports have also seen changes over the past three years. For several years the primary market was the U.S., however, this has shifted to Latin and South America as they look to diversify their suppliers. Mexico has now become the number one market with over 175,000 metric tonnes of soft red winter wheat exported each year.
DOMESTIC MARKETS
Animal feed still remains the number one overall market for Ontario barley, corn, oats, soybeans, and wheat. Combined, 39 per cent of their total utilization goes into it. The market has remained fairly flat for the past three years due to processing challenges facing the sector as well as quality challenges faced by Ontario grain farmers due to unfavourable weather conditions during harvest. It is anticipated this market will start to increase though as increased demand for Ontario pork and beef is seen due to the recent entering into force of the Comprehensive and Progressive Agreement for Trans-Pacific Partnerships (CPTPP) which has opened new export market opportunities.
Ethanol remains the second largest market for Ontario corn behind animal feed with 33 per cent of corn utilization going into it. This market has remained stable for the past three years with no increased demand shown. As corn production continues to grow year over year it will be critical to see growth in this sector. Continued government support, both provincially and federally, through the increase in mandates will help to ensure ethanol remains a stable market for Ontario corn farmers.
Ontario grain going into food for human consumption has not seen any significant changes over the past three years with 12 per cent of total utilization going into it. While this market has remained fairly flat, we have seen a significant increase in the volumes of Ontario barley going into food products with 36 per cent of the crop now going into it. Due to its health benefits and increased demand by consumers this volume has doubled since 2016. While barley still remains a very small crop in Ontario, opportunities continue to arise within the food sector helping to create new market opportunities.
While we have seen some growth occurring with exports, the majority of Ontario grain markets have been stagnant for the past three years. This is especially true on the domestic front where very little growth has occurred. Continued support from government on creating new opportunities not only here in Ontario but in international markets as well will be crucial for the growth of the Ontario grain sector moving forward.
For more detailed information on the utilization of Ontario grain please visit www.gfo.ca/marketdevelopment.
Nicole Mackellar is the manager of market development for Grain Farmers of Ontario. •