Federal priorities
Q&A WITH POLICY LEADERS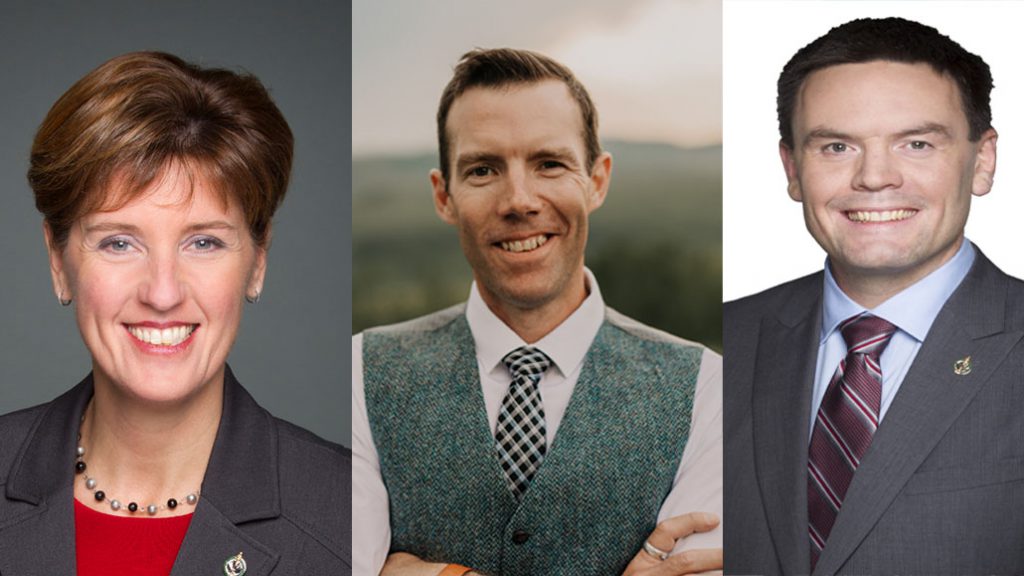 ONTARIO GRAIN FARMER extended an invitation to the federal Minister of Agriculture and Agri-Food and the federal opposition agriculture critics to answer questions about the important issues facing Ontario grain farmers. Here are the responses we received from the Honourable Marie-Claude Bibeau, Minister of Agriculture and Agri-Food; John Barlow, Member of Parliament and Shadow Minister of Agriculture and Agri-Food for the Conservative Party of Canada and Alistair MacGregor, Member of Parliament and Shadow Minister of Agriculture and Agri-Food for the NDP.
GRAIN FARMERS OF ONTARIO HAS BEEN ADVOCATING FOR A BUSINESS RISK MANAGEMENT PROGRAM (BRM) AND COMPENSATION FROM THE IMPACTS FROM TRADE WARS TO SUPPORT GRAIN FARMERS. WHERE DOES YOUR PARTY STAND ON THESE ISSUES?
Bilbeau: Our Government knows just how important farmers are to Canada's economy, our rural communities and the creation of good middle-class jobs. That's why my mandate letter provides a clear reminder of our Government's ambitious agenda to support and grow the Canadian agriculture and agri-food sector.
We understand 2019 has been a challenging year for many farmers, who faced a wet planting and harvest season, trade disruptions, and the CN rail strike.
Following a recent meeting, provincial and federal Ministers agreed to change the AgriStability program to ensure farmers who experience significant year-over-year income declines won't have private insurance payments count against their AgriStability payments. We also launched a pilot program to make it easier for farmers to apply to AgriStability. But there is still more work to do, and we will continue exploring improvements in the new year to the business risk management programs that would further help farmers.
Barlow: The Conservative Party of Canada strongly advocates for a fulsome review of the current suite of BRM programs. In consultation with stakeholders, we want to develop BRM programs which are accessible, timely, bankable, efficient and meet the needs of modern Canadian agriculture. Variables have changed substantially since the programs were adjusted including the agriculture sector facing a carbon tax, rail backlogs, and the loss of vital trade markets for our commodities. In 2015 the Liberals promised to review the current AgriStability and AgriInvest programs, but it is another broken promise.
MacGregor: The NDP supports efforts to make agriculture more sustainable, resilient, and innovative, including through public research and income supports to help farmers manage risk. The BRM suite of programs have been established under federal-provincial cooperation to deal with a range of factors that can have negative impacts on farm income, including adverse weather events, pests, disease, etc.
International trade in agricultural products is increasingly being affected by non-tariff barriers. And, as the respective disputes between China, Canada, and the U.S. demonstrate, countries are willing to restrict or block agricultural trade as a part of their national self-interest or domestic policy objectives. The uncertainty posed by the impacts of trade wars, both now and in the future, is yet another concern to add to an already long list for our farmers and one that the federal government must respond to in a meaningful way.
The federal government has a stated objective in increasing our agricultural exports, and the uncertainty in international trade will increase the risk that Canada's farmers are exposed to. It is the position of the NDP that the BRM programs should undergo a comprehensive review to ensure they are functioning properly and are able to meet the challenges of farming in the 21st century, including harmful impacts from trade wars.
HOW WILL YOUR PARTY DEFEND EXISTING MARKETS AND FIND NEW MARKETS FOR GRAINS AND OILSEEDS?
Bilbeau: Canadian grain and oilseed farmers are directly benefitting from our Government's aggressive diversification of our trade markets, with a target of growing agri-food exports to $75B by 2025. In 2018, we reached a record of over $66B. By securing trade deals with our largest trading partners, in North America, Europe, and the Pacific, we have given our grain farmers preferential access to two thirds of the global market.
For example, last summer, I announced an investment of more than $13 million for a variety of projects that will help to strengthen, diversify and grow Canada's grains and oilseeds exports. By helping our grain and oilseed industries increase international demand for our high quality products, we are creating opportunities for our hardworking producers to take full advantage of new trade agreements with key markets. Since 2016, Canadian grain exports to the world increased in value by almost 25 per cent, with the biggest gains in Asia and the United States.
We will continue to stand up for our robust grain inspection system and rules-based trade, while promoting the top quality of our goods through trade missions like the one former Minister Jim Carr led with provincial counterparts to Japan and South Korea last spring.
Barlow: Political blunders by the Liberals have eroded critical relationships with some of our most trusted — and important — trade partners. Our focus is to restore relationships with those partners to regain vital trade markets and eliminating non-tariff trade barriers including India, Vietnam, Saudi Arabia, Italy, and China. The Conservative Party of Canada negotiated free trade agreements with more than 40 countries while in government, which clearly shows our track record in building relationships within a global economy.
MacGregor: Canada's grains and oilseeds have a well-established reputation for quality, and our inspection regime is well regarded internationally. It is vitally important that the federal government devote the resources necessary to meaningfully engage with our trading partners on establishing an international, rules-based order to handle non-tariff trade barriers and disputes. In particular, there should be a mechanism in place for quick and independent verification of any phyto-sanitary concerns and/or disputes raised in a trading relationship.
Diversification will be a key component. Without taking away from the importance of the export market in China. The fact that 40 per cent of our export in canola seed was impacted by the actions of that one country underlines the risk our country faces when we put so many of our eggs in one basket. Helping facilitate value-added processing capability in Canada may also open new market opportunities for Canadian grain and oilseeds exporters. This will require experienced and knowledgeable staff at our embassies and consulates around the world, who have a good familiarity with our existing markets and can help the government establish new ones.
Finally, Canada must be prepared to answer unfair trade actions against our exports with retaliatory measures as a last resort. Defending our existing markets requires sustained patience and perseverance in finding a calm resolution, but the federal government must also demonstrate the ability to act against the offending country, especially when all else has failed and no resolution is in sight.
GRAIN FARMERS OF ONTARIO HAS ASKED FOR RELIEF FROM THE FEDERAL CARBON TAX ON FUEL USED FOR GRAIN DRYING THAT HAS PUT A HUGE FINANCIAL STRAIN ON ONTARIO PRODUCERS. WHAT IS YOUR PARTY'S RESPONSE TO THAT ASK?
Bilbeau: We recognize that this harvest season has been challenging for farmers and we are working with partners to find practical solutions.
Our pollution pricing policy exempts many fuels used in the agriculture industry, including gasoline, diesel fuels for on-farm use and fuels obtained from card lock facilities.
The federal system also includes support for small and medium-sized businesses, including farms, which helps farmers make investments to become more energy efficient, saving them money while cutting pollution.
We have committed to do an early review of our pollution pricing system in 2020 focused on competitiveness issues in trade-exposed industries, such as agriculture.
This issue was discussed with provincial counterparts during our FPT conference in December. We will continue to discuss this issue with colleagues to ensure we further help farmers.
Barlow: The Conservative Party of Canada does not support the carbon tax, period. It is a tax plan, a revenue generator for government, not an environment plan. Although we want the carbon tax scrapped altogether, we have pushed the Liberal government to at least exempt agriculture from the carbon tax. Paying the carbon tax for drying grain, heating barns or hauling cattle is crippling this industry. In addition, agriculture sequesters carbon and should be given credit for its environmental stewardship, not punished.
MacGregor: Canada's farmers have long-been on the front lines of combatting climate change, and they are already dealing with the financial consequences of adverse weather events which have become all too common and are a part of a longer-term trend. Last year's very wet autumn season, which has caused an increase in grain-drying costs for many farmers, is a part of this trend that will continue under climate change for many regions in Canada.
The NDP believes there are opportunities to be found to help farmers under existing BRM programs (which need a review to ensure they are meeting the challenges of the 21st century), but removing pollution pricing from propane or natural gas that is used exclusively for farming operations could be done as is with the non-tax status for marked gas or diesel used in the same manner.
We also believe Canada's agricultural sector should get credit for well-managed farmland maintained under agroecological principles. Agriculture's potential to sequester carbon in soil rather than being emitted into the atmosphere as greenhouse gases ought to be calculated and factored-in to pricing schemes, which should be based on industry averages. This is something I am committed to having ongoing conversations about at the caucus level to ensure the very necessary steps we're taking to combat the climate crisis are not crippling the small businesses and workers who grow our food. •