Ontario Agricultural Hall of Fame
FOUR NEW INDUCTEES IN 2020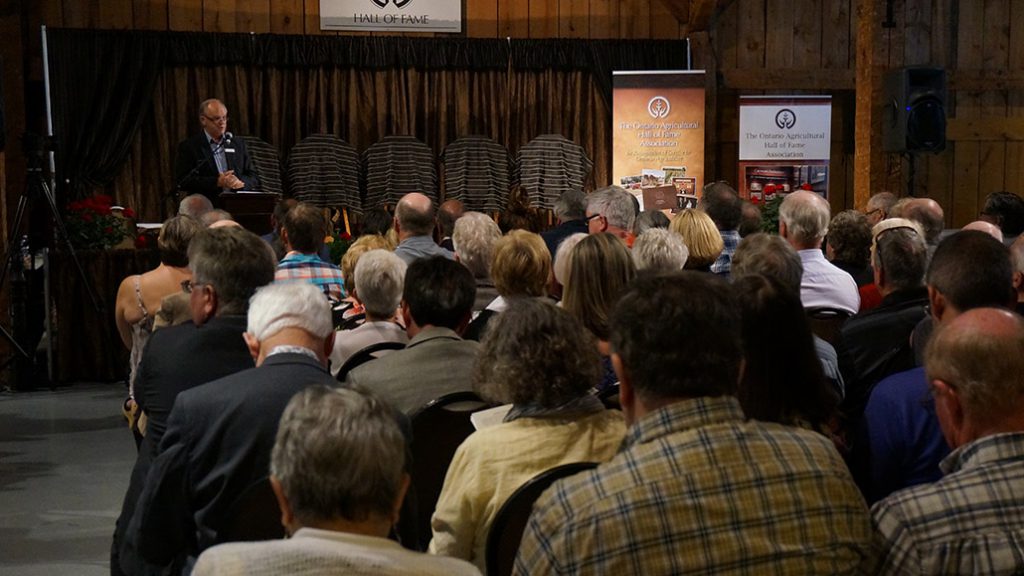 THIS YEAR, FOUR new provincial agricultural leaders will be added to the Ontario Agricultural Hall of Fame. Selected based on their life-long legacies to Ontario agriculture, the 2020 candidates are the late John Curtis, Dianne Harkin, Brian Little, and the late Murray Mills.
Opened in 1980, the Hall of Fame first inducted nine pioneer agriculturalists. Since then, 229 industry leaders, including 17 women, have been added and recognized for their efforts to innovate, build, and expand agriculture in Ontario.
2020 ONTARIO AGRICULTURAL HALL OF FAME INDUCTEES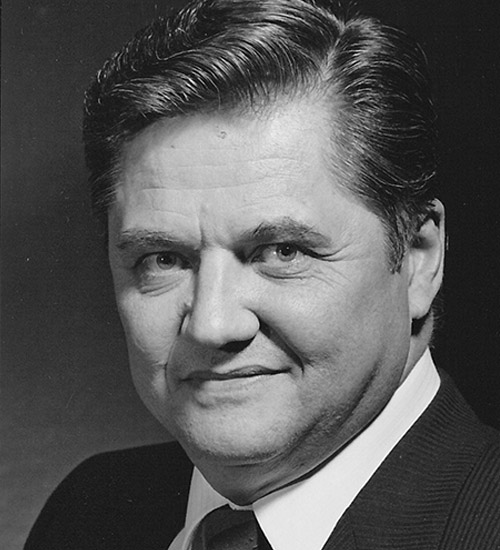 John Davis Curtis (1935-2019)
Nominated by inductee Ken Knox and the Kemptville College Alumni and Kemptville College Foundation
John Curtis' most significant legacy was his work in establishing corn as a major field crop in eastern Ontario. He is well-known for expanding western Ontario cropping practices into eastern Ontario in the 1960s and 1970s during his tenure as Head of Agronomy Section at Kemptville College of Agricultural Technology (KCAT). Throughout his career in the Ontario agriculture industry, Curtis' contributions focused on education, research, and marketing. He was known for pioneering research projects that were ahead of their time, and helped establish Canada, as a cold climate region, to compete internationally with quality corn and soybean seed.
Curtis led a successful career, holding various positions at KCAT, including principal, providing leadership to all soil and crop extension specialists in Ontario as director of the Soils and Crops branch for the Ontario Ministry of Agriculture and Food, a member of the Farm Products Marketing Commission, and a founding director of SeCan.
"You don't get into the Hall of Fame by doing your day job," says Ken Knox, nominator and Hall of Fame inductee. "You have to do something extraordinary, and John Curtis' work in agriculture, especially in eastern Ontario was extraordinary."
Knox was one of Curtis' students at KCAT and looked to Curtis as a mentor and eventually as a colleague as they both advanced through their careers. "Curtis introduced short day corn varieties to eastern Ontario, he encouraged early adopters to farm in the area and transitioned the farms from growing traditional crops like oats and barley to corn, and eventually soybeans," says Knox. "He put eastern Ontario field crops on the map."
As principle of KCAT, Curtis helped develop the college as a major agriculture and food centre that educated thousands of graduates. More than 2,000 students graduated under his leadership, many who, like Knox, credit Curtis' extraordinary visionary and leadership skills as contributions for their own successful careers in agriculture.
"John was a visionary and an agent of change for agriculture," says Knox. "He was a friend of many and an entrepreneur in his own right."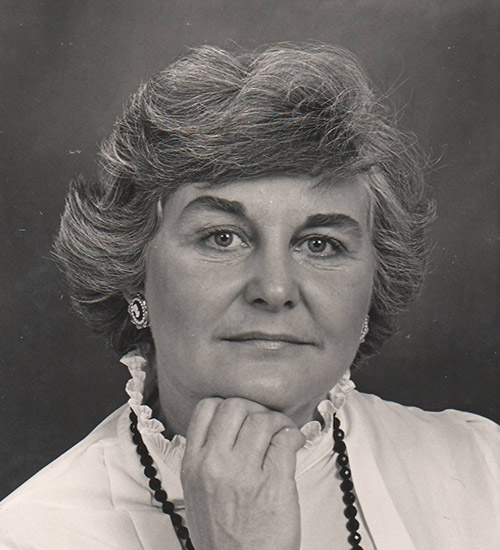 Dianne Margaret Harkin (1934- )
Nominated by the Ontario Federation of Agriculture
Dianne Harkin can take credit for 'putting agriculture on the map' during a time in the 1970s and 1980s when consumers, politicians, and media were openly critical of agriculture in Ontario and across the country. A farm woman from Winchester, Ont., she pioneered a movement among fellow farm women to take a stand on social and political issues that paved the way for farm families today.
Harkin established the "Women for the Survival of Agriculture" (WSA) organization in 1975 that saw the amending of the Canadian Income Tax Act and the Canada Pension Plan to enable farm women to claim a salary for their work on-farm.
"Wives weren't recognized as business partners at the time, but our voices and actions resulted in everyone on the farm benefiting from the changes made," says Harkin. "When applied, the tax changes meant income taxes were reduced on farms and women were eligible for CPP for the first time."
Continuing with their success and empowering farm women in the 1980s, the WSA hosted winter courses at Kemptville College. "We needed 15 participants to run the first program and we had 100 enroll," reflects Harkin. "The next year 200 showed up and after that we saw courses like ours start up across the country as Ag Canada got on board and saw the value in these educational programs."
Farm women across Canada began to start up their own groups throughout the 1980s and many of them began to work with Harkin and the WSA, sharing resources and broadening the scope of their activities. "Our jobs weren't complete until we were equal with men in other ag organizations," says Harkin, noting may of the WSA and women's agricultural groups were dissolved when the female members joined traditional male-dominated agricultural organizations where they began taking leadership roles.
As farm women were becoming empowered, Harkin shifted her focus to promoting the Canadian agriculture and food sector by organizing the first National AgriFood Week in Canada, with support of the Ontario Federation of Agriculture. The event, held in October 1982, was organized by Harkin from the desk of Eugene Whalen, Minister of Agriculture at the time.
"Minister Whalen was traveling that summer, so he offered me his office in Ottawa to coordinate the event."
National AgriFood Week in Canada was a one-time success. A similar occasion was adopted in 1998 and is now known as Ontario Agriculture Week.
Throughout her agricultural advocacy career Harkin was also a well-known media commentator on agricultural issues and has since authored a book about the changes women have made in Canadian agriculture. The book, They Said We Couldn't Do It — The Story of a Quiet Revolution, was released in 2019 and Harkin has already started writing her next book on her agricultural adventures.
"We accomplished a lot for farms and farm women over the years," says Harkin. "Opening doors and raising the social and economic status for women in agriculture."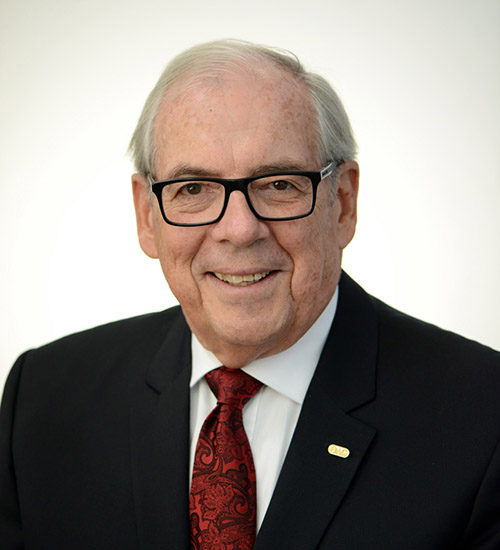 (William) Brian Little (1946- )
Nominated by inductee Bruce Christie, Ontario Agricultural College, Ontario 4-H Foundation, and RBC Royal Bank of Canada
Brian Little's lasting legacy spans across the Ontario agricultural landscape — from respected agricultural banker to champion for youth and ag education, and his fundraising and volunteer work that continues to support the industry. Ontario has always been Little's home and advancing all aspects of Ontario's agricultural industry has always been central to his efforts.
Little knew at a very young age that he was destined to attend the Ontario Agricultural College (OAC) at the University of Guelph. His interests in agriculture and community grew as he participated in 4-H clubs in Dufferin and Simcoe counties. Throughout his extensive banking, agricultural education, and volunteer careers, Little has remained true to his formative roots – by giving back to the organizations that meant so much to him and helping others to learn and grow in the agricultural industry.
"I always thought that if I was able to work in agriculture and ag finance, I wanted to give back and share what others gave to me," says Little who devoted his 33-year career with the Royal Bank of Canada to improving the quality of financial and business advice for farmers and agribusinesses. "Teaching and educating is a passion of mine, and being able to help farmers with practical, business solutions was fulfilling."
Little says attending OAC was a highlight and one of the reasons he served on the OAC Alumni Foundation for more than 20 years. "I want all OAC students to have the same opportunities I had," he says.
Little was key to the 2012 and 2017 "Planning for Tomorrow" studies that identified gaps between the skill sets and supply of agricultural graduates and employment demand. As a result, enrollment in OAC programs has increased by 50 per cent. "Through this project we were able to bring the academic and corporate worlds together and we continue to see the benefits," says Little.
Now enjoying retirement, Little is still involved with many Ontario agricultural organizations, continuing to give back to the industry. "I have enjoyed watching my nieces and nephews learn and have fun in 4-H. I believe it's a program that helps youth develop skills and tools that they will use for the rest of their lives — I know I have."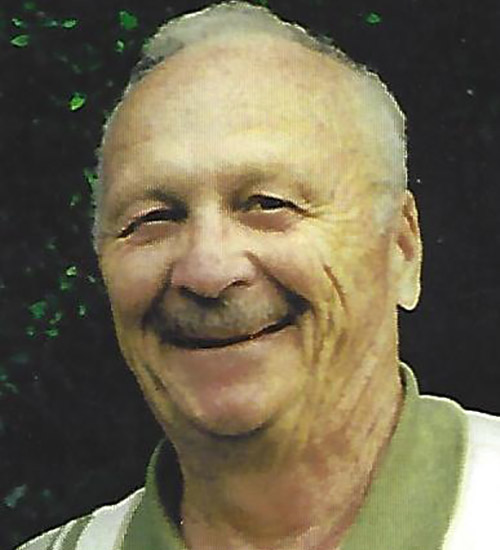 (William) Murray Mills (1931-2018)
Nominated by OAC 1955 and inductee Art Bolton
Harvester combines and today's field crop sector wouldn't be the same today if it wasn't for Murray Mills. With a passion for agriculture and innovation, Mills was committed to revolutionizing combines and equipment across North America. A graduate of OAC 1955, Mills credits his years spent in Guelph as a time where many lifelong friendships emerged. From there, he devoted his entire career to the improvement of combines, including the introduction of rotary combines in Ontario and around the world.
Mills helped to develop the rotary threshing and grain separation design with high speed cutting systems and stripper heads. His patents and designs transformed harvesting equipment, quality and capacity at a time when farm acres were growing and the development of efficient harvester combines with greater threshing capacity was essential to industry growth. The rotary threshing and grain separation design that Mills helped develop is now universally accepted and used by most combines around the world. The high-speed cutting system and stripper head were important advances for years until they were overtaken by newer technology. Mills also designed self-propelled combines and completely re-designed operator cabs with electronic controls, better lighting, and improved operator safety.
Mills was recognized by the American Society of Agricultural Engineers for his contributions to the design and capability of harvesting equipment. In concert with the society he helped establish combine standards for the farm implement industry.
One of the highlights of his career was the opportunity to meet astronaut Neil Armstrong at an international White dealer conference. Mills was tasked with assisting the astronaut in the introduction of a new model 9320 rotary combine by teaching him how to drive the combine onto the podium.
"Murray was part of the dramatic change that agriculture saw in the last half century," says Ross Milne, president OAC 1955. "He also kept his feet on the ground managing his family farm in Huron County and was an active member of the OAC Alumni Association." •