A sustainable partnership
DUCKS UNLIMITED AND AGRICULTURE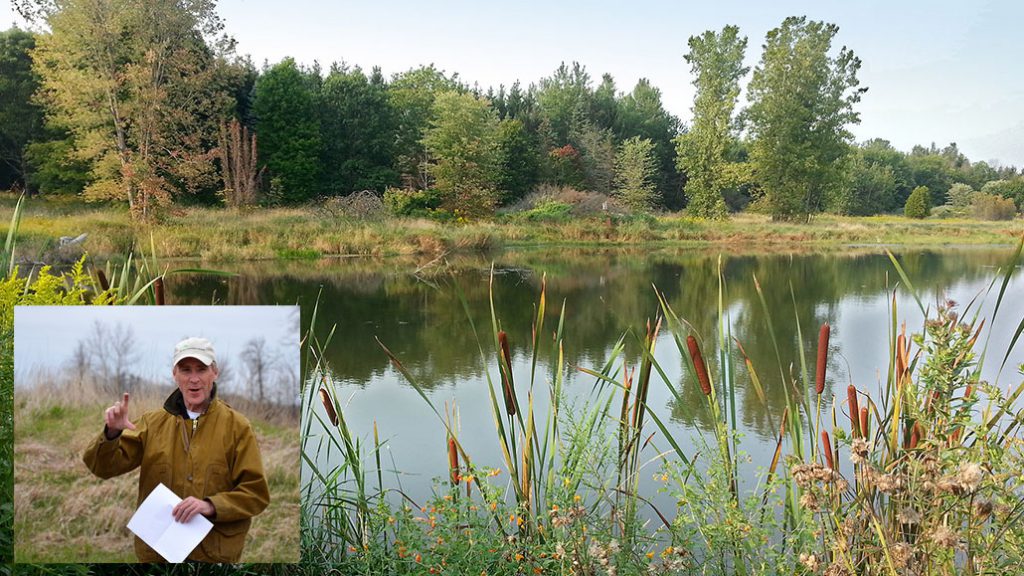 LIVING IN ONTARIO we sometimes forget how unique a place we live in — not only across Canada but the world. Our province is home to some of the most productive farmland in the country, where we grow not only grains and oilseeds but a host of other vegetables, fruits, and specialty crops.
Along with the uniqueness of our agricultural sector, we also have a unique natural environment. Throughout Ontario we have more than 70 million hectares of forest, accounting for nearly two per cent of the world's forests. Ontario is home to more than 3,600 species of plants, 154 species of fish, 50 species of amphibians and reptiles, 483 species of birds, and more than 81 species of mammals. Ontario also has close to 1/5 of the world's fresh water supply.
Ontario's natural environment is only as valuable as our ability to preserve and protect it. Ducks Unlimited Canada (DUC) works to bring willing partners together from the agricultural sector and the conservation sector to create win-win solutions for both groups. It was founded in Winnipeg in 1938 in response to declining waterfowl populations and loss of wetlands across Canada. Today, there are regional operations in many provinces across the country including Ontario.
Since 1974, DUC has been working in Ontario with a mission and mandate around waterfowl conservation. "But we also know, thanks to our research, that wetland conservation benefits many wildlife species as well as waterfowl," says Owen Steele, DUC's head of conservation in Ontario. "Our work as an organization is guided by science and we are fortunate enough to have a group of scientists across Canada to help us with that."
Leveraging this strong science-based expertise, DUC has produced various research projects in the areas of wetland and waterfowl research. "Over the past 20 years, we have done a lot of research into other environmental benefits of wetlands. For example, we have recently begun research in southwestern Ontario to quantify the role of small wetlands in removing excess nutrients from surface-water runoff."
Wetlands play an important role in waterfowl habitat but there are other services wetlands provide. Steele says there is a lot of interesting research work on a wetland's ability to recharge groundwater, to help with surface water quality, and to help mitigate the impacts from flooding. They are also interested in the value of wetlands in helping to address water quality issues in Lake Erie.
DUC partners with the agricultural community on a number of its conservation programs. In 2019, 75 out of 85 projects in Ontario were completed on private lands.
When farmers reach out to the organization, typically they want to discuss what can be done with an area on their farm that is marginal or isn't farmed. However, Steele says, in some situations, they hear, "every other year I get stuck, or this part of the field isn't ready at the same time even with tile drainage and my yields are consistently poor."
These types of scenarios often present the perfect opportunity for DUC to implement conservation projects.
"DUC will work with farmers and sit down at their kitchen table to determine what they had in mind with a project," says Steele. From here DUC looks for a shared vision, "we focus on what the farmer is looking for and what DUC programs are designed to do and what we can support." Once a shared vision is agreed upon, DUC and other partners will put forth permits, implement, and help fund that project.
STEVE AND GAIL YANTZI
Steve and Gail Yantzi live in Perth County and have lived on the home farm since the early 1980s. The farm is a 100-acre parcel with around 82 acres of workable land. For years they had a wet sloppy three-acre area on the east side of the farm.
"We tried to tile and several other things, but it just wasn't cutting it," says Steve Yantzi. It started to impact the workable land as it had to be perfectly dry before the land could be worked. As a result, Yantzi talked to a friend in the excavation business who mentioned DUC might be able to help with this wet spot.
As a result, a wetland was built in collaboration with a neighbour. Now, Yantzi notes, everything in the field can be worked at the same time, there are no worries about the patch of wet that wouldn't necessarily dry out. Beyond the benefit to the land, Yantzi says they do see a lot more wildlife such as birds, ducks, and all sorts of different species.
"The process was very easy for me, DUC looked after things and did everything," says Yantzi. "The support from DUC and the support from cost-share programs made this project well worth it."
Yantzi suggests that if you are a farmer with areas that might fit a pond or wetland to strongly consider talking to DUC.
SCOTT STEPHENS
Scott Stephens farms in southern Lambton County growing around 800 acres of corn, soybeans, and wheat.
Stephens participated in a project to build a wetland on one of his farms. He did this because of a field that has some lowlands where the creek goes by and floods often.
"It is kind of hit or miss whether you harvest a crop, it is decent land but floods out a lot," explains Stephens.
He decided to talk to some farmers in the area about this and through a partnership with DUC and Alternative Land Use Services (ALUS), a wetland was built.
"I am the first one in my area to implement a project like this and the process was pretty easy," notes Stephens. There was a bit of paperwork involved and maintenance in the first few years to get the trees established, but now he and his family are taking advantage of the benefits of the project.
"We often will 4-wheeler out and tour around the wetland seeing the benefits and increased wildlife. We played hockey on the pond in the winter."
Mike Buttenham is Grain Farmers of Ontario's sustainability and environment coordinator. •