GrainTALK for August 2020
AN UPDATE ON GRAIN FARMERS OF ONTARIO NEWS AND EVENTS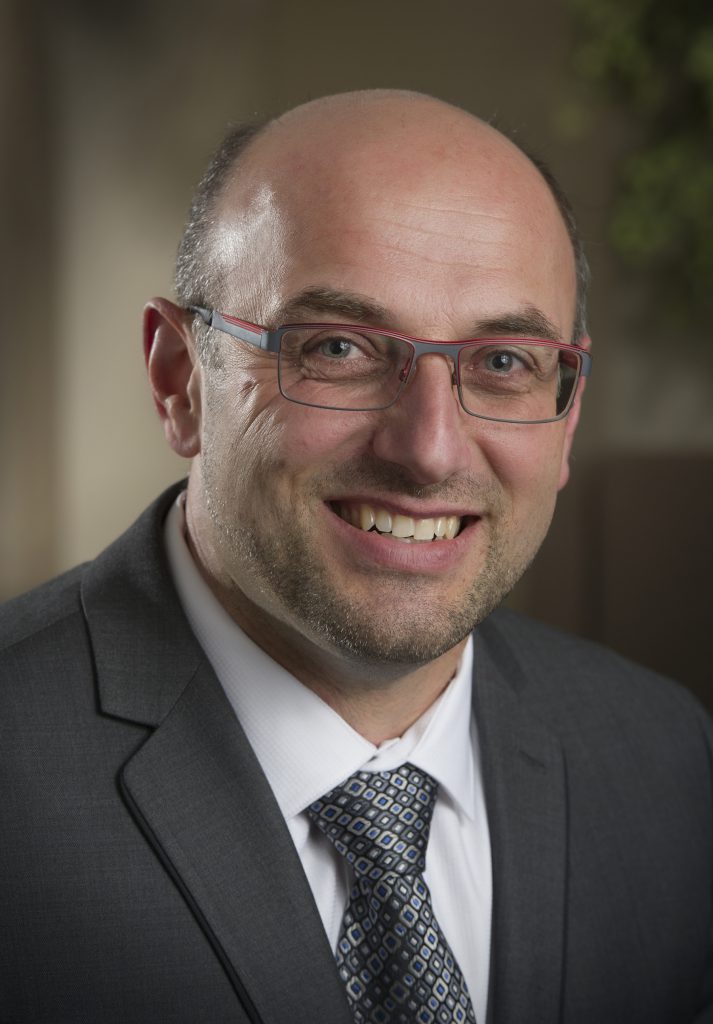 FROM THE CHAIR
A Q&A with Grain Farmers of Ontario chair, Markus Haerle.
Q. Are you concerned that the government ad campaign launched by Grain Farmers of Ontario will negatively impact public trust?
A.
The ad campaign was necessary. The Grain Farmers of Ontario Board of Directors discussed many different strategies for getting real attention from the government, and the direction we went was carefully chosen. In terms of public trust, the ad is contentious, and it has, and will, raise questions from all quarters — across agriculture to the general public. The campaign was not targeting the general public and we believe that any real damage to public trust will be negligible. The campaign was not targeting the general public and we believe that any real damage to public trust will be negligible because building trust is about telling the truth. Farmers are hurting and the public needs to know.
We do have plans to re-engage with the public around the benefits of grains and grain farming very soon. Our Good in Every Grain brand has remained strong throughout the campaign with incredibly positive engagement. •
Do you have a question for our chair? Email GrainTALK@gfo.ca.
---
2020 AGM
Grain Farmers of Ontario will hold its 2020 Annual General Meeting through an online format this September. COVID-19 and public health restrictions continue to impact large gatherings and for the health and safety of our farmer-members and staff, the Board of Directors has approved the change to a virtual platform. We are currently working out specific details to ensure the ability of farmer-members to be fully engaged with the meeting process. Please check www.gfo.ca for updates or call our office (1-800-265-0550) to ensure we have your e-mail address on file to provide you with updates.
2020-2021 NEW CHECK-OFF FEES APPROVED
The Board of Directors has approved the organization's budget for the fiscal year 2020-2021. The check-off fees are as follows:
Barley $1.21/mt
| | |
| --- | --- |
| Barley | $1.21/mt |
| Corn | $0.40/mt |
| Oats | $1.31/mt |
| Soybeans | $1.31/mt |
| Mixed oats and barley | $1.40/mt |
| Wheat | $0.80/mt |
For corn, soybeans, and wheat, these amounts include the premium for the Grain Financial Protection Program. The rates apply to all grain settlements occurring on or after July 1.
Grain dealers across the province have been notified. Farmers looking for more information on the new check-off fees can find them listed at www.gfo.ca/marketing/ dealers/.
NEW GRAINTALK WEBINARS AVAILABLE
Grain Farmers of Ontario has produced several new GrainTALK agronomy webinars. Go to www.gfo.ca/graintalk to watch the latest recordings.
YOUNG LEADERS WANTED
Applications are now being accepted for the 2021 American Soybean Association (ASA) Corteva Agriscience Young Leader Program. The Young Leader program provides training for couples or individuals who are passionate about the possibilities and future of agriculture.
Phase one of the program will take place in Johnston, Iowa December 1 – 4, 2020. The second half of the program will be held in conjunction with the Commodity Classic in San Antonio, Texas from March 2 – 6, 2021.
ASA has 26 state affiliates, including Grain Farmers of Ontario. One actively farming couple from Ontario is selected to attend the program each year. Participants in the program engage in leadership training that helps them with their farm business and other organizations they serve, gain tools to better enable them to tell their own farming story, and connect with soybean farmers from across the U.S.
For more information, contact Mel Reekie, manager of member relations for Grain Farmers of Ontario, at mreekie@gfo.ca. To apply, go to www.SoyGrowers.com. The deadline for applications is September 1, 2020. Participation in the program is subject to the lifting of COVID-19 restrictions on cross-border travel.
FARM PPE PROGRAM UPDATE
Through the Canadian Agricultural Partnership (the Partnership), the federal and provincial governments have launched the second intake of the Agri-food Workplace Protection Program to help farmers enhance health and safety measures to prevent the spread of COVID-19. The funding will be used for initiatives such as purchasing personal protective equipment, enhanced cleaning and disinfection, and redesigning workstations.
Find more information about this program and how to apply at Agri-food workplace protection program. www.omafra.gov.on.ca. Projects must be implemented and completed no later than November 30, 2020.
CUSMA – GRAIN DECLARATION REQUIREMENT DELAYED
On July 1, 2020, the Canada-United States-Mexico Agreement (CUSMA) came into force. As part of the new free trade agreement, changes will be occurring to the Canadian Grains Act that will allow all U.S. grain delivered by farmers to now receive an official Canadian Grain Commission (CGC) grade, if delivered to CGC licensed facilities. Previously U.S. grain would receive an automatic grade of feed. This was a significant part of the negotiations during CUSMA as it was felt by the U.S. they were being put in an unfair trading situation. Initially this was primarily focused on U.S. wheat going into CGC licensed facilities in Western Canada. An unintended consequence of the negotiations was that this rule was expanded to include all crops and not just wheat.
CGC has implemented a declaration requirement for all Canadian and U.S. grain delivered by farmers to CGC licensed facilities. Grain Farmers of Ontario sees the added requirement as unnecessary additional red tape for Ontario farmers. Grain Farmers of Ontario worked with Cereals Canada, Producteurs de grains du Québec, and the Atlantic Grains Council to advocate for the exemptions of the declarations for Eastern Canada. As a result, declarations have been delayed by one year for Eastern Canada and are now required on July 1, 2021.
ONTARIO GRAIN FARMER ADVERTISING
Grain Farmers of Ontario has transitioned all advertising sales for the Ontario Grain Farmer magazine to an in-house sales representative. We thank Glacier FarmMedia for their support over the past year.
Our new advertising sales representative is Joanne Tichborne, jtichborne@gfo.ca or 226-332-3637. Tichborne will be handling magazine advertising as well as sponsorship and exhibit bookings for the annual March Classic.
MAGAZINE SUBSCRIPTION CHANGES
Farmer-members and industry associates who have changes to their mailing address or wish to cancel their subscription to the Ontario Grain Farmer magazine can contact Phaedra McIntosh, Grain Farmers of Ontario database coordinator, at pmcintosh@gfo.ca or 519-767-4130.
AWARENESS CAMPAIGN
In late April, Grain Farmers of Ontario launched a campaign to get the attention of the federal and provincial governments about the monumental risks that many of our farmer-members are taking this year to put crop in the ground while dealing with COVID-19 market impacts, U.S. competition, and increasing taxes, with little assurance that things will be better come harvest and marketing.
There have been two ads released as of July 1, and the campaign has garnered a lot of interest and conversation. Here is a snapshot of the reach that the two ads have had to date:
| | | | |
| --- | --- | --- | --- |
| | YouTube views | Facebook views | Facebook engagements |
| Advertisement 1 | 1,114,465 | 1,700,00 | 6,102 |
| Advertisement 2 | 999,471 | 797,000 | 4,737 |
Grain Farmers of Ontario continues to encourage farmer-members to reach out to their local MP and MPP to keep an open dialogue around the reassurances needed from government to grain farmers.
MARKET COMMENTARY
by Philip Shaw
At press time, the United States Department of Agriculture (USDA) was about set to release their survey of actual planted numbers which were detailed earlier in June. Indications look toward a corn acreage number of 95.2 million and soybeans at 84.8 million acres. Any variation of this on June 30 will impact market prices. Earlier in the June 11 USDA report there was a reduction in new crop ending stocks to 395 million bushels on the lower end of pre-report estimates. This was about the only bullish factor in the report.
The Canadian dollar has been fluttering in the 73 – 74 cent U.S. level in the last part of June, which has added a stimulus to Ontario basis levels. This is particularly important with the Ontario wheat harvest coming into view.