Cropside: Twin fans
AGRONOMIC INFORMATION FROM ONTARIO'S CROP SPECIALISTS
WHEN WHEAT REARS its head, sprayer operators consider dual fan nozzle arrangements to improve vertical coverage. Which design, or nozzle arrangement, is best?
In 2013, we ran vertical coverage demonstrations using a series of dual fans and multi-angle nozzle arrangements. We hoped one would emerge from the pack, consistently outperforming the others. But Canada's Outdoor Farm Show was windy that year (much like our challenging 2020 spring conditions).
Regardless of the nozzle, most of the spray deposited with the wind. A 10km/h wind will easily deflect medium droplets and a 20km/h will deflect all but the coarsest spray. This leads to non-uniform deposits and unacceptable levels of drift.
Perhaps the benefits were masked by how we were using them? We turned to the literature and found several studies performed by Dr. Tom Wolf and Brian Caldwell (Saskatchewan) and Dr. David Hooker, Helmut Spieser, and Dr. Art Schaafsma (Ontario). They ran independent coverage and efficacy trials starting in 2002 that spanned more than 10 years.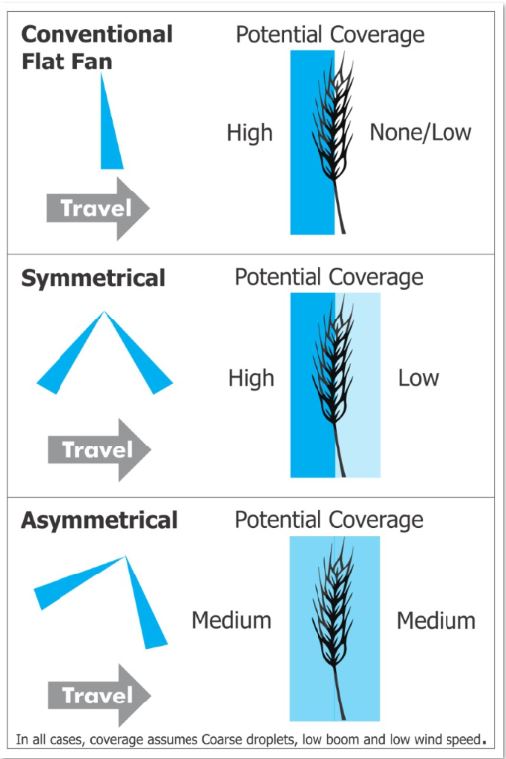 It's a disservice to summarize all their work in five bullets, but here are the major observations:
Higher volumes improve coverage (up to 200L/ha or 20gpa).
Coarser droplets improve vertical coverage (particularly against the wind).
Maintaining the lowest operable boom height improves coverage.
Multi-angled sprays improve coverage uniformity on vertical targets.
Travel speed may or may not affect coverage, but slower speeds do facilitate lower booms, which do improve coverage.
So multiple angles helped, but there was no consensus for which arrangement was best. They had their favourites, but perhaps it is more important to use them as outlined above. Then, when these conditions are satisfied, the operator can focus on timing and weather conditions to improve efficacy — not nozzle brands.
Learn more about the results of their research and watch a series of videos discussing vertical coverage at: https://sprayers101.com/twinfan/ •