Field observations
FALL 2020 UPDATES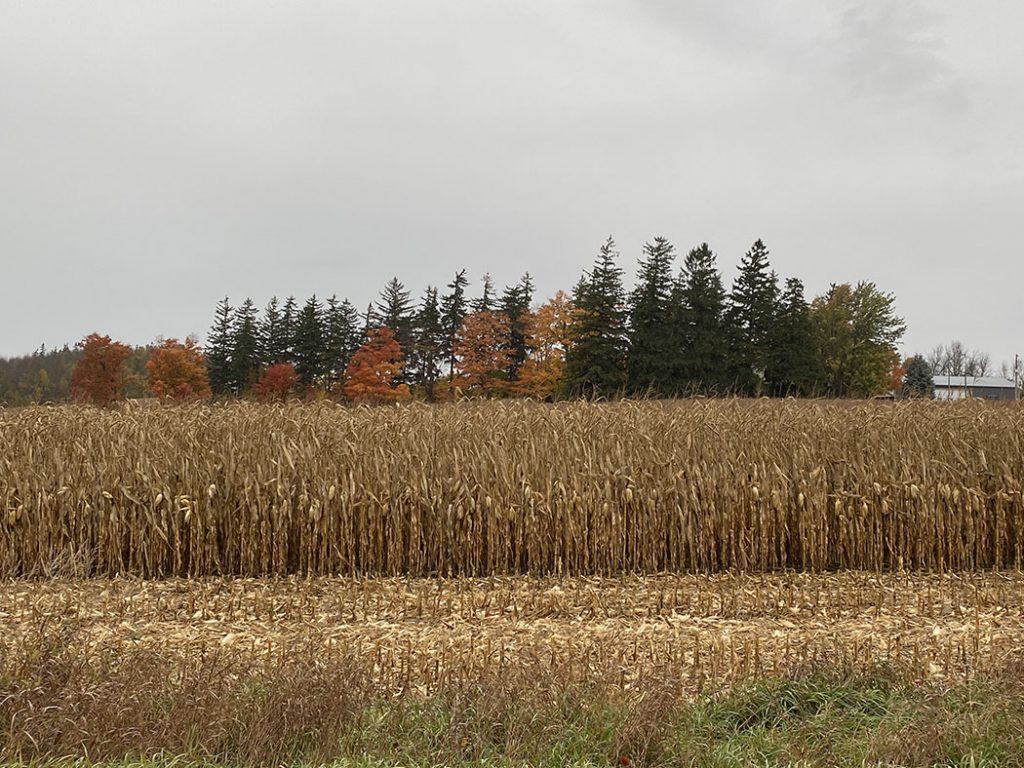 October 16, 2020
Harvest is rolling on across Ontario. Cooperative weather late last week and over the weekend allowed most areas to continue or finish soybean harvest and to begin or continue corn harvest. Wheat continues to have exceptional growing weather, with moderate temperatures and rainfall.
Tar Spot has now been confirmed in a fifth county – Middlesex.
Corn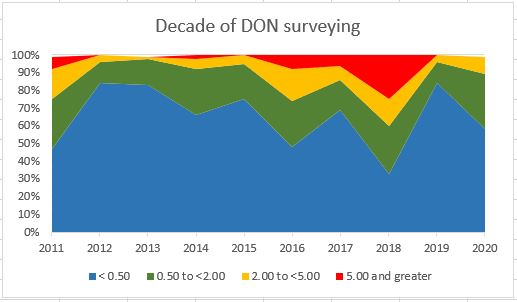 The 2020 Ontario Grain Corn Ear Mould and Deoxynivalenol (DON) Mycotoxin Survey results were released earlier this week on Field Crop News. Mycotoxins, particularly high levels of DON, can cause concern when feeding to livestock.
For more information, watch our GrainTALK webinar with Ben Rosser, corn specialist with the Ontario Ministry of Agriculture, Food and Rural Affairs (OMAFRA).
To the right is a chart, created by Grain Farmers of Ontario senior agronomist, Marty Vermey. It shows 10 years of data from DON surveys. If you compare years, 2020 is not as clean as 2012, 2013, or 2019, but more like 2014 and 2015. In general, this year's results are good news, as overall 2020 appears to be an average year for DON, although there are some pockets where DON may be higher.
Tar spot has now been confirmed in a fifth Ontario county – Middlesex. Our GrainTALK webinar also covers some pertinent information on tar spot characteristics, impact, and considerations going forward. Information on tar spot will be made available to farmers at www.gfo.ca as it becomes available, on Field Crop News, and at the Crop Protection Network. Grain Farmers of Ontario has supported the monitoring and mapping of this disease in recent years.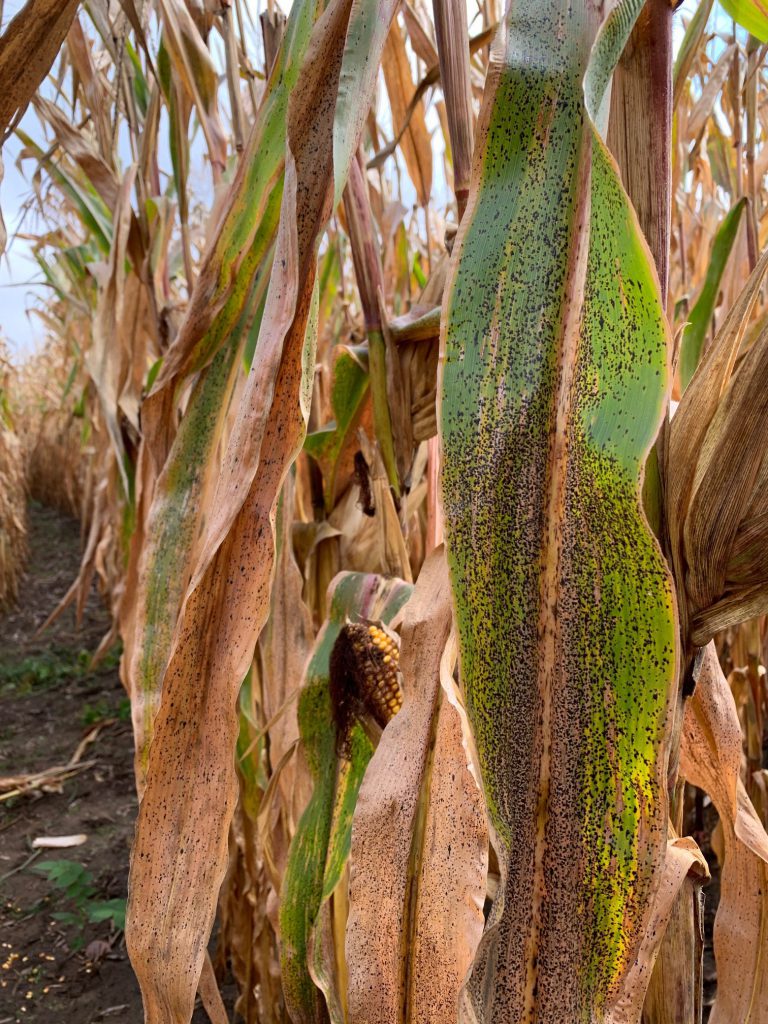 Corn harvest has continued, although with some delays as even though the past couple weeks have been warm, it is still taking some time for corn to dry down.
As noted in past updates, September brought a week of hazy skies from wildfires on the west coast, blocking solar radiation and reducing crop development. The weather was not as ideal as it seemed, as cool nights and frost on September 19 across the province also slowed down corn development as it had not matured at that time.
Looking at the Corn Heat Units (CHUs) for 2020, as of October 13, Ridgetown is roughly 150 CHU below the eight-year average, Guelph is roughly 100 CHU below the eight-year average and Kemptville is roughly 150 CHU below the eight-year average.
The cooler spring and cooler fall have stretched our corn season out longer this year. Dry down will be the key consideration for harvest and fields will vary in moisture due to planting date, hybrid selection, maturity of hybrid, field management, field stress, disease presence, and frost damage.
Overall plant heath has been excellent this year in a lot of areas which brings better yields but also prolongs maturity and keeps moisture levels up as plants are healthy longer into the fall. Healthy plants also mean healthy stalks and lodging shouldn't be a major concern as farmers wait for the corn to dry down in the field. When snow is forecasted and the need to get the crop off before wet weather or snow, will be other considerations for the timing of corn harvest.
Soybeans
Thanksgiving weekend brought great harvest weather across the province for some to finish soybean harvest and others to continue, with the majority of soybeans across the province having been harvested by the end of this week. Yields continue to impress. Expectations were high and the crop has met expectation or exceeded in some areas.
Wheat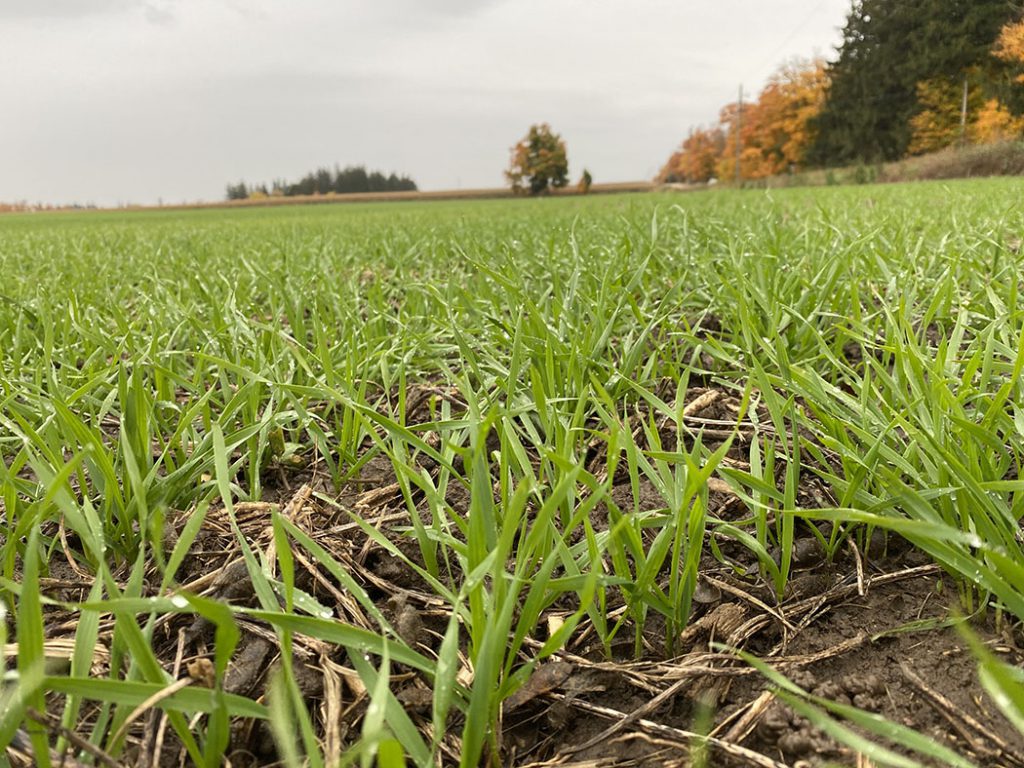 Wheat continues to have exceptional growing weather, with moderate temperatures and rainfall. The majority of the crop was planted in the last two weeks, but the early planted wheat is approaching the Z13 stage (three leaves unfolded).
A reminder that the Zadoks' scale begins at zero for a dry seed and moves upwards, 10 for seedling growth, 20 for tillering, only primary tillers are counted.
For example, a seedling with two leaves unfolded would be Z12, a plant with the main shoot and two tillers is Z22.
Understanding cereal staging is important for various applications of herbicides, fungicides, fertilizers, and plant growth regulators.
Scouting
A brief reminder to go out and scout fields now, by walking (ideal!) or even as you are harvesting. See if there are any areas that were stressed and that you could help mitigate the problem for next year's crop (ie drainage). See if there are any weed escapes, take note of what weeds broke through your herbicide program, perhaps you have resistant weeds you were not aware of. Also, be on the lookout for disease, such as tar spot. Use this knowledge to plan for next season.
October 9, 2020
Harvest, improving weather, and the freedoms we do have are things to be thankful for as we head into the Thanksgiving holiday weekend.
Scattered showers across the province slowed soybean harvest earlier this week, but harvest started up again mid-week. Another large chunk of the soybeans should get taken off before the next rain. Wheat seeding has progressed extremely well in areas that are still planting. Corn harvest has made some slight progress, with corn moistures lowering.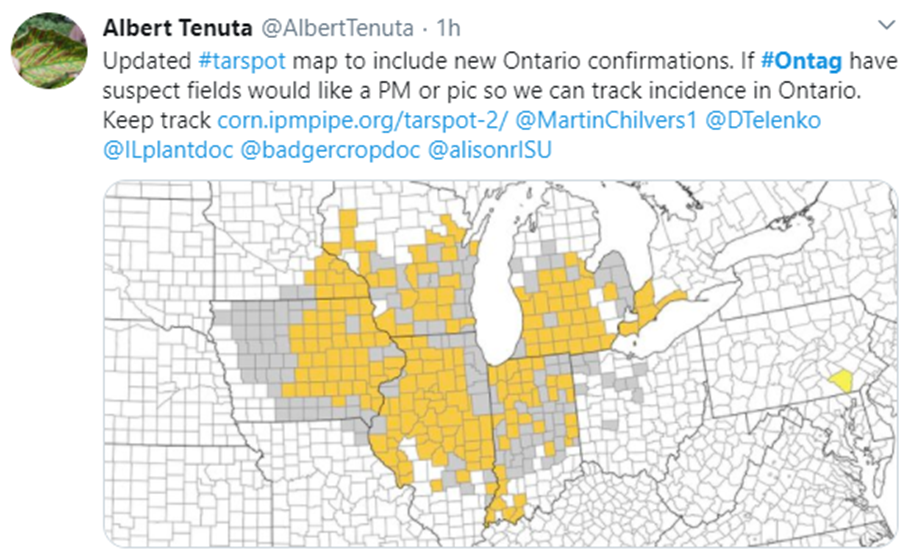 Corn
Harvest is beginning in parts of the province, as soybean harvest has been delayed due to increased soybean moistures. Corn being harvested is in the high 20s, lower 30s for moisture. Some Ontario farmers are reporting around 26 per cent on earlier maturing varieties. At this point, grain samples appear to be coming in fairly clean. In the coming week there will be more information on the DON levels in the province, as the DON survey is currently being summarized.
As previously reported, tar spot was thought to have entered Ontario. Those suspected fields have now been confirmed in the counties of Lambton, Chatham-Kent, Essex, and Elgin. If you suspect that tar spot has arrived in your field, please get in touch with Albert Tenuta, field crop pathologist from the Ontario Ministry of Agriculture, Food and Rural Affairs(OMAFRA). Also, watch for the Grain Farmers of Ontario webinar discussing tar spot to be released in the coming days.
Soybeans
Harvest was slowed or stalled off in some areas this week due to a wet period the end of last week as well as some rain moving through the province Wednesday; although some areas missed the heavy rains and were able to continue. The remainder of the week, into the weekend, looks like good harvest weather, with I'm sure lots of combines in the field. It appears that Ontario will miss any remnants from Hurricane Delta, and with luck soybean harvest should be on the home stretch shortly. In general, soybean harvest is thought to be reaching 50 to 80 per cent complete depending on the region, with good yields reported in areas of the province that received timely rains.
Cereals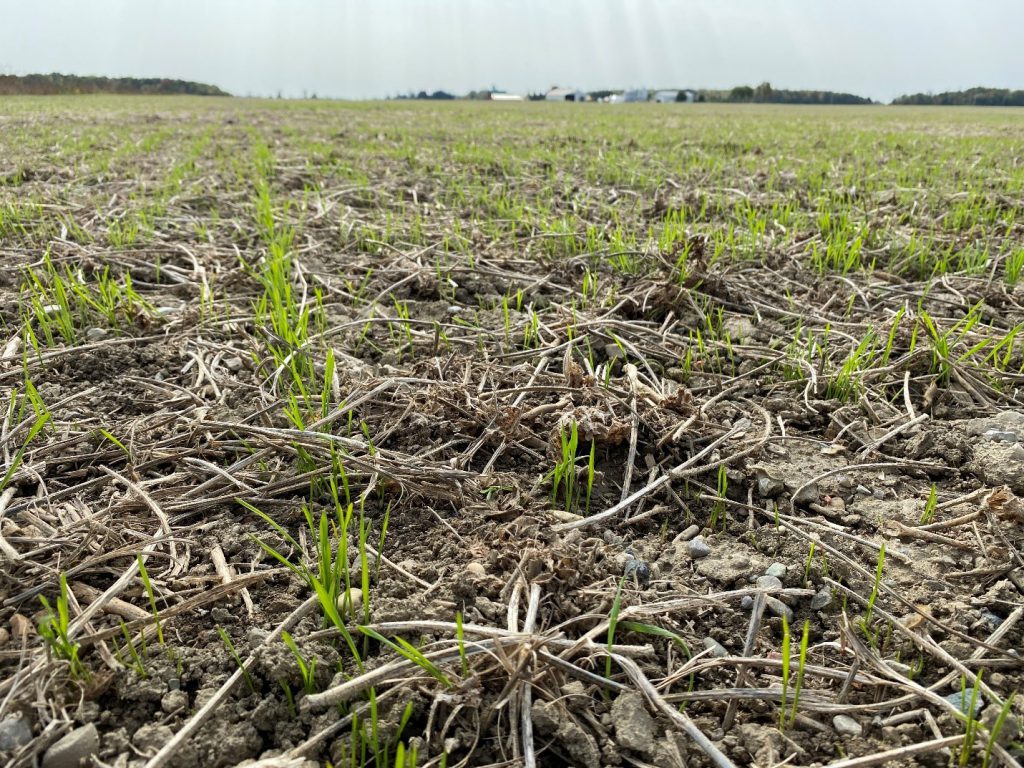 Wheat fields planted a few weeks ago have emerged and are shaping up to go into the winter season well. Winter wheat continues to be planted, although most areas have edged out of the optimum wheat planting dates, except for some parts of southwestern Ontario. A reminder of the optimum winter wheat planting dates in Ontario can be found here. https://www.gocereals.ca/OptimumPlantingDate-WinterWheat_colour_final.pdf
For areas that have passed the optimum wheat planting window, please see the Agricorp 2020 Planting Deadlines for fall seeded crops: www.agricorp.com/SiteCollectionDocuments/PID-PlantingDates-FallGandO-en.pdf.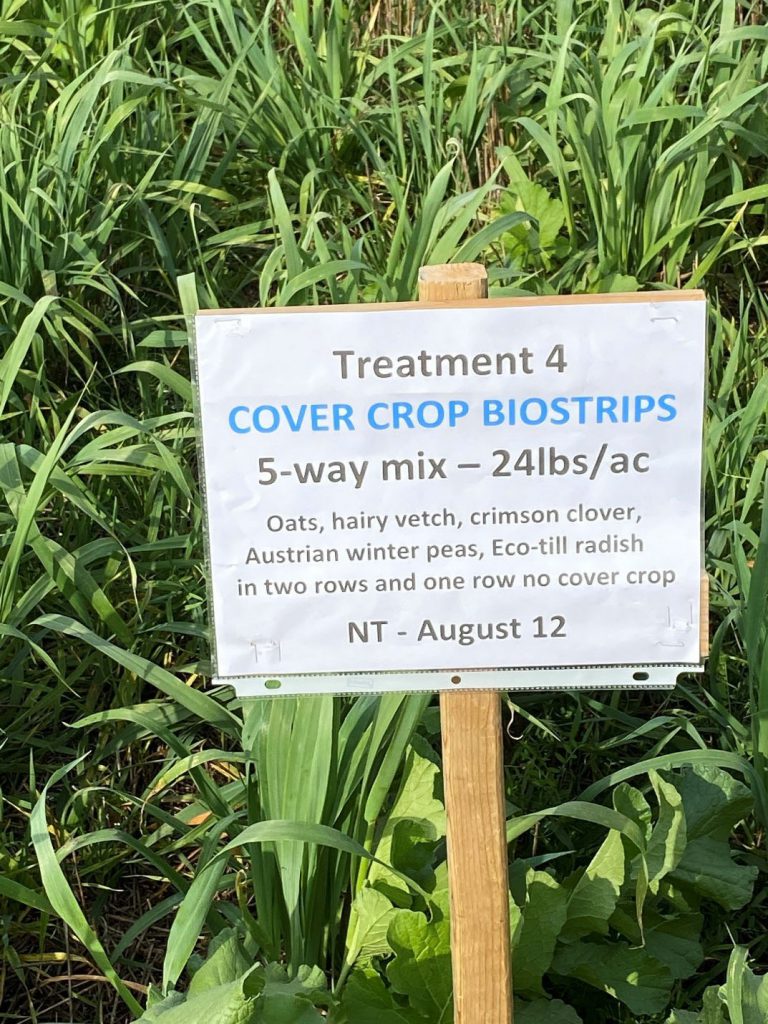 A fair number of wheat fields harvested this past summer were then planted into a cover crop. Cover crops have had an ample amount of time for good growth heading into winter. Some recent on-farm events to note are the OSCIA's ONFARM demonstrations this fall, showcasing various trials for cover crops across a network of 25 farm locations. Each trial examines different techniques with cover crops to help quantify the benefits in improved soil health.
Soil Fertility
A reminder to take soil samples this fall, in preparation for the coming growing season. Soil sampling is a valuable tool to measure soil nutrients so as not to under or over apply nutrient sources.
Have a safe and thankful weekend!
October 2, 2020
Scattered showers across the province have slowed soybean harvest this week. Wheat seeding has progressed extremely well in regions where soybean harvest was in full swing last week. There are reports a few early grain corn fields have been harvested.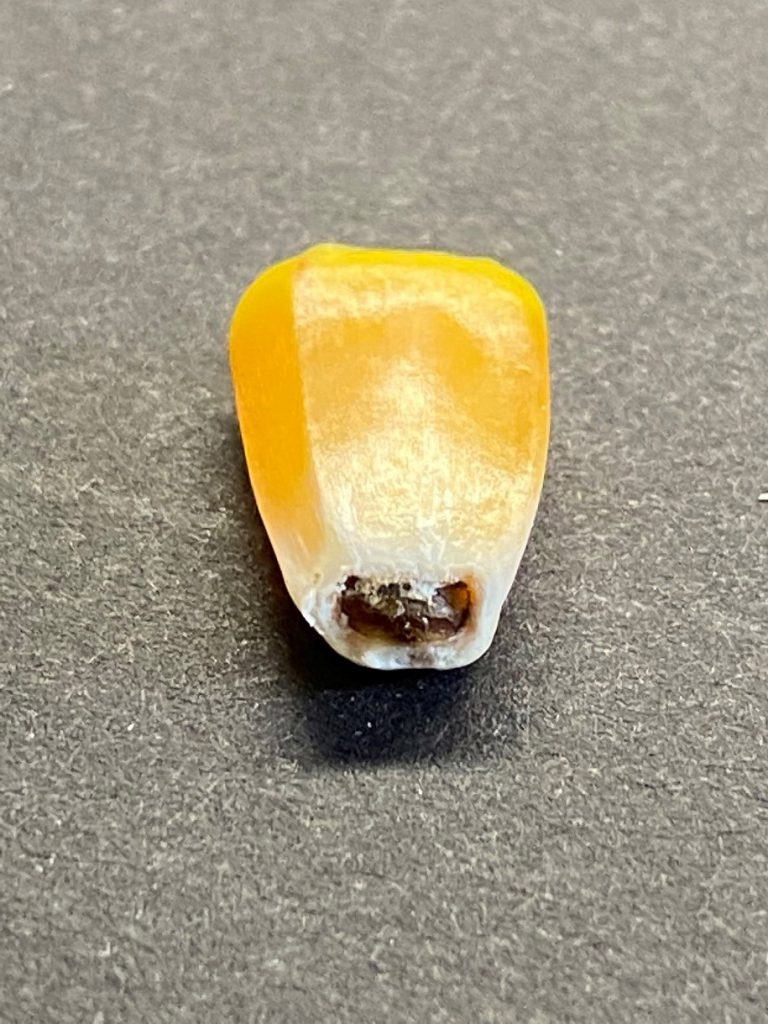 Corn
The large majority of the corn crop is now mature as can be identified by the full orange coloured kernels indicating that the milk line has disappeared and no milky starch is left in the kernel, just hard, dry starch. If you peel back the tip of the kernel, a black layer can be found on the tip of the kernel. Ever wonder what those dark brown flakes were in your corn chips or corn tortillas? It is this abscission layer (black layer) of the kernel, which acts like a one-way valve that shuts off the moisture and nutrient flow into the kernel. Immature grain on dead plants that did not reach this stage, gain and release moisture as the weather conditions change and makes harvesting harder as the kernel tends to break off the cob creating more fines in the combine.
When black layer occurs, we can expect the grain moisture to be in the 32 per cent moisture range. Grain dry down will be the next phase over the month of October. Warm, dry weather can bring grain moisture down rapidly, but cooler weather with average rain showers will slow the drying process as humidity in the air is higher. Average fall conditions in October and November can see grain moisture decrease one per cent in three days; or over 30 days, 32 per cent corn could be 22 per cent. Let's hope we get some nice clear weather and we can shed 10 per cent moisture in 20 days. Earlier planted or early maturity corn may have already reached black layer last week and has lost lots of moisture with the warm, dry September we experienced and it could have lost up to one per cent moisture per day.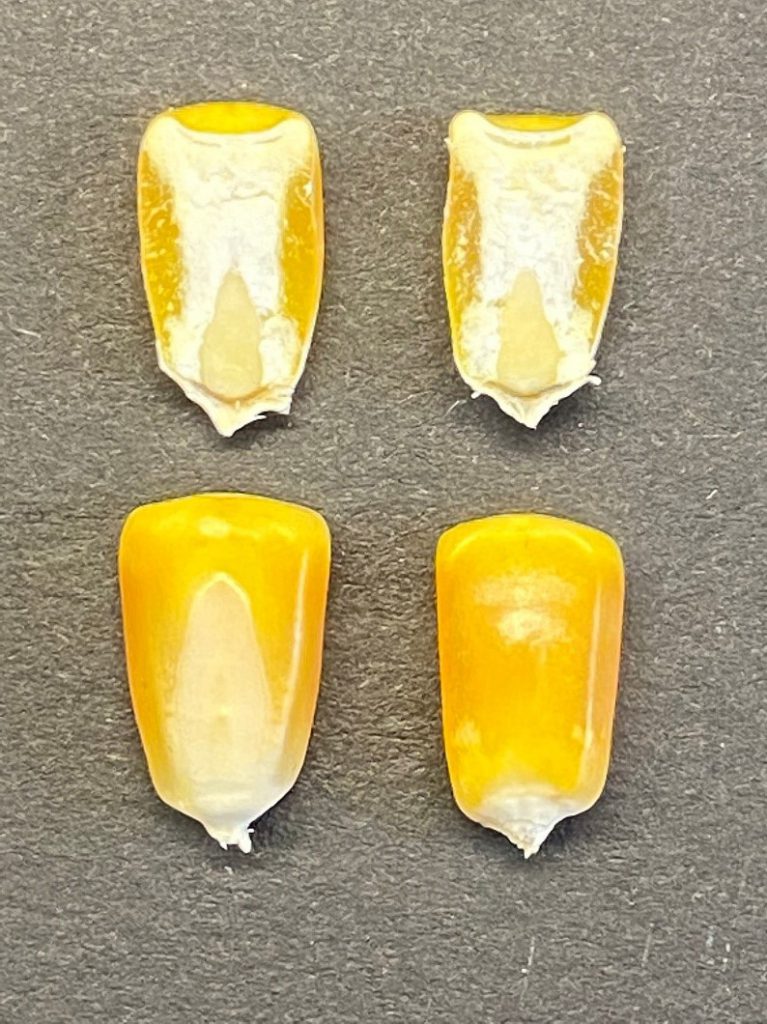 Corn hybrids differ in maturity from when they pollinate to when they reach black layer as well as how they dry down in the fall. Tight husk or open husk hybrids will dry differently so looking at a test plot with different hybrids will give you a better sense as to what can be expected at harvest. Example, the earliest flowering hybrid turns out to be the wettest in your plot. Maybe it had a longer grain fill period (flowering to black layer) or it has tight husks that are not allowing the kernels to shed moisture. These are all good things to assess, rather than assume the early flowering hybrid is the driest, which it may not be.
Corn maturity seems to be taking longer this fall. Most crop model predictions take a standard 60 days after flowering as to when the corn should be black layered, some more sophisticated ones look at high and low temperature to calculate CHUs, but we are still off this year by about a week. September was warm, but we had some cold nights, frost on September 19, and more importantly, we had a week of west coast smoke in our atmosphere that filtered out the solar radiation that the corn crop needed to drive maturity. Both the smoke and cold nights have slowed the corn crop down this fall.
Soybeans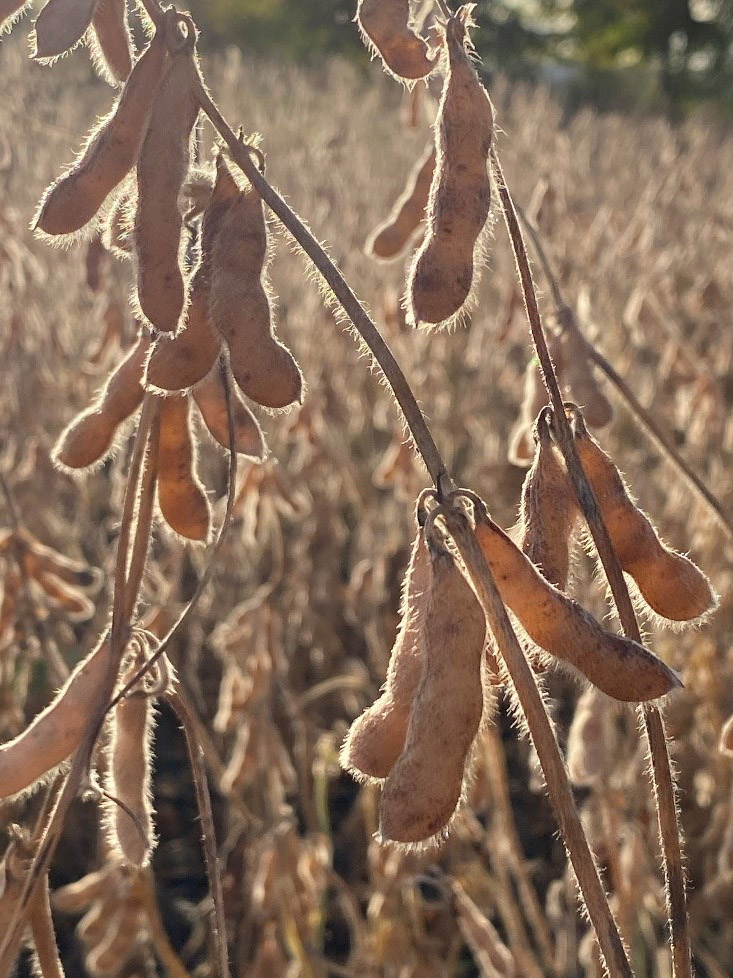 It seemed like it was full throttle on soybean harvest last week north and east of London. With reports of areas at 50 per cent to 80 per cent harvested. Bean moistures had come down quickly and harvest days were longer than normal allowing for more acres to be harvested per day.
Harvest had just begun late last week in Southwestern Ontario (west of London), as soybean maturity is a little later with longer maturity varieties being planted and later planting dates this past spring than compared to the east. Yields seem to be favourable for most farmers. Rain in August this year has helped develop the majority of the soybeans on the plant and helped to finish off the top pods. Last year the drier, late August took the top off the crop and produced smaller and aborted seed as the plant could not support all the soybeans that were pollinated due to lack of moisture. The provincial average this year will be much better than last year, and should be one of the better highs, thanks to August rains.
Cereals
Wheat planting is advancing as quickly as soybeans are being harvested this fall. Many acres have been planted before October, and rains this week will provide great germination and growth of the seeded winter wheat crop. This early planting will allow excellent plant establishment and tillering before winter freeze up. Thicker stands will lead to more head development next spring and give better yield potential for farmers. Proper nutrient management in feeding the crop and best disease protection will allow farmers the potential to maximize yields next summer.
September 25, 2020
Frost, tar spot, and soybean harvest – fall has begun.
Frost this past weekend caught many of us off guard. The forecast given last week was for a cooler weekend, with a warmer, and drier week ahead. We didn't realize cooler meant frost! That's how the weather works, it sometimes sneaks up on you when you are not looking. I guess, with no wind, clear skies, and dew point below 4° C it can lead to a frost event. But that doesn't explain why it was more injurious than normal?
Tar spot on corn is presumed now to be in the province of Ontario. Samples were collected early this week that resembled tar spot and are currently at the lab for confirmation.
Soybean harvest has started strong this week with seed moistures dropping rapidly as we are in a dry and warm period during harvest.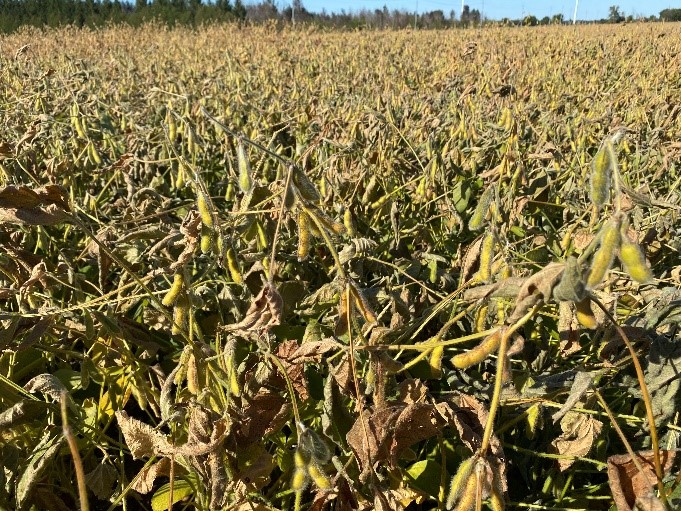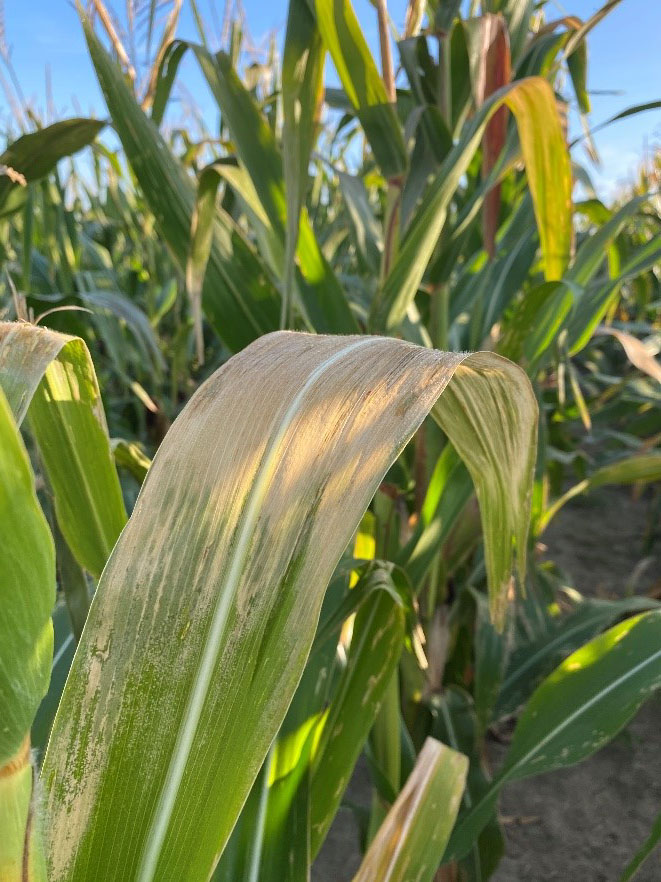 Frost
The forecast for Friday night, September 18, was for a low of 6° C,, but we awoke with 4° C to 1° C on the thermometer depending on who you talk too and when they woke up. The Environment Canada website recorded -0.2° C for our local weather station and most around the province ranged from 3.3° C in Windsor to -3.3° C in Peterborough.
What happened? Well frost occurs when water vapour in the air forms as ice on a surface. As the surface looses heat energy over the night to the cooler air, the cool surface in turns takes heat out of the water vapour causing the water vapour to form an ice crystal on the surface. The surface could be the ground or the crops top surface, or the roof of buildings. Our temperature measurements are officially taken at 1.5 metres from the ground, so colder air will settle below what we have measured, a recorded -0.2° C temperature Saturday morning may mean that the air below the thermometer was much colder. Also, many farmers may have thermometers by the kitchen window. The house will continue to radiate heat through the night and the air temperature beside the house is not the same as just above the ground. So, it's colder than your think at the surface of the crop.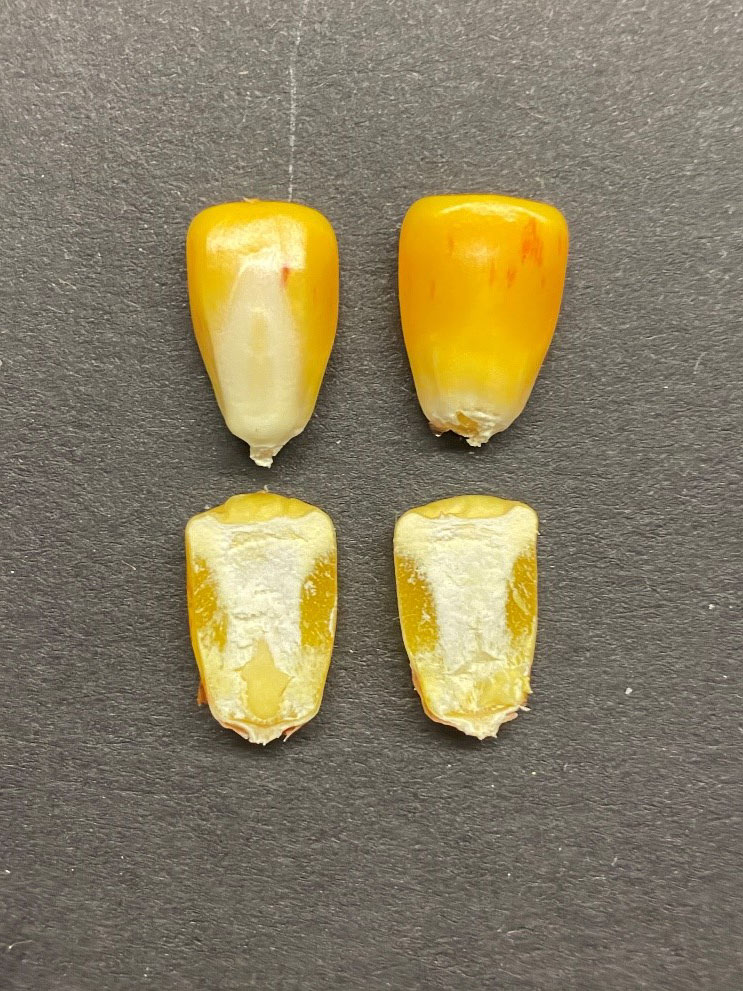 But still, why so much damage? I've had 0° C before and no damage. Maybe the air was more still this time, or there was more moisture in the air that created greater ice crystals, and maybe the bright sun on Saturday morning reflecting on the ice crystals intensified the solar radiation on the leaf surface (magnifying glass effect) creating damage to the leaf. At least in the southwest the corn leaves look like sun scorch damage, while further north the leaves had that dark green/grayish water soak look to them like the leaf cells were frozen.
Corn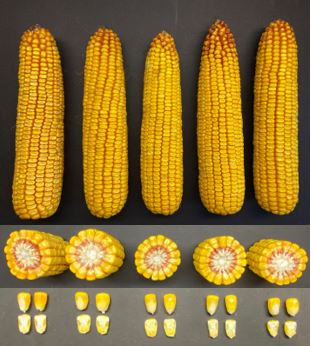 The Ontario corn crop is rapidly trying to finish the last little bit of kernel fill as the frost events have started the plant shut down. As the plants will be limited to any more sugar production, the plants will need to rely on translocating the current sugars from the leaves and stalk to help finish the kernel starch pack. We can expect that the lack of sugar in the stalk will weaken the stalk strength when we get further into the fall. Keeping an eye on stalk deterioration will be important as you pick which fields to harvest first or which ones to leave for later.
The frosted corn will also have a fast moisture dry down in the whole plant as silage producers are rushing to finish harvest before the plant becomes too dry. In turn, with dry weather conditions, good grain drying will also occur as no moisture will be taken up by the plant as its shutting down.
Tar spot was identified in Ontario for the first time on September 21, 2020 in Chatham-Kent and Lambton counties. Samples from Ridgetown have been confirmed in the lab that it is tar spot and the Lambton samples are in the lab waiting confirmation. Since tar spot has been a fungal disease in the U.S. midwest since 2015, it was all but a matter of time until it the spores would blow into Ontario and infect some of our corn crop. The appearance late this fall at a very low level will not cause any yield or economic harm today. But it does pose the threat for future years since the spore are now here and will over winter in the residue. The disease pressure will build in the future under ideal growing conditions of cool and moist weather. Early infection causes the greatest yield damage and will be another disease we will have to keep an eye on while doing our route scouting in the spring and summer. The good news is we have had several years of learning with the infection in the U.S. Midwest and through the cooperative work Albert Tenuta (OMAFRA) has done with the Crop Protection Network https://cropprotectionnetwork.org/ with funding from Grain Farmers of Ontario, we are prepared to have BMP's and potential fungicide solutions that can help manage this disease and prevent the major yield losses many U.S. growers faced in the first years of the outbreak state side.
Soybeans
Harvest has begun across the province. With the dry weather this past week and a half, farmers have experienced rapid drying of soybeans and moistures have fallen from ideal to way too low in a matter of hours. Reports have come in that harvesting at 13.5% (ideal) one day and by the third day fields are down to 8%. It seems simple to just harvest on the day soybeans are ideal, but unfortunately there is not enough hours in the day or machines available to do that. Usually when the seed first dries during dry weather, there is the concern that plant stems may still be wet/green which makes for hard cutting and wrapping of the plants on the header reel. When the plant is dead and dry, than the soybeans are too dry under these low humidity conditions. Usually a rain before harvest just before the plants mature will help ripen the plants and seed more uniformly and keep soybeans at the right moisture. Harvesting soybeans when the seed is too dry brings up the concerns that the seed can crack, pods at the head shatter, and field losses occur. More importantly, seed is traded at 13%, and shipping seed at 8% is giving slightly more than 5% of the volume away, or at $12 per bushel it's like only getting $11.40 per bushel. The processing of dry soybeans is also more difficult and in the case of seed soybeans, seed treatment applied to the seed can be sucked into the seed and can reduce the germination of the seed. Its all bad at that low of moisture. Rain is forecasted for early next week and for those fields way to dry, it maybe an opportunity for them to gain some moisture and allow farmers to harvest soybeans at a better moisture level.
Cereals
Winter wheat is starting to be planted right behind the soybean harvest this fall. If planting much earlier than your optimum planting date, backing off on the population is advised as good plant growth and tillering can be expected with the warmer fall that is predicted. If planting at ideal dates, population should be at normal populations and later planting dates will require higher populations in order to compensate for less plant growth and fewer tillers. Planting populations range from 1.2 million to 1.8 million seeds per acre depending on planting time, soil type, and management. Always check your seed source and adjust population depending on the tested germination. If planting by pounds per acre, as that's how the drill is set up, make sure to check seed size and adjust how many pounds you are seeding. Based on variety and environment where the seed was grown, seed lots can vary up to 3,000 seeds per pound. If seeding 103 pounds to the acre this could mean close to 400,000 seeds per acre difference. Which in turn could mean a too thin stand or a way too thick stand that may get more disease and be more lodge prone. Adjust the planter based on what you are seeding.