The Bowl
AN EYE OPENING EXPERIENCE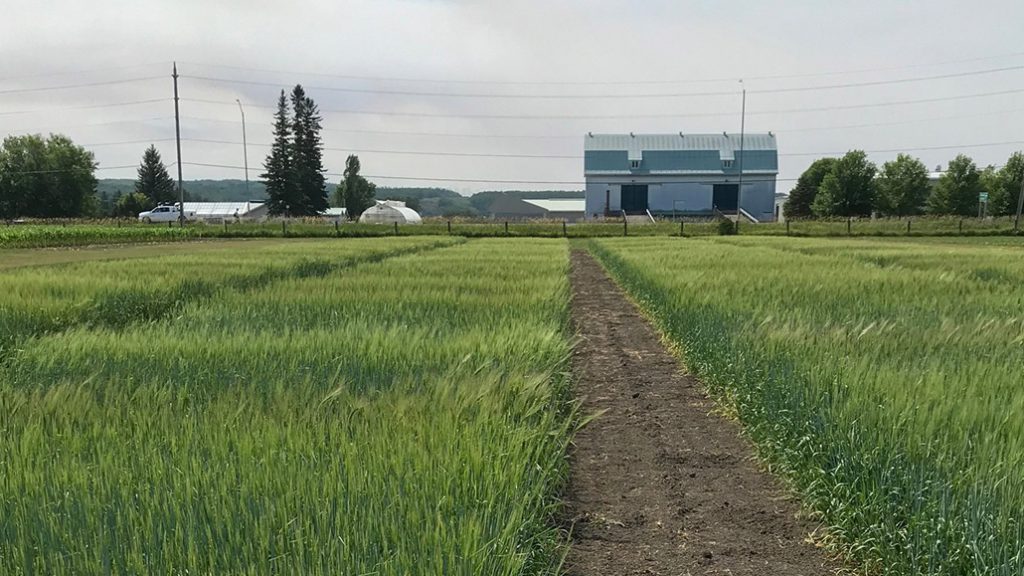 I RECENTLY HAD the opportunity to travel to the New Liskeard area with Steve McCabe, manager of Member Relations for Grain Farmers of Ontario; it was my first trip to this part of Ontario. For years, I have heard about this amazing area from family, friends, and co-workers; a place of entrepreneurs, opportunity, hard work, and unique farming conditions.
My first glimpse of the New Liskeard region was certainly unique as the area was overshadowed by a huge mass of smoke from a nearby wildfire that was coating the area and made it smell like a campfire, luckily the fire was still 30 kilometers outside of town. But once we got to the top of the hill and looked out across 'the bowl', the sight was certainly one that I will remember. Coming out of rocks, trees, and hills everything drops down into an old lake bottom and opens up while levelling out. Fields of oats, soybeans, wheat, canola, and even some corn could be seen. What a sight!
The first European settlers who arrived in the area in 1891 were attracted to the rich farm land of the clay belt area. This strong agricultural base to the local economy has been reasonably stable, and they have avoided the boom and bust of other northern communities that rely more on mining and forestry, and as the region grows, the stability does too.
Chuck Amyot, director of Grain Farmers of Ontario's District 15 (Northern Ontario), met with Steve and I while we were in the north and spent some time touring us around. We visited various crop fields, Grant Elevators, the New Liskeard Research Station (two malt barley projects partially funded by Grain Farmers of Ontario were seen), and Koch Elevators where we participated in the twilight bus tour that was part of the annual Temiskaming Crop Coalition Crop Tour (corn, soybeans, yellow peas, canola and even potatoes were featured on the tour).
Over the past 10 years the region has seen massive investment in agriculture. Amyot highlighted that there has been a huge expansion in the area of workable acreage and crop storage (most recently the Temiskaming Agriculture Centre in Thornloe announced a $1.7 million dollar investment in their receiving and storage capacity).
In this region, they deal with a number of conditions farmers in other parts of the province might not deal with on a yearly basis. Much of the cultivated ground is a New Liskeard clay which is typically higher in organic matter than normal clay, explains Amyot. There are also pockets of black muck, which can cause unique challenges with weeds, poor crop standability, and travel issues with equipment. It also has a higher susceptibility to frost as it is commonly found on lower ground.
With innovative farmers, technology, and genetics all coming together — it was obvious to me that the opportunities in the north are endless. I look forward to future trips to the area to see all the crop production changes that are occurring.
Laura Ferrier is Grain Farmers of Ontario's agronomist and a certified crop advisor. •