Tar spot
HOW TO MANAGE THE NEW DISEASE THREAT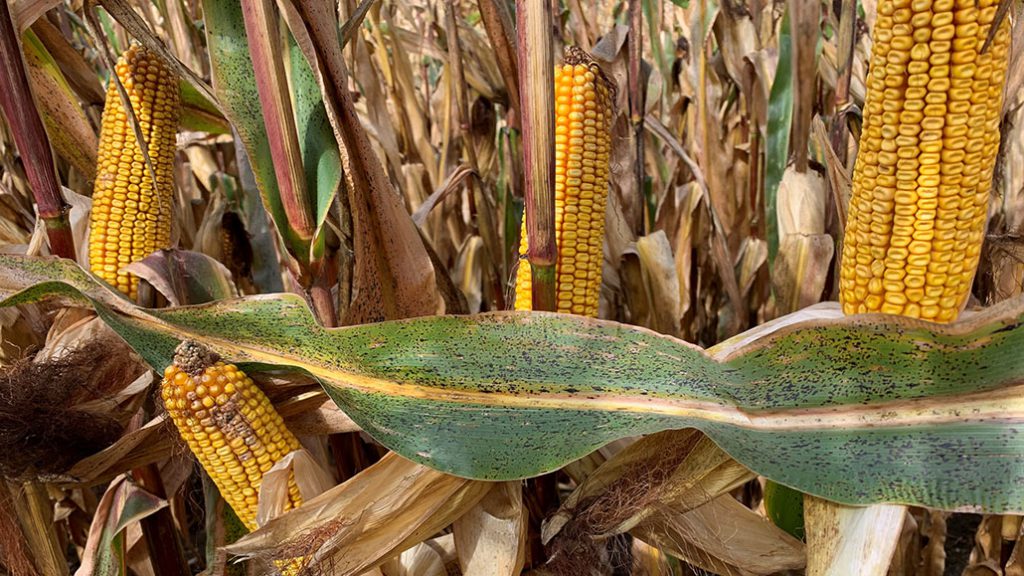 THE INEVITABLE HAS happened with tar spot — the disease has now been confirmed in Ontario. Researchers and agronomists have been keeping a close eye out for signs of tar spot ever since it was first reported in the U.S. five years ago. In 2019, tar spot was reported in Michigan, right near the border, so they weren't surprised that it was found in fields in southwestern Ontario this year.
"We have been actively scouting fields since 2015 and working closely with others in the corn industry," says Albert Tenuta, field crop pathologist with the Ontario Ministry of Agriculture, Food and Rural Affairs. "Everyone has been on high-alert for tar spot."
Tenuta was first called to investigate something unusual in a corn field near the University of Guelph Ridgetown Campus at the end of September. Soon after tar spot was confirmed there, infected plants were found in fields in Lambton, Essex, Elgin, and Middlesex counties.
IDENTIFICATION
Tar spot appears as small, raised black tar-like spots (stroma) scattered across the upper and lower leaf surface and husks, often during the mid to late grain fill stage (R3-R6). It can be confused with other diseases, such as rust, or insect frass (droppings). Tar spot can be confirmed by rubbing the lesion; if the raised black spots do not rub off, it is likely tar spot. A tan halo may (or may not) appear around the black spots.
The air-dispersed pathogen is carried by storm fronts and wind currents, and thrives under cool, wet conditions. It usually develops later in the season, during the mid to late grain stages (R3-R6).
"Tar spot has gained a lot of attention because of its ability to reproduce and cause injury quickly — within weeks under favourable conditions," says Tenuta.
That is something Dr. Nathan Kleczewski, a research assistant professor and extension specialist in Field Crops Plant Pathology at the University of Illinois, has seen first-hand. In 2018, the remnants of a hurricane were the catalyst for a severe outbreak that spread tar spot in the U.S. It is now prevalent in Illinois, Indiana, Iowa, Michigan, Minnesota, Missouri, Ohio, Wisconsin, and Florida.
Infected fields have reported yield losses up to 60 bushels per acre. Even in a year like 2020, when they experienced hot, dry weather during the critical growth period, Kleczewski reports some Illinois fields saw losses of 35 bushels per acre.
SCOUT
"Scouting is key, don't let it sneak up on you," says Kleczewski, noting that up to 30 per cent of a field can become infected within two weeks, and if conditions are right it will continue to spread. An application of fungicide, with multiple modes of action, at the earliest sign is the best defense farmers currently have against the disease.
Spores can overwinter in residue left on fields, which makes it important for farmers to have a residue management plan if they have infected fields.
"If you are a no-till or reduced tillage farmer, you really need to pay attention to the susceptibility of your corn hybrid, talk to your seed seller about what data they have, much of which is based on the U.S. experience," says Marty Vermey, senior agronomist for Grain Farmers of Ontario.
MANAGEMENT
Even with residue management, fields can still be infected with tar sport. Kleczewski says their studies show aerial spread of tar spot is more pronounced than originally reported, and spores are traveling from distant sources to infect plants in new fields. Spores can also travel on machinery.
Kleczewski research team has been screening exotic lines to look for resistance to tar spot and they have two years of data they are preparing to publish. They are also researching how the age of the plant affects its susceptibility — if late planted corn is more prone to infection. And they are looking into different ways to manage the disease, including with biological controls.
Ontario farmers will benefit from what is learned by Kleczewski and other U.S. researchers; there has already been active cross-border collaboration with OMAFRA's Tenuta on tracking tar spot and sharing best management practices through the Corn Disease Working Group and the Crop Protection Network.
"We would not have been this prepared for tar spot, or even soybean cyst nematode, if it wasn't for the support we get from Grain Farmers of Ontario to help us participate in these cooperative, regional initiatives," says Tenuta. "By being proactive we are ready and able to hit the ground ready when we find new diseases or changes in resistance."
It is still to be seen how tar spot will overwinter in Ontario, but indications are it will survive. Its development in 2021 will be highly dependent on cool, wet weather conditions in the mid to late summer and its spread will be reliant on storm fronts carrying spores east. That means, even farmers in areas where tar spot wasn't reported this year need to understand this new threat in order to make informed decisions in their fields next year.
"Be diligent, scout your field. Know what the disease looks like. And once you see it, be diligent in your control of it, so it doesn't spread in your field and take your yields down," advises Vermey.
This article features agronomic information from Grain Farmers of Ontario. •