Genomics research
CHANGING FIELD CROP RESEARCH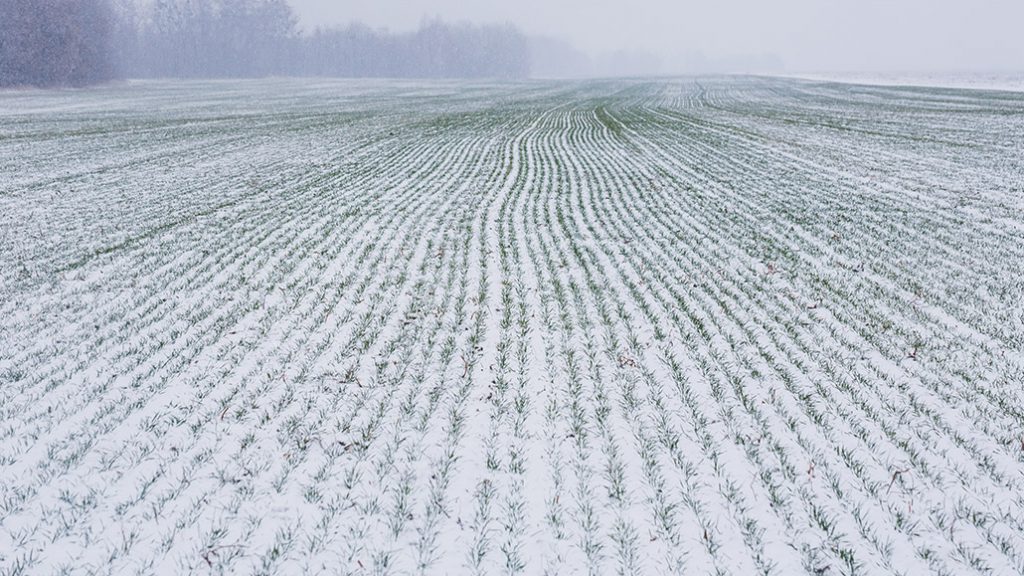 THE LAST FIVE years have been nothing short of spectacular in the progress genomics has made for field crops in Canada," says Dr. Francois Belzile, Université Laval professor and SoyaGen Project co-leader.
That is high praise coming from someone who has devoted his career to field crop research and development. And it is true — thanks to genomics, Belzile and his SoyaGen team have developed a whole suite of tools to open doors to new research into the genetic makeup of soybean lines in Canada.
Genomics is the study of an organism's DNA, including its entire set of genes. Genomic research includes mapping, editing genes, and studying the structure, function, and evolution of the DNA make up. And when this study is applied to field crops, such as soybeans and wheat, researchers can focus on, predict, and even select desired genes for plant breeding. The ability to use geonomics to identify specific genetic markers is already speeding up plant breeding programs in Canada, opening new opportunities to develop new varieties.
SUCCESS FOR SOYBEANS
Belzile and his team of 10 researchers from across Canada have dedicated the past five years of their careers to examining the genetic makeup of soybean lines that focus on early maturity and disease resistance. These outcomes will support soybean breeders and promise the development of game-changing varieties that could feed the further successful expansion and adoption of soybeans into Western Canada and diagnostic tools to identify the specific type of Phytophthora in farmers' fields, that would allow them to purchase soybean varieties with an effective resistance.
"It's been astonishing what we've been able to achieve," says Belzile. "We couldn't have predicted the tools we wanted to develop would be so effective and powerful in characterizing the genetic makeup of our soybean lines and in designing diagnostic tools for fighting key pests." And these advancements couldn't have been done without applying genomics to the breeding research.
Belzile explains that applying genomic tools to plant breeding efforts is presenting the industry with significant advantages, such as a more comprehensive knowledge of genetic resources that are available to breed plant varieties with improved traits. Other advantages include new genomic prediction methods to help select the best combinations of parents for making crosses and genomic selection methods to identify the most promising progeny from a cross. And all of these new tools and information is available to plant breeders to assist in the development of new varieties for farmers.
"It's incredibly satisfying to know that these outcomes will be useful to plant breeding and will make a difference to growers," says Belzile.
BREAKING GROUND
Genomic selection tools are widely used across North America in wheat breeding but are still relatively new in public breeding programs for winter wheat. That is until University of Guelph wheat breeding and genetics PhD candidate Alexandra Ficht and her late advisor Dr. Ali Navabi started analyzing, developing, and integrating genomic tools for winter wheat. The University of Guelph team, now led by Dr. Elizabeth Lee, is the first to look at implementing genomic selection models on a breeding program scale in winter wheat to varieties for Ontario growing conditions.
"We started working with whole-genome markers and combining them with phenotypic data to allow for the selection of suitable breeding lines for the improvement of value-added traits," explains Ficht. "By introducing this new genomic selection model into breeding programs, breeders have the tools to target desired traits."
Beginning in 2018, the University of Guelph project, "Application of genomic-based technologies to improve the rate of genetic gain in Ontario winter wheat breeding", set out to apply these genomic-based technologies, or tools to improve the speed of genetic gain through breeding programs. The research focused on selecting and developing improved cultivars with higher yields, increased disease resistance, and improved quality traits.
"The variable environment, and the plant's ability to acclimate and survive through the winter makes winter wheat a very unique crop," says Ficht. "That's why a portion of this project was dedicated to applying the genomic modeling to the survivability of the crop."
She explains that using the genomic selection tools developed, the researchers were able to select breeding lines based on historical and environmental data, enabling breeders to amalgamate years of environmental variables to predict how new winter wheat breeding lines will perform. "This can shave off years of breeding trials, delivering growers more successful, resilient varieties they can have confidence in."
Ficht approached this genomic selection research from a broad perspective, focusing on the winter wheat crop as a whole, rather than a specific problem or trait. This method was meant to establish a foundation for future genomic-focused research.
"And the results will continue to pay off," she says. "We've already learned so much, and our models can be applied to the University of Guelph wheat
breeding program."
The SoyaGen project was funded in part by Genome Canada, Genome Quebec, and other producer and industry partners (please see www.soyagen.ca/en/soyagen-team/partners/ for a complete listing)
The genomics-based winter-wheat breeding project ('Application of genomic-based technologies to improve the rate of genetic gain in Ontario winter wheat breeding') was funded in part through the Ontario Regional Priorities Partnership Program (ON-RP3), a collaborative initiative between the Agricultural Adaptation Council (adaptcouncil.org), Ontario Genomics (www.ontariogenomics.ca), and the Government of Canada through Genome Canada (www.genomecanada.ca).
GENOMIC CONTRIBUTIONS
"Ultimately genomic research will continue to support plant breeders, equipping them with new tools and information to develop varieties to meet the needs of growers across Canada," says Dr. Francois Belzile, Université Laval professor and SoyaGen Project co-leader. "The end result should allow growers to make more informed decisions, like the ability to purchase varieties that protect against a specific strain of disease or pest in their field."

Belzile reflects on the advances genomic research has recently made in field crop research and breeding, highlighting four areas — foundational information, genotyping tools, powerful approaches for trait discovery and editing and more efficient selection tools to breed new varieties.

"The foundational information on crop genomes is equivalent to an encyclopedia that contains all the genetic information about a specific crop," he explains. "The new tools can identify desired breeding lines that can be edited to control desired traits and all of this new information can be combined to identify the most promising combinations of plant parents to cross together. Collectively, genomic tools will reduce the time and resources needed to perform large scale field testing, delivering new varieties into the hands of growers faster."
This article features research funded by Grain Farmers of Ontario. •