Pre-harvest herbicides for soybeans
BEST MANAGEMENT PRACTICES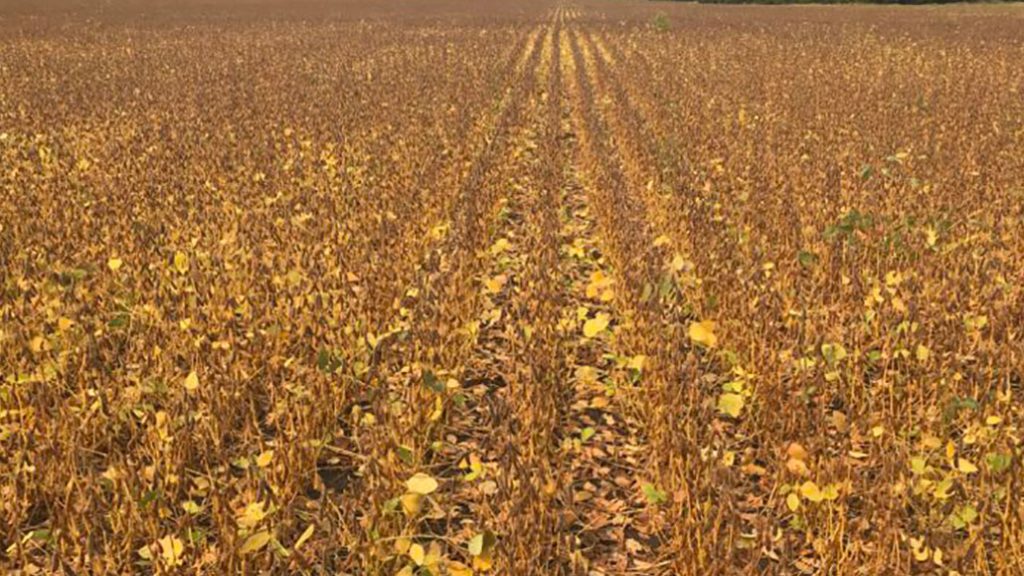 HERBICIDES APPLIED TO soybeans pre-harvest are not a weed control cure-all, but they can help ensure a more efficient end to the growing season when weed pressure is high.
Mike Cowbrough and Horst Bohner — weed control and soybean extension specialists with the Ontario Ministry of Agriculture, Food and Rural Affairs (OMAFRA) — say applying specific herbicides days or weeks ahead of harvest can benefit fields planted with both conventional and glyphosate-tolerant varieties.
They describe these benefits in a Field Crop News article, "Crop quality often increases because the harvest timing after the field has been sprayed is more predictable, and therefore harvest schedules can be better managed. Most importantly, a pre-harvest burndown will dry down weeds, making combining easier and cleaning up the field for winter wheat planting."
The drier plant matter more easily passes through the combine, lowering seed losses and reducing seed staining. Pre-harvest herbicides, do not speed up soybean maturation nor reduce dry-down times, but they will speed up harvest timing by one to three days since remaining leaves and green matter drop and dry more quickly.
WHAT IS THE TARGET?
Using the right product for the weeds present, and spraying at the right time, is critical.
Perennial weeds start moving more energy to root systems as the weather cools. When applied at this time, glyphosate can similarly enter root systems at a greater rate, making the active ingredient an effective control for overwintering weeds such as Canada thistle, perennial sow thistle, dandelion, and others.
Annual plants are a different beast. Though still effective, glyphosate's comparatively slow speed of activity means it is often accompanied by more fast-acting products (such as carfentrazone in Aim, saflufenacil in Eragon LQ, and diquat Reglone). Cowbrough and Bohner say such tank-mixes are not ideal for combating perennials since fast ingredient activity can impede glyphosate from moving within the plant, thus reducing the effect of systemic activity.
Not harvesting before designated interval periods is critical as well. The application to harvest interval for glyphosate, for example, is one week. Cowbrough and Bohner add Eragon LQ has a three-day interval, although the realities of weed dry-down time mean harvest readiness typically occurs at or after a week.
"If a tank mix is applied, you must use the longest pre-harvest interval of the products used," cautions Bob Thirlwall, market development agronomist for Bayer Crop Science. He also advises farmers against pre-harvest herbicide applications in Identity Preserved (IP) and other non-GMO varieties since contracts from some buyers prohibit the practice.
Where pre-harvest herbicides are permitted, however, farmers need to apply substantially more liquid per acre to achieve adequate coverage on weeds which frequently reach two or three feet in height. Thirlwall recommends a per acre rate of 15 gallons as a guideline.
"Coverage is really important," he says. "I think most people realize that, but its probably one of the most important things."
TIMING
The timing has to be right as well. Dry conditions and the resulting partially hardened-off weeds can be slow to show herbicide response, so an earlier application might be required. Particularly with IP varieties, however, Thirlwall reiterates it is critical to not spray before maturity is near — specifically when moisture levels are at least 30 per cent or lower.
Cowbrough and Bohner similarly say applying herbicides too early can result in yield losses and chemical residues within soybean seeds, the latter being a serious problem at marketing. Waiting until seed fill is complete is the best option.
Seed fill, they say, can be determined by "a colour change of the seed from green to yellow…A change in colour is defined by the absence of any green colour left on the pod. At least 90 per cent of the pods need to have changed colour and no longer contain any green. This stage of the crop typically occurs when there is at least 80 per cent leaf drop, although a field should not be assessed by leaf drop alone."
Seeds separating from the white membrane within the pod can also indicate spray readiness. Analyzing randomly selected pods from the top third of different plants — maturity is generally more advanced on lower parts — is a good way to check.
Cowbrough and Bohner provide a full list of pre-harvest herbicides for use in soybeans in their article "Pre-Harvest Herbicide Timing in Soybeans" available at fieldcropnews.com. Always read and follow the label for directions on use and precautions of all herbicides. •