Field observations
Fall 2021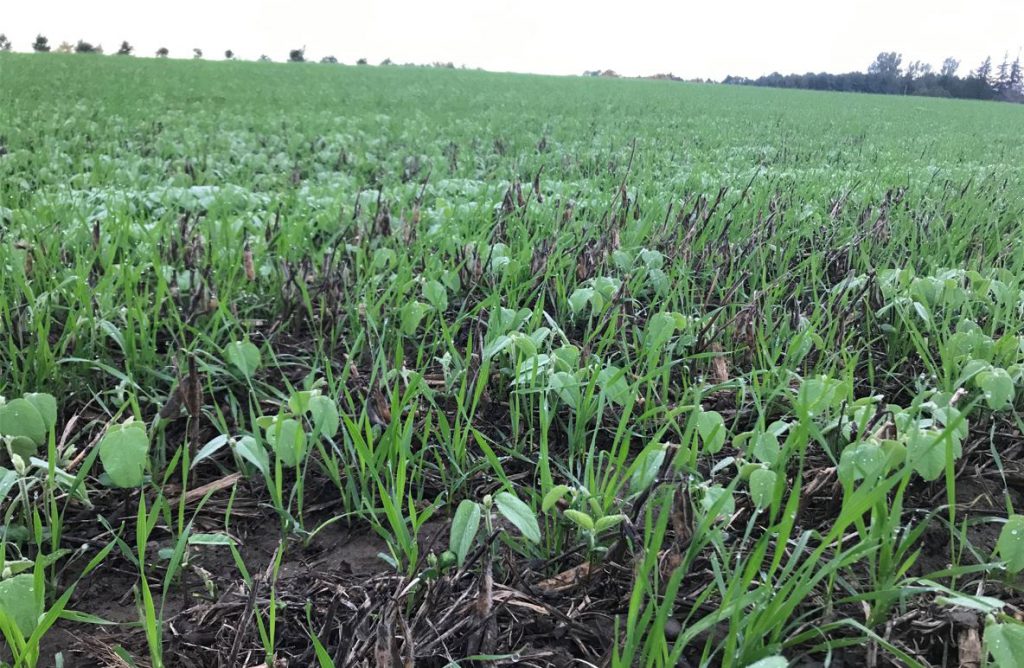 October 15, 2021
As October rolls on, so does soybean and corn harvest in areas where weather permits. Corn is drying down faster than expected thanks to warmer temperatures. Even though we have received the occasional rain shower and higher than normal humidity, corn moisture continues to drop. Winter cereals that have been planted have seen great early growth with warm and moist conditions to entice seedling growth.
Corn
Over Thanksgiving weekend and into this past week, farmers got a start at harvesting corn in some areas. Moisture levels ranged from 21 to 25 per cent. Approximately five to 10 per cent of the crop is harvested.
With harvest occurring earlier (roughly by two weeks), there is an opportunity to do some extra fall work to get ready for next spring. Warm open falls, if it can stay dry, can be an excellent opportunity for fall strip tillage and to apply some phosphorus (P) and potassium (K) for next year's corn crop. The right placement of fertilizer is one of the 4Rs of nutrient stewardship and is practiced by many farmers.
Soybeans
Ontario regions that had excessive rain, or continual moisture, still have some standing soybeans in fields, waiting for field conditions to improve as to prevent excessive compaction at harvest. Once fields dry up, or alternatively a bit of cold weather helps firm up the ground, those fields will be harvested. Roughly 50 to 75 per cent of the soybean harvest is complete.
Double crop soybeans (July planted after winter wheat) are approaching physiological maturity (R7) as the fields are yellow and many leaves have fallen off. Physiological maturity in beans occur when the seed is no longer attached inside to the pod. Which in the corn plant would be equivalent to black layer. If you crack open pods and find the beans are still attached, then they are still susceptible to frost damage. As we have received very favourable temperatures this fall, the double crop soybeans are maturing naturally and seem to have avoided any frost damage this year.   
Wheat
Wheat that was planted in ideal conditions at the end of September has established well in the past two weeks. Early tiller development before winter freeze up will allow this crop the potential for high stem and head counts.
With continual wet conditions coupled with warmer temperatures after soybean harvest, we are seeing a second crop of soybeans after harvest this fall. The soybean seeds left in the field during harvest would be due to shatter at the combine head, or seed that was too small and light that was blown out the back during the trashing process, or in some cases where hail was received which shattered the seeds from the pods. This normally isn't apparent in the fall, but this year's wet fall weather and warmer temperatures have been ideal for soybeans to germinate on top of the soil while rooting themselves in the ground. Soybeans will die off with a frost, however, in some cases the soybeans are quite prolific in recently planted winter wheat fields. If soybean plants are covering the wheat crop and affecting wheat establishment, it may be worth seeking out some guidance from your local agronomist on how to handle them, a herbicide application may be required if frost doesn't get them first.
Fall management
Speaking of weeds, Mike Cowbrough, Weed Specialist- Field crops with the Ontario Ministry of Agriculture, Food and Rural Affairs has shared his Top 5 Fall Weed Control Tips with us.
---
October 8, 2021
Soybean harvest and, subsequently, winter wheat planting was at a standstill this week across much of the province as weather dampened the progress made the week before. Some corn harvest has begun but is limited to early contract fulfillment and early plant dry down where risk of stock lodging is high. Thanksgiving 2021 looks to be at the kitchen table for much of the province rather than in the field this year. Lots to be thankful for in Ontario, so hopefully everyone can enjoy Thanksgiving with family and express gratitude.

Corn

As weather has brought soybean harvest to a stand still, combine headers have been switched and corn harvest is beginning. General observations indicate many corn fields have cobs that have filled to the tip better than in previous years. Kernel counts per ear are higher and kernel depth is excellent. For those healthy fields, grain fill and test weight should be strong with expected yields being very promising.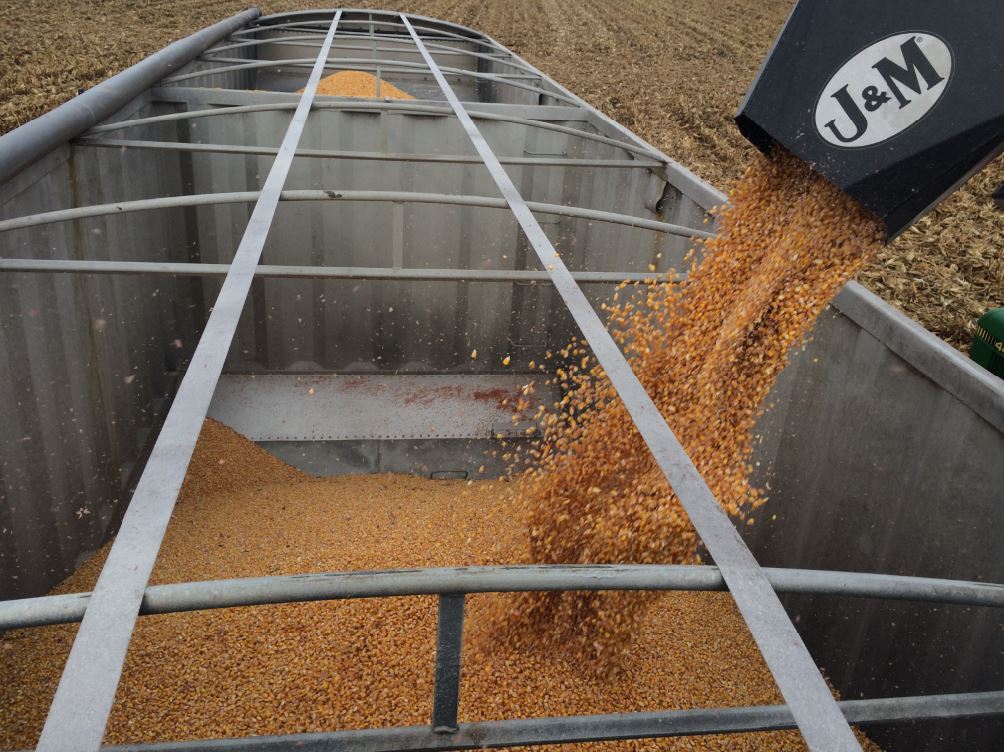 When you are out checking corn fields for moisture levels, make sure to look at stalk quality. A great way to do this is to push the corn stalk to a 45-degree angle. If it comes back up, great, if the stalk collapses and stays bent, target that field for early harvest. Another option is to kick the lower portion of the stalk but do this carefully and only when wearing steel-toed boots. If it breaks, target for early harvest as well, but usually as you walk through the field you will get the clues if stalks are breaking when you cross over the rows. Stalk rots are a common culprit for poor stalk strength as well as plant canalization from leaf diseases or nutrient defences. Empty stalks leave no cellular structure to hold the plant up and stalk collapse is inevitable once the winds come in.
Anthracnose is a dominant stalk rot disease that attacks the roots and stalks of plants that may have already shown some leaf disease. Spores from this fungus can remain alive for many years. When rain splashes the spores onto the lower stalk area it makes shiny black spots and then the stalks become black inside, rot, and fall over. Gibberella and fusarium stalk rots are also caused by fungi that can live in the soil for many years. If the stalk is cut open with a knife (use caution when using knives) the inside of the stalk may have a pinkish colour indicating fusarium and gibberella may be present in the stalk. Many fields may be one strong windstorm from lodging.
The Ontario Grain Corn Ear Mould and Deoxynivalenol (DON) Mycotoxin Survey was conducted over the last week. Grain corn is being analysed for DON levels at the lab. The report from the surveyed fields will be available in the upcoming week.
There have been many reports of fertilizer supply chain issues. Many farmers have locked in prices for spring fertilizer. If fertilizer needs have not been locked in, it may be a good idea to at least speak with a fertilizer supplier to learn more about what they anticipate the markets are doing as there may be concerns for spring supply.
Refresh your grain bin safety knowledge by listening to our GrainTALK: Grain Bin Safety webinar It is 30 minutes long and could save your life.
Soybeans
Soybean harvest had a few good days before being shut down again for much of this past week due to rain. Harvested acres range from 50 to 90 percent in areas across Ontario. Many soybeans are coming off with good moisture and yields. In the far northwest, many soybean fields have been harvested, albeit with lower yields, and farmers are moving onto corn harvest.
Cereals
Many winter wheat acres were planted prior to rains arriving. Now that we have entered October, the winter wheat planting window has closed or is closing very quickly across the province. If planting past the optimum planting date, increase the rate by 100,000 seeds per acre per week. Optimum planting dates for winter wheat can be found here.
Agricorp planting deadlines for fall seeded grains can be found here.
The deadline to submit yields for spring grains and spring wheat is October 31, 2021.
---
October 1, 2021
Soybean harvest is back up and running this week now that the ground has started to dry out from last week's more than abundant rainfall. Yields are respectable with ranges from mid-50s to low 60s with extremes on either side of the range. The dry week has allowed many farmers a chance to harvest lots of the soybean crop. Wheat is being planted timely after soybean harvest this week. Corn has reached full maturity (black layer); while some of the maturity was premature, disease and stress has caused some concerns and farmers will need to select the weak fields for harvest before the October winds come howling.
Corn
When black layer occurs, we can expect the grain moisture to be in the 32 per cent range. Grain drydown will be the next phase over the month of October. Warm, dry weather can bring grain moisture down rapidly, but cooler weather with average rain showers will slow the drying process as humidity in the air is higher. Average fall conditions in October and November can see grain moisture decrease one per cent in three days; or over 30 days, 32 per cent corn could be 22 per cent. As we have matured a few weeks earlier this year and still have lots of time left this fall for warmer weather, we can expect some warmer weather and we can shed 10 per cent moisture in 20 days. Earlier planted or early maturity corn may have already reached black layer and has lost moisture with the warm September we experienced, and it could have lost up to one per cent moisture per day. Watch those fields that died down early due to disease. They will have been cannibalized and the stalks will be weak and the grain fill will be immature with lighter grain and rubbery cobs, adjusting the combine and harvesting soon will reduce field loss.
With recent rains, Northern corn leaf blight has really developed quickly on top leaves of corn. As you scout the fields, you will see this disease shutting the plant down in many cases. Tar spot severity has remained about the same over this past week with its spread across southern Ontario and it is now found in Niagara and as north as Bruce, Grey, and Dufferin counties.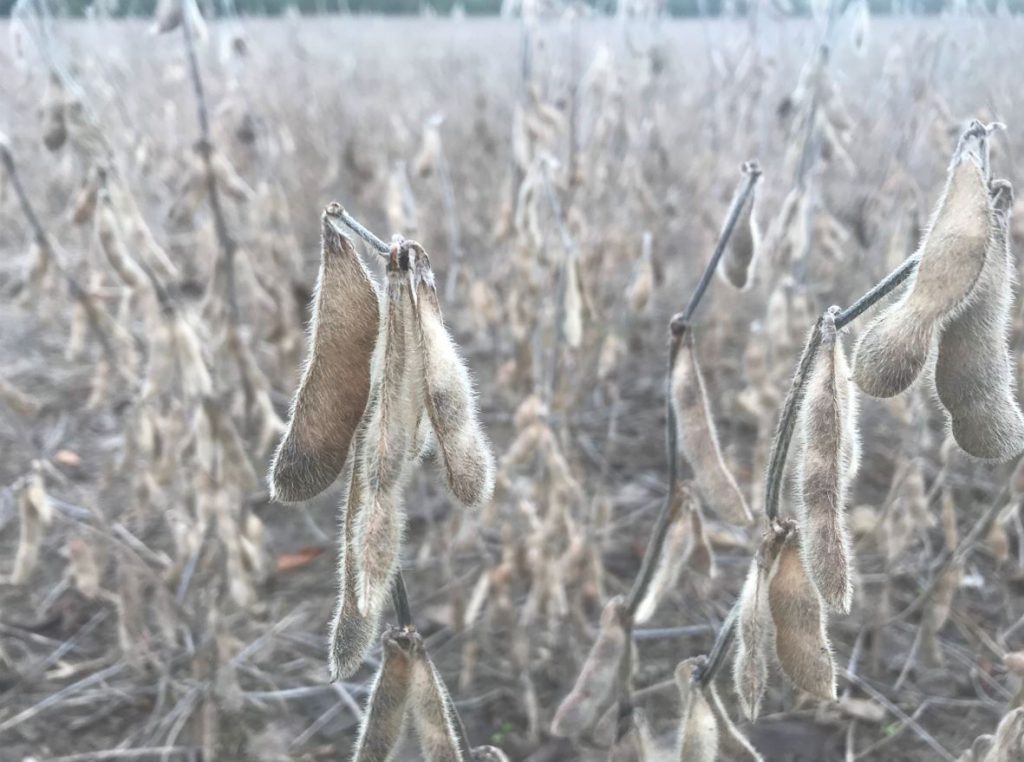 Be sure to assess stalk strength in fields and target lower stalk strength fields for early harvest. Disease can cause stalk strength to lower.
Soybeans
It was a bit of a waiting game earlier this week as farmers waited for ground conditions to be fit enough to travel over for soybean harvest. The rain delay from last week did allow fields that needed to even up, to do so. When harvest started up again early this week, moistures were anywhere from 10 to 16 per cent and drying quickly as humidity was low.
Wheat
After heavy rains, be sure to get out and check your planted wheat – did it get washed away? Did it germinate and then drown in saturated fields? Or it is emerging fine? Sometimes after heavy rains, like many experienced, wheat may need some patching up or reseeding. If you find dead wheat, make sure to contact Agricorp for reseeding benefits.
---
September 24, 2021
The start of the week presented ideal soybean harvest conditions across much of the province as farmers got into some drier than expected soybeans. But as has been experienced for much of the growing season, sporadic rains wandered across the province bringing harvest to a halt in most areas. Very heavy rains hit in some areas creating flooding. Wheat planting also got underway at the start of the week, before being halted by rains as well. A few sunny days will have harvest and planting back up and running in many areas.
Corn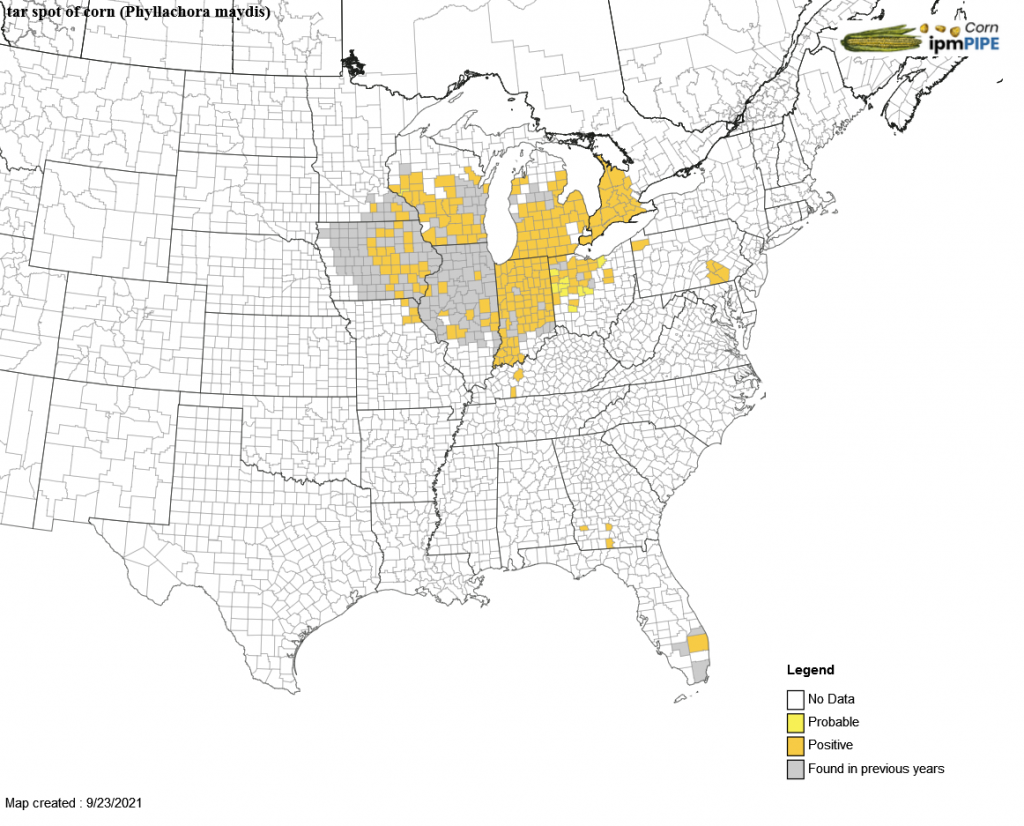 Some early day corn has started to be harvested, with moistures much lower than can be expected at this time of year, around the mid-20s mark. For fields that still have green leaves in the past few weeks, the plants were able to completely fill the kernel with great kernel depth and increase test weight. Those plants that have turned brown may have succumbed to an early death due to disease, drought, earliness, etc. These fields will need to be monitored and evaluated for harvestability and early stalk lodging. Do a stalk strength test by pinching, bending, pushing, or kicking the stalk, all forms of stalk testing is good. If stalks break easily with the push test, schedule these for an earlier harvest because as winds come in the fall these fields will be prone to lodging and field grain losses will be greater.
Tar spot should be on everyone's radar with confirmation of the disease being present from deep southwestern Ontario all the way to the western Greater Toronto Area. For more information on this disease, follow updates at fieldcropnews.com and view the latest counties affected here.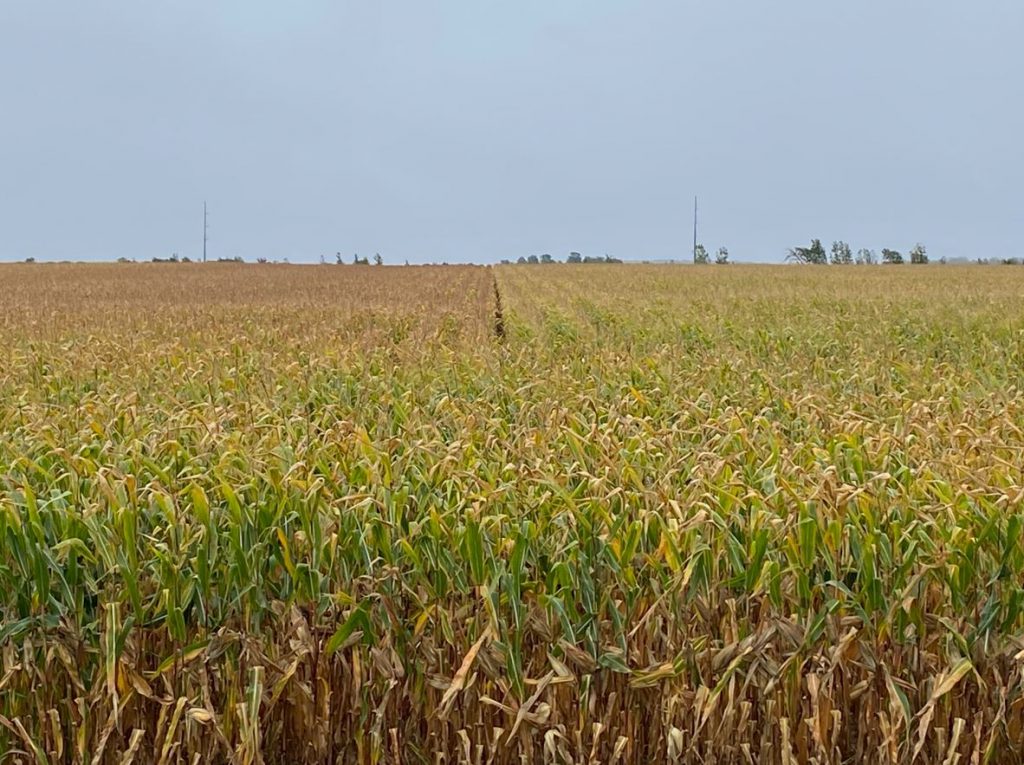 As we approach corn harvest, if you are concerned with potential DON testing, check with your local elevator on how they conduct their DON sampling procedures. DON in many areas will most likely be at low levels this year, but still present in some hot spots where weather conditions were ideal for fusarium development. The ideal sampling at elevators will take a two kilogram corn sample to full grind and then pull a homogenized subsample of ground corn to run the Eliza test (dip test). To learn more about the ideal testing procedure, watch here.
Grain Farmers of Ontario recently hosted a roundtable session at Canada's Outdoor Farm Show titled "A look at this season's crops in 2021". The discussion was hosted by Laura Ferrier, Grain Farmers of Ontario agronomist. She was joined by Ontario Ministry of Agriculture, Food and Rural Affairs (OMAFRA) specialists Joanna Follings, Horst Bohner, and Ben Rosser as they shared learnings from this year as well as what to think of in the coming weeks with corn and soybean harvest, along with winter wheat planting. You can watch the half hour taping here.
Soybeans
Late last week soybean harvest was occurring across much of the province. Moistures reported were anywhere from nine to 16 per cent with yields ranging from 40 to more than 70 bushels per acre on excellent ground. Some farmers were surprised at how low moistures were as the soybean plant had just matured, but with lower humidity and bean seed maturing before full plant death, dry seed moistures can occur quickly.
When soybeans are under 13 per cent, elevators don't adjust weight up for dry soybeans, so shipping too dry soybeans is like giving a percentage of your beans away for free. Even paying a little bit for drying charges and taking a bit of shrink for wet soybeans just to get them off the field and in the bin is always worth it compared to weight lost to dry soybeans and delayed harvest. Also, future weather predictions are sometimes incorrect for clear days to harvest, so waiting for perfect moisture at 13 per cent will not happen on many fields. By getting the soybeans off the field in a timely manner it also allows wheat to be planted in close to ideal conditions without ending up mucking in the seed later in cooler conditions when seasonal weather occurs.
Another thing to consider is safety along with mental health – giving a little extra room for harvest and planting allows less stress to hopefully be put on farmers and employees, with more flexibility and the potential chance for more sleep. Working while tired is as dangerous as impaired driving.
Wheat
Winter wheat that had been planted up until the recent rains this week went into near ideal conditions, warm soil temperatures, dry ground for less compaction at planting, and then received timely rains to help germinate the seed.
If planting much earlier than your optimum planting date, backing off on the population is advised as good plant growth and tillering can be expected with the warmer fall that is predicted. If planting at ideal dates, population should be at normal populations and later planting dates will require higher populations in order to compensate for less plant growth and fewer tillers. Planting populations range from 1.2 million to 1.8 million seeds per acre depending on planting time, soil type, and management. Always check your seed source and adjust population depending on the tested germination. If planting by pounds per acre, as that is how the drill is set up, make sure to check seed size and adjust how many pounds you are seeding. Based on variety and environment where the seed was grown, seed lots can vary up to 3,000 seeds per pound. If seeding 103 pounds to the acre this could mean close to 400,000 seeds per acre difference. Which in turn could mean a too thin stand or a way too thick stand that may get more disease and be more prone to lodging. Be sure to adjust the planter.
Safety
This time of the year is extremely busy. Keep safety at the top of mind. As harvest progresses remember to adhere to bin safety measures (don't enter alone, remember to lock out/tag out, wear a mask and goggles) refresh your awareness here.