Field observations
Fall 2021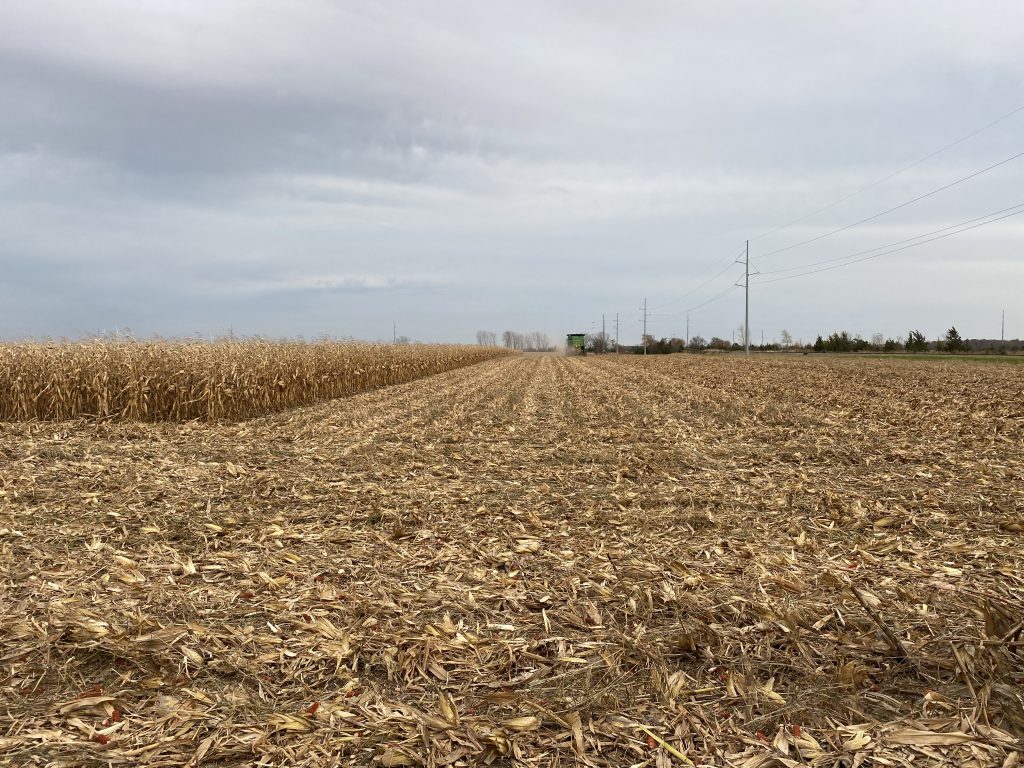 November 19, 2021
Snow, ice pellets and rain were experienced across the province early in the week, with some regions receiving 15 plus centimeters of the white stuff, putting harvest on hold again. However, last week was a welcome break in the weather and many acres of both corn and soybeans were able to be harvested.
Corn
Corn harvest is roughly 90 per cent complete.
Tillage on corn ground and other ground that experienced damage during harvest has commenced in some areas. Learn more about how to repair damage to soil caused at harvest along with how to make your soil more resilient here (fact sheet link).
Soybeans
In some areas soybeans are still out in fields. Many are now waiting for the ground to freeze up before continuing, in order to assist with grain quality at harvest.
Wheat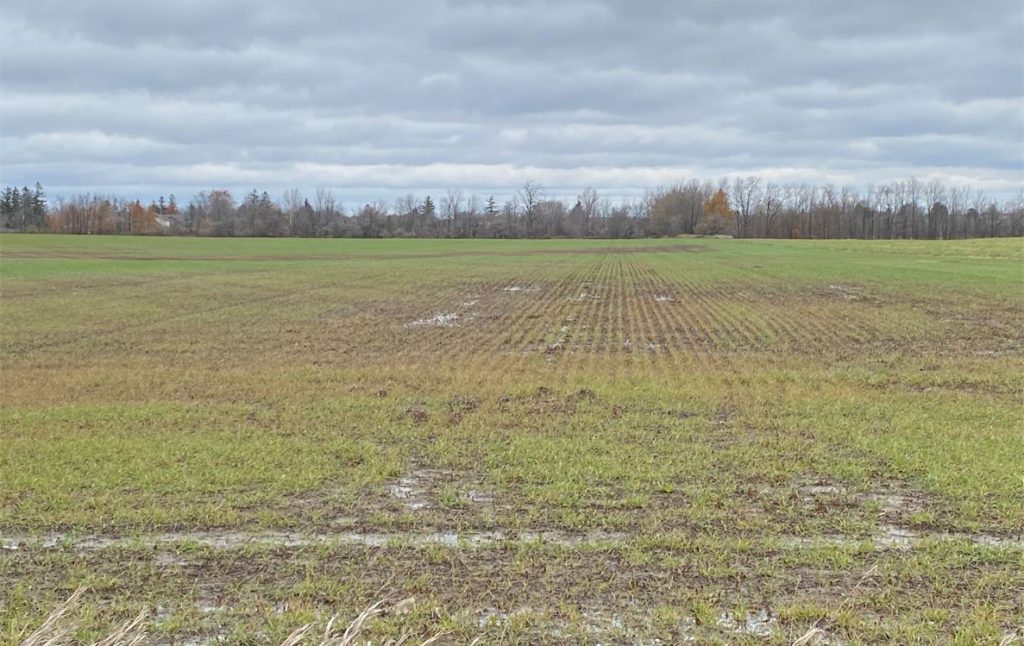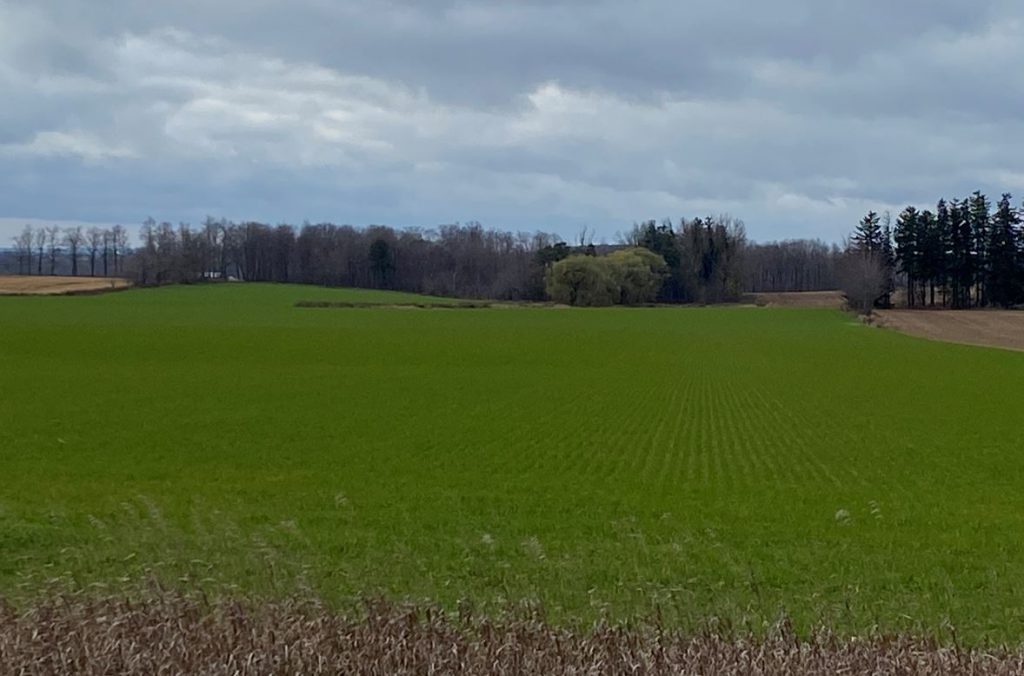 Some late planted wheat was still making its way into the ground over the past weekend. If late planted, be sure in the approaching spring to apply some nitrogen early during green up.
Some late planted wheat may not emerge from the ground. So how does that affect vernalization? If the seed has imbibed water, it can start the vernalization process. Vernalization is required for winter wheat, where it undergoes a period of dormancy in order to flower.
Lots of wet weather has made the winter wheat extremely variable across the province.
Post-harvest evaluations and assessments
Now that harvest is wrapping up it is important to look back over the year and consider what went well. Did seed treatments work well? Was there a particular weed that was troublesome to control? Would a fungicide application have made for better plant health? Was there a management practice that could be implemented or improved?
Other considerations should be for the quality of grain at harvest. Make note of any major grain concerns such as moisture, insect, or disease damage. Were pods and cobs full or was there something lacking that lead to reduced yields that could be controlled in the future.
If there is access to yield maps be sure to utilize them for more than to see field inconsistencies. Comparisons of hybrids, varieties, planting dates and trends can be deciphered. All of the information can be overwhelming so work with your agronomist to best utilize the data.
Seed Selection
Now is the time for selecting seed for next season. Reference our factsheet on Choosing the Right Seed for a refresher on considerations when choosing seed.
Check out www.gosoy.ca mid next week for 2021 soybean trial data.
---
November 12, 2021
Drier weather patterns over the past two weeks have allowed harvest to resume in many areas of the province. Some locations received rain mid-week. Harvest progress has been made and while the majority of the crop is off, some soybeans and corn remain in fields. Wheat is looking like the tale of the good, bad, and the ugly as many fields have been stressed and are in variable states.
Corn
Soil conditions have firmed up this week allowing harvest to continue in many areas that were too wet early last week. Majority of the corn has been harvested with still a few acres left to go as grain dryers and storage facilities are filling up. Corn harvest is around 90 per cent complete.Phantom yield loss is a topic discussed around the countryside. But what really is it? Phantom yield loss occurs when a crop is allowed to naturally dry down to lower grain moistures in the field prior to harvesting. When looking at corn, the kernel is alive even after black layer stage, and the kernel respires which can cause kernels to lose weight due to metabolic activity in the kernel. As kernels remain in the field and above the 15 per cent moisture level, the kernel will continue to respirate. To learn more about this loss, Missy Bauer, Farm Journal field agronomist, shares more here.
Another area of loss that has been seen this year on the later harvested corn is from germinating kernels. Back in early October, the corn looked great and had excellent quality with exceptional test weight. However, October rains occurred for a prolonged period and where there were upright ears, husks held onto water and kernels sat in water for a prolonged period. The rewetting of the kernels at the butt of the cob caused kernels to germinate. Sometimes green could be seen, but for the most part germinated kernels were not evident unless the cob was shelled, and the actual sprout and root were then visible. When dry weather arrived, kernels and husks dried but the damage was done as the rewetting of the kernel caused the enzymatic active to burn the starch in the kernel and lose weight. As these kernels hit the combine, they broke apart creating extra fines. This lowered yields through loss of grain and with lighter test weight, as compared to the same hybrid being harvested earlier before the rains.
Some fall tillage on corn stalks has started in areas where it is possible.
Tune into the #GrainTalk podcast this week where Laura Ferrier, Ian McDonald, and Alex Barrie discuss fields that have had damage this year during harvest, how to fix damage going forward, and how to create resilient soil.
Soybeans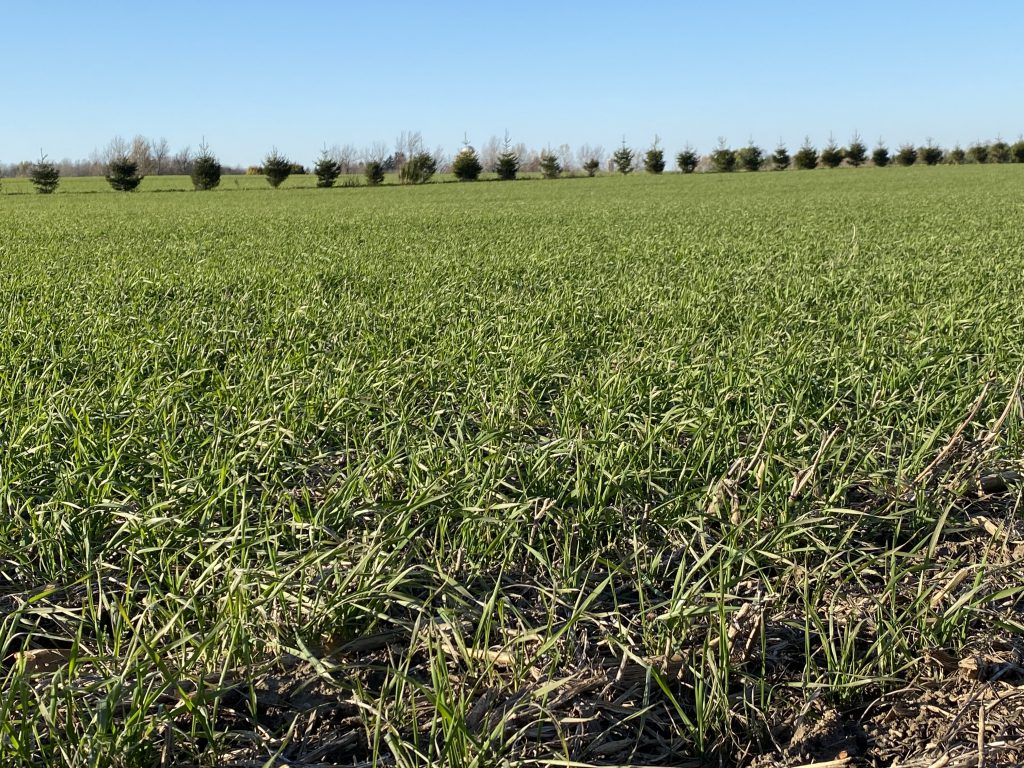 With drier conditions over the past week, soybean harvest was able to resume. The majority of the soybean crop is off, but some areas of the province still have more soybeans out then they would like. Double crop soybeans matured in October and any remaining green plants were killed off by killing frosts in early November. The open fall has allowed the second crop of soybeans to mature and provide better results than would be expected in a normal fall with earlier frost dates. Farmers only needed to deal with wetter than normal harvest conditions limiting field access.
Wheat
In some regions, winter wheat is looking quite good, in other areas, it has turned yellow or even brown due to saturated soils limiting oxygen exchange in the roots. A big question currently in some regions is how will winter wheat handle the winter with such saturated soils. Will high soil moisture at time of freeze cause damage to the plant?
In past situations where wheat went into the winter months surrounded by water and ice, the largest contributing factor on winter survival was the soil condition, structure, and drainage. In past years, wherever water laid and was not able to drain through the soil profile, there was essentially no wheat there come springtime. Basically, when soil is saturated, there is no ability for gaseous exchange and the roots suffocate, it may not look like the field is flooded but poor soil aeration will cause plant death. A good example is in fields that have tile, wheat will come through over the tile runs better than the areas between the tile runs, as the tile below allowed for drainage to occur and prevent root suffocation.
To determine if the plants are dead, cut the plants in half and look at the inner tissue. If it's white and looks like new green coming out of the new shoot area of main plant or tillers, good conditions will allow plants to recover and continue to grow. No doubt with brown and yellow stands the crop has been set back, but with favourable conditions the crop can still develop further and produce grain. Spring heaving and evaluations on wheat stands will be critical next spring.
Fields that had volunteer soybeans emerge after wheat planting, killing frosts have since killed the soybeans.
---
November 5, 2021
It was a slow start to the week in Ontario as farmers were recovering from more than three inches of rain last week in some areas. Rivers were full and creeks overflowed their banks. It has taken a good portion of this week for a lot of areas to drain.
On lighter ground, corn harvest has been able to carry on in some regions by mid-week, while others are at a full stop with water ponding in fields. As the wet weather has continued, the crop quality on soybeans and corn left in the field is starting to degrade quickly.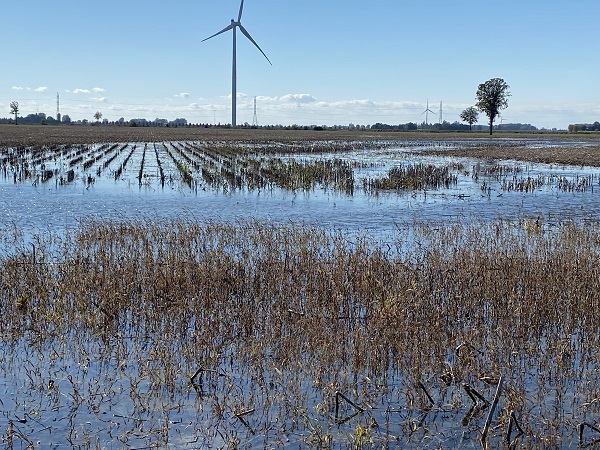 Corn
Corn harvest has continued where possible, with roughly 40 per cent remaining. Compared to past years, corn harvest is close to being on schedule, but with the earlier crop maturity and excellent September it looked like we would be all but done by the end of October. Not so, a month of wet conditions have played havoc with what was considered one of the best corn crops in the province's history. The concerns occurring now will be stalk degradation from the wet weather making the plants heavy, as well as continual cellular breakdown of stalks. Expect more stalk lodging as the stalks melt away in the fields.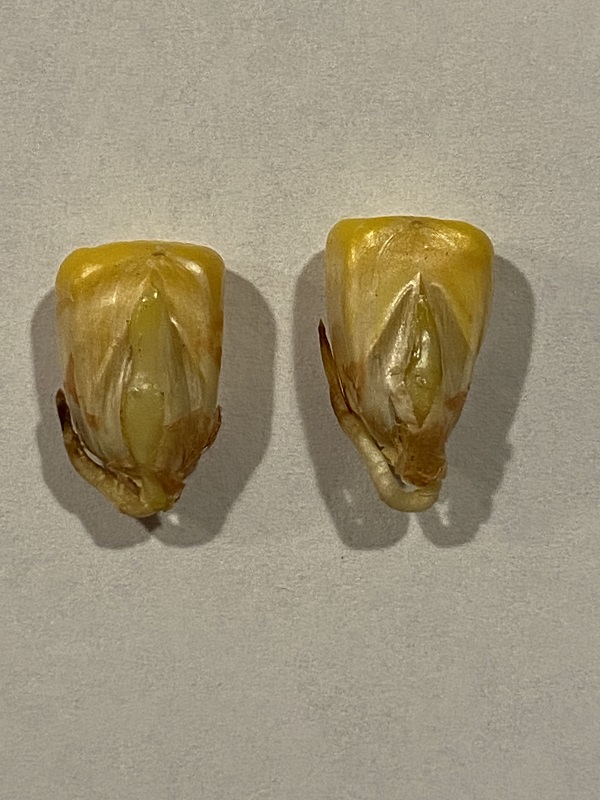 Grain quality is also taking a turn for the worse as wet conditions set in and for those ears that were standing upright, water pooling in the ears has led to more germination of the lower cob in many cases. Wetter grain, lower test weight, and more cracked grain will result.
If you are dealing with some ruts this fall, Ian McDonald of Ontario Ministry of Agriculture, Food and Rural Affairs shared with the Ontario Grain Farmer magazine some ways to help repair. The article is based on field damage made in the spring, but the suggestions still are valid. Find the article here.
Soybeans
With rain holding off in areas this week, some farmers have tried to get a few more soybean acres off at the end of the week. Some ground is not drying out and the next hopes are that the ground will eventually freeze up to resume harvest. Across much of the province, every week in October has seen more than one inch of rain; last week, almost four inches of rain fell in some regions. It is wet.
Roughly 20 to 30 per cent of soybeans are still left in fields. There are concerns of IP soybean quality going forward, and remaining IP acres may end up in the crush market.
Cereals
The Ontario Cereal Crop Committee has released their Ontario Spring Cereal Performance Trials with data collected in 2021.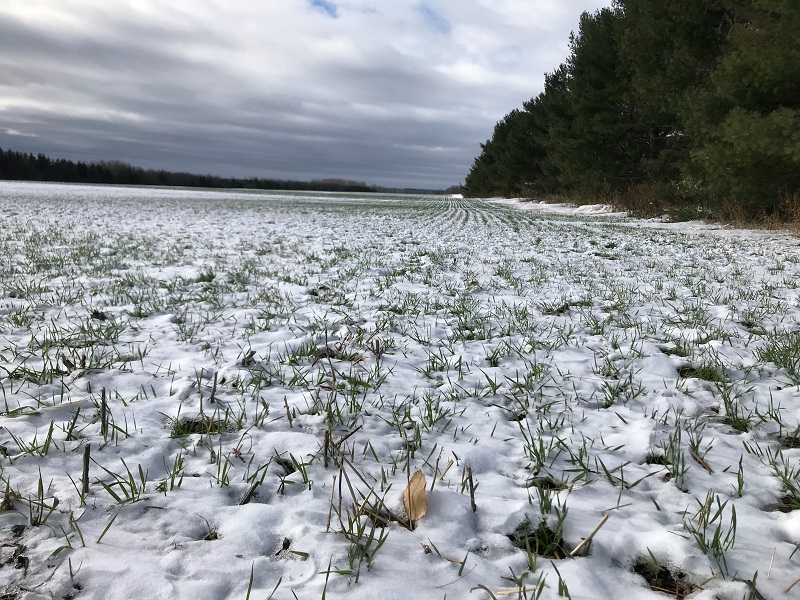 Winter wheat continues to grow, in some regions looking quite yellow due to lack of oxygen in the soil. As temperatures begin to drop, winter wheat begins to acclimate to the cold. Certain genes within the wheat produce a substance that protects the cell membranes. In a wheat plant that has developed a minimum of four to five leaves and one to two tillers, cold acclimation begins when soil temperatures at the crown go below 10°C. If the plant is not at this stage, the lack of tillers heading into winter can result in an inadequate number of heads the following year, affecting yield. Tillers can still develop in the spring, but the yield potential may differ between tillers formed in the fall and tillers formed in the spring. It takes approximately four to six weeks with soil temperatures below 10°C at the crown depth for the wheat plant to fully harden. The colder the soil, the more quickly the plants develop winter hardiness. The fluctuating air temperatures that we are seeing also influence soil temperature to a point. Once the cold acclimation begins in the fall, wheat plants can unharden when soil temperatures at the crown go above 10°C and will re-harden when the soil at the crown goes below 10°C.
---
October 29, 2021
Rain, rain go away come again… in summer 2022. That is the sentiment in the agricultural crop side as we deal with the end of a very soggy October. Much of the province received heavy rains and some high winds this past week, bringing any harvesting that had been occurring to a halt.
Corn
Prior to the rains this week, many were in a trial-and-error mode to see which fields would carry combines and grain carts, some regions were able to harvest with normal practices, while others had to operate at limited capacity with half loads to get the crops out of the fields. When field conditions allow harvest to resume, there will be instances that can rival Corb Lund and his truck got stuck song. Large ruts in these wet soil conditions will be a common sight this fall. Now probably isn't the time to be remedying these issues, but building resilient soils is something to consider in future years, and will benefit in both wet and dry years. Learn more here.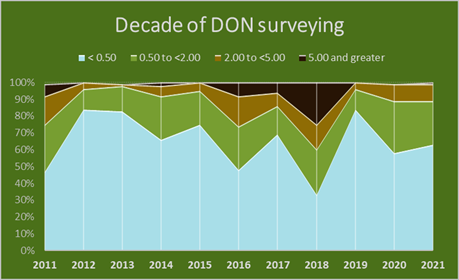 In a normal year, soil moisture in the fall is lower and allows for proper soil fracturing when ground is worked, however, this year, soil moisture is excessive than most years previously. When soil moisture is at field capacity or above, any travel over the field can cause maximum soil compaction. Working the ground when it is too wet creates issues such as compaction, ineffective soil fracturing, and smearing of the soil, while creating large clods of soil. So, tillage when conditions are not ideal can damage the soil, reducing long term soil quality and reducing yields in future years.
Corn germinating on the cob is another concern in areas, as moisture caught within the husks of upright ears have rewetted the kernels leading to germination. If kernels were stressed or damaged during grain fill or have fungi present, there may be hormonal differences in the kernel that with the right temperature and moisture can be susceptible to sprouting.
The 2021 Ontario Grain Corn Ear Mould and DON Mycotoxin Survey has been released. Samples pulled at 205 locations this year have results that line up with our long-term average. So, it is an average year for DON, mostly good clean corn with a few spots hit and miss that will have a bit elevated DON levels. The report can be found here. lso, for more information, listen to the latest GrainTALK podcast to hear Ben Rosser and Albert Tenuta discuss the report and details of DON.
Soybeans
Much of Ontario has now received a frost., The average frost date for the Guelph area is October 1 to 10; this year the frost held off until October 24, when much of the province received it's first reminder of winter for the season. Average fall frosts can be seen here. Volunteer soybeans that were growing in winter wheat crops are now beginning to die off.
There are still some acres of soybeans standing, roughly 25 to 40 per cent left. Many saturated fields are in a holding pattern until freeze up to allow access to the fields. With the continual rains, soybeans have not dried, and the prolonged wet phase will have detrimental effects on the seed condition. Before harvesting too many acres of poor-quality soybeans, run some samples to receiving elevators to check on marketability.
Wheat
Wheat is under stress in most fields. Continual rains have kept the soil saturated with water and limited the ability of the plant to breath. Roots need to breath and without the gaseous exchange, the plants are turning yellow.
With continued wet conditions in parts of the province this fall, some farmers are either close to, or past, the deadline for planting winter wheat. Agricorp states that anyone who chooses to plant after the deadline can still contact them in the spring, prior to May 1, to request an inspection. If the crop survives winter, Agricorp will offer to cover the crop through to harvest, but it would not be covered for winterkill. Planted winter wheat acres can be reported online at www.Agricorp.com/acreage.
Mental Health
There have been a lot of curveballs recently: weather, increasing fertilizer prices, increasing chemical costs, fear of supply issues come spring. We are all in this together, however, some of us are potentially more well set up than others to provide help to others in need.It could be as small of a gesture as a visit or a call to a farming friend, or a quick check-in on your neighbours. If you have the ability to step away from it all for a few days- take that opportunity. If you are able, offer to help other neighbours with completing harvest or perhaps run for some parts. You never know when your time and care might make (or save) someone else's day. Take advantage of any number of resources available.
---
October 22, 2021
Many have stepped from soybeans into corn as weather has put a damper on soybean harvest.
Looking back, this same week last year saw quite a bit of snow in the northern parts of the province. Fortunately, mother nature has decided to hold off on snow for a little bit longer. However, lots of rain is still slowing harvest, many reports of stuck equipment have been shared.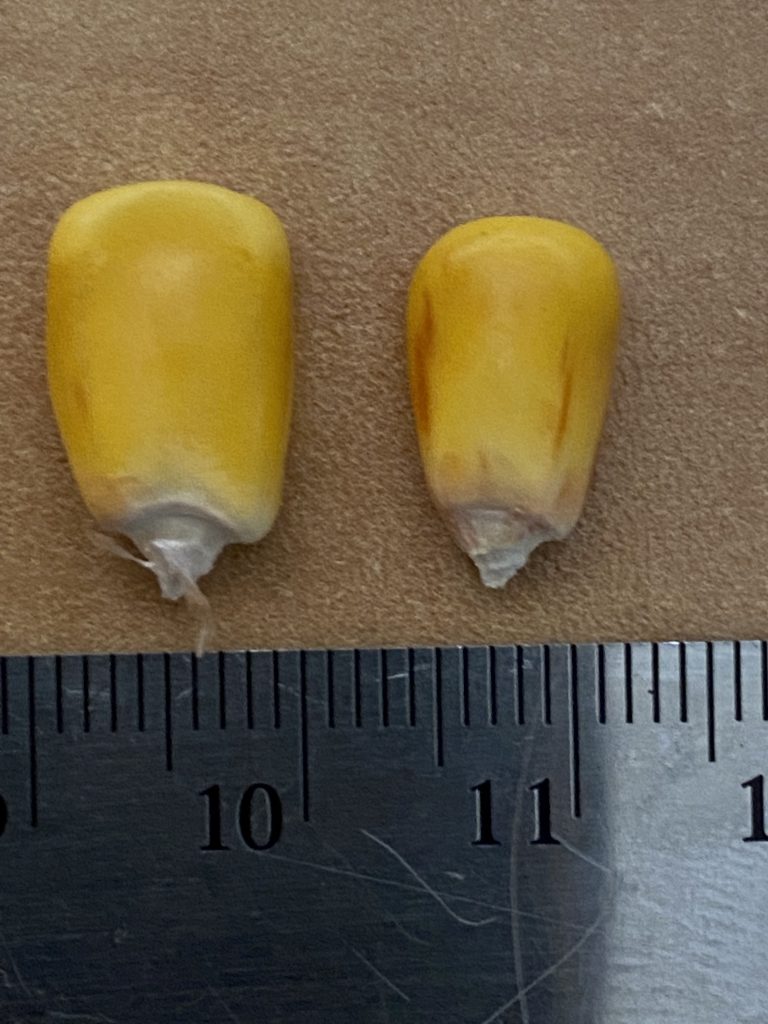 Corn
As regions are able, corn harvest continues to progress slowly, moistures are in the low 20s with some reaching high teens. Roughly 5 to 25 percent complete in areas. Many farmers have been reporting excellent yields and quality.
In Northwestern Ontario, rains that arrived too late have been preventing the completion of harvest. Many corn acres were harvested for silage to supplement beef and dairy cattle herds as planned or to assist those that were short on feed. The remaining grain corn will be harvested as weather allows. A first heavy frost has arrived in northern Ontario, over a month later than typical.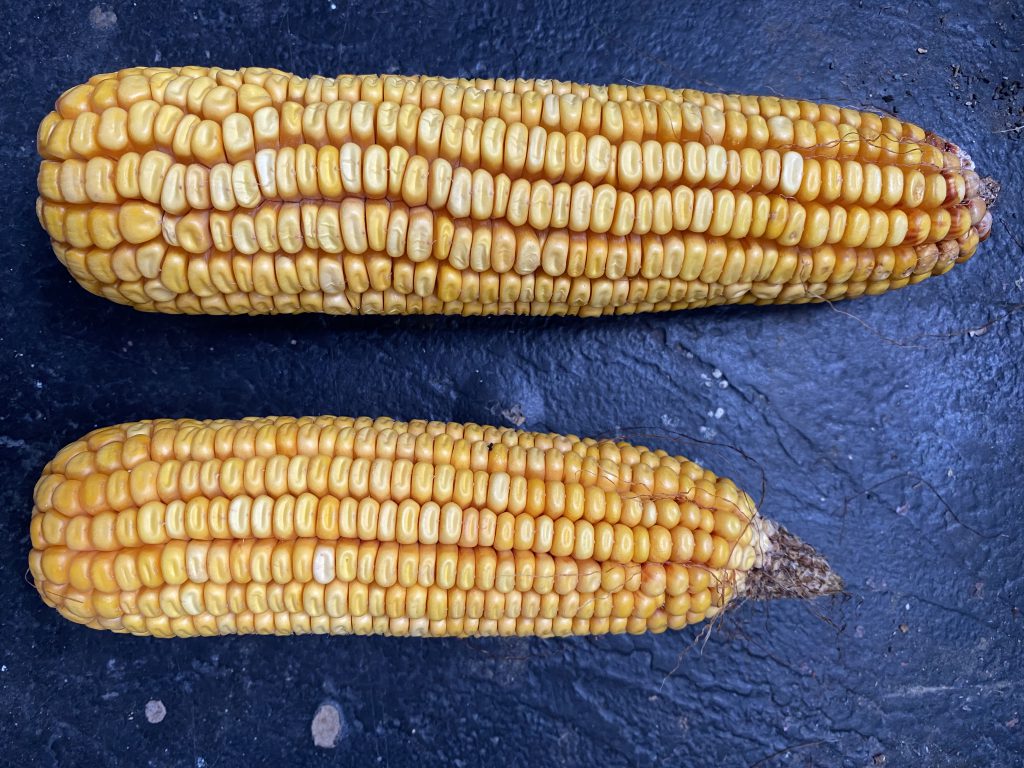 Kernel depth will be the story line this year on how so many farmers were able to bust through their yield ceiling. The picture below shows an ideal cob (not stressed) with another cob (stressed). Both cobs came from the same field and are the same hybrid, the poorer looking cob just emerged several days later. The ideal conditions cob that didn't have stress and stayed green until well past black layer (physiological maturity) shows what is possible this year where farmers had uniform emergence and no stress throughout the year. If the plant is protected from weeds, disease and insects and allowed to maximize kernel size with adequate moisture at grain fill it can give the ability to exceed glass ceiling yields. The cob on the left had 630 kernels weighing 267 grams, the poorer cob had 86% of the ideal cobs kernel number and 66% of the weight. This lower percentage in weight is due to much lower kernel depth. Now it is easy to understand why yield estimates can also be misleading, as kernel number is just a small part of the yield equation.
For those that are storing grain at home – ensure grain is dry, aerate grain regularly, and monitor your bins to help ensure grain condition when stored long-term. For some bin safety tips reference our GrainTALK webinar with Dean Anderson from the Workplace Safety Prevention Services.
Soybeans
After an incredible start to harvest many soybean acres have been sitting without seeing a combine due to saturated fields. Lots of rain across the province has excess water ponding in fields. This might have been a wetter fall than originally anticipated when everything seemed nice, early and dry at the end of August. Average rainfall across the province ranges from 2 to 4 inches for the month of October, however this year some regions have received that amount in just one week. Some have been able to combine but are marking up the field more than they ever have in their farming career. Looking at the long-range forecast for most of the province there are rains every few days.
Wheat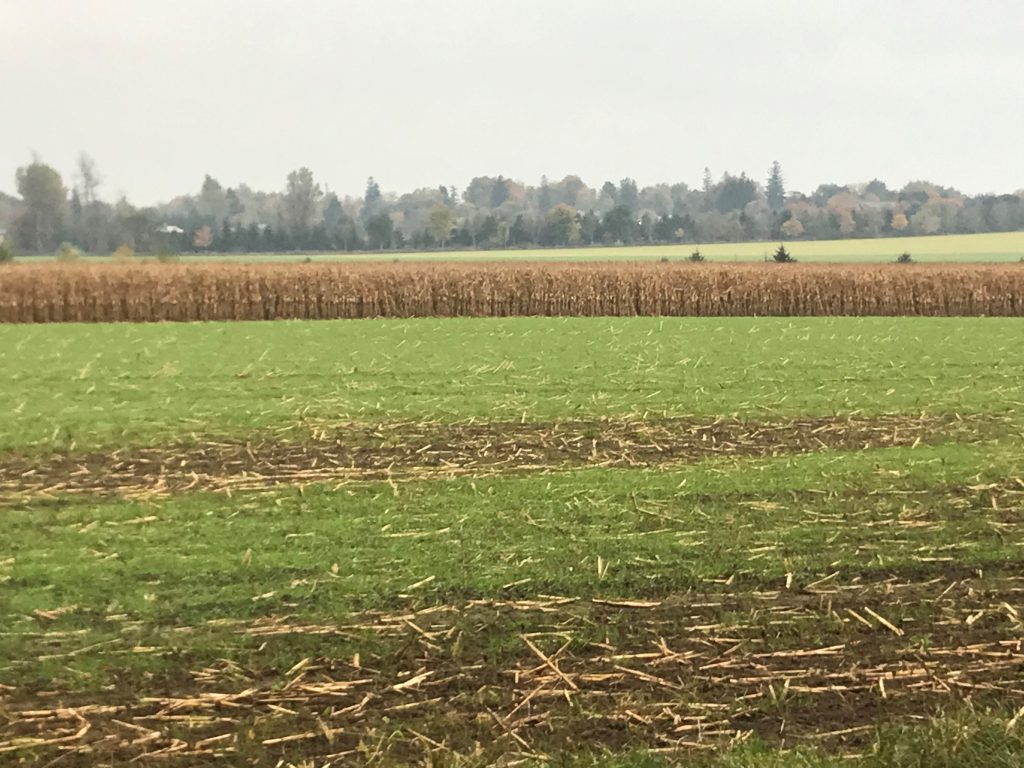 Wheat that was planted early into good soil conditions is looking exceptional. If water has been sitting long in fields, holes in the crop have appeared. In some regions there has been excess rain saturating the ground after planting, in some cases winter wheat has not been able to germinate and began to rot, other situations found some drier weather with warm temperatures that arrived in time to allow for germination despite excess moisture.
There are farmers in areas across the province that have yet to get their first acres of winter wheat planted. Some areas in the north and east are past crop insurance planting deadlines, many in the southwest are getting close to the October 27 (Area D) or November 7 (Area A, B, C) deadlines with conditions still looking wet for the next few weeks. If considering planting past the planting date cutoff, wheat will not be able to be insured for winter kill, but with a good stand in the spring the field can still qualify for production insurance (yield) if the stand is adequate. Call AgriCorp for further details and deadlines.
It is hard to estimate the true planted acres to date, but most would agree that in general there will be less acres planted this year than we have seen since in the last number of years. In fact, the last tough year on planting was fall 2014, when the planted acres were reported by Stats Canada as 630,000 acres seeded. That's a far cry from the over one million acres we have enjoyed over the past several years.
October 15, 2021
As October rolls on, so does soybean and corn harvest in areas where weather permits. Corn is drying down faster than expected thanks to warmer temperatures. Even though we have received the occasional rain shower and higher than normal humidity, corn moisture continues to drop. Winter cereals that have been planted have seen great early growth with warm and moist conditions to entice seedling growth.
Corn
Over Thanksgiving weekend and into this past week, farmers got a start at harvesting corn in some areas. Moisture levels ranged from 21 to 25 per cent. Approximately five to 10 per cent of the crop is harvested.
With harvest occurring earlier (roughly by two weeks), there is an opportunity to do some extra fall work to get ready for next spring. Warm open falls, if it can stay dry, can be an excellent opportunity for fall strip tillage and to apply some phosphorus (P) and potassium (K) for next year's corn crop. The right placement of fertilizer is one of the 4Rs of nutrient stewardship and is practiced by many farmers.
Soybeans
Ontario regions that had excessive rain, or continual moisture, still have some standing soybeans in fields, waiting for field conditions to improve as to prevent excessive compaction at harvest. Once fields dry up, or alternatively a bit of cold weather helps firm up the ground, those fields will be harvested. Roughly 50 to 75 per cent of the soybean harvest is complete.
Double crop soybeans (July planted after winter wheat) are approaching physiological maturity (R7) as the fields are yellow and many leaves have fallen off. Physiological maturity in beans occur when the seed is no longer attached inside to the pod. Which in the corn plant would be equivalent to black layer. If you crack open pods and find the beans are still attached, then they are still susceptible to frost damage. As we have received very favourable temperatures this fall, the double crop soybeans are maturing naturally and seem to have avoided any frost damage this year.
Wheat
Wheat that was planted in ideal conditions at the end of September has established well in the past two weeks. Early tiller development before winter freeze up will allow this crop the potential for high stem and head counts.
With continual wet conditions coupled with warmer temperatures after soybean harvest, we are seeing a second crop of soybeans after harvest this fall. The soybean seeds left in the field during harvest would be due to shatter at the combine head, or seed that was too small and light that was blown out the back during the trashing process, or in some cases where hail was received which shattered the seeds from the pods. This normally isn't apparent in the fall, but this year's wet fall weather and warmer temperatures have been ideal for soybeans to germinate on top of the soil while rooting themselves in the ground. Soybeans will die off with a frost, however, in some cases the soybeans are quite prolific in recently planted winter wheat fields. If soybean plants are covering the wheat crop and affecting wheat establishment, it may be worth seeking out some guidance from your local agronomist on how to handle them, a herbicide application may be required if frost doesn't get them first.
Fall management
Speaking of weeds, Mike Cowbrough, Weed Specialist- Field crops with the Ontario Ministry of Agriculture, Food and Rural Affairs has shared his Top 5 Fall Weed Control Tips with us.
---
October 8, 2021
Soybean harvest and, subsequently, winter wheat planting was at a standstill this week across much of the province as weather dampened the progress made the week before. Some corn harvest has begun but is limited to early contract fulfillment and early plant dry down where risk of stock lodging is high. Thanksgiving 2021 looks to be at the kitchen table for much of the province rather than in the field this year. Lots to be thankful for in Ontario, so hopefully everyone can enjoy Thanksgiving with family and express gratitude.

Corn

As weather has brought soybean harvest to a stand still, combine headers have been switched and corn harvest is beginning. General observations indicate many corn fields have cobs that have filled to the tip better than in previous years. Kernel counts per ear are higher and kernel depth is excellent. For those healthy fields, grain fill and test weight should be strong with expected yields being very promising.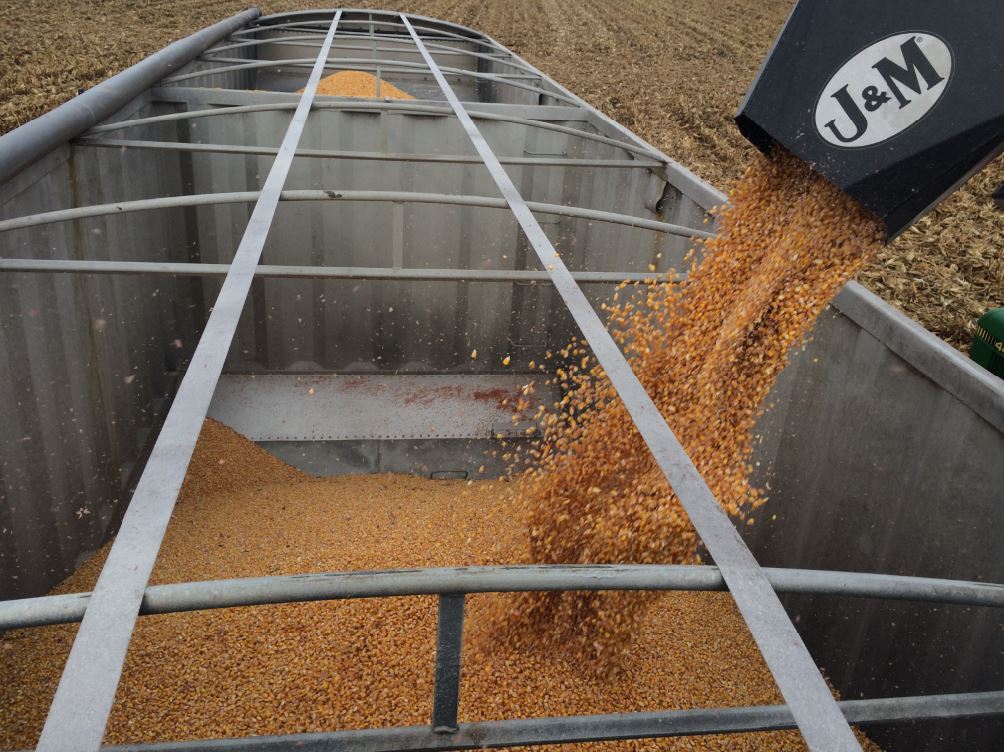 When you are out checking corn fields for moisture levels, make sure to look at stalk quality. A great way to do this is to push the corn stalk to a 45-degree angle. If it comes back up, great, if the stalk collapses and stays bent, target that field for early harvest. Another option is to kick the lower portion of the stalk but do this carefully and only when wearing steel-toed boots. If it breaks, target for early harvest as well, but usually as you walk through the field you will get the clues if stalks are breaking when you cross over the rows. Stalk rots are a common culprit for poor stalk strength as well as plant canalization from leaf diseases or nutrient defences. Empty stalks leave no cellular structure to hold the plant up and stalk collapse is inevitable once the winds come in.
Anthracnose is a dominant stalk rot disease that attacks the roots and stalks of plants that may have already shown some leaf disease. Spores from this fungus can remain alive for many years. When rain splashes the spores onto the lower stalk area it makes shiny black spots and then the stalks become black inside, rot, and fall over. Gibberella and fusarium stalk rots are also caused by fungi that can live in the soil for many years. If the stalk is cut open with a knife (use caution when using knives) the inside of the stalk may have a pinkish colour indicating fusarium and gibberella may be present in the stalk. Many fields may be one strong windstorm from lodging.
The Ontario Grain Corn Ear Mould and Deoxynivalenol (DON) Mycotoxin Survey was conducted over the last week. Grain corn is being analysed for DON levels at the lab. The report from the surveyed fields will be available in the upcoming week.
There have been many reports of fertilizer supply chain issues. Many farmers have locked in prices for spring fertilizer. If fertilizer needs have not been locked in, it may be a good idea to at least speak with a fertilizer supplier to learn more about what they anticipate the markets are doing as there may be concerns for spring supply.
Refresh your grain bin safety knowledge by listening to our GrainTALK: Grain Bin Safety webinar It is 30 minutes long and could save your life.
Soybeans
Soybean harvest had a few good days before being shut down again for much of this past week due to rain. Harvested acres range from 50 to 90 percent in areas across Ontario. Many soybeans are coming off with good moisture and yields. In the far northwest, many soybean fields have been harvested, albeit with lower yields, and farmers are moving onto corn harvest.
Cereals
Many winter wheat acres were planted prior to rains arriving. Now that we have entered October, the winter wheat planting window has closed or is closing very quickly across the province. If planting past the optimum planting date, increase the rate by 100,000 seeds per acre per week. Optimum planting dates for winter wheat can be found here.
Agricorp planting deadlines for fall seeded grains can be found here.
The deadline to submit yields for spring grains and spring wheat is October 31, 2021.
---
October 1, 2021
Soybean harvest is back up and running this week now that the ground has started to dry out from last week's more than abundant rainfall. Yields are respectable with ranges from mid-50s to low 60s with extremes on either side of the range. The dry week has allowed many farmers a chance to harvest lots of the soybean crop. Wheat is being planted timely after soybean harvest this week. Corn has reached full maturity (black layer); while some of the maturity was premature, disease and stress has caused some concerns and farmers will need to select the weak fields for harvest before the October winds come howling.
Corn
When black layer occurs, we can expect the grain moisture to be in the 32 per cent range. Grain drydown will be the next phase over the month of October. Warm, dry weather can bring grain moisture down rapidly, but cooler weather with average rain showers will slow the drying process as humidity in the air is higher. Average fall conditions in October and November can see grain moisture decrease one per cent in three days; or over 30 days, 32 per cent corn could be 22 per cent. As we have matured a few weeks earlier this year and still have lots of time left this fall for warmer weather, we can expect some warmer weather and we can shed 10 per cent moisture in 20 days. Earlier planted or early maturity corn may have already reached black layer and has lost moisture with the warm September we experienced, and it could have lost up to one per cent moisture per day. Watch those fields that died down early due to disease. They will have been cannibalized and the stalks will be weak and the grain fill will be immature with lighter grain and rubbery cobs, adjusting the combine and harvesting soon will reduce field loss.
With recent rains, Northern corn leaf blight has really developed quickly on top leaves of corn. As you scout the fields, you will see this disease shutting the plant down in many cases. Tar spot severity has remained about the same over this past week with its spread across southern Ontario and it is now found in Niagara and as north as Bruce, Grey, and Dufferin counties.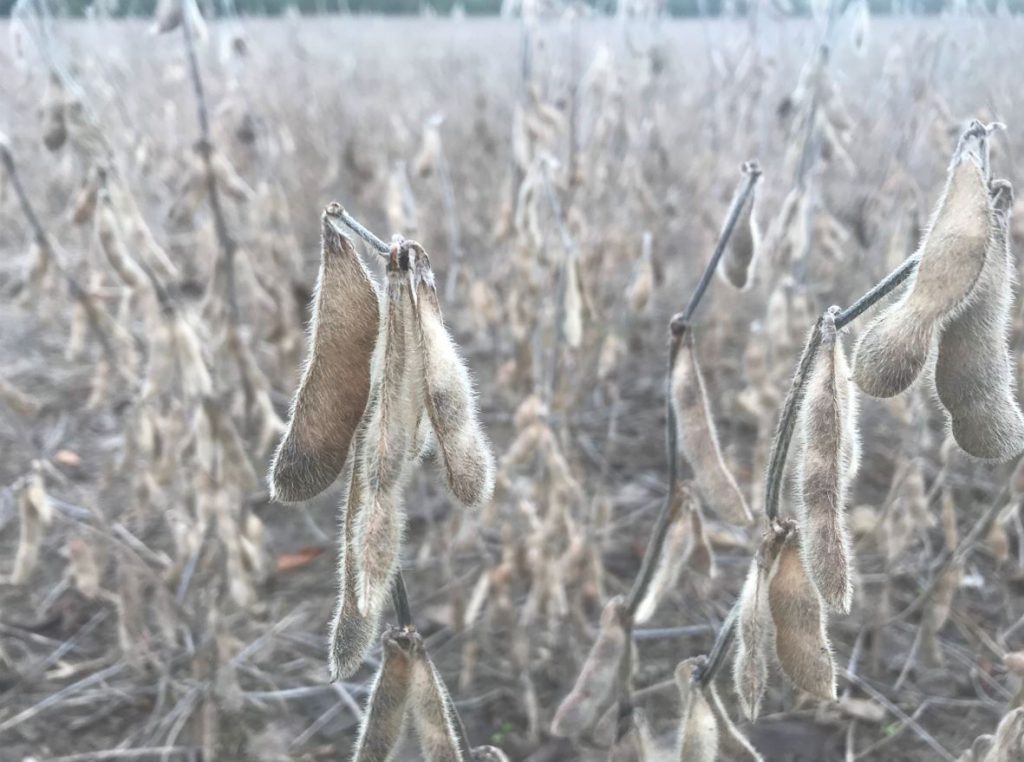 Be sure to assess stalk strength in fields and target lower stalk strength fields for early harvest. Disease can cause stalk strength to lower.
Soybeans
It was a bit of a waiting game earlier this week as farmers waited for ground conditions to be fit enough to travel over for soybean harvest. The rain delay from last week did allow fields that needed to even up, to do so. When harvest started up again early this week, moistures were anywhere from 10 to 16 per cent and drying quickly as humidity was low.
Wheat
After heavy rains, be sure to get out and check your planted wheat – did it get washed away? Did it germinate and then drown in saturated fields? Or it is emerging fine? Sometimes after heavy rains, like many experienced, wheat may need some patching up or reseeding. If you find dead wheat, make sure to contact Agricorp for reseeding benefits.
---
September 24, 2021
The start of the week presented ideal soybean harvest conditions across much of the province as farmers got into some drier than expected soybeans. But as has been experienced for much of the growing season, sporadic rains wandered across the province bringing harvest to a halt in most areas. Very heavy rains hit in some areas creating flooding. Wheat planting also got underway at the start of the week, before being halted by rains as well. A few sunny days will have harvest and planting back up and running in many areas.
Corn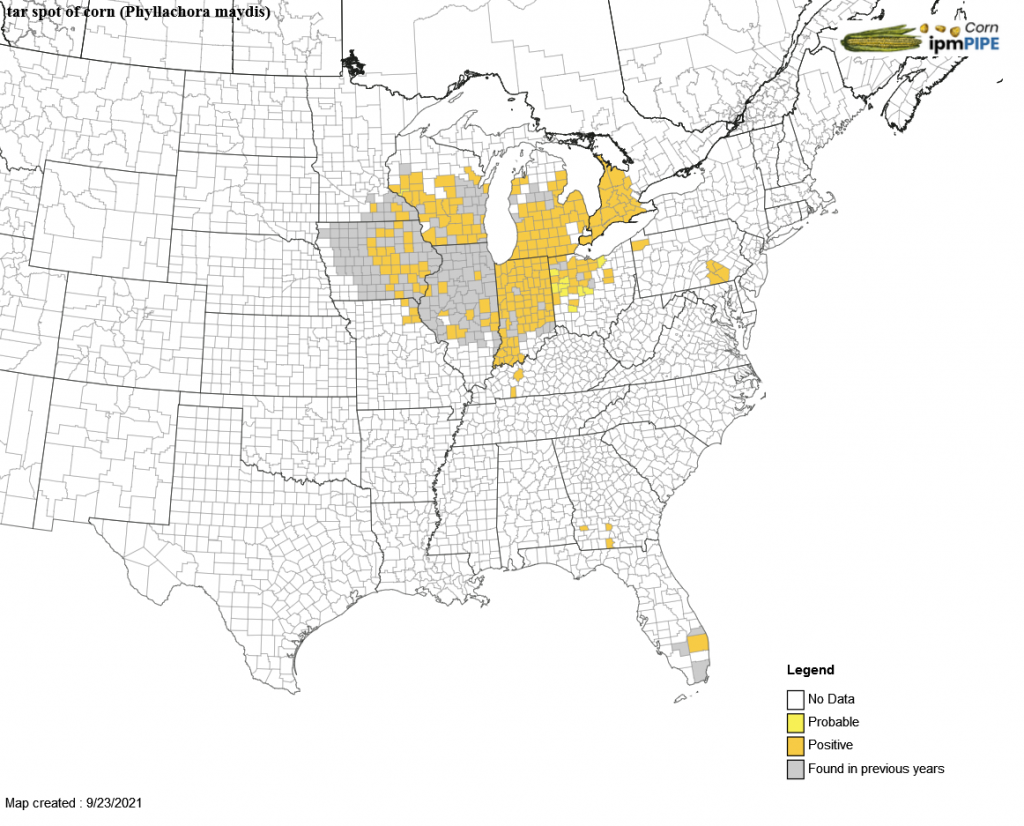 Some early day corn has started to be harvested, with moistures much lower than can be expected at this time of year, around the mid-20s mark. For fields that still have green leaves in the past few weeks, the plants were able to completely fill the kernel with great kernel depth and increase test weight. Those plants that have turned brown may have succumbed to an early death due to disease, drought, earliness, etc. These fields will need to be monitored and evaluated for harvestability and early stalk lodging. Do a stalk strength test by pinching, bending, pushing, or kicking the stalk, all forms of stalk testing is good. If stalks break easily with the push test, schedule these for an earlier harvest because as winds come in the fall these fields will be prone to lodging and field grain losses will be greater.
Tar spot should be on everyone's radar with confirmation of the disease being present from deep southwestern Ontario all the way to the western Greater Toronto Area. For more information on this disease, follow updates at fieldcropnews.com and view the latest counties affected here.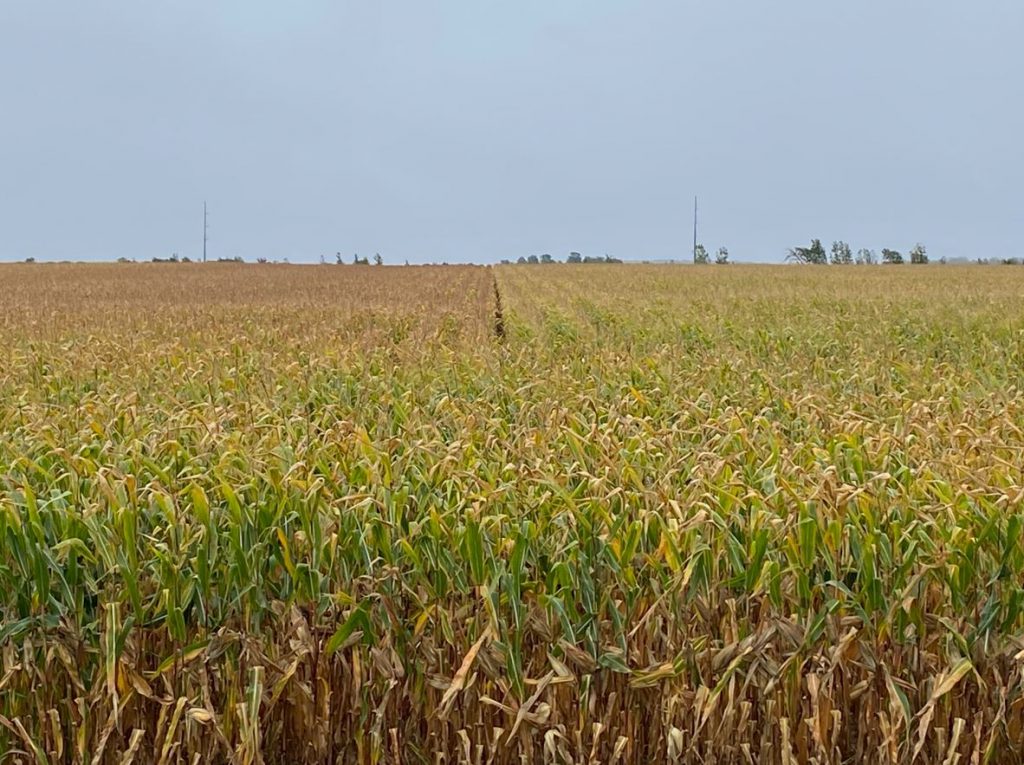 As we approach corn harvest, if you are concerned with potential DON testing, check with your local elevator on how they conduct their DON sampling procedures. DON in many areas will most likely be at low levels this year, but still present in some hot spots where weather conditions were ideal for fusarium development. The ideal sampling at elevators will take a two kilogram corn sample to full grind and then pull a homogenized subsample of ground corn to run the Eliza test (dip test). To learn more about the ideal testing procedure, watch here.
Grain Farmers of Ontario recently hosted a roundtable session at Canada's Outdoor Farm Show titled "A look at this season's crops in 2021". The discussion was hosted by Laura Ferrier, Grain Farmers of Ontario agronomist. She was joined by Ontario Ministry of Agriculture, Food and Rural Affairs (OMAFRA) specialists Joanna Follings, Horst Bohner, and Ben Rosser as they shared learnings from this year as well as what to think of in the coming weeks with corn and soybean harvest, along with winter wheat planting. You can watch the half hour taping here.
Soybeans
Late last week soybean harvest was occurring across much of the province. Moistures reported were anywhere from nine to 16 per cent with yields ranging from 40 to more than 70 bushels per acre on excellent ground. Some farmers were surprised at how low moistures were as the soybean plant had just matured, but with lower humidity and bean seed maturing before full plant death, dry seed moistures can occur quickly.
When soybeans are under 13 per cent, elevators don't adjust weight up for dry soybeans, so shipping too dry soybeans is like giving a percentage of your beans away for free. Even paying a little bit for drying charges and taking a bit of shrink for wet soybeans just to get them off the field and in the bin is always worth it compared to weight lost to dry soybeans and delayed harvest. Also, future weather predictions are sometimes incorrect for clear days to harvest, so waiting for perfect moisture at 13 per cent will not happen on many fields. By getting the soybeans off the field in a timely manner it also allows wheat to be planted in close to ideal conditions without ending up mucking in the seed later in cooler conditions when seasonal weather occurs.
Another thing to consider is safety along with mental health – giving a little extra room for harvest and planting allows less stress to hopefully be put on farmers and employees, with more flexibility and the potential chance for more sleep. Working while tired is as dangerous as impaired driving.
Wheat
Winter wheat that had been planted up until the recent rains this week went into near ideal conditions, warm soil temperatures, dry ground for less compaction at planting, and then received timely rains to help germinate the seed.
If planting much earlier than your optimum planting date, backing off on the population is advised as good plant growth and tillering can be expected with the warmer fall that is predicted. If planting at ideal dates, population should be at normal populations and later planting dates will require higher populations in order to compensate for less plant growth and fewer tillers. Planting populations range from 1.2 million to 1.8 million seeds per acre depending on planting time, soil type, and management. Always check your seed source and adjust population depending on the tested germination. If planting by pounds per acre, as that is how the drill is set up, make sure to check seed size and adjust how many pounds you are seeding. Based on variety and environment where the seed was grown, seed lots can vary up to 3,000 seeds per pound. If seeding 103 pounds to the acre this could mean close to 400,000 seeds per acre difference. Which in turn could mean a too thin stand or a way too thick stand that may get more disease and be more prone to lodging. Be sure to adjust the planter.
Safety
This time of the year is extremely busy. Keep safety at the top of mind. As harvest progresses remember to adhere to bin safety measures (don't enter alone, remember to lock out/tag out, wear a mask and goggles) refresh your awareness here.