Disruptive technologies
FUTURE FARM EQUIPMENT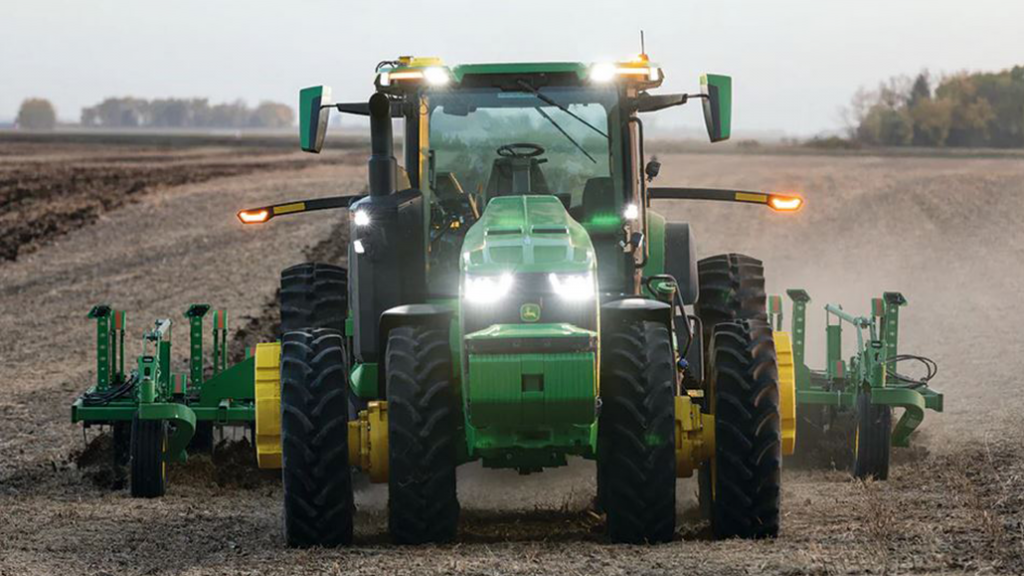 IN THE NEXT five to 10 years, smaller, automated machinery will take over from huge, soil compacting equipment and farming as a service will be a new business model for agriculture, according to Professor Scott Shearer. Shearer is Chair of the Department of Food, Agricultural and Biological Engineering at Ohio State University.
His presentation during Crops Day at Grey-Bruce Farmers' Week focused on the future of farm machinery. He specifically touched on the adoption and limiting factors in automation, changes coming in equipment ownership and business models, what disruptive technologies are on the horizon, and whether farmers will control all aspects of their operations.
Using data from the University of Nebraska's tractor testing lab, he showed how the size of John Deere tractors really took off after the 1960s, mostly due to the increased use of the diesel engine. He pointed out that tractor weights continue to increase at a rate of 870 pounds per year.
"Think about what that means in terms of soil compaction," he said. "The ideal soil is 50 per cent particles by volume, 25 per cent void space for air and 25 per cent void space for water — when those portions become imbalanced, that's when we see crop productivity suffer."
He also pointed out that soil compaction — especially around the Great Lakes — means more nutrient runoff into waterways.
Shearer showed a comparison of equipment in which larger tires (36 inches wide) and equipment (360 inches wide) with a weight of nearly 100,000 pounds compacted the soil to four times the depth compared to smaller tires (16.9 inches), equipment (120 inches), and weight (10,000 pounds).
"We're in this cycle in the U.S. of increasingly using larger equipment, which means farmers have to till deeper into the soil, which creates problems," he said.
He said that the solution to the compaction problem is autonomous equipment. He showed a photo of the small Xaver single-row seeder. The idea is to have a 'swarm' of these seeders which are energy efficient, can run 24/7 and are cloud controlled.
FARMING AS A SERVICE
Shearer also said that an emerging business model is 'farming as a service' (FaaS).
"If you're a profitable producer, there are probably 10 to 12 things you can do well — the thing is, as technology progresses, can you continue to be in control of all those actions and activities?" he said.
"I think this [farming as a service] is how farmers in the future will access technology," he said, pointing out that farmers currently assume the risk of technical obsolescence when they buy machinery.
"If we take a modern technological tractor, it has a life of about 20,000 and it's used about 500 hours a year, so the mechanical life would be 40 years, but what about the technology life?" He says that, by custom hiring, renting and leasing equipment, the liability for technical obsolescence is on someone else.
He said that when he visited SwarmFarm in Australia, he asked what sales were like for the 20 autonomous units they had just built.
"They said they're not selling them, they were going to lease them" he said, explaining that the company will send a technician out to the farm to set it up and trouble-shoot any initial technical problems.
Shearer ran some numbers, and putting aside herbicide, fuel and lubrication costs, the cost of spray application for these units was about $1 an acre versus custom application rates in Ohio of $7 to $10 or $11 an acre.
PRECISION AND COST SAVINGS
"There's a true advantage to automation," he said, pointing out that Craig Rupp, who owns Sabanto Agriculture, has noted that using his autonomous technology means that machinery costs for planting can be slashed from an average of twenty-five cents per horsepower per hour to seven cents per horsepower per hour.
Shearer routinely asks farmers in the Midwest U.S. what it would be worth to get Sabanto Ag to work within a two-week window of their choosing and get a guaranteed 98 per cent stand after seeding.
"Would it be worth $60 an acre? $75? 90? 150?", he said, pointing out that he's trying to get farmers to re-think the value of this equipment.
The advantage of robotic irrigation, he said, is that it's not a capital asset tied to a specific field, as in current centre-pivot irrigation systems, so it can be moved around. The robotic irrigator can also target the base of the plant and navigate through the crop at any stage of growth.
He also mused about potentially using the robotic irrigator to spread livestock nutrients during the crop's growing season, rather than only at the beginning or end of it.
"It expands the window for applying nutrients to nine months of the year, as opposed to a couple of months in the spring and a couple of months in the fall," he said.
Infield sensor networks are coming on strong and can be used to determine what's happening below the soil surface. Sensors are also used to detect nutrients in the soil, soil moisture content and weather stations.
"As these sensor networks are built out, it increases our knowledge about what's going on with our crops," he said.
John Deere introduced its first fully autonomous tractor at the Consumer Electronics Show in Las Vegas in January, and Shearer said that the company will begin renting the tractor for tillage in 2022.
"One of the main developments with this tractor is a collision avoidance system that uses cameras and artificial intelligence," he said, adding that John Deere used 50 million images to train the autonomous tractor. "This changes the dynamic in the industry in that these companies – which were historically iron companies – are becoming technology companies."
By buying out Blue River, John Deere has also been able to develop a system that uses computer visioning and machine learning to detect and spray weeds. The company claims that it reduces the use of pre-emerge, non-residual herbicides by as much as 77 per cent on fallow ground.
CONNECTIVITY ISSUES
In order for the new technologies that use artificial intelligence and machine learning to be useful, Shearer said internet connection is going to be key.
He said that the rollout of the next generation 5G wireless technology has been primarily in urban centres where there are sufficient numbers of subscriptions to justify the service – not rural areas.
Increasing the number of rural households with better download and upload connections could substantially increase corn yields and decrease operating expenses, according to research he cited from Katherine LoPiccalo at the U.S. Federal Communications Commission.
This made Shearer muse out loud about the possibility of rolling internet connectivity into the price of farms and farmland.
"Could land with connectivity command more money for rent?" he asked.
At Ohio State University, they're investigating the effectiveness of off-the-shelf wireless systems.
"These could be a cost-effective way to get access," he says.
Shearer's take-home messages included the fact that digital automation and technology in agriculture is here to stay, and that it will likely be delivered through the farming as a service business model. It will probably increase equipment use and provide shorter capital recovery times. It will also increase the efficiency of how crop production inputs are used and address the problem of soil compaction.
"Technology that was introduced in the 1990s have become part and parcel of our farming equipment today," he said. "But limited access to broadband will inhibit the adoption of newer technology in rural areas – hopefully between the government and the private sector, we can find solutions." •