GrainTALK for August 2022
AN UPDATE ON GRAIN FARMERS OF ONTARIO NEWS AND EVENTS
ASA CORTEVA YOUNG LEADER PROGRAM – APPLICANTS WANTED
Grain Farmers of Ontario seeks a soybean farming couple or individual to represent Ontario in the 2023 Class of the American Soybean Association Corteva Young Leader Program. The Young Leaders program enhances participants' skills through leadership, communications, and issues-based training and builds a strong peer network, generating increased success in their businesses and communities.
Phase one of the program will be held at the Corteva Global Business Center in Johnson, Iowa, from November 29 to December 2, 2022. Phase two takes place in conjunction with the Commodity Classic on March 7 – 11, 2023, in Orlando, Florida.
Young Leaders are not necessarily young in age but are new in their leadership development. The ideal candidate is looking to become more involved in Grain Farmers of Ontario.
For more information on the program, read about 2022 Class participant Kevin Vander Spek at www.ontariograinfarmer.ca. Applications can be submitted to the American Soybean Association directly at https://soygrowers.com/ or by contacting Rachel Telford, manager, Member Relations for Grain Farmers of Ontario, at rtelford@gfo.ca. •
WOMEN'S GRAIN SYMPOSIUM
Save the date! Grain Farmers of Ontario will be holding an in-person Women's Grain Symposium November 28 – 29 in Guelph. The two-day event will be an opportunity for female farmer-members to make connections with each other and participate in professional development. All female farmer-members are invited to attend. Please check www.gfo.ca for more details as they become available. •
OMAFRA WELCOMES NEW STAFF
Grain Farmers of Ontario welcomes Colin Elgie, who has joined the Ontario Ministry of Agriculture, Food and Rural Affairs field crops team as a field crop soil fertility specialist. He will work out of the Ridgetown office.
Elgie has a B.Sc. (Agr.) from the University of Guelph and more than 10 years of experience working as an agronomist with Sylvite Agri- Services. He has demonstrated industry leadership by training industry agronomists on 4R nutrient management, soil fertility, and soil test translation. He has been a Certified Crop Advisor since 2012, achieved his 4R nutrient management specialty in 2016, and volunteers with local agriculture associations like the Soil and Crop Improvement Association and Alternative Land Use Services. •
FIELD OBSERVATIONS
The Grain Farmers of Ontario agronomy team, Marty Vermey and Laura Ferrier, publish a weekly field observations report on the Ontario Grain Farmer website and in the weekly CropTalk e-newsletter. Find out more on www.ontariograinfarmer.ca. •
SIGN UP TODAY FOR GRAINTALK E-NEWS
Get the latest farm news and important Grain Farmers of Ontario updates delivered to your inbox each week!
GrainTALK is Grain Farmers of Ontario's weekly e-newsletter that highlights the organization's latest activities, breakthroughs in research and timely production information. Sign up today and get your weekly dose of Grain Farmers of Ontario in a concise email.
Go online to www.gfo.ca and click on the button to subscribe. •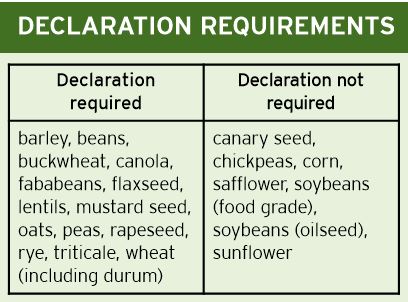 DECLARATION OF ELIGIBILITY OF GRAIN AT DELIVERY
Grain farmers in Ontario will be required to fill out the Canadian Grain Commission (CGC) "Declaration of eligibility of grain at delivery" at CGC licensed terminal elevators and may be asked to complete the form at country elevators that are not licensed by the CGC but make sales to licensed terminal elevators.
The declaration is required to fulfill Canada-U.S.-Mexico Agreement obligations to ensure that grain being delivered to CGC licensed elevators is a variety registered in Canada.
The declaration form applies to crops that are subject to variety registration; and for which merit criteria applies as part of variety registration. Farmers are not required to declare the variety delivered, only that grain is produced from a registered variety. For more information, visit the CGC website. •
2022 ANNUAL GENERAL MEETING
The Grain Farmers of Ontario Annual General Meeting will be returning to an in-person format on September 13, 2022, at the Craigowan Golf Club, 595838 Hwy 59 N, Woodstock, from 8 a.m. – noon. Buffet breakfast and lunch will be served. The meeting will also be live-streamed.
The meeting is held in conjunction with Canada's Outdoor Farm Show, held at the Discovery Farm, Woodstock, September 13-15.
More information and registration details will be posted on www.gfo.ca. •
NEW LICENSE FEES
The Grain Farmers of Ontario Board of Directors has approved the budget and check-off fees.
Here are the check-off fees for all grain settlements occurring on July 1, 2022 or after. Fees are calculated on a per tonne basis.
For more information, visit www.gfo.ca/marketing/dealers/. •
Fees as of July 1, 2022
Barley** $1.29/mt
Corn * $0.41/mt
Oats ** $1.41/mt
Mixed oats and barley** $1.41/mt
Soybeans* $1.42/mt
Wheat* $0.85/mt
* Includes GFP Premium
** GFP is not applicable to this commodity
MAGAZINE SUBSCRIPTION CHANGES
Farmer-members and industry associates who have changes to their mailing address or wish to cancel their subscription to the Ontario Grain Farmer magazine can contact Phaedra McIntosh, Grain Farmers of Ontario fee collection and reporting specialist, at pmcintosh@gfo.ca or 519-767-4130. •
MARKET COMMENTARY
by Philip Shaw
On June 10, the United States Department of Agriculture (USDA) maintained the U.S. corn crop at 14.6 billion bushels based on 89.5 million acres and a U.S. national yield of 177 bushels per acre. Soybeans remained at 4.640 billion bushels based on a record acreage of 91 million acres planted with a U.S. national yield of 51.55 bushels per acre. On June 30, the USDA released their latest estimates, which has the potential to change these numbers significantly. Hot and dry weather in U.S. Midwest fields might do the same going into July.
In Ontario, cash prices have dropped based on the decrease in corn, soybean, and wheat futures prices. In fact, Ontario wheat prices have dropped $4 since May. The Canadian dollar is a savings grace, as of June 26 at 77.6 U.S. •