Tar spot prevention
TIPS FROM GRAIN FARMERS OF ONTARIO'S AGRONOMY TEAM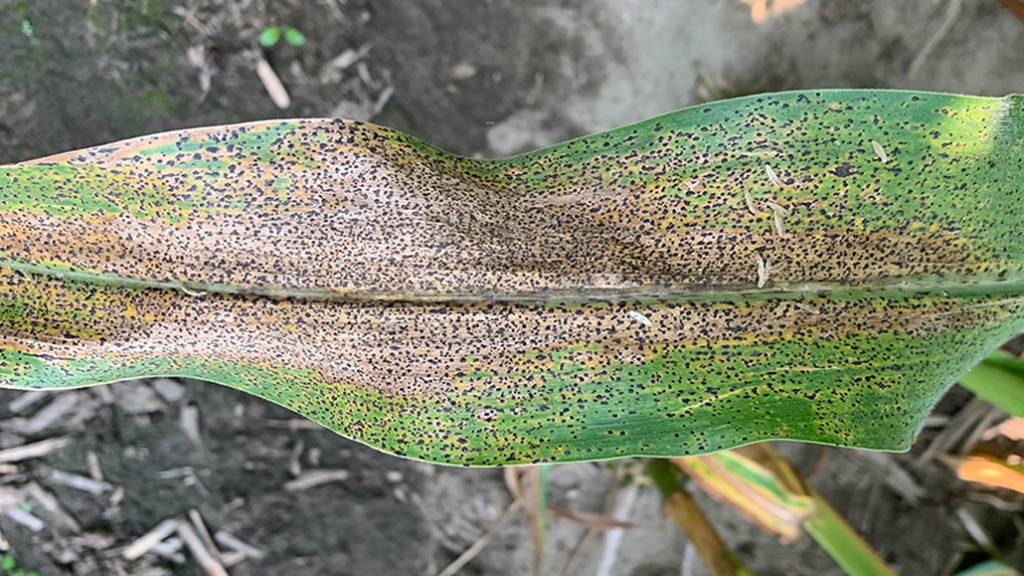 Original article: Tar spot in Ontario
MANY ACROSS THE province have heard about tar spot – southwestern Ontario and the Greater Toronto area have seen pressure. The disease was first detected in 2020; however, in 2021, we saw what Albert Tenuta, field crop pathologist with the Ontario Ministry of Agriculture, Food and Rural Affairs, compares to a "perfect storm."
In 2021 there were favourable environmental conditions (ideal temperatures for tar spot development are 15 to 21 or 22 degrees C and high relative humidity >75 per cent), and exceptional moisture was received in southwestern Ontario, with June, July, and August receiving large rain events. This led to leaf wetness at nighttime, seven to eight hours overnight, and into the day. As the season progressed, it was noted that the disease spread further east. "It will find its way into eastern Ontario, and that might even happen [in 2022]," shares Tenuta. "As of the end of 2021, the disease had been confirmed as far east as Simcoe County." Tar spot can cause severe losses to grain yield. "Losses in the U.S. have ranged from 20 to 100 bushels per acre with some producers having seen up to 50 per cent yield loss," Tenuta stresses.
WHAT CAN YOU DO?
Todd Woodhouse, Bayer Crop Science, shares that tar spot can blow in from other fields. Crop rotation does play a role, but the inoculum can easily blow in from neighbouring fields. "If the field is corn on corn, scout aggressively for tar spot, but also be on the lookout for other diseases and react appropriately," says Woodhouse. As more inoculum arrives in the area, the more the disease will spread. "Identification is key. If tar spot shows up earlier in the season, there will be more potential yield loss. If it arrives later, there will be less impact on yield," Woodhouse points out.
Rob Miller, BASF, shares that he has seen many pictures of tar spot from growers over the past year – growers are looking for it but are certainly also noticing a lot of common rust and eye spot. When scouting, identifying black-defined raised spots that are bumpy and don't brush off is key.
When talking about fungicides, setting expectations is important. Target applications can be at the VT to R1 timing, but even after six weeks after spraying, tar spot can still show up. Applications help keep the plants green during grain fill. If the area is a high risk, even if it is sprayed, tar spot can still show up regardless of which fungicide is used. A couple of things Miller says to keep in mind is to "pick the best hybrid for the farm and to manage tar spot accordingly, continuing to monitor for it throughout the season. Another is applying a well-timed fungicide with strong activity on the key disease, which allows the plant to stay healthier for longer, decreasing and allowing for improved grain fill."
No one option is going to be the silver bullet. A combination between hybrid susceptibility, management, scouting and fungicide application, when warranted, will all need to be taken into consideration throughout the year.
FUNGICIDE OPTIONS
Two fungicides are currently available for use in Ontario:
Delaro Complete (Active ingredients; Prothioconazole, Trifloxystrobin, Fluopyram) provides consistent disease control, plant health and consistent yield improvement while utilizing three modes of action. Application window VT to R1. Diseases controlled in corn are Common rust, southern corn rust, eye spot, grey leaf spot and Northern corn leaf blight. Will suppress tar spot. Delaro Complete can be tank mixed with Proline for management of Gibberella.
Veltyma (Active ingredients; Mefentrifluconazole and Pyraclostrobin) is a fast-acting fungicide that offers preventative and post-infection control. The application window is V12 to R3. Diseases controlled in corn are common rust, eyespot, grey leaf spot, Northern corn leaf blight and tar spot. Veltyma can be tank mixed with Caramba to manage Gibberella (timing would be R1).
** Be sure to always read and follow the label.
Laura Ferrier is the Grain Farmers of Ontario agronomist. •