Tar spot in Ontario
HERE TO STAY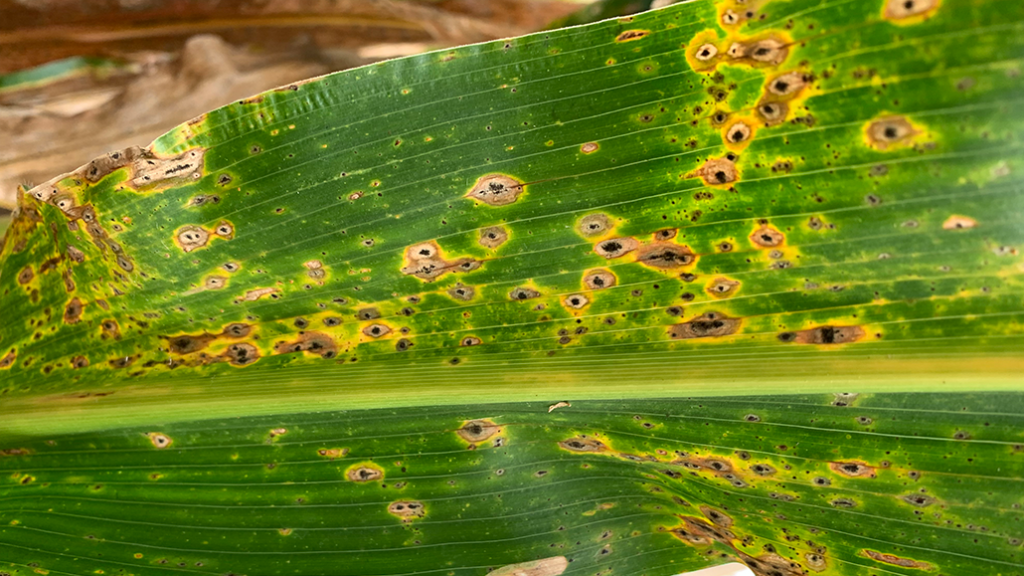 TWO STRAINS OF tar spot — Mexican and Caribbean — are here to stay in Ontario, and growers need to take active steps to achieve good control of this corn disease this summer and in the years ahead.
WHAT YOU NEED TO KNOW
• Tar spot was first found in the U.S. in 2015; it has now spread across the U.S. and in 20 counties west of Toronto in Ontario.
• The symptoms of tar spot are similar to leaf rust, physoderma brown spot, or eye spot.
• The disease appears as raised, black spots in a scattered pattern on both upper and lower surfaces of leaves.
• The free Tarspotter app can forecast tar spot fungus risks based on real-time weather conditions.
The good news is that Ontario growers are well-equipped with knowledge and tools for effective management resulting from projects supported by Grain Farmers of Ontario, Ontario Ministry of Agriculture, Food, and Rural Affairs (OMAFRA), University of Guelph Ridgetown Campus, and U.S.-based pathologists.
Corn growers in the U.S. were first faced with this pathogen in 2015; by 2018, it had arrived in Canada. By 2021, it was present in almost 20 Ontario counties west of Toronto.
Tar spot spores are spread by wind, but they also survive in crop debris and could be spread field-to-field through infected cropping implements. However, Albert Tenuta, OMAFRA field crop pathologist, notes the studies done in the U.S. have shown that whether it has overwintered in the soil is a much bigger factor than residue. "In the Rodney, Ontario field that we studied last year," he says, "there was almost no residue, but there was tar spot development by the first week of July and over 50 per cent leaf infections by the first week of September." The spores are hardy and able to survive one or even two winters, but corn-on-corn rotations are slightly more at risk.
The biggest factor in disease development within the crop is humidity, particularly in the Great Lakes region. "The longer and earlier in the season that humid conditions start, the greater the potential for disease development," says Tenuta, "but you have to have had the inoculum load already in your field or early storm fronts which blow the spores onto your farm."
Marty Vermey, Grain Farmers of Ontario senior agronomist, says the worst-case scenario is humid weather and light showers at the end of June and into July. Early disease infection can reduce yield by up to 50 per cent. "If cooler and wet weather comes in later when plants have developed, the impact will be less," he says, "but spores also build up for next year with the possibility of spreading further east."
The symptoms of tar spot are similar to that of leaf rust, physoderma brown spot, or eyespot. Insect droppings can also look like tar spot. The disease appears as raised, black spots in a scattered pattern on both upper and lower surfaces of leaves. Severe infections will also result in spots on husks and leaf sheaths. Around the spots, brownish lesions with dark borders can also be present.
As with any foliar leaf disease, tar spot will cause plant stress, impairing photosynthesis and causing the plant to take reserves from the stalk to develop grain. Stalks become spongy, and lodging can result.
ACTION PLAN
Growers should download the free Tarspotter app, developed at the University of Wisconsin and updated in February, which provides a forecasted risk of the tar spot fungus in a corn field based on whether real-time weather conditions have been favourable for tar spot development. Tar spot disease development in Ontario and the U.S. can also be tracked in real-time on the corn ipmPIPE map website www.corn.ipmpipe.org.
"It also enables users to set thresholds to guide spraying decisions," says Tenuta. "It's a big plus with this disease that we have a very active community of extension personnel, scientists, and seed and chemical companies watching the progression of tar spot not only in Ontario but the U.S. and providing tools to watch for and control it."
RESISTANT VARIETIES
Tenuta's findings so far show that about 25 per cent of available varieties are tolerant 'with variability.' In 2021, he and Dr. Dave Hooker tested hybrids in several southwestern Ontario research plots, including the Ontario Corn Committee (OCC) trials at the University of Guelph's Ridgetown campus and Tilbury and Dresden. Tenuta also analyzed 64 commercial hybrids with Grain Farmers of Ontario funding support at his Rodney plot.
Some germplasm lines that are potentially tolerant are now being further tested by OMAFRA and Agriculture and Agri-Food Canada's corn breeding program led by Dr. Aida Kebede.
"Private companies are also testing their lines against tar spot," says Tenuta, "and some have some preliminary results showing some lines with tolerance, but we need to know if that's a purely genetic response or genetic-environmental interaction. Overall, I think it's safe to say that with tar spot being a new pathogen to the U.S. and Canada, having a choice of hybrids that are verified tolerant is a few years away. And, of course, growers need to select hybrids according to the total trait package they need on their farms. It is important that farmers evaluate an assortment of hybrids on their farm each year and select hybrids based on individual field needs."
FUNGICIDE CONTROL
Tenuta reports that the results of the 2021 fungicide trials done for tar spot in Ontario match that of U.S. research and have contributed Ontario findings to the North American pool of data.
He and his colleagues have also engaged with two U.S.-based groups, the Tar Spot Working Group and the Corn Disease Working Group. "So, we're really well ahead in terms of this being a new disease," he notes.
In general, it's been found that fungicide application should be done at V.T. stage to silking, which is the same window that applies to DON and other fungal diseases. "So, spraying for tar spot fits into a grower's existing spraying schedule, which is great news," says Tenuta. "However, scouting is still critical. We may have favourable environmental conditions, so you may need to apply earlier if disease develops rapidly."
It's also good news that several multi-mode fungicides tank mix combinations or preformulated that work well for tar spot also works for DON, northern leaf blight and other fungal pathogens, but only certain active ingredients will control either DON or tar spot. Vermey notes that weather conditions could lead to multiple infections, and you may need a second spray.
"We do not want to create resistance with any disease, so using a good disease management plan and multiple modes of action with alternative prevention methods (hybrid selection) is the best plan," he says, "with recommended rates and application practices."
Vermey also advises spraying on the first sight of disease presence to reduce spread to the rest of the plant. "If disease is found near the bottom of the plant, this indicates the disease spores came from the field and will continue to spread within the canopy," he says. "If the disease is found on the top of the canopy, this indicates the disease blew in and is developing from the top down." •
Web special: Tar spot prevention